Jack Kirby gets voiced by Doctor Orpheus in a new audio drama "King Kirby"
Six time Best Selling New York Times author Fred Van Lente and four-time New York Times Critics' Pick playwright Crystal Skillman, in association with the Broadway Podcast Network, are pleased to announce the premiere of their four-episode mini-series audio drama King Kirby, based on their hit Off-Broadway show by the same name.
A true-life story about Jack Kirby, the man who co-created the Marvel universe, King Kirby is an epic comic book story of the most famous cartoonist you never heard of. This audio drama features original music composed by award-winning Bobby Cronin (whose other works with Skillman include Mary and Max, Rain and Zoe Save the World, and Concrete Jungle.).
The podcast premieres on Wednesday, February 10th exclusively from the Broadway Podcast Network and wherever you listen to your favorite podcasts. Find it at bpn.fm/KingKirby.

Heroes aren't born, they're made. Born in the Lower East Side slums, a veteran of the battlefields of France, Jack Kirby co-created CAPTAIN AMERICA, THE AVENGERS, THE X-MEN, IRON MAN, THOR, and many other legendary characters. But Kirby had his biggest fight after his comic books became an international sensation: He had to fight for his name, and the recognition he was denied.

From the Jewish ghetto of New York's Lower East Side to the battlefields of France to the Senate hearings of the 1950s, King Kirby is the heartbreaking yet inspirational story about a man who pours his quintessentially Twentieth Century life into his comics, only to make the fateful mistake that sends him into obscurity while his creations become known to every person on Earth.

The audio drama stars Steven Rattazzi (the voice of Dr. Orpheus from Cartoon Network's The Venture Bros and Broadway's Indecent, Marie Antoinette at Soho Rep, Galileo at CSC, and Stunning at Lincoln Center) as Jack Kirby, Amy Lee Pearsall as his wife Roz, Joseph Mathers as his business partner Joe Simon, Timothy McCown Reynolds as Martin Goodman, and Nat Cassidy as Stan Lee.

Written by the award-winning husband-and-wife team of Skillman and Fed Van Lente (whose previous teams-ups include Webtoon's Eat Fighter), this is a story for comics fans of the man they never knew behind their favorite superheroes, and for those who have been waiting for Jack Kirby's story to get its due.
A modern-day American Amadeus, King Kirby asks what happens when an artist doesn't own his own legacy? Can he ever get it back?

The series allows King Kirby to be heard by new listeners all over the world since after its wildly successful New York run in 2016, the play has gone on to win worldwide acclaim:

"Entertaining as it is enlightening." — Calgary Herald
"…An engrossing bio-play." — Seattle Times, Critics Pick
"A pop-culture Death of a Salesman." — Smash Pages
"One of the best plays I've seen all year." — MD Theatre Guide

Nouchka van Brakel's A WOMAN LIKE EVE premiering on Blu-ray and DVD on March 23, 2021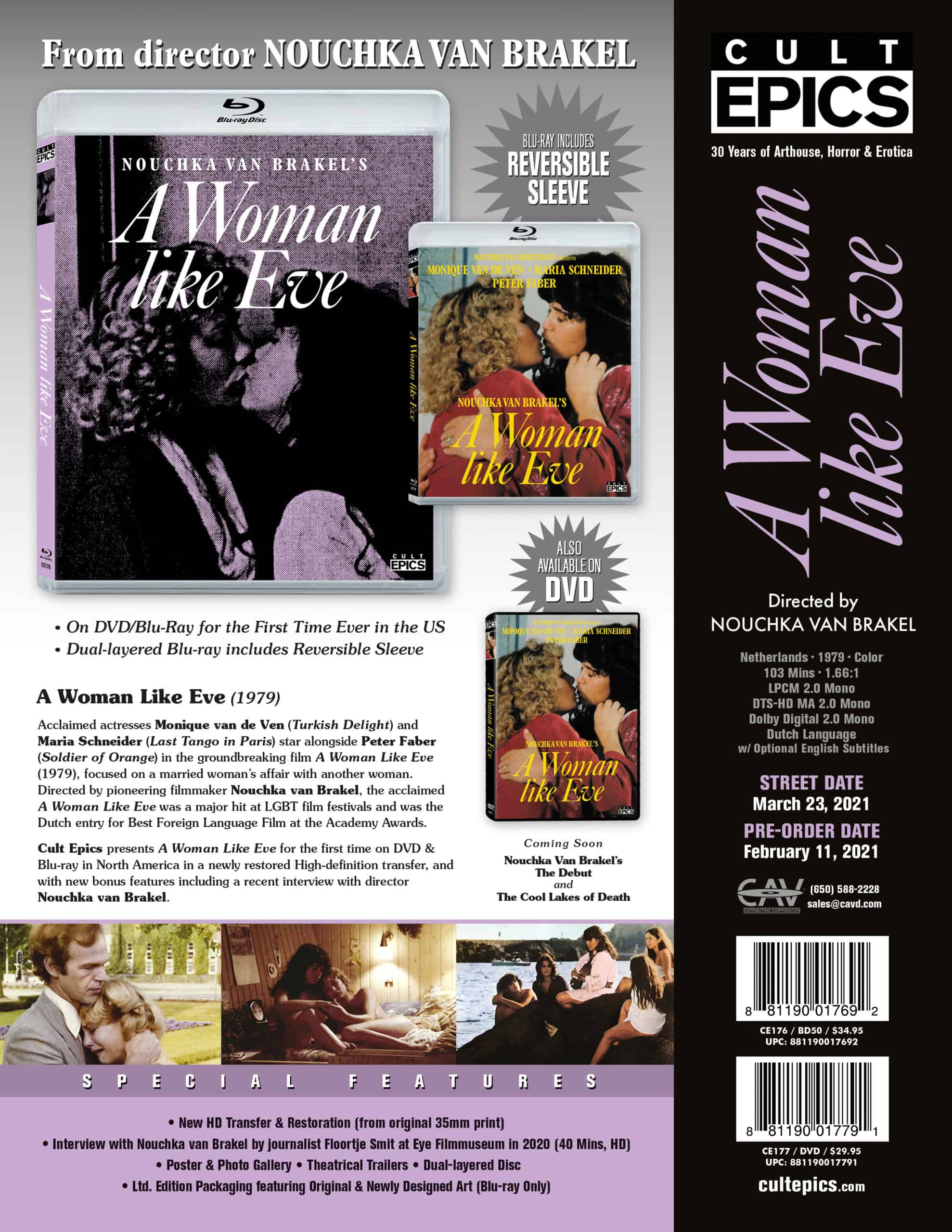 Virgil Films Presents 7 YARDS: THE CHRIS NORTON STORY To Digital + VOD
Virgil Films proudly announces the digital and VOD release of "7 Yards: The Chris Norton Story" The film, which shares the incredible true story of Chris Norton, will be released on February 23, 2021.

"7 Yards: The Chris Norton Story"is a feature-length documentary that explores the resilience and perspective of Chris Norton, who at age 18, suffered a debilitating spinal cord injury during a football game at Luther College in Decorah, Iowa. Doctors gave him just a 3 percent chance to ever move again.

After years of intense medical therapy and physical training, Chris' story went viral in 2015 when he successfully walked across the college graduation stage with the help of his fiancée Emily. Soon after, Chris and Emily set an ambitious new goal: walk seven yards side-by-side down their wedding aisle.

Video of Chris' graduation walk has been viewed over 300 million times on social media and major news outlets including People, "Today," ABC, CNN, Fox News Channel, "Good Morning America," The Knot, Yahoo Sports and Sports Illustrated have shared the iconic graduation and wedding walk clips.

"7 Yards: The Chris Norton Story" is a documentary that will inspire you to overcome and itfeatures powerful interviews, emotional reenactments and real footage from the couple's 2018 wedding. It's the inspirational comeback story of Chris and his journey from college athlete to medical miracle to viral inspiration and now an author, professional speaker, and adoptive father.
RYAN O'NEAL AND ALI MACGRAW RECEIVE STARS ON THE HOLLYWOOD WALK OF FAME for Love Story turning 50
LOVE STORY actors Ali MacGraw and Ryan O'Neal were honored with stars on the Hollywood Walk of Fame in the first virtual double-star ceremony in history on February 12, 2021, just in time for Valentine's Day. O'Neal's star is between MacGraw's and his real-life love, Farrah Fawcett.
O'Neal and MacGraw both received Oscar® nominations for their starring roles in LOVE STORY, which was nominated for seven Academy Awards®, including Best Picture. The film became a cultural phenomenon, earning over $100 million at the domestic box office and becoming the top-grossing movie of the year. In 2002, the AFI named it as #9 on its list of the 100 greatest love stories of all time.
A timeless classic about the highs and lows of young love, the film remains as impactful as ever, 50 years after its original release. Newly restored for its anniversary, LOVE STORY is available in a limited-edition Blu-ray™ with collectible packaging, commentary by director Arthur Hiller, a look at the film's impact, and more.
Producer, Restaurateur, Entrepreneur and Budding Politician Jamie Patricof joins Rich Kleiman on the latest episode of "The Boardroom: Out of Office"
OVERVIEW:
On taking after his father's work ethic and the luxury of being able to fail…
"I saw firsthand what he was doing and how he became successful. And I think I saw that… nobody was going to tell me no. I was just going to do it anyway. And I would just go through another door if the door was closed."
"I was fortunate to have come from a family that had the means to know… I was going to have a roof over my head. I was fortunate and had the opportunities where I could try things and I could fail. And it meant that I had a safety net and I'm blessed to have had that."
On his favorite projects…
"I'm proud of all of them. It's always like asking about… your favorite child. I focused on the board driven independent film really, which was, you know, films that really were focused on, you know, starting a conversation, being respected from an awards standpoint. And that was just what interested me and what excited me was those films that made people think and feel. Where that's Blue Valentine with Ryan Gosling and Michelle Williams, where after every movie there was…a Q&A where people would argue, how could you believe in him or her?'"
"In some ways.. I'm most proud of Sugar because it was a film by a Dominican baseball player. And we used real kids in the Dominican. And when we ultimately premiered that film at the Dominican Republic Film Festival, you had people like Big Poppy and Pedro Martinez crying because it completely showed their story in a film that wasn't a documentary, you know?"
On the role of indie producers as CEO of a startup…
"When you're a producer, especially in the independent world, you really are the CEO of a startup. And I think that's partly why I focused on the independent film business."
"Think about a film versus a company, right. Versus a CEO. You gotta have to be idea, right?… And then you have to execute the idea and you have to bring that idea to market…Once you get to a certain stage, it's really a job of a fireman. You know, you're coming in, you're coming to work, you're preparing, you're going through everything you need to go through. And you're hoping there's no big fires need to put out as a CEO. And the same thing goes as a producer."
On recent shifts in the film and TV industry…
"The biggest shift obviously is the streamers entering the market, which, you know, has really advanced the business a decade per se. And what that also has led to is television in many ways, sort of dominating film today. Thinking about television, you know, five or six years ago, sometimes you just get a story that needs to be a bit longer. It needs to be… four hours or six hours. And that just didn't work as a movie. And that meant… it just didn't happen. And today what you're seeing is the amount of time something is, is really irrelevant."
"It was so rigid years ago that didn't allow for that. You're seeing seasons that are four episodes, six episodes, eight episodes, two year shows. So that's really exciting. It's exciting to me as a producer. So that really means any idea that's good can be turned into something and you can potentially have success with it. And I think that's going to continue."
On marketing in the age of algorithms…
"I really personally am not that big a fan of the algorithm, you know? Cause… ultimately there is an aspect of editorializing things that we need. And to your point, if someone… doesn't tell you about it at this point, you're just not going to find it. You can't really even search for it right now. I mean, there's definitely a big opportunity in trying to crack that problem."
On taking over the restaurant Genghis Cohen in LA…
"As a New York city kid at heart… Chinese food is always… one of my favorite things. You're spoiled that you don't realize that on every block, there's a Chinese restaurant where you can get your staples. And outside of New York, it's hard to do that. And in LA there was one place called Genghis Cohen. And when I moved out to LA almost 20 years ago, I found it and just loved it."
"And about five years ago, Mark Rose and Med [Abrous] who were partners found out that it was going to be for sale. So we partnered up, we pooled some money together. Some people invested, and we took it over. And their plan originally was to just sell the liquor license. And we said, no, hold on– we're only taking it over if you'd give us the recipes for the food and you stay on to cook and it doesn't change. And you know, that's really what we've done and people love it."
FOLLOW "THE BOARDROOM: OUT OF OFFICE"
Listen to "The Boardroom: Out of Office" wherever you listen to podcasts