Shudder, the premium streaming service for horror, thriller, and the supernatural, is celebrating its annual "Halfway to Halloween" event this month with an impressive lineup of original films and series. The event, which marks the halfway point to Halloween, will feature a new season of the popular horror anthology Slasher: Ripper, a new season of The Last Drive-In with Joe Bob Briggs, The Boulet Brothers' Halfway to Halloween Special, the Shudder Original film From Black, the streaming debut of Kids vs. Aliens, and new additions to Shudder's library of the best in horror.

Here's a breakdown of the Shudder Original films, series, and library highlights in premiere order:
Slasher: Ripper – Two-Episode Season Premiere on Thursday, April 6
Slasher: Ripper takes the Slasher franchise back in time to the late 19th century and stars Eric McCormack (Will & Grace) as Basil Garvey, a charismatic tycoon whose success is only rivaled by his ruthlessness. He oversees a city on the cusp of a new century and a social upheaval that will see its streets run red with blood. There's a killer stalking the mean streets, but instead of targeting the poor and downtrodden like Jack the Ripper, The Widow is meting out justice against the rich and powerful. The only person standing in the way of this killer is the newly promoted detective, Kenneth Rijkers, whose ironclad belief in justice may wind up being yet another victim of The Widow.
The Week of April 14th sees Kids vs. Aliens premiere on Shudder
Kids vs. Aliens – New Film Premieres on Friday, April 14
An all-time rager of a teen house party turns to terror when aliens attack, forcing two warring siblings to band together to survive the night in this spin-off from the popular V/H/S franchise. Starring Dominic Mariche (Are You Afraid of the Dark?), Phoebe Rex (The Last Divide), and Calem MacDonald (The Umbrella Academy).
It's not Halfway to Halloween without Joe Bob Briggs!
The Last Drive-In with Joe Bob Briggs Season 5A – New Season Premieres on Shudder TV and AMC+ Every Friday at 9pm ET beginning April 21
On The Last Drive-In with Joe Bob Briggs, Joe Bob Briggs hosts eclectic horror movie double features, expounding upon their merits, histories and significance to genre cinema. Join Joe Bob, Darcy the Mail Girl, and the rest of The Last Drive-In crew as they ring in an all-new fifth season, which will broadcast on Shudder TV and AMC+ every Friday at 9pm ET beginning April 21, with episodes later available on demand every Sunday beginning April 23.
For the first time ever, the season will be split into two parts, with the first five episodes kicking off in April and the final half returning in June, bringing the community-driven horror-viewing experience to the summer. The Last Drive-In with Joe Bob Briggs is produced by Matt Manjourides and Justin Martell and directed by Austin Jennings.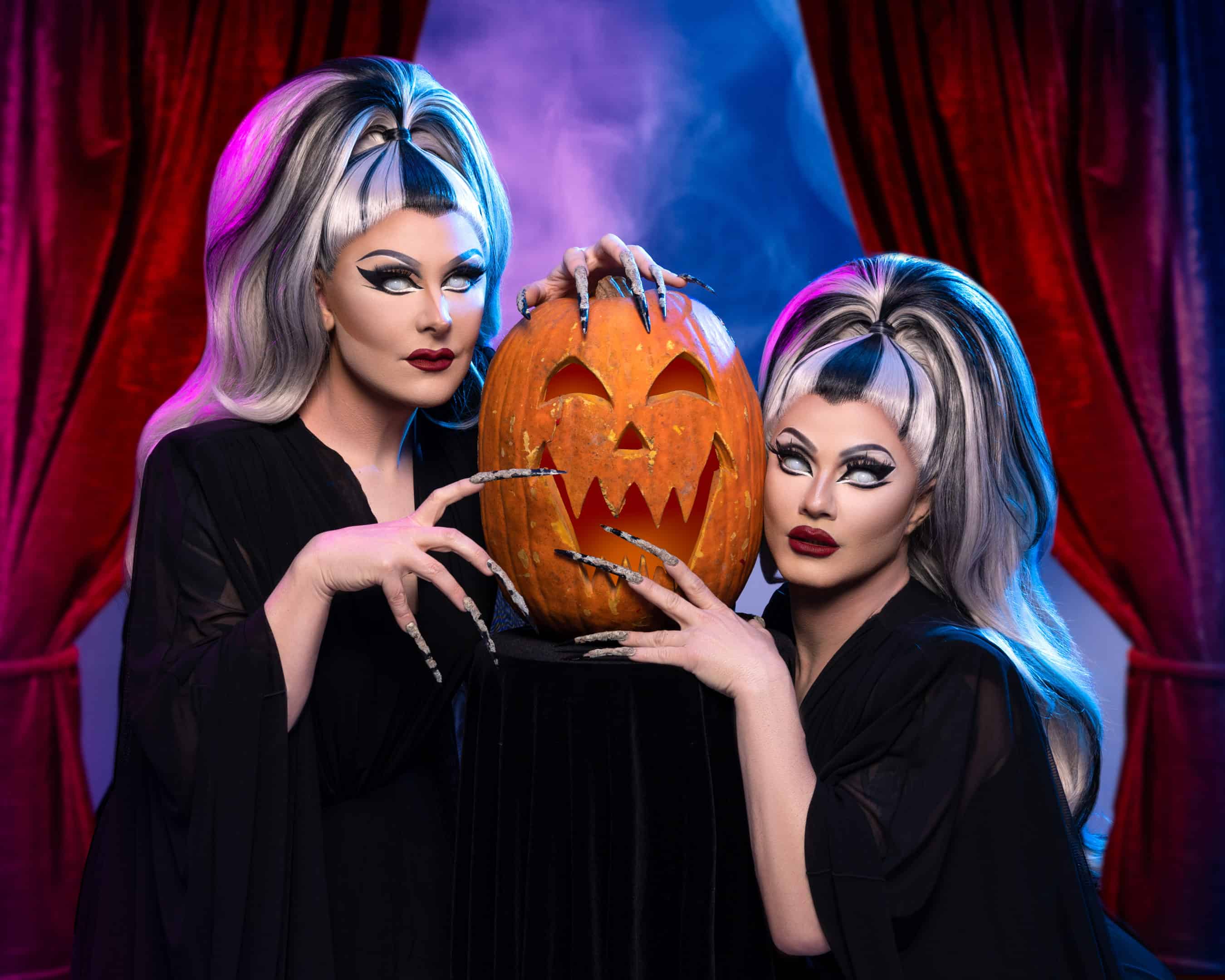 The Boulet Brothers have a Halfway to Halloween TV Special!
The Boulet Brothers' Halfway to Halloween TV Special – New Special Premieres Tuesday, April 25
Hosted by modern day horror hosts and "queens of darkness" The Boulet Brothers, The Boulet Brothers' Halfway to Halloween TV Special will be a mid-year variety show celebrating the "Halfway to Halloween" season for fans who just can't wait until October 31 to get a good dose of the dark side. Calling to mind the era of classic retro holiday variety shows, the program will be hosted from The Boulet's haunter manor set and will feature scripted skits, musical performances, and guest appearances from an impressive lineup of stars.
Near Black wraps up the end of April
On Friday, April 28th, a new film titled "From Black" will be making its debut. The movie tells the story of a young mother who has been consumed by guilt ever since her son went missing five years ago. She is given a strange opportunity to uncover the truth and possibly even reunite with her son, but at what cost? Starring Anna Camp, Jennifer Lafleur, and John Ales, and directed by Thomas Marchese and Jessub Flower, this film promises to keep you on the edge of your seat.
But that's not all the library has to offer this month. Fans of classic horror movies can enjoy films like "Halloween" (1978), "The Texas Chain Saw Massacre" (1974), "The Night of the Living Dead" (1968), and "Hellraiser" (1987), just to name a few. And for those looking for some lesser-known gems, there are plenty of options as well. Check out "Slumber Party Massacre" (1982), "Magic" (1978), "Don't Panic" (1989), "Bog" (1984), "Final Exam" (1981), and "Primal Rage" (1988) for some under-the-radar horror fun.
So grab some popcorn, turn off the lights, and get ready to be scared. With this month's library film selection, you're sure to find something that will make your heart race.
Enjoy Shudder's Halfway to Halloween!