The Quarantine Spring 2020 Film Reviews have started. Social distancing has never looked as good as getting to watch and review films in a self-quarantine. So, let's do thing right in 2020. Let's start covering the best of what is available.
quarantine spring 2020 begins with disappearance at clifton hill
Disappearance at Clifton Hill feels like I've already seen it before. Carefully using the area around Niagara Falls to build moody atmosphere, we see something that isn't sure of what it wants to develop. It's part Scooby Doo mystery and then it plays like an atmospheric ghost story at times. Honestly, I wonder if I was missing something while watching it. IFC Midnight movies take a bit to grow on me, so I'll come back to this one.
WHY DON'T YOU JUST DIE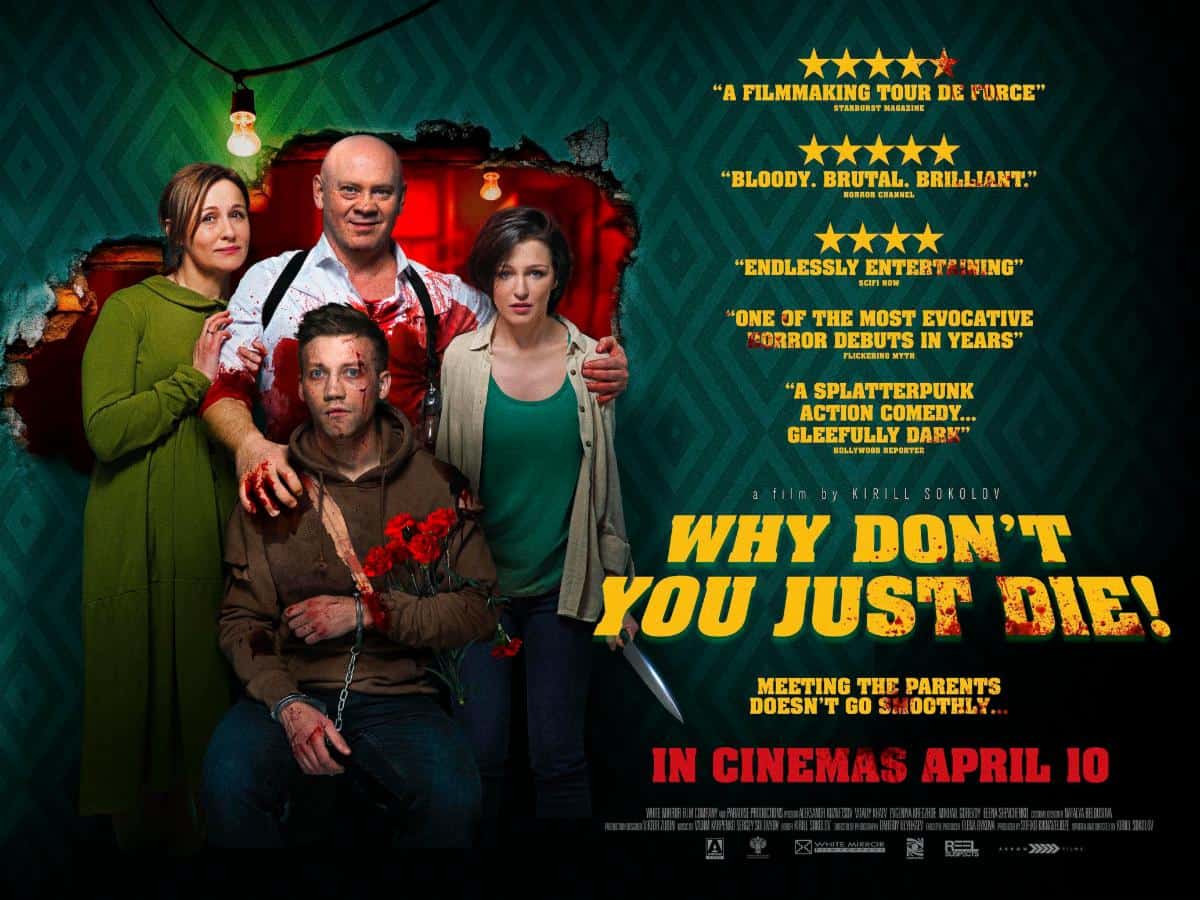 Why Don't You Just Die is one of the latest foreign pick-ups from Arrow Films. A Russian action dark comedy about what a guy will do just to get in with his lady's parents. Good graces are all, but what happens when you mix in honor killings and Eastern vengeance?
The Quarantine Spring has brought many odd screeners into my life. While I dig most of what Arrow puts out, this one was a bit too manic for me. I can see it fairing better with the far Eastern crowd. Honestly, I'm starting to think that modern Russian cinema isn't for me. Sorry, Nightwatch fans.
wIVES OF THE SKIES
Wives of the Skies is aesthetically my jam. The mid to late 60s Aviation scene and the stewardess get-up is peak Americana to me. Playing the shortest out of the films in the early Quarantine Spring, this is the one that stuck with me the longest. I'm including the trailer that October Coast sent because it is what sold me on the film.
What Honey Lauren has managed to do here is give me one of my favorite 2020 films. Who knows how many we're going to get, so I'm going to enjoy each one that blows my hair back. Highly recommend.
Dead By Dawn
Dead by Dawn allows Jamie Bernadette to do what she does best. Bernadette worked on site pal Dylan Reynolds' film "4/20 Massacre", so I was familiar with her when I saw her in this movie. Still, the movie belongs to Drew Mitchell. She makes us feel every inch of the danger, as the sexual depravity by way of fairy tale subtext is pretty harsh.
I feel like women turning the tables in remote locations is almost becoming fetishized in certain movies. Empowerment is great, but it's starting to hold the same weight as every man in an adult movie being a pizza delivery guy or repair man. Audiences need a wee bit more variety. Oh well, I enjoyed it. My Quarantine Spring viewing foibles are my own burden.
ABOMINABLE
Abominable is about a team of medical researchers who don't properly social distance in the Himalayas. I'm assuming that's where they are, since they're getting hunted by a Yeti. It's a classic monster tale of outsiders invading an area where they don't belong. Their intentions are good, but the movie is short and I want to see human Yeti food.
The movie was dumb, but it kept my attention.
I hope you guys enjoyed this. As the Pandemic gets weirder and everyone starts moving to not shipping stuff across country, we're going to have a bevy of screeners to work through. Today's amount is at least 2- 3 weeks old, so we have way more coming up.
Enjoy!
That's it for part 1 of the quarantine spring 2020 mass vod viewing. more to come!