While everyone at AndersonVision had a fun Halloween, some things slipped through the cracks. So, let's talk about everything from Frank Sinatra to BAFTA 2021. We're also going to talk about upcoming 4K and Blu-ray releases ranging from Juice to Beavis and Butthead. Hell, we'll even talk a bit about
JUICE debuts on 4K Ultra HD January 11th
A powerful morality tale steeped in 90s urban culture, JUICE marked thefeaturedirectorial debut of acclaimed cinematographer Ernest R. Dickerson and the first starring roles for Omar Epps and an electrifying Tupac Shakur. 30 years later, the gritty and influential film continues to be celebrated for its realistic portrayal of Harlem life, the early New York hip hop scene, and the fate of four friends in pursuit of the power and respect they call the Juice.
To mark the film's 30th anniversary, Paramount Home Entertainment will release the film on 4K Ultra HD for the first time ever on January 11, 2022. The disc features access to a Digital copy of the film and legacy bonus content, including interviews with Dickerson, producer David Heyman (Harry Potter franchise), Epps, and fellow actors Khalil Kain and Jermaine Hopkins. The cast and crew look back on making the film, share heartfelt stories of working with Shakur, and reveal the influence that JUICE had on them both personally and professionally.
The in-depth featurettes are also loaded with footage of the cast on set and vintage interviews with Shakur, Queen Latifah, Cindy Herron of En Vogue, the Shocklee brothers, Eric B, EPMD, Cypress Hill and more. Along with commentary by the director, fans can enjoy the original ending and hear Dickerson detail the reasons that it was changed prior to the film's theatrical debut.
JUICE was originally released on January 17, 1992. The previously released bonus content is detailed below:
Commentary by director Ernest R. Dickerson
You've Got the Juice Now—A look back at the making of the film featuring interviews with director Ernest R. Dickerson, producer David Heyman and actors Omar Epps, Khalil Kain and Jermaine Hopkins. The piece details Dickerson's struggle to remain true to his original vision, his desire to cast fresh new talent, the challenges of shooting on location in Harlem, and the reasons why the film's ending was changed.
The Wrecking Crew—The film's surviving lead actors talk about how they came to be cast in the film and the bonds they immediately formed with one another. They additionally share stories about Tupac Shakur's drive, authenticity and unmistakable genius, as well as their delight at getting to work with Samuel L. Jackson, Queen Latifah and Cindy Herron.
Sip the Juice: The Music—Explores the essential role that music plays in the film. Features vintage interviews with the Shocklee brothers about their score, as well as Erik B, EPMD, and members of Cypress Hill speaking about their contributions to the unforgettable soundtrack and why they chose to be a part of the film.
Stay in the Scene: The Interview—Vintage interview with the four lead cast members on set. The piece demonstrates their rapport as they discuss the importance of the film and its message.
Photo Gallery—Unit photographer Adger Cowans' photos taken on set.
Synopsis
Q, Raheem, Bishop, and Steel spend their days hanging out and looking for a way to get the power and respect they call Juice. Q hopes to earn respect by becoming a scratch 'n' mix DJ. Bishop has a deadlier plan—take it through an armed robbery with his crew. Ernest R. Dickerson, the acclaimed cinematographer whose collaborations with Spike Lee include Do the Right Thing and Malcom X, made his directorial debut with this powerful drama steeped in '90s urban lifestyle. JUICE features the acting debut of Tupac Shakur and a hit soundtrack that includes Eric B. & Rakim, Naughty by Nature, Big Daddy Kane and Salt N' Pepa.
JUICE is directed by Ernest R. Dickerson with a story by Ernest R. Dickerson and screenplay by Gerard Brown and Ernest R. Dickerson.
PLANES, TRAINS AND AUTOMOBILES Comes Home in a Limited-Edition Blu-ray SteelBook November 23rd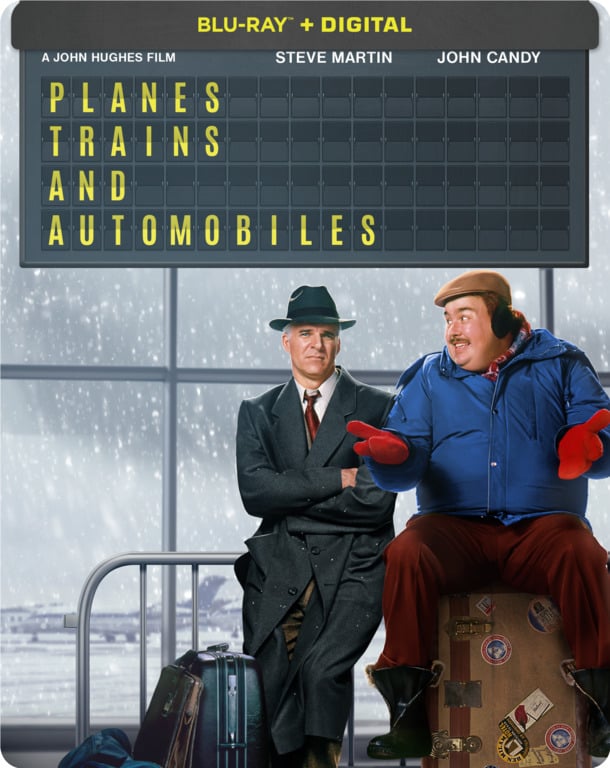 Written and directed by the incomparable John Hughes, the celebrated comedy PLANES, TRAINS AND AUTOMOBILES makes an on-time arrival in a Limited-Edition Blu-ray SteelBook® on November 23, 2021 from Paramount Home Entertainment.
The PLANES, TRAINS AND AUTOMOBILES Limited-Edition Blu-ray SteelBook boasts over an hour of legacy bonus content, including an in-depth retrospective on John Hughes' career that includes interviews with those who worked with him and explores his indelible impact as a writer and filmmaker. Additional previously released features include "Getting There is Half the Fun: The Story of Planes, Trains And Automobiles," "John Hughes For Adults," a tribute to John Candy, and a deleted scene.
Starring comedy greats Steve Martin and John Candy, the uproarious classic follows a businessman (Martin) who is struggling to get home for Thanksgiving, but burdened by one travel mishap after another, as well as the company of an annoying traveling salesman (Candy). Filled with outrageously funny situations and a generous helping of warmth, the film also features appearances by Michael McKean, Edie McClurg and Kevin Bacon.
BAFTA ANNOUNCES US AND UK JURY MEMBERS FOR BAFTA BREAKTHROUGH 2021
Today, the British Academy of Film and Television Arts (BAFTA) announces the US and UK Jury members for this year's BAFTA Breakthrough initiative, supported by Netflix.
This year, talent will be selected through a panel of cross-industry juries across both the US and UK. The global juries took place virtually with leading figures across the film, games and television industries collaborating and contributing from across the globe. Please find a breakdown below of this year's Jurors, including; Laura Berwick, Bruce Miller, Colin Trevorrow and Rutina Wesley.
Full list of 2021 US Jurors:
Niamh Algar – Actor (Raised By Wolves)
Laura Berwick – Manager/Producer (Berwick & Kovacik)
Leon Brazil – Art & Animation Director (Unbroken Studios)
Ellen Kuras – Director/Cinematographer (Eternal Sunshine of the Spotless Mind)
Maria Ishak – Jury Co-Chair | (Head of Content & Coproductions, Asacha Media Group)
Siddhartha Khosla – Composer (This Is Us)
Bruce Miller – Creator/Showrunner (The Handmaid's Tale)
Karl Stewart – Jury Co-Chair (CEO and Co-founder of Thunder Child)
Colin Trevorrow – Director (Jurassic World: Dominion)
Rutina Wesley – Actor (Queen Sugar)
Full list of 2021 UK Jurors:
Ade Rawcliffe – Chair | Group Director of Diversity and Inclusion at ITV
Afua Hirsch – Journalist/Cultural Commentator
Alisa Pomeroy – Senior Commissioning Editor, Factual (Channel 4)
Clare Stewart – Festival Director
David P Davis – Executive Producer (Bad Wolf)
Fiona Lamptey – Director of UK Features (Netflix)
Jodie Azhar – Games Developer
Julia Godzinskaya – Film Producer (The Witch)
Kharmel Cochrane – Casting Director (The Lighthouse)
Molly Emma Rowe – Costume Designer (The Informer)
Peter Hoar – TV Director (It's A Sin)
Siobhan Reddy – Studio Director (Media Molecule)
Tim Renkow – Writer/Performer (Jerk)
Vanessa Whyte – DOP (Ted Lasso)
BAFTA Breakthrough, launched globally in May 2020, is BAFTA's flagship new talent initiative that identifies and supports the next generation of creative talent in film, games and television. As the main supporting partner for the third year on BAFTA Breakthrough, Netflix continues to provide integral support in the global expansion.
BAFTA and Netflix share a joint vision to celebrate and provide opportunities for emerging talent across the world, bringing together international communities across global networks, in order to develop and support stories and voices from different cultures. The initiative will continue to use digital communications in the coming months to enhance cross-cultural networking across the globe.
BAFTA works closely alongside local cultural bodies in each region to ensure they advise and deliver the necessary support. The successful Breakthrough applicants will receive one-to-one mentoring and career guidance, full membership, access to BAFTA events and screenings for 12 months, as well as networking events, both in the US and internationally.
Maria Ishak, Jury Co-Chair of BAFTA Breakthrough said: "It has been a pleasure serving another year as co-chair for BAFTA Breakthrough's US Jury with such a diverse group of industry leaders who continue to grow in their respective fields. We loved exploring the work of the shortlist and were impressed by the standard of applications. BAFTA Breakthrough provides essential support to emerging talent and I can't wait to see what this year's selected participants will accomplish."
Matthew Wiseman, CEO of BAFTA Los Angeles added: "I am proud of the impact BAFTA Breakthrough USA has had so far, and we are excited to continue nurturing creative talents for this second year. The support of Netflix has been essential to creating a global programme and we are thrilled to continue working with them to champion new talent. Now, more than ever, it is crucial to support emerging artists by providing valuable resources, and opportunities to network and collaborate."
Colin Trevorrow continues the sentiment saying: "Initiatives such as BAFTA Breakthrough are very important for up-and-coming talent in an industry that can seem impossible to break into. Giving creatives the resources to learn and flourish is invaluable to building careers that last."
The initiative, previously known as Breakthrough Brits, has been running in the UK since 2013 and in the US and India since the global expansion last year. Since its launch in 2013, BAFTA Breakthrough has championed over 160 talented newcomers, including performers Bukky Bakray, Paapa Essiedu, Letitia Wright, Florence Pugh, Josh O'Connor, Abubakar Salim and Lauren Ridloff, games creatives Chella Ramanan, Segun Akinola, Gemma Langford, and directors Nicole Newnham, Jim LeBrecht, Rose Glass, Stella Corradi and Destiny Ekaragha, amongst many others. Previous Breakthrough alumni have gone on to flourish within their respective disciplines, many becoming BAFTA winners and nominees.
Supporters of the initiative in recent years who have taken one-to-one meetings to offer development and career advice to participants include actors Olivia Colman, Tilda Swinton, Zawe Ashton, actor-producer Brad Pitt, directors Tom Harper, Barry Jenkins and Asif Kapadia, game designers and developers Brenda Romero, Hideo Kojima, Tim Schafer, actor-writers Sharon Horgan, Amy Schumer and writer-director Amma Asante.
This year's global participants from both the US and UK will be announced on Wednesday, December 8, with the 2021 and 2022 cohort ofparticipants being celebrated and showcased together in 2022. BAFTA Breakthrough India reopened for applications earlier this month.
For more information about BAFTA Breakthrough, please visit here.
Legendary DEAN MARTIN AND FRANK SINATRA FAMILY CHRISTMAS SHOW Premieres on PBS Stations Beginning October 29
Frank Sinatra and Dean Martin, along with their respective families, joined together for this memorable Christmas celebration filmed in 1967, and not seen in its entirety since its original airing on December 21, 1967. In addition to more than a dozen holiday classics, Frank and Dean give viewers a special present: a medley of many of their most beloved songs.
They're joined by an all-star cast of friends and family: Nancy Sinatra, Frank Sinatra, Jr., Tina Sinatra, Claudia Martin, Craig Martin, Dean Paul Martin, Deana Martin, Gail Martin, Gina Martin, Ricci Martin, Jeanne Martin (Mrs. Dean Martin) and Sammy Davis, Jr.
THE DEAN MARTIN AND FRANK SINATRA FAMILY CHRISTMAS SHOW is part of special programming premiering on PBS stations beginning Friday, October 29, 2021 (check local listings). As a special treat for viewers, new interviews with Nancy and Tina Sinatra and Gail and Deana Martin taped at Capitol Records Studio A are featured in the 90-minute version of the program.
The special is brimming over with fan favorites, including solos by Dean ("I'll Be Home for Christmas"), Frank ("Have Yourself a Merry Little Christmas"), Nancy Sinatra (a special holiday version of "These Boots Are Made for Walking"); and Gail Martin ("Santa Claus Is Coming To Town"). Dean and Frank duet on a medley of their hits like "I Can't Give You Anything But Love," "Pennies From Heaven," "A Foggy Day," "The Lady Is a Tramp," "All of Me" and more. Fathers Dean and Frank perform with sons Dean-Paul Martin and Frank Sinatra, Jr. on "How Do You Talk to Your Dad?" and with daughters Deana Martin and Tina Sinatra on "Do, Re, Mi."
And the entire cast joins in on "There's No Place Like Home for the Holidays" and a medley of beloved Christmas carols, including "Deck The Halls," "O Little Town Of Bethlehem," "Joy To The World" and "Silent Night."
The Acid King – The Birth of American Satanic Panic gets a trailer!
A new trailer for Jesse P. Pollack's THE ACID KING, a documentary on Ricky Kasso, the young American who murdered his friend in an alleged "Satanic sacrifice" in 1984, has been released in advance of the November 9 digital release.
Jurassic Shark 2 – Aquapocalypse! lands a trailer
Second Time's the Chum.
A ferocious, prehistoric Megalodon has returned to the surface, terrorizing a group of oil rig workers and members of a local fishing village.

From director Mark Polonia, Jurassic Shark 2 : Aquapocalypse now available On Digital from Wild Eye Releasing.