Get ready for a genre-bending animated feature that will take you on a darkly beautiful and provocative ride. "Unicorn Wars," the latest film from Goya and Annecy Cristal-winning director Alberto Vásquez, is set to debut on Blu-ray on May 9th, 2023, courtesy of GKIDS and distributed by Shout! Factory.
This technicolor film is a critical darling, having been featured in competition at the 2022 Annecy International Animation Film Festival, as well as being an official selection at BFI London, Animation is Film, and Fantastic Fest. It has been described as Bambi meets Apocalypse Now, a horror comedy that explores religious zealotry, the tortured legacies of military fascism, and the depths of the soul.
Vásquez's use of a hyper-saturated color palette and iconography typically associated with children creates a striking contrast to the film's mature themes, making it a visual feast for the eyes. The story follows two teddy bear brothers, Bluet and Tubby, who are at odds with each other as they go through the rigors of teddy bear boot camp and later find themselves in a combat tour in the Magic Forest. Their complicated relationship will ultimately determine the fate of the entire war between teddy bears and unicorns.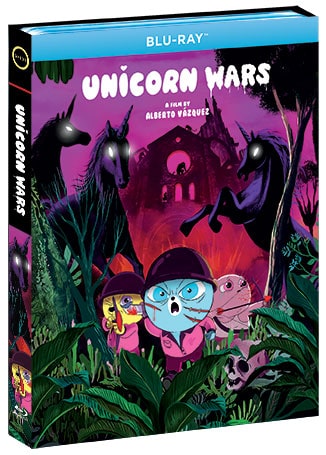 In addition to the film, the Blu-ray release of "Unicorn Wars" will include bonus features such as an interview with director Alberto Vásquez, a "Working in Blender" featurette, a feature-length animatic, and more. Fans can pre-order their copy now from ShoutFactory.com and GKIDS.com/store.
"Unicorn Wars" is a must-watch for fans of animation, horror, and thought-provoking cinema.
Don't miss your chance to experience this unique and unforgettable film on Blu-ray this May.