Hold onto your seats, Venture Bros. fans, because our beloved animated heroes are making a smashing comeback in an entirely new original movie. Picking up right where we left them in the breath-taking season 7 finale, prepare for an exciting journey with "The Venture Bros.: Radiant is the Blood of the Baboon Heart." The movie is set to launch digitally on July 21, 2023, and on Blu-ray Disc come July 25, 2023.
This movie is the latest installment in Adult Swim's award-winning and longest-running original adult animated series. James Urbaniak, Patrick Warburton, Michael Sinterniklaas, Chris McCulloch, and Doc Hammer are reprising their classic roles. We will be welcoming back Dr. Venture, Brock Samson, Dean Venture, Hank Venture, and Dr. Mrs. The Monarch, respectively.
The voice cast has expanded, with the addition of accomplished actors like Nina Arianda, Clancy Brown, John Hodgman, Hal Lublin, Jane Lynch, Charles Parnell, Jay Pharoah, Steven Rattazzi, JK Simmons, and Dana Snyder, each bringing their unique flair to the Venture universe.
The movie is a collaborative masterpiece from Adult Swim, Warner Bros. Discovery Home Entertainment, and Titmouse. We owe the breathtaking screenplay and executive production to our series creators, Doc Hammer and Jackson Publick, with Publick directing. Joining them are executive producers Chris Prynoski, Shannon Prynoski, Antonio Canobbio, and Ben Kalina.
A fun fact for the uninitiated: "The Venture Bros." first aired on Adult Swim on August 7, 2004. It spanned seven seasons and won several awards, including the prestigious Best Animated TV Series Award at Cineme 2003, part of the Chicago International Animated Film Festival.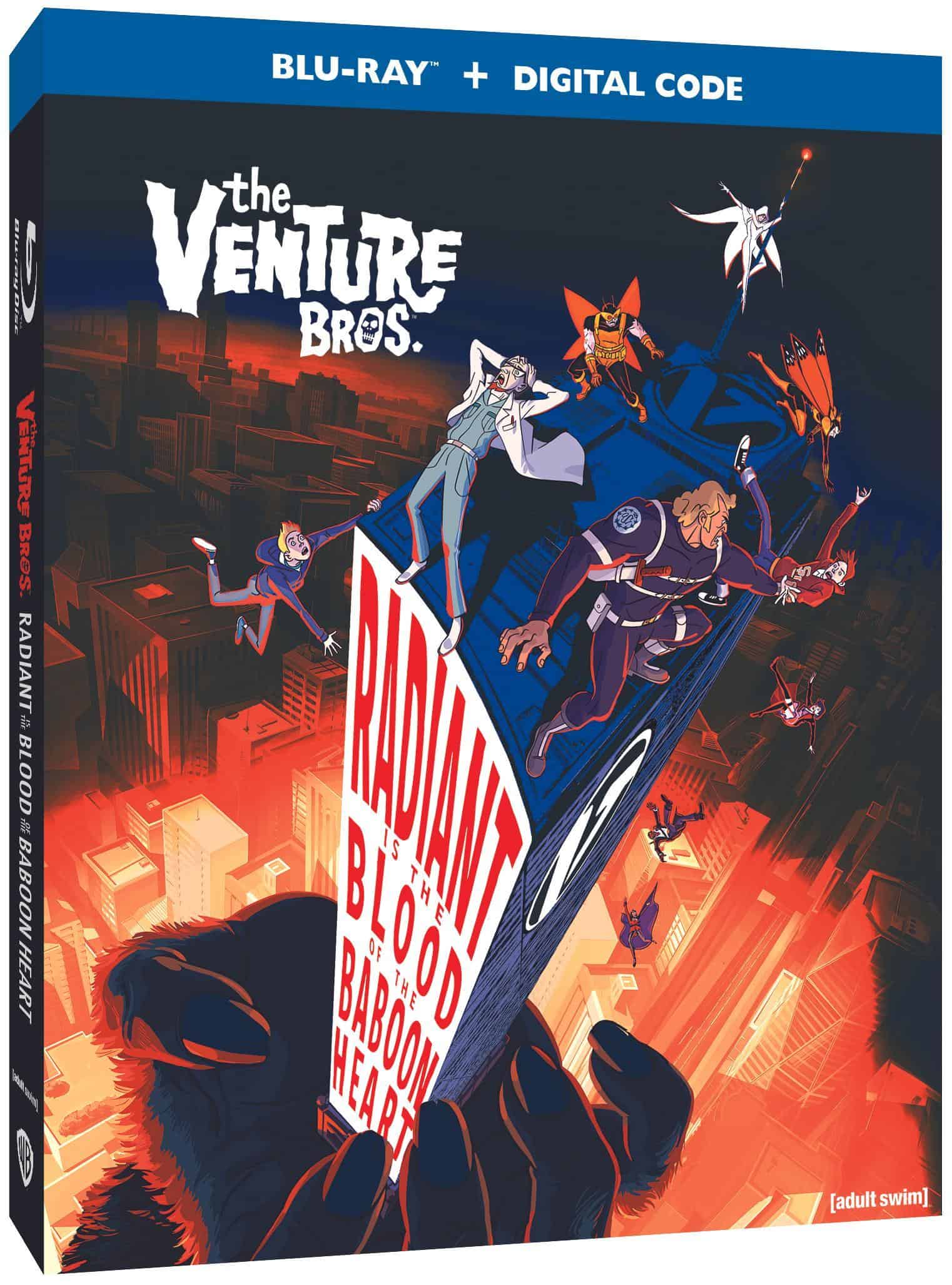 "The Venture Bros.: Radiant is the Blood of the Baboon Heart" is available for pre-order. Purchase digitally from Amazon Prime Video, AppleTV, Google Play, Vudu, and more starting July 21, 2023. The Blu-ray Disc is up for grabs from July 25, 2023, both online and in-store at major retailers.
In anticipation of the movie, grab a copy of "The Venture Bros.: The Complete Series" released today, June 20, 2023. This collection encompasses all 82 nail-biting episodes from the series' seven seasons.
SYNOPSIS: The Venture team faces unique challenges, which could either lead to their downfall or launch them to new heights. Hank sets out on a journey of self-discovery, Dean embarks on a quest to find Hank, and The Monarch looks for answers. A mysterious woman from their past emerges, threatening to shatter their world.
SPECIAL FEATURES:
Commentary by co-creators Jackson Publick and Doc Hammer
Jackson and Doc answer fan questions
"Hodgman and Friends" – A featurette where John Hodgman, Jackson Publick, and Doc Hammer delve into the making of Radiant Is the Blood of the Baboon Heart and share behind-the-scenes stories about their series.
Film information and pricing details
Digital purchase: $19.99
Blu-ray + Digital Copy: $29.98 SRP USA, $39.99 SRP Canada
Audio: English
Subtitles: English, Spanish, French
Running Time: Approximately 83 minutes
Rated: R (language, some sexual references, bloody images, brief full nudity)
Get ready, Venture fans – the countdown to adventure has begun!