Vertical has announced that it has secured the US and UK/IRE distribution rights for the sci-fi thriller Simulant. The film, directed by April Mullen and currently in post-production, is set in the near-future and tells the story of a humanoid A.I.'s attempt to win over a widow's heart, which places it in the path of a government agent trying to stop the rise of machine consciousness.
Starring Robbie Amell, Jordana Brewster, Sam Worthington, Simu Liu, and Alicia Sanz, the film will have a DIRECTV On Demand exclusive release on May 5th, followed by a day & date release on June 2nd. Myriad Pictures will be selling international distribution rights.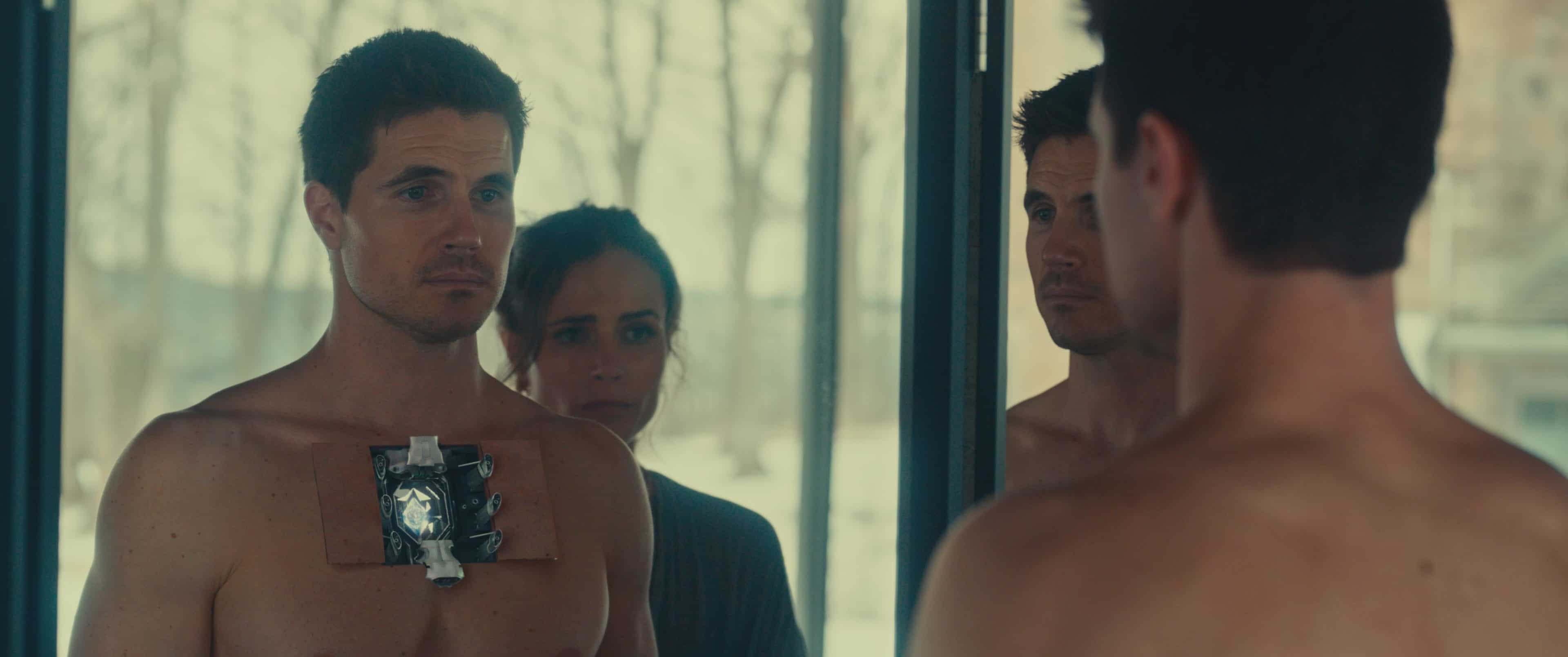 Simulant marks Vertical's second project with Robbie Amell, who previously starred in Code 8 alongside his brother Stephen Amell. The film's screenplay was penned by Ryan Christopher Churchill, while Tim Doiron and James van der Woerd of WANGO Films produced the film. Simulant's executive producers include Peter Bevan, Chris Lee, Myriad Pictures' Kirk D'Amico, David Gendron and Ali Jazayeri of TPC, and Vertical's Peter Jarowey, Rich Goldberg, and Mitch Budin, with Kristin Harris serving as associate producer. The film is financed by TPC and National Bank of Canada.
Simulant follows Faye (Brewster), a widowed woman searching for comfort following the loss of her husband Evan (Amell) by using an android simulant, or SIM, created in his image. Although nearly identical to her husband, Faye can't bring herself to love the android in the same way she loved her husband, leaving SIM Evan's love unrequited. Determined to win her heart, SIM Evan's exceptional ability to think and feel triggers a manhunt led by government agent Kessler (Worthington) who oversees capturing conscious, and potentially dangerous, SIMs.
"We were excited to have secured distribution rights for Simulant early during production. It continues our company's vision to identify great material early and act upon it quickly. The film has all the elements we need to successfully bring it to the marketplace, both in theaters and at home, with its unique story and talented cast," said Peter Jarowey, Partner at Vertical.
The early bid US/UK-IRE deal was negotiated by Peter Jarowey and Kristin Harris on behalf of Vertical, and CAA Media Finance and Verve negotiated on behalf of production. With Vertical's successful track record of identifying great material early, Simulant is a film that should be on everyone's radar, offering a unique exploration of humanity's inevitable struggles with the evolution of Artificial Intelligence. The film is set to be a must-see for sci-fi fans when it is released in May and June.
Vertical has announced that it has secured the US and UK/IRE distribution rights for the sci-fi thriller Simulant.