Renfield, the modern monster tale starring Oscar® winner Nicolas Cage as Dracula, is now available to buy or rent at home on digital platforms nationwide from Universal Pictures Home Entertainment. The film continues its nationwide run in theaters, offering fans a chance to watch the highly anticipated horror comedy from the comfort of their own homes.
Directed by Chris McKay (The Tomorrow War, The LEGO Batman Movie) and written by Ryan Ridley ("Rick & Morty", "Community") from a story by Robert Kirkman ("The Walking Dead", "Invincible"), Renfield is an edgy horror comedy produced by Skybound Entertainment and Giant Wildcat. Packed with dark humor, toxic relationships, and lots of blood, Renfield showcases an all-star cast alongside Cage, including Nicholas Hoult (Mad Max: Fury Road, X-Men franchise), Awkwafina (The Farewell, Marvel's Shang-Chi and the Legend of Ten Rings), Ben Schwartz ("Parks and Recreation", "House of Lies"), Adrian Martinez (The Secret Life of Walter Mitty, iGilbert), Shohreh Aghdashloo (House of Sand and Fog, "House of Saddam"), and Brandon Scott Jones ("Ghosts", "The Good Place").
Renfield tells the story of Renfield (Nicholas Hoult), the tortured aide to history's most narcissistic boss: Dracula (Nicolas Cage). For centuries, Renfield has slavishly served Dracula by procuring his master's prey and doing his every bidding, no matter how debased. But now, Renfield is ready to look for a new life outside the shadow of The Prince of Darkness, if only he can figure out how to end the toxic, codependent relationship.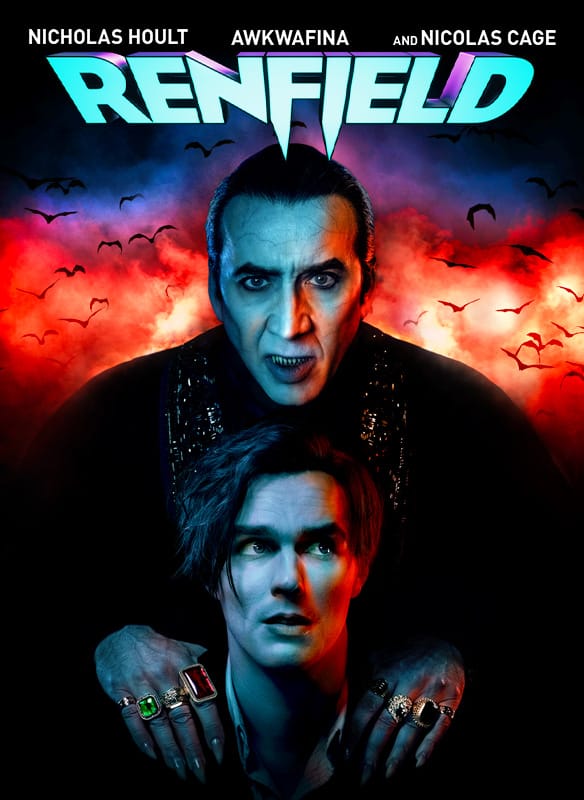 Renfield has already garnered attention from critics and fans alike. The film has been praised for its exceptional cast, unique storyline, and comedic elements. It's a must-see for horror fans who are looking for something different and fresh in the genre.
For more information on Renfield, including the latest news and updates, visit the film's official website, Facebook, Twitter, and Instagram pages.
Don't miss out on this highly entertaining horror comedy that's sure to leave you laughing and scared at the same time! #Renfield