A new documentary celebrating the life and career of guitar icon Carlos Santana is set for a worldwide theatrical release this September. Titled simply Carlos, the film will first premiere with a special 3-day event, Carlos: The Santana Journey Global Premiere, on September 23-24 and 27.
Directed by Emmy-winner Rudy Valdez, Carlos combines intimate new interviews with Santana and his family, never-before-seen archival footage, and testimonials from music legends who have collaborated with and been inspired by Santana. Following the premiere event, Carlos will open in theaters nationwide on September 29.
The Carlos documentary charts Santana's five-decade journey from his origins in Mexico to achieving global superstardom. It provides rare glimpses into Santana's personal life and creative process through home videos he recorded himself. Concert footage, behind-the-scenes moments, and insights from Clive Davis, Rob Thomas, and others showcase Santana's indelible musical legacy.
At the heart of Carlos is Santana's singular, spiritually-infused guitar playing that seamlessly fuses rock, jazz, blues, and Latin rhythms. Songs like "Black Magic Woman", "Oye Como Va", and "Smooth" exemplify his unique sound. Carlos promises an intimate look at the man behind the music who influenced generations and continues to innovate at 74 years old.
The Carlos: Santana Journey Global Premiere event will feature exclusive new content with Santana himself and director Rudy Valdez introducing the film. This special fan-focused premiere will allow audiences to experience Santana's story together on the big screen.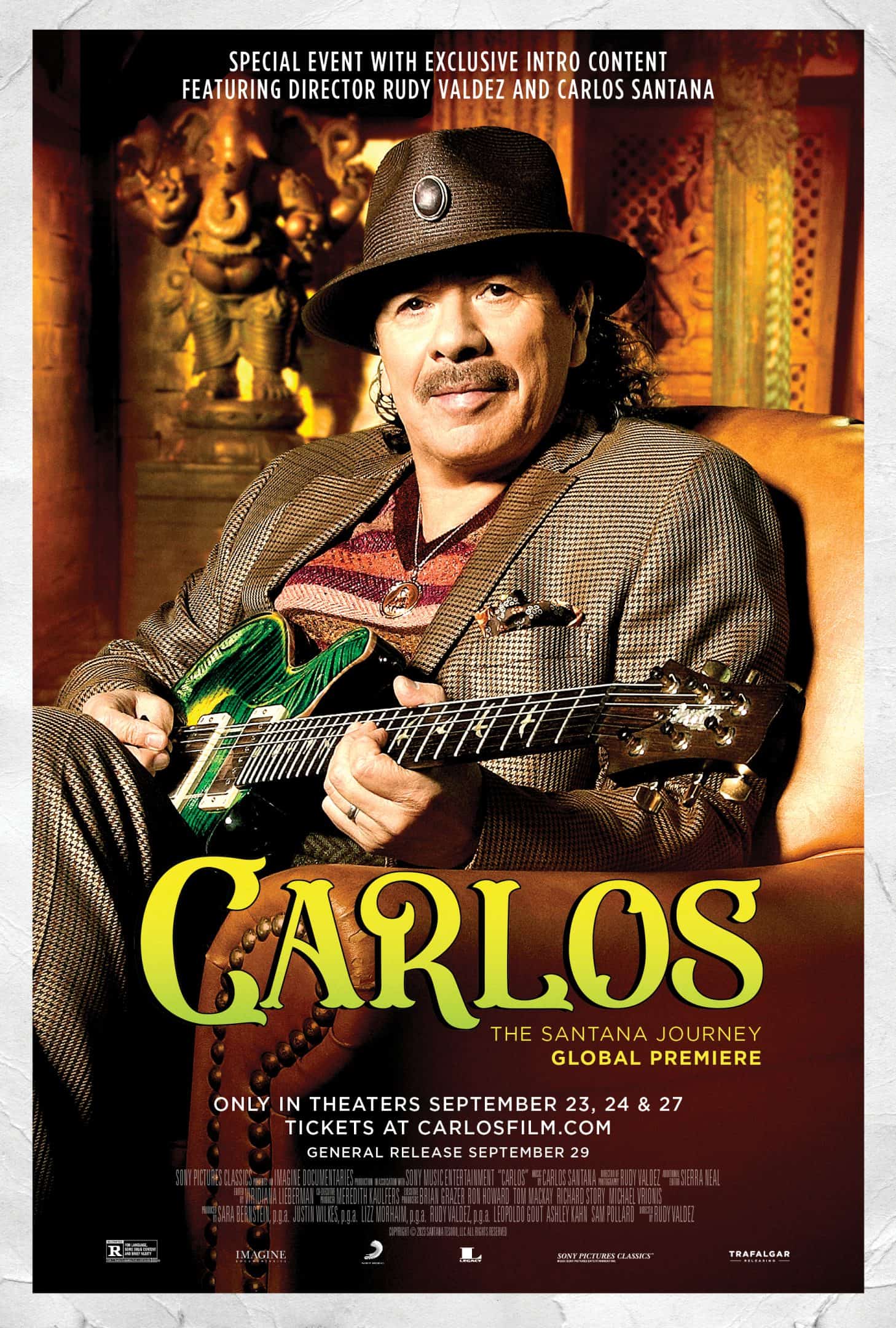 Carlos is a joint production from Sony Music Entertainment and Imagine Documentaries, produced by Academy Award-winners Brian Grazer and Ron Howard. It continues Sony and Grazer's mission of creating definitive documentaries about music icons including The Beatles: Eight Days a Week and Once Were Brothers: Robbie Robertson and The Band.
For five decades, Carlos Santana has woven his guitar magic into the fabric of popular music. Don't miss the theatrical premiere of Carlos, a front-row seat to an extraordinary career.
Hear it from Santana himself during the Carlos: The Santana Journey Global Premiere September 23-27, before Carlos arrives in theaters nationwide September 29.
This is one music legend whose story is fit for the big screen.