As the leaves turn and the air crisps, movie enthusiasts eagerly await the cinematic treats that Fall brings. Fandango, the nation's leading online movie ticketing service, has recently unveiled the results of its 2023 Most Anticipated Fall & Horror Movie Survey, drawing insights from over 2,000 avid ticket buyers. The survey reflects the collective excitement of moviegoers for a diverse array of offerings, from early awards contenders to spine-tingling thrillers and beloved franchises.
Most Anticipated Fall Movies:
The Marvels
The Hunger Games: The Ballad of Songbirds & Snakes
The Equalizer 3
A Haunting in Venice
Killers of the Flower Moon
My Big Fat Greek Wedding 3
The Expendables 4
The Exorcist: Believer
Saw X
Five Nights at Freddy's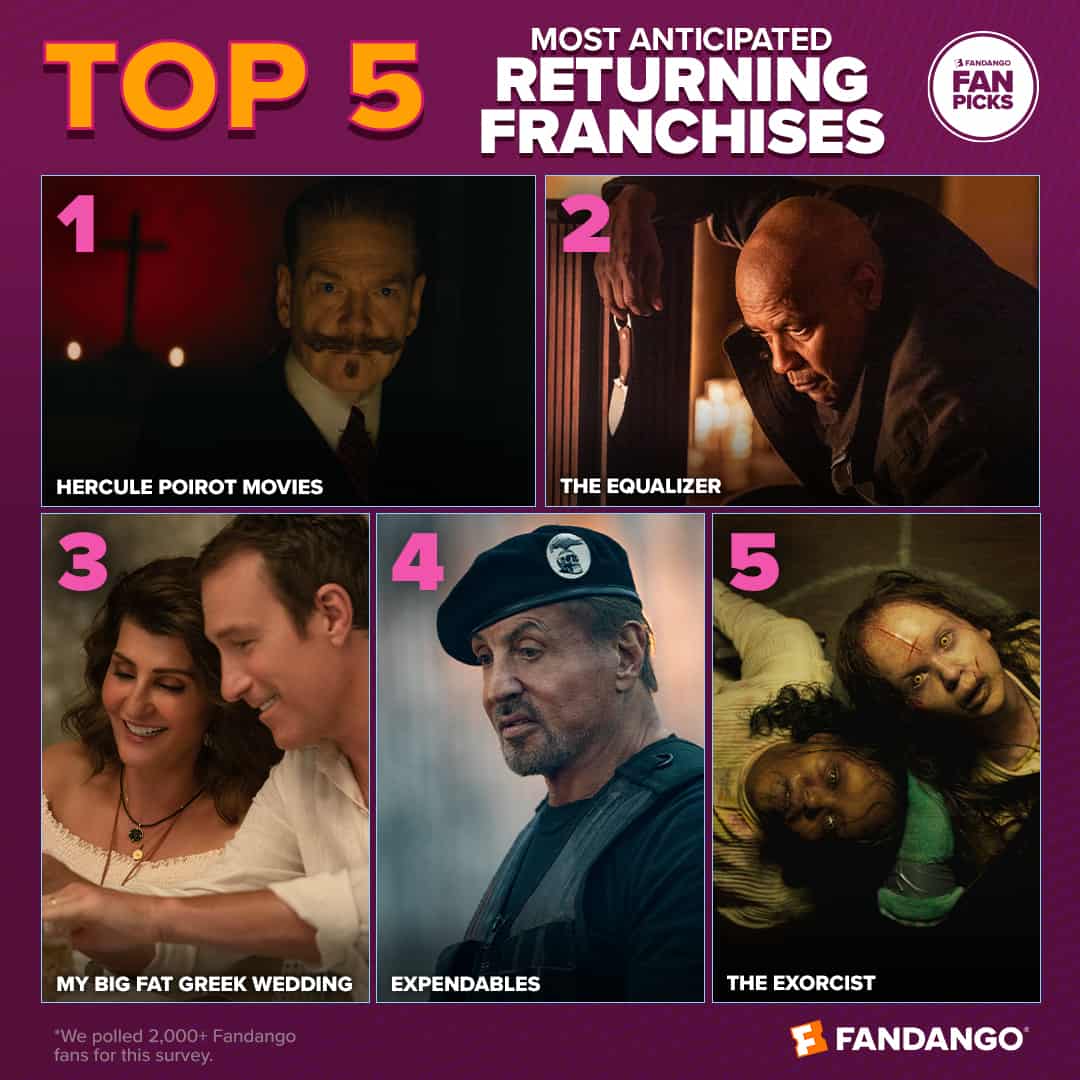 Most Anticipated Movies from Returning Franchises:
Hercule Poirot Movies
The Equalizer
My Big Fat Greek Wedding
Expendables
The Exorcist
Most Anticipated Main Characters:
Carol Danvers (Brie Larson in The Marvels)
Hercule Poirot (Kenneth Branagh in A Haunting in Venice)
Robert McCall (Denzel Washington in The Equalizer 3)
Ms. Marvel (Iman Vellani in The Marvels)
Monica Rambeau (Teyonah Parris in The Marvels)
Most Anticipated Supporting Characters:
Nick Fury (Samuel L. Jackson in The Marvels)
Joyce Reynolds (Michelle Yeoh in A Haunting in Venice)
Casca Highbottom (Peter Dinklage in Hunger Games: The Ballad of Songbirds and Snakes)
W. S. Hamilton (Brendan Fraser in Killers of the Flower Moon)
Acteur (Dakota Fanning in The Equalizer 3)
Horror Enthusiasts Rejoice:
For those with a penchant for all things spooky and hair-raising, Fandango's survey revealed that 96% of respondents plan to indulge in at least one horror movie on Halloween. Astonishingly, 78% of respondents admit to watching between one to six horror movies every month, showcasing a dedicated fan base for the genre.
Most Anticipated Horror Movies this Fall:
A Haunting in Venice
The Exorcist: Believer
Five Nights At Freddy's
Saw X
The Nun II
Preferred Horror Genres:
Thriller
Psychological
Supernatural / Paranormal
Haunted House
Comedic
Recommendations for Horror Aficionados
In October, Rotten Tomatoes will curate a selection of lists and guides featuring some of the most bone-chilling movies of all time. To catch up on these thrilling titles, viewers can turn to Vudu, Fandango's on-demand streaming service, offering a library of over 200,000 premium movies and TV shows for rent or purchase, sans subscription.
Get ready for Fall with Fandango's 2023
With a diverse lineup of eagerly anticipated films, Fall 2023 promises an exciting journey for moviegoers. Whether you're drawn to heart-pounding horror or eagerly await the return of beloved franchises, this season offers something for everyone. So, grab your popcorn, settle into your seat, and let the cinematic magic unfold.