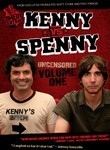 One-upmanship reaches new depths as Canadian slackers Kenny Hotz and
Spencer Rice
find new and diabolical ways to prove who's top dog in these episodes from Season 4 of their hit Comedy Central show, including "Who Can Handle More Torture?" Other outlandishly inventive episodes are "Who Can Blow the Biggest Fart?," "Who Can Be Tied to a Goat the Longest?," "Who Can Commit the Most Crime?," "First Guy to Stop Singing Loses" and more.
                                   <h6>Genres:</h6><p>Television

THE AV REVIEW
There's a train wreck quality to it that I can't seem to resist. Even the foreign spin-offs draw me in. Humor is the lure, and an extreme, pure, competitive element is the hook. These men want to win, nothing doing. As if the competition's aren't unsettling enough, they're followed up by the uncomfortable, and occasionally disturbing, punishments via humiliation.
The DVD is a fun jaunt through the post-Jackass world. There's nothing that really stands out, but it's a fun way to spend an afternoon. Plus, the A/V Quality is pretty sharp for being a Canadian TV production. That's not saying a lot, but you shouldn't write it off. Consider it for a blind buy.