Metalocalypse fans, it's time to rejoice! Adult Swim's popular heavy metal adventure series is making a long-awaited return with a nationwide tour of the show's on-screen band DETHKLOK. In addition to the tour, fans can expect a full-length original film, a companion soundtrack, and the release of "Dethalbum IV," all set to arrive this year.
DETHKLOK will kick off their tour on August 30, with Japanese kawaii metal pioneers BABYMETAL as co-headliners and virtuoso guitarist Jason Richardson as support. The tour will cover 29 dates across the country, including appearances at Blue Ridge Rock Festival in Alton, VA, Louder Than Life in Louisville, KY, and Aftershock in Sacramento, CA.
"It's very surreal having so much new 'Metalocalypse' & DETHKLOK this year with the trifecta of the tour, movie and album," said series creator Brendon Small. "I'm so excited to get on the road with the powerful BABYMETAL, and to celebrate all the hard work that team 'Metalocalypse' and DETHKLOK put in over the last two years and beyond!"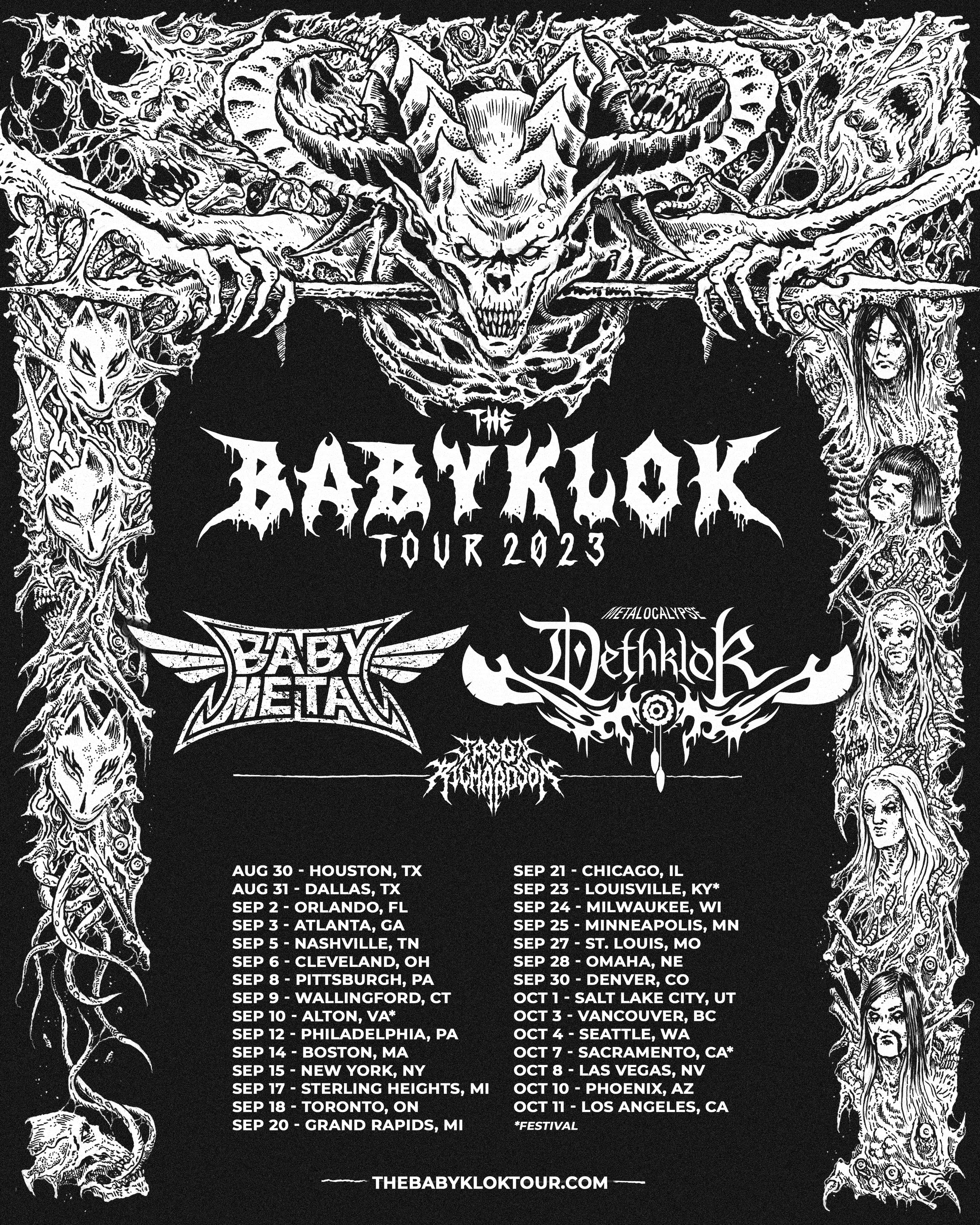 Ticket information and VIP packages can be found on thebabykloktour.com.
Fans can also look forward to the release of "Metalocalypse: Army of the Doomstar," an original full-length movie written and directed by Small and produced by Titmouse, Adult Swim, and Warner Bros. Discovery Home Entertainment. The film features a star-studded cast, including Small, Tommy Blacha, Victor Brandt, Stephen "Thundercat" Bruner, King Diamond, Mark Hamill, Kirk Hammett, Jon Hamm, Scott Ian, Amy Lee, Malcolm McDowell, Juliet Mills, Laraine Newman, Raya Yarbrough, and Livia Zita.
The all-new animated movie picks up after the heroic rescue of Toki Wartooth, as DETHKLOK frontman Nathan Explosion finds himself traumatized in a brutal professional and romantic flat-spin. He must fulfill a prophecy and confront the ultimate songwriting challenge to save the planet. Can Nathan Explosion look beyond his brutally damaged ego to save his band, stop the Metalocalypse, and finally face the ultimate evil: Salacia?
Fans can also anticipate the release of two full-length albums this year. WaterTower Music will release both the film soundtrack, "Metalocalypse: Army of the Doomstar (Original Motion Picture Soundtrack)" as well as "Dethalbum IV" around the launch of the film. In the meantime, fans can summon DETHKLOK by streaming the Metalocalypse: Dethklok Complete Collection playlists.
"Metalocalypse" originally premiered on Adult Swim in 2006 and was created by Small and Tommy Blacha. Get ready to rock out with DETHKLOK once again!