Daughters of Darkness comes to 4K UHD and Blu-ray on October 27th
Blue Underground returns with another prior release getting the upgrade to 4K UHD. Many fans have bemoaned that we're not getting new titles, but they also appreciate that we're at least seeing deep cut horror classics in 4K.
So, what does Blue Underground have to say about Daughters of Darkness coming to 4K UHD and Blu-ray. By that, I mean here's a video.
Shout! Factory Announces Lineup for [email protected] 2020
Pop culture fans rejoice! Although the traditional San Diego Comic-Con will not be held this year, Shout! Factory is pleased to announce it will be participating in the convention's official virtual event, [email protected], as well as programming supplementary content for the company's streaming channel, Shout! Factory TV. [email protected] will be held on the same dates as the previously canceled Comic-Con, July 22-26, 2020. All aspects of [email protected] 2020 are free and there are no limits to how many can attend a panel.

MSTies worldwide can tune into the [email protected] channel on Thursday, July 23 at 6 pm PT, for Mystery Science Theater 3000 – A Panel Panorama. Join Erik Adams (The AV Club) as he leads a discussion with MST3K creator Joel Hodgson and former cast members Bill Corbett (Crow T. Robot # 2) and J. Elvis Weinstein (Tom Servo # 1) as they engage in some good old-fashioned Q & A. To watch the panel, visit [email protected]'s official YouTube channel.

Shout! Factory will also host a virtual booth through [email protected]'s official website, where fans will see pre-order pages for upcoming releases, introductions to Shout! Factory TV channels, Shout! Factory's annual sale of Con-centric titles and a shopping spree contest in which three lucky winners will be picked.

For fans who can't get enough con-related programming, Shout! Factory TV will be streaming a marathon of pop-culture favorites from July 22 through July 26 entitled Shout! Stays In. Showcasing episodes from beloved tokusatsu series Ultraman Leo, Kamen Rider and Super Sentai; cult superhero films including Guardians and Rendel: Dark Vengeance, graphic novel documentaries such as The Image Revolution and Neil Gaiman: Dream Dangerously; Shout! Factory convention panels from years past; and content from TokuSHOUTsu and MST3K new to Shout! Factory TV, there's something for all con fans to enjoy from the safety of their home.
For continuing updates on Shout! Factory's [email protected] activities and news, please visit ShoutFactory.com, and follow us on Twitter, on Instagram, and on Facebook.

Shout! Factory TV's Shout! Stays In can be viewed on ShoutFactoryTV.com; Shout! Factory TV's Roku, Amazon Fire, Apple TV, and Android apps; and the following digital streaming platforms: Twitch, Samsung TV Plus, Comcast Xfinity, Xumo, Redbox, Vizio, IMDb TV, and STIRR.
Weathering with You arrives November 17th
GKids is back at it again. Released into theaters before COVID-19 destroyed theatrical exhibition, I was worried that this film would be forgotten.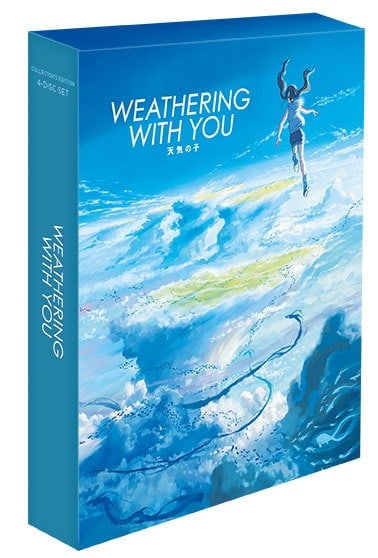 Makoto Shinkai's magnificent new animated film Weathering With You will be getting the ultimate Collector's Edition treatment this fall, after receiving glowing reviews from critics and theatrical audiences alike. Weathering With You (Collector's Edition) will be available November 17 from GKIDS and Shout! Factory.
Exclusive to the limited edition 4-disc set is the highest possible quality version of the film, in stunning 4K UHD™, as well as the full-length feature and standard bonus features on Blu-ray™, an additional Blu-ray™ disc dedicated to the feature-length documentary "The Making Of Weathering With You," as well as the film's soundtrack on CD, a 104-page perfect bound book, a mini poster, and decal sticker, all in a beautiful hard case designed for collectors.
Additional bonus features on the feature film's Blu-ray™ disc include an interview with Director Makoto Shinkai, the "Weather Front" featurette, a talk show interview with Makoto Shinkai and journalist Yumiko Udo, director filmography featurette, and trailers & TV spots. Weathering With You (Collector's Edition) will be available for a suggested retail price of $79.98.

GKIDS proudly presents the highly-anticipated new film from director Makoto Shinkai and the creative team, including producer Genki Kawamura, behind the critically-acclaimed, global smash hit Your Name. Featuring music from the hit band RADWIMPS, and backed by an all-star voice cast including Lee Pace (Guardians of the Galaxy, The Hobbit Trilogy), Alison Brie ("GLOW", The Lego Movie franchise), and Riz Ahmed (Rogue One: A star Wars Story, Venom), Shinkai has once again brought incredible beauty and a powerful story to the screen.

The summer of his high school freshman year, Hodaka runs away from his remote island home to Tokyo, and quickly finds himself pushed to his financial and personal limits. The weather is unusually gloomy and rainy every day, as if to suggest his future. He lives his days in isolation, but finally finds work as a writer for a mysterious occult magazine. Then one day, Hodaka meets Hina on a busy street corner.
This bright and strong-willed girl possesses a strange and wonderful ability: the power to stop the rain and clear the sky… Japan's Official Submission for Best International Feature at the 92nd Academy Awards, and a Toronto International Film Festival Official Selection, this magical tale's awe-inspiring beauty thrilled audiences when the film hit North American theaters in early 2020.

Weathering With You will also be released on September 15 on Blu-ray™ + DVD and SteelBook, and digitally on August 4.

Weathering With You (Collector's Edition) Blu-ray and UHD details
For the complete Weathering With You (Collector's Edition) UHD experience, viewers will need a 4K Ultra HD TV with HDR and a UHD Blu-ray™ player.

Bonus Features: ·        *4K UHD Presentation of Feature Film ·        *CD Soundtrack ·        *104-page Book ·       *Feature-Length Documentary "The Making of Weathering With You" ·        *Mini-Poster ·        *Decal Sticker ·        Interview with Director Makoto Shinkai ·        "Weather Front" Featurette ·        Talk Show: Makoto Shinkai and Yumiko Udo ·        Director Filmography Featurette ·        Trailers & TV Spots *Indicates items exclusive to the Collector's Edition
Pre-Order Available for Gabe Polsky's Acclaimed Russian Hockey Doc RED PENGUINS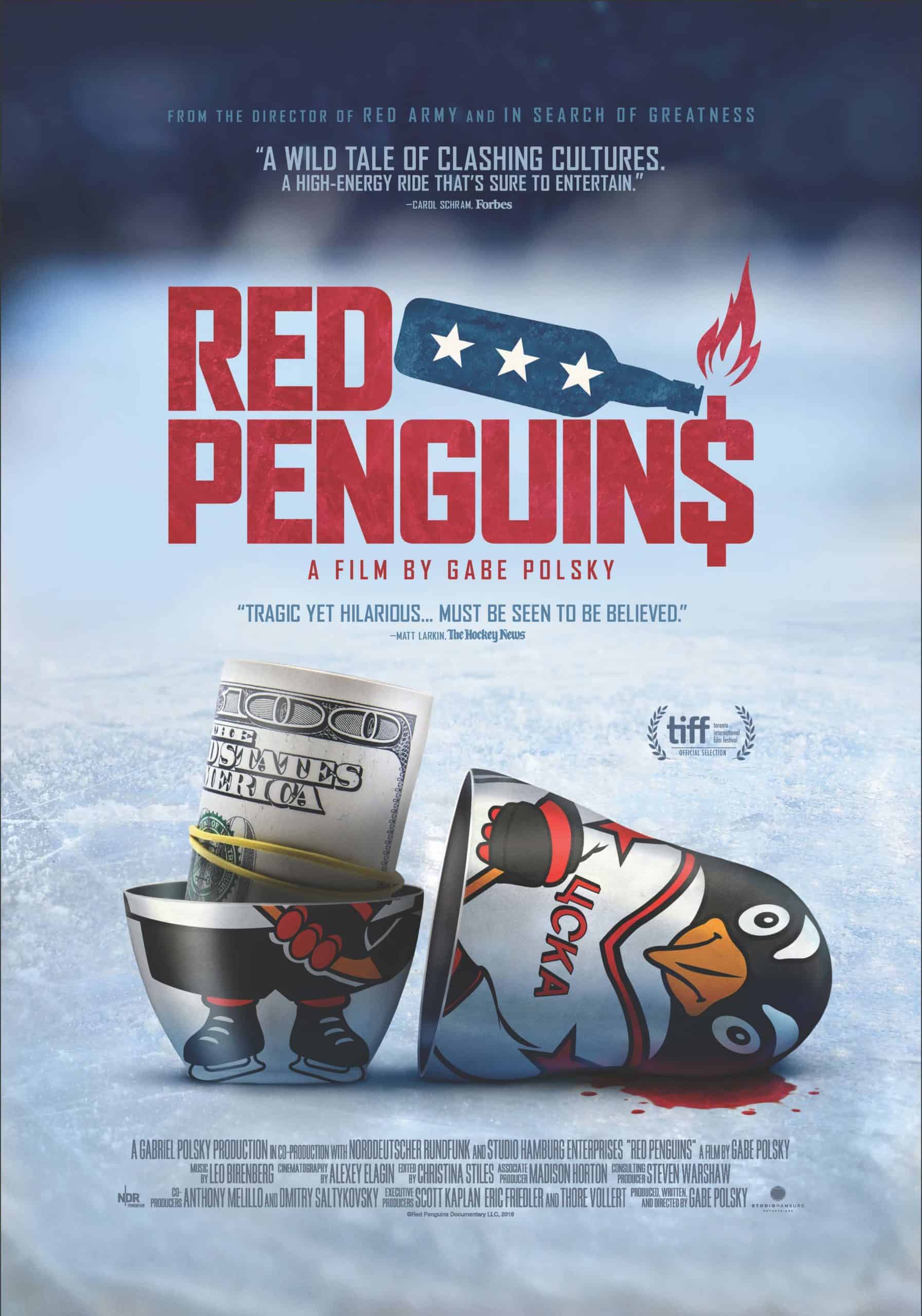 Detailing an incredible true story involving gangsters, strippers, and live bears serving beer on a hockey rink, Red Penguins tells the wild forgotten true story of capitalism and opportunism run amok in Moscow. Shortly after the collapse of the Soviet Union, the Pittsburgh Penguins and the famed Red Army hockey team formed a joint venture that redefined what was possible in the new Russia.
Eccentric marketing whiz, Steve Warshaw, is sent to Moscow and tasked to transform the team into the greatest show in Russia, attracting some of the biggest names in Hollywood and advertising along the way. He takes the viewer on a bizarre journey highlighting a pivotal moment in U.S.-Russian relations during a lawless era when oligarchs made their fortunes and multiple murders went unsolved. 
DIGIMON ADVENTURE: LAST EVOLUTION KIZUNA hits Blu-ray on October 6th
Digimon is one of those things that was way after my time. But, a generous portion of the readers seem to like it.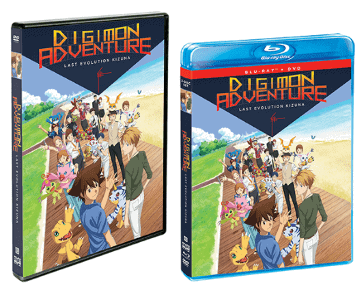 Fans will soon welcome the DigiDestined into their homes to watch the long-awaited, 20th anniversary feature film "Digimon Adventure: Last Evolution Kizuna." This fall, Toei Animation and Shout! Factory are bringing this new animated movie to North America for the first time ever as both a digital and home video release.
On September 29, "Digimon Adventure: Last Evolution Kizuna" will debut first as a digital download available in original Japanese with English subtitles or English dub on Amazon Prime Video, iTunes, Microsoft and Sony PlayStation Network; followed a week later on October 6 with the retail home video release on DVD and Blu-ray Combo Pack (Blu-ray + DVD from Shout! Factory).
Does the Blu-ray add anything for a show that I'm not sure is animated at 2K?
'Sesame Street – Monster Hits: Rock & Rhyme With Elmo' on Digital & DVD September 1
Sesame Street is getting another DVD release from Shout Factory. If you have kids, this is a lot better than other options.
It's time to sing and dance with your favorite Sesame Street friends! Sesame Street Monster Hits: Rock & Rhyme with Elmo will be available on DVD and digital download on September 1, 2020 from Shout Kids and Sesame Workshop. The release is packed with over two hours of rhyming fun, including the full-length feature Elmo's Music Magic. Little ones can also rock out with an exclusive poster of everyone's favorite furry red guitarist, Elmo!

On Monster Hits: Rock & Rhyme with Elmo, classic nursery rhymes are paired with favorite Sesame Street clips. (For example, "Do You Know the Muffin Man" is paired with laugh-out-loud moments like Cookie Monster and Gonger whipping up cranberry muffins on their "foodie truck.") Little ones will love to move, groove, and learn with their favorite friends from Sesame Street. The singalong fun never ends!

Currently in its 50th season, Sesame Street is the country's longest-running children's television program and has received more Emmy® Awards than any other show in television history.

Bonus Features: ·        Full-Length Feature: Elmo's Music Magic
Horror Film 'Fear PHarm' Arriving on DVD and On Demand in September
Brought to you by director Dante Yore (Apparition), and Apparition producers Mark S. Allen and Howard Burd, the pulse-pounding Fear PHarm will arrive on DVD and On Demand on September 15 from Indican Pictures.
Four high school seniors attempt to make it through the world's scariest Halloween corn maze in order to win a grand cash prize at their local fair. Unbeknownst to them, what they had thought would be easy and fun becomes a run for their lives from a deranged family that harvests the DNA of young teens for their special pharmaceutical cream.
I would've liked to have seen a Blu-ray release, but that's COVID for you.
The coming of age story about first love in 1960's California from Academy Award winner Terry Sanders, LIZA, LIZA, SKIES ARE GREY. Coming soon to DVD and VOD.
Vision Films are proud to present the loving coming of age film, Liza, Liza, Skies Are Grey. Directed by Terry Sanders (1994 Academy Award winner for Best Documentary, Maya Lin: A Strong Clear Vision) and starring Once Upon A Time…in Hollywood's breakthrough star Mikey Madison, this unforgettable film captures the innocence and overwhelming emotion that is first love.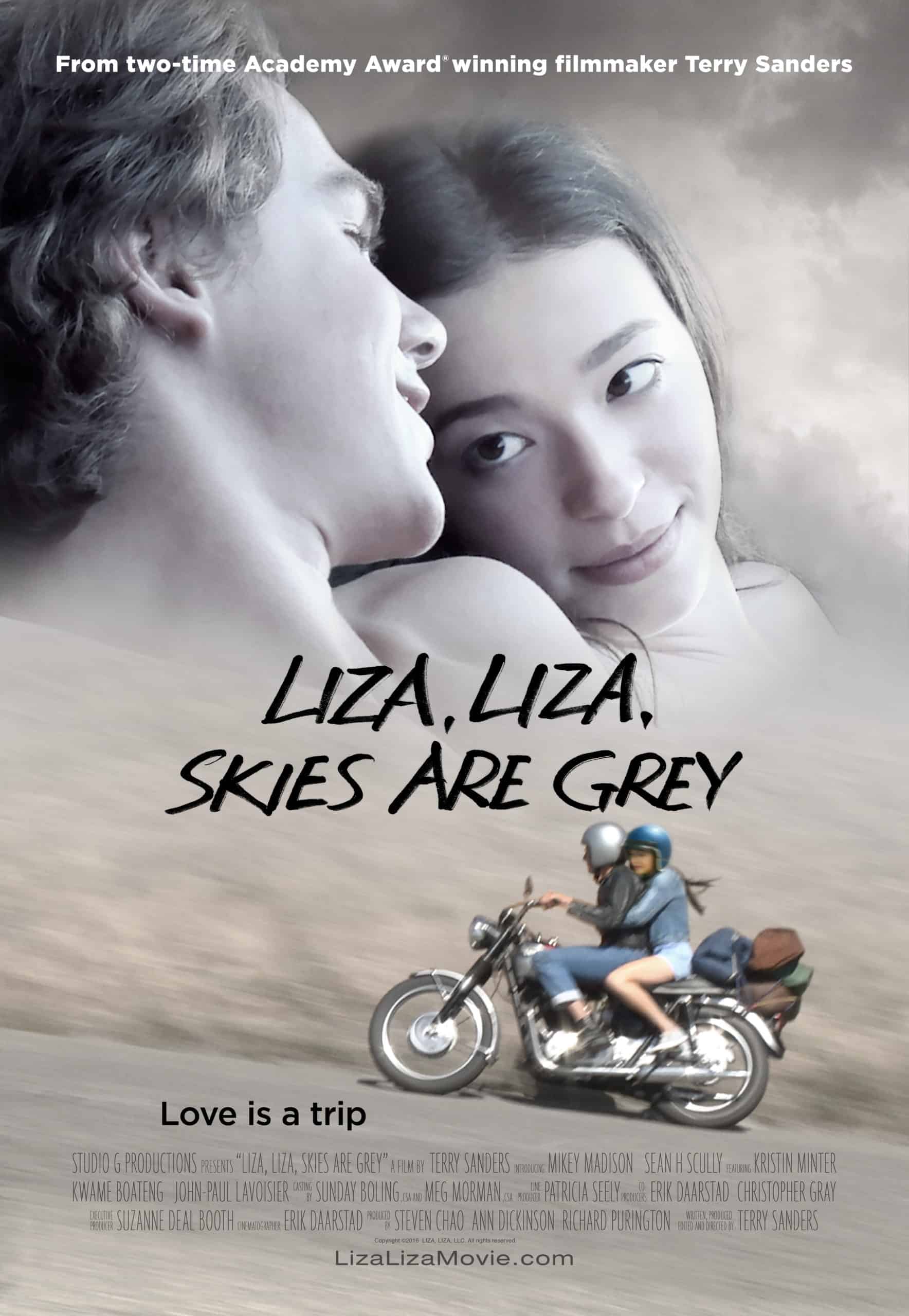 Set in 1960's California with its exquisite cinematography and wonderful performances by its cast of rising stars, Liza, Liza, Skies Are Grey will be available on DVD and video on demand for the first time on August 4, 2020.
"A sweet story of teenage love" – Film Threat
" Sanders takes the elements of teen exploitation films and fashions a simple, placid return to innocence"- Village Voice