Satan's Little Helper is one of those horror films that was distributed by Universal in the mid 00s that seemingly never made it to many screens. Much like how Universal mishandled House of 1,000 Corpses before dumping it on LionsGate, the Classic Monster maven didn't know what to do with horror at the time. So, how much have things changed in less than two decades?
Horror is always better with kids
When it comes to horror movies, nothing is better than watching some monster terrorize kids. Satan's Little Helper makes the mistake of lingering on the monster and kid relationship too long. After awhile, it turns into that old Clint Eastwood movie A Perfect World. If you keep it too short, then it becomes the kid blasting his brains out in Planet Terror. Where is the perfect balance?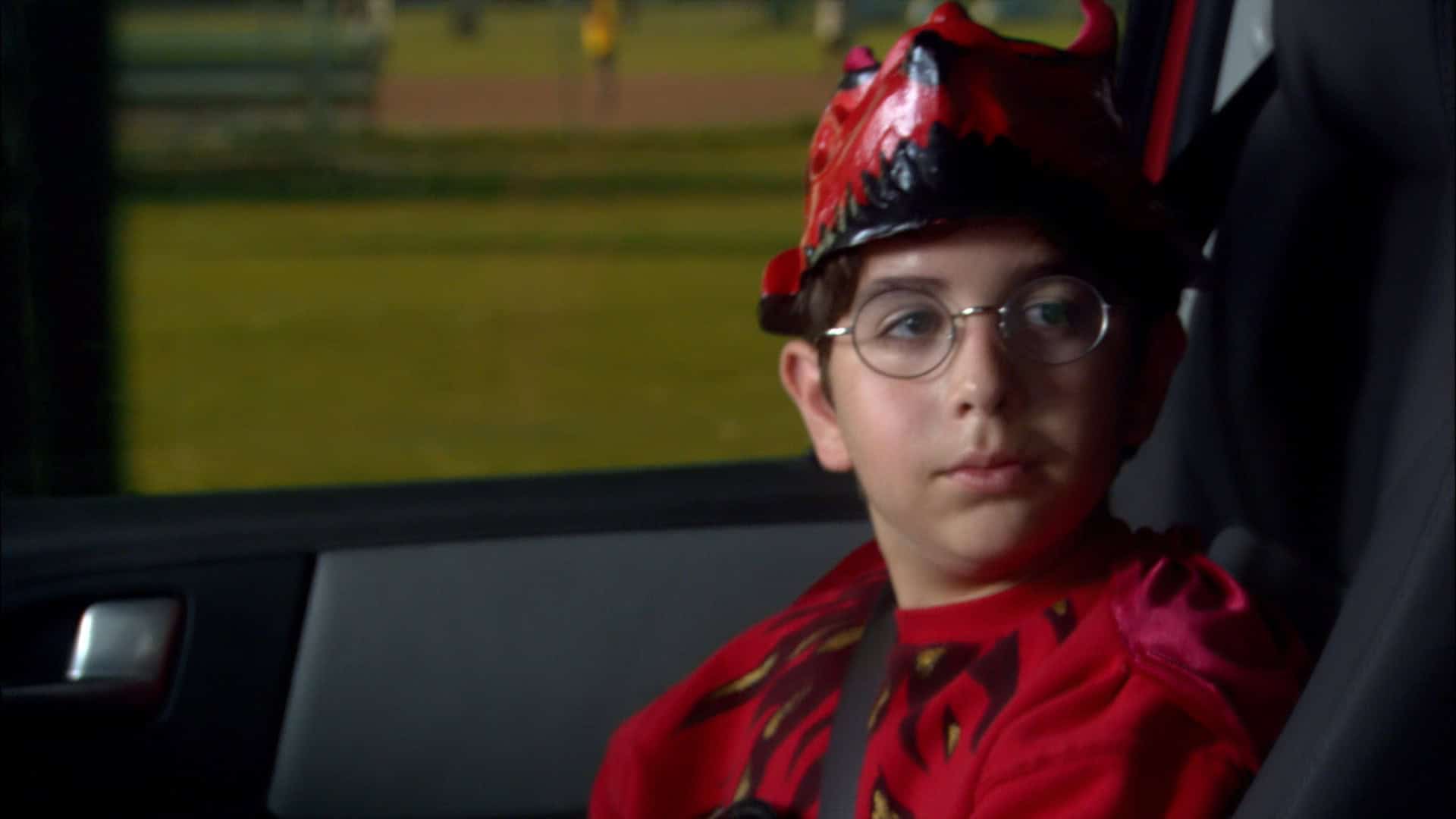 When this film originally came out in 2004, I'm not sure how many readers will have seen it. Horror director Jeff Lieberman has a cult following from his many outings in the 70s and 80s. But, time moves on and the mass appreciation of those films grows smaller and smaller. So, what does that mean for a film from less than 20 years ago?
Well, it's very Canadian and very stilted. At times, it feels like we're missing huge chunks of the movie in favor of throwing in a few jokes. The Satan/Devil Man of Devil's Little Helper doesn't make a ton of sense. This is where the modern horror snobs come in to yell at me for saying he's a mute slasher following a proud tradition of tall, quiet brutes. To that I say, well those other ones don't have to rely on kids.
I like little Dougie and his efforts made to befriend the killer. However, I never feel satisfied by anything the killer does throughout Satan's Little Helper. Whether it's getting stomped by Jenna and her mother or how effortlessly he moves throughout the town, nothing makes sense with him as a threat.
Synapse Films vs. the other horror affiliated outlets
Synapse Films is a little different than what we get from Vinegar Syndrome, Severin or even Cauldron. After tackling their earlier release of The Kindred, I was stoked to watch Satan's Little Helper. After all, I'm such a Vinegar Syndrome goon that I'll watch anything they or their partners release. Hell, I've watched more Shot on Video in 2022 then I did in the 1990s.
That being said, I appreciate the deep dives into these underseen movies. They are never quite gems, but they are movies I wouldn't go out of my way to discover. Since watching Satan's Little Helper, I went back and watch Remote Control and Blue Sunshine. Does it mean that I'm into Lieberman? No. I'm just trying to understand why he came back for this movie.
What's on the Satan's Little Helper Blu-ray?
Satan's Little Helper comes with an audio commentary, featurettes and promo trailer as the special features. The Blu-ray is rather impactful for a movie that isn't on most radars. The commentary with director Jeff Lieberman helped me to understand his process. While I don't agree with a ton of his choices, I can also see how this developed a cult video following.
The A/V Quality is rather strong for a movie that wasn't widely seen. The 1080p transfer makes the flat suburban landscape look strong. Plus, the DTS-HD 2.0 master audio track sounds respectful of the original sound design. I'm just a little stunned that it it wasn't a 5.1 master track. Oh well, it's worth a purchase.
Satan's Little Helper is now available on Blu-ray from Synapse Films