Jon Hamm Featured As Special Guest on 100th Episode of Podcast But Outside
We're going to take a micro break from talking about movies to highlight a podcast I love. While you come to AndersonVision to see talk about movies, sometimes I watch Don Draper speech reels on YouTube for two hours. Between that and the busted foot, you now know the cause of many site delays. Now, it's time for Podcast talk!
The comedic duo behind Podcast But Outside, Cole Hersch and Andrew Michaan, celebrate the 100th episode of their hilarious program by welcoming an exceptional guest star, actor Jon Hamm ("Mad Men," Baby Driver), airing Wednesday, April 21, 2021. The running gag on the podcast since the show began has been Michaan and Hersch's obsession with running into the renowned actor, and their dream came true when Hamm finally agreed to "walk by" and sit down for an interview.

Podcast But Outside takes the overdone medium of indoor podcasting and throws it to the wild world of outside, inviting anybody who strolls by to tell their story and dig deeper into the fascinating life of the passing stranger. Started by Michaan and Hersch in 2019, the show has amassed quite a following with more than 1M monthly listens and views between their YouTube channel and podcast platforms. Podcast But Outside has over 630k followers across Twitter, Instagram, Tik Tok and Youtube, with several viral clips reaching hundreds of millions of views and garnering tens of millions of likes.

"Since episode one we've always instinctively known that Jon Hamm would be the best possible guest for our show," said co-host Andrew Michaan. "After he sat down with us for an hour, I've gotta say we must be geniuses because we were totally right."

"It's really very fitting that Hamm agreed to join us for our 100th episode," added co-host Cole Hersch. "To me, Jon Hamm has always been the perfect man; he's got the perfect look, the perfect height, and the perfect voice, so it would only make sense that he'd be the perfect guest for our perfect show."

Based in Los Angeles, Podcast But Outside features spontaneous interviews with strangers in a variety of locations, including Knott's Berry Farm, a Trump rally, an Olive Garden, the beach, strangers' weddings, a vaccine line, and more. In an effort to maintain their ethical superiority, the hosts pay each guest one dollar to be featured on the show.

For more information about Podcast But Outside and to check out full episodes, you can find them on all podcast platforms or at https://www.podcastbutoutside.com/.
DREAM HORSE starring Toni Collette and Damian Lewis | In Theaters May 21st and On Demand June 11th
Dream Horse in Theaters May 21st and On Demand June 11th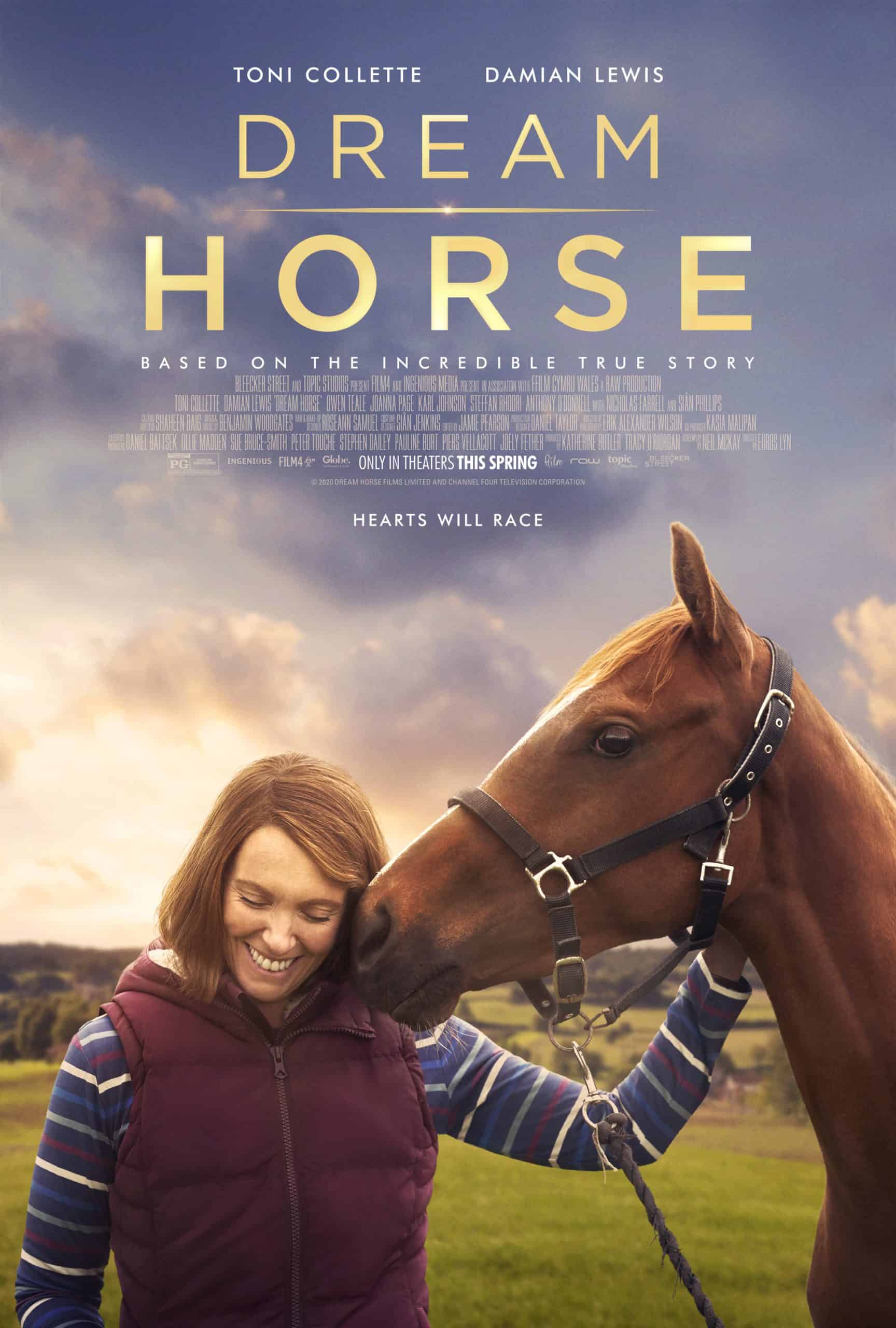 The film tells the inspiring true story of Dream Alliance, an unlikely race horse bred by small town bartender, Jan Vokes (Academy Award® nominee Toni Collette). With very little money and no experience, Jan convinces her neighbors to chip in their meager earnings to help raise Dream and compete with the racing elites. Their investment pays off as Dream rises through the ranks and becomes a beacon of hope in their struggling community.

Cast: Toni Collette, Damian Lewis, Owen Teale, Joanna Page, Karl Johnson, Steffan Rhodri, Anthony O'Donnell with Nicholas Farrell and Sian Phillips Directed by: Euros Lyn Written by: Neil McKay Produced by: Katherine Butler, Tracy O'Riordan Genre: Comedy, Family, Inspirational, Drama, Sports Rating: PG Distributor: Bleecker Street and Topic Studios
Pat Mills' Lesbian Slasher "THE RETREAT" Opening May 21st | New Trailer and Poster
Renee and Valerie, a couple at a cross roads in their relationship, leave the city to spend the week at a remote cabin with friends. But when they arrive, their friends are nowhere to be found. As they stumble through their relationship woes, they discover they are being hunted by a group of militant extremists who are determined to exterminate them.

Writer's Statement The idea for the film originated when my wife and I spent the night at a remote wilderness retreat in the middle of nowhere. We never saw our hosts, but kept feeling like we were being watched. We were hyper aware of how exposed we felt and vulnerable we were so far from the comfort of the city.

A vulnerability we felt not just as women but also as queer women. In a remote setting we were at the mercy of our surroundings and strangers we weren't sure we could trust. In many ways, times have never been better for the LGBTQ+ community. Especially if you live in a progressive city but what happens when we leave that safety and comfort? THE RETREAT explores that fear.

Another big driving factor for writing this film was feeling frustrated by the representation of queer characters in genre movies. Queer bodies have a long history of being disposable in media. The 'bury your gays' trope is real. In so many movies and shows, the queer female characters are often killed or worse, revealed to be the 'psychotic killer' and then killed.

Our limited representation is often expendable and only exists to support the heteronormative narrative. I really wanted to write a script where the queer women didn't turn on each other but instead turned to each other to survive. It was important to me that the gay women in THE RETREAT work together to turn the tables on the villains and live

-Alyson Richards
Director: Pat Mills Writer: Alyson Richards Starring: Tommie-Amber Piri, Sarah Allen, Rossif Sutherland, Aaron Ashmore, Celina Sinden Producer: Lauren Grant Cinematography: David Schuurman Editing: Orlee Buium, Maureen Grant Genre: Horror, Thriller
Here's a New Clip for FOUR GOOD DAYS – Starring Glenn Close & Mila Kunis – Dir. Rodrigo García – Out on April 30, 2021
| | |
| --- | --- |
| Distributed By: | Vertical Entertainment |
| In Theaters: | April 30, 2021 |
| Directed By: | Rodrigo García |
| Produced By: | Jon Avnet, Marina Grasic, Jake Avnet, Jai Khanna, Rodrigo García |
| Screenplay By: | Eli Saslow & Rodrigo García |
| Starring: | Glenn Close, Mila Kunis, Stephen Root, Joshua Leonard, Sam Hennings |
| Rating: | Rated R for drug content, language throughout and brief sexuality |
| Run Time: | 99 mins |
| Synopsis: | In an emotional journey based on a true story by Pulitzer Prize-winning Washington Post writer Eli Saslow, 31-year-old Molly begs her estranged mother Deb for help fighting a fierce battle against the demons that have derailed her life. Despite all she has learned over a decade of disappointment, grief and rage, Deb throws herself into one last attempt to save her beloved daughter from the deadly and merciless grip of heroin addiction. Powerhouse performances from Glenn Close and Mila Kunis anchor director Rodrigo García's poignant and unpredictable chronicle of mother and daughter fighting to regain the love and trust that once held them together. |
REBA MCENTIRE PREMIERES "SOMEHOW YOU DO" MUSIC FILM DIRECTED BY JON AVNET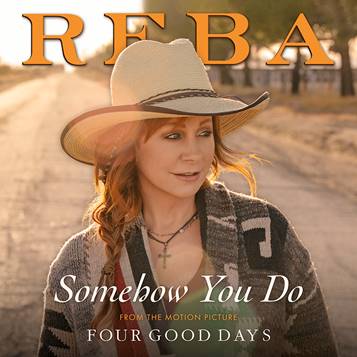 Country icon Reba McEntire is giving fans their first taste of new music in two years today with the release of the original song "Somehow You Do," listen HERE. "Somehow You Do" was written by Diane Warren for the feature film Four Good Days and marks the third time Reba has collaborated with the award-winning songwriter following the success of "What If" in 1997 and "I'll Be" in 2000. The song also reunites Reba with longtime producer Tony Brown.
This stunning video, which highlights Reba among a picturesque Southern Californian backdrop, was directed by acclaimed filmmaker Jon Avnet (Fried Green Tomatoes, Risky Business, Black Swan). Fans can watch
"Somehow You Do" is the featured track in the new motion picture Four Good Days, which opens in select theatres on April 30, 2021. Directed by Rodrigo Garcia, Four Good Days includes knockout performances by Glenn Close and Mila Kunis. The film had its worldwide premiere at the 2020 Sundance Film Festival. In celebration, Reba has released the official music video today.
"It's an honor to get to sing a Diane Warren song anytime, but then to be associated with talented actors in a movie like Glenn and Mila is just icing on the cake," says Reba. "Add in Jon Avnet directing the video and it just doesn't get much better!"
"Reba's interpretation of Diane Warren's song was so nuanced and moving," adds Jon. "When I was asked if I would direct the filming of it, I jumped at the opportunity. I hoped to use the film to interpret both the song and the movie 'Four Good Days.' It was worth every minute in the desert working with Reba. She's a pro's pro and fun to boot! And of course, this is my second go around with Diane Warren. The first was 'Because You Loved Me,' that Celine Dion sung for my film 'Up Close and Personal.' That one worked out well and I think 'Somehow You Do' should as well."
"'Somehow You Do' is a song about hope, about how even through the times that are so hard and moments in your life that are so devastating, that somehow you will get through them and get to the other side," shares Diane Warren. "It is a song about strength of the human spirit and no voice can convey that as much as Reba McEntire. She makes you feel with every note that you might think you can't get through it, but somehow you will, and somehow you do."
ARROW Announces May SVOD Lineup, Leading With Road Trip Thriller THRESHOLD, The Mob, and Vampires
Arrow Video is excited to announce the May 2021 lineup of their new subscription-based ARROW platform, available to subscribers in the US, Canada and the UK.

The May lineup leads with the ARROW release of Powell Robinson and Patrick R. Young's acclaimed Threshold, available to subscribers in the US, Canada and the UK. The haunted road trip thriller world premiered at the Salem Horror Fest in October and made its European premiere at Soho Horror Film Festival in November.

On May 3, ARROW subscribers in the US, Canada and the UK can go on a trip with Threshold from the comfort of their homes.

Threshold, the second feature from co-directors Powell Robinson, Patrick R. Young and producer Lauren Bates, following their debut Bastard (2015), was improvised and shot on two iPhones over the course of a 12-day road trip with a crew of just three. The results are an inventive and compelling psychological thriller with hints of the supernatural that recalls such indie cult classics as Ben Wheatley's Kill List (2011) and Justin Benson and Aaron Moorhead's Resolution (2013).
Patrick R. Young commented: "We're excited to have Threshold join the Arrow family. This is a deeply personal project, and we couldn't imagine better caretakers than these cult, genre, bizarro film-loving cine-freaks. Our only hope is that this gives people a chance to connect with our actor's characters as much as we have."

Powell Robinson commented: "We set out to make Threshold with two goals: tell a very intimate story which all of us could put a piece of ourselves into, and also to inspire others to do the same. Arrow is the perfect platform to get this in front of the right someone who just needed a small push to hit the road with a tight-knit crew and do the same."

ARROW Stories will be home to a number of exclusive extras for Threshold, including a directors' intro to the film, a directors' and editor's feature commentary, a cast and crew feature commentary, The Making of Threshold featurette, behind the scenes featurettes, and more.
May 3 will see the arrival of Threshold (US/CA/UK), Versus (US/UK), Fukuchan of Fukufuku Flats (US/UK), Lowlife Love (US/UK), and Love and Other Cults (US/UK).
May 3rd's Seasonal arrivals are Ghouls & Gangsters, a violent blend of bullets and blood, mafia lords and the living dead. Titles include: Versus, Zombie for Sale, Wolf Guy and more.
Unclean Spirits will unleash the darkest souls of the angrily departed, unwilling to rest while there is suffering to cause among the living. Titles include: Demons, Demons 2, Mirror/Mirror, Dream Demon, and Scared Stiff.

May 7 sees the arrival of the award-winning family drama Toto the Hero (US/CA/UK).
May 14 will debut with Putney Swope (US/CA/UK), Zombie Nightmare (US/CA/UK), and The Reflecting Skin (US/CA).
May 14 sees the sun set and the body count rise with Blood Lust, ARROW's love letter to the vampire genre. Titles include: The Reflecting Skin, The Sheltering Sky, the Bloodthirsty Trilogy, The Addiction, Vampyres, and Tenderness of the Wolves.
May 17 will see the release of Walter Cichy's action thriller Cop Killers (US/CA/UK).
Kick Back with the New Rick and Morty Crate!
Kick back and ricklax with Loot Crate's New Rick and Morty July Crate!
Kick off your shoes, grab your beach chair and get ready for some "Far-Away Vibes" with the July Rick and Morty Crate. Take a much-needed vacation with officially licensed and exclusive collectibles and gear featuring your favorite characters from the Rick and Morty universe.
The July "Far-Away Vibes" crate is filled with exclusives including a Ricktanical T-shirt, Beach Blanket, Collapsible Beach Bag, Juice Glass and more.
Supplies are limited and these crates sell out fast! To veg out to this awesome collection of Rick and Morty items be sure to order by July 15 at 9:00pm PST. Rick and Morty Crates start at $39.99 plus shipping and handling.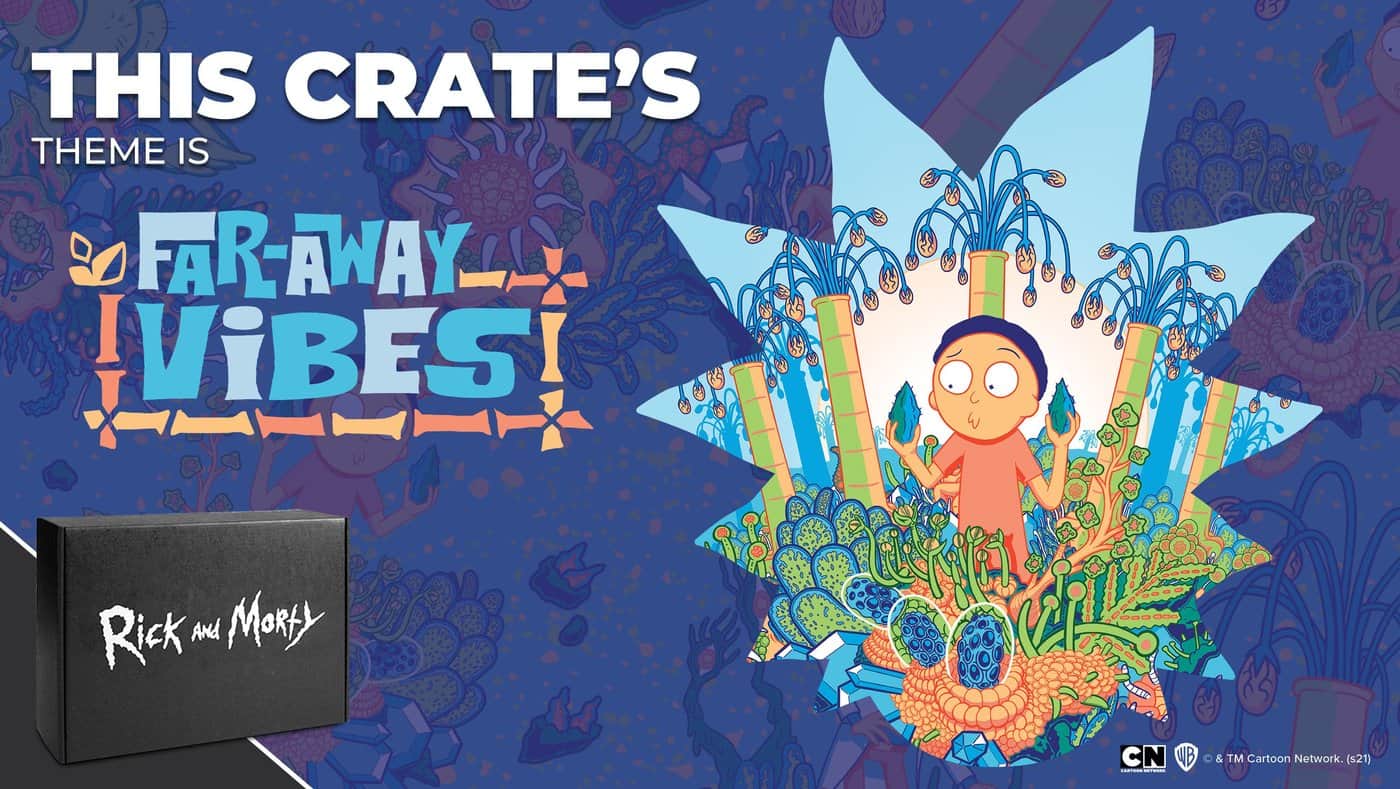 Get ready for a summer of fun and subscribe to the Rick and Morty crate!
Shout! Factory TV to Stream Don Rickles Specials, C.P.O. Sharkey Beginning May 1
One of comedy's most famous funnymen heads to streaming for the first time ever with a premiere on Shout! Factory TV May 1. The streaming service will release the complete two-season run of C.P.O. Sharkey alongside classic hourlong comedy specials from the 1970s starring the legendary Don Rickles.
Fans can soon enjoy four hilarious comedy specials – The Many Sides of Don Rickles, Don Rickles: Alive and Kicking, Mr. Warmth and The Don Rickles Special – featuring a who's who of guest stars including Johnny Carson, Bob Newhart, Dean Martin, Frank Sinatra, Carroll O'Connor, Tim Conway, Harvey Korman, Anne Meara, Jack Klugman, and many more.
In addition to the specials, this launch includes the complete series of Rickles' beloved series C.P.O. Sharkey. After serving in the Navy during WWII, Rickles found a perfect vehicle for his inimitable brand of comedy with C.P.O. Sharkey, a satirical look at Navy life which ran on NBC for two seasons and 37 episodes (1976-78). As a 24-year naval veteran, Otto Sharkey had pretty much seen and heard it all.
The unseasoned recruits he whipped into shape received most of his wisdom, though sometimes it was served up as sharp-tongued barbs. And, though the men of Company 144 were bunglers and blockheads, they were his bunglers and blockheads — ready, willing, and able to endure one verbal Shark attack after another.
Beneath his barbed exterior, however, there was a heart of gold and Otto helped his recruits survive boot camp and life with equal measure. "I'm so happy that my father's comedy specials, along with C.P.O. Sharkey, will finally be available to stream," said Mindy Rickles. "I grew up watching my father's groundbreaking comedy; and now his genius will be accessible for new generations of viewers."
Shout! Factory TV will also celebrate the streaming launch by hosting a birthday marathon in memory of Don Rickles from midnight-to-midnight PT on Saturday, May 8. Throughout the day, Shout! Factory TV will be streaming the Rickles comedy specials, episodes of C.P.O. Sharkey, and curated Rickles-starring episodes of The Johnny Carson Show and The Carol Burnett Show.
For nearly seven decades, Don Rickles appeared in top showrooms and concert halls throughout the world and is regarded among the world's top entertainers. Rickles is a star whose career spanned stand-up comedy, headlining residencies, frequent variety show and late-night talk show appearances, scripted television, and major feature films. Rickles earned the nicknames The Merchant of Venom and Mr. Warmth (coined affectionately by Johnny Carson) for his insult style of humor, a signature that grew from his responses to hecklers in the early days of his stand-up act.
Being roasted by Rickles became a measure of show business industry status and a badge of honor, which was enjoyed by almost every major celebrity from Frank Sinatra to Ryan Gosling. The recipient of an Emmy Award, The TV Land Legend Award, The Friars Club Legend Award and the Johnny Carson Comedy Legend Award, Rickles' status as a comedic icon has long been cemented.
His very last project, an unscripted Web series entitled Dinner with Don, won both a Telly Award for Non-Scripted Web Series and an International Academy of Web Television Award for Best Comedy Series in 2018.
C.P.O. Sharkey and the Don Rickles comedy specials will be available for streaming on demand across Shout! Factory TV platforms, on ShoutFactoryTV.com; Shout! Factory TV's Roku, Amazon Fire, Apple TV, and Android apps; and on various Shout! Factory TV branded channels including Tubi, Amazon Prime Channels, and the Roku Channel. The marathon can be viewed on ShoutFactoryTV.com; Shout! Factory TV's Roku, Amazon Fire, Apple TV, and Android apps; and the following digital streaming platforms: Twitch, Pluto TV, Samsung TV Plus, Comcast Xfinity, Xumo, Vizio, Redbox, IMDb TV, STIRR, Sling TV, THETA.tv and Local Now.
VERTICAL ENTERTAINMENT & REDBOX ENTERTAINMENT ACQUIRE AL PACINO WORLD WAR II DRAMA "AMERICAN TRAITOR: THE TRIAL OF AXIS SALLY"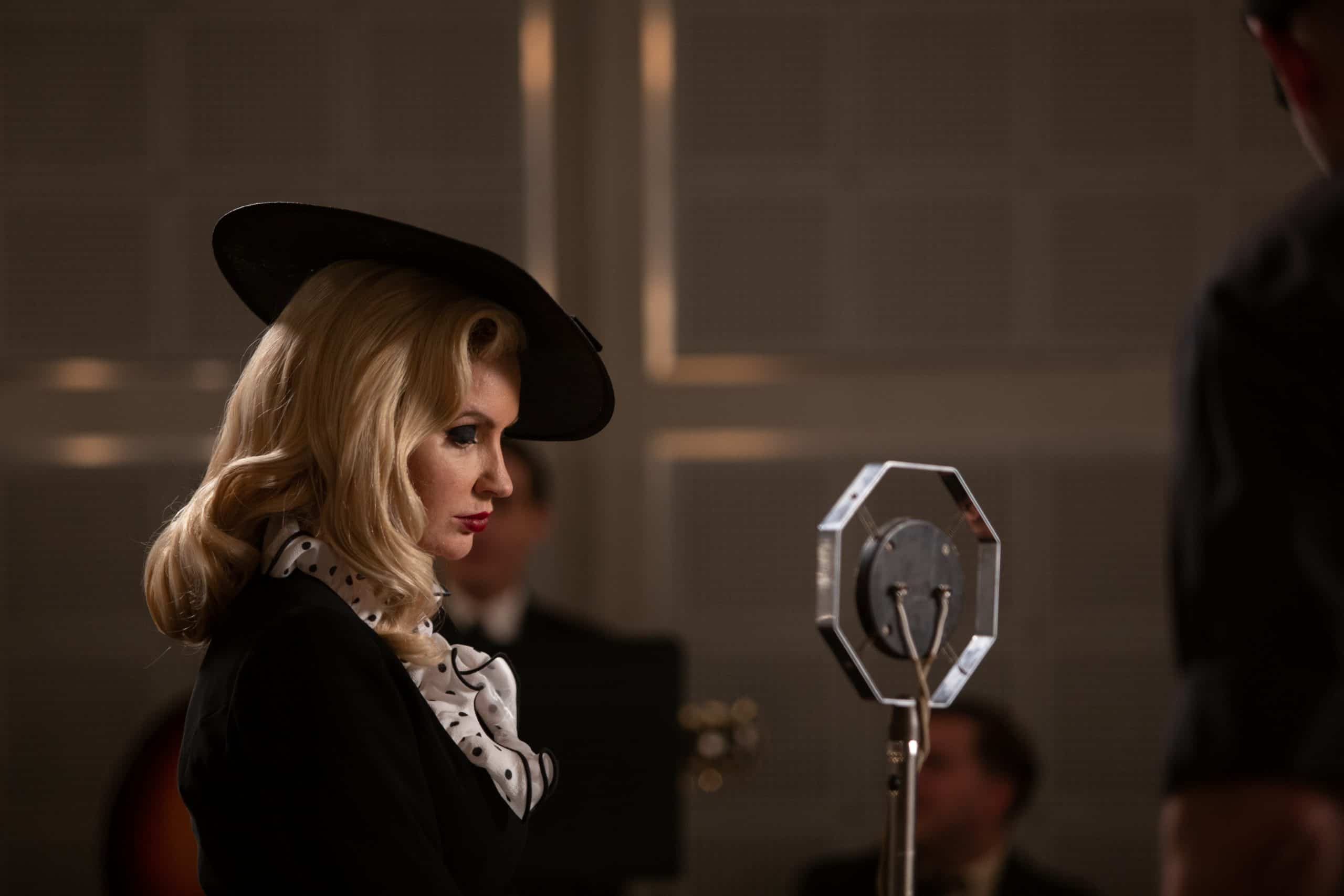 Vertical Entertainment and Redbox Entertainment have acquired North American rights to Michael Polish's historical drama American Traitor: The Trial of Axis Sally. The film stars Academy Award Winner Al Pacino (Serpico, The Godfather, Dog Day Afternoon, Dick Tracy), Meadow Williams (Den of Thieves, BOSS LEVEL, 10 Minutes Gone), Swen Temmell (After, Hard Kill), Mitch Pileggi (Basic Instinct, The X-Files, Shocker), Thomas Kretschmann (King Kong, Blade II, Resident Evil: Apocalypse), and Lala Kent (Vanderpump Rules, Hard Kill, One Shot).
Vertical Entertainment and Redbox Entertainment will release the film as a day & date theatrical release on May 28, 2021. This is Vertical and Redbox's fifth release together following the Tom Hardy starring biopic, Capone, the heart-pumping Chloë Grace Moretz creature feature, Shadow in the Cloud, the exorcism horror The Seventh Day starring Guy Pearce and Steven Lang, and the Sam Heughan-fronted action film SAS: Red Notice.
Based on the true story, American Traitor: The Trial of Axis Sally follows the life of American woman Mildred Gillars (Meadow Williams) and her lawyer (Al Pacino), who struggles to redeem her reputation. Dubbed "Axis Sally" for broadcasting Nazi propaganda to American troops during World War II, Mildred's story exposes the dark underbelly of the Third Reich's hate-filled propaganda machine, her eventual capture in Berlin, and subsequent trial for treason against the United States after the war.
"The outstanding ensemble cast and talented director bring this unbelievable true story of an American citizen who helped the Nazi's spread propaganda during the War," said Galen Smith, CEO of Redbox. "American Traitor is a real-life thriller and cautionary tale that should not be forgotten and we're proud to team with Vertical to bring the film to audiences."
"We are excited to be partnering with Redbox to share the tale of Axis Sally, one of the many memorable moments in history that has been forgotten over time. The story of an American woman coerced into working for the Nazis and then fighting for her life on trial in the U.S. after the war is an incredibly compelling moment in our history that we're thrilled to share with audiences next month," said Rich Goldberg, co-president of Vertical Entertainment.
Peter Jarowey and Josh Spector of Vertical Entertainment and Marc Danon of Redbox Entertainment negotiated the deal with Emmett/Furla/Oasis Films and CAA Media Finance and Reder & Feig LLP on behalf of the filmmakers.
American Traitor: The Trial of Axis Sally was directed by Michael Polish, written by Vance Owen, Darryl Hicks, and Michael Polish, based on the book written by William E. Owen and Vance Owen, produced by Randall Emmett, George Furla, Vance Owen, Shaun Sanghani, and Luillo Ruiz, with cinematography by Jayson Crothers, editing by Raúl Marchand Sánchez, and music by Kubilay Uner. The film was produced by Diamond Film Productions, Emmet/Furla/Oasis Films, and The Pimienta Film Co. in association with R.U. Robot, SSS Entertainment and River Bay Films.
Roadside Attractions' RITA MORENO: JUST A GIRL WHO DECIDED TO GO FOR IT
Over a 70+ year career, Rita Moreno defied both her humble upbringing and relentless racism to become a celebrated and beloved actor, one of the rare EGOT (Emmy, Grammy, Oscar, Tony) Award Winners of our time. Born into poverty on a Puerto Rican farm, Moreno and her seamstress mother immigrated to New York City when Moreno was five years old.
After studying dance and performing on Broadway, Moreno was cast as any ethnic minority the Hollywood studios needed filled, be it Polynesian, Native American or Egyptian. Despite becoming the first Latina actress to win an Academy Award for her role as Anita in "West Side Story" (1961), the studios continued to offer Moreno lesser roles as stereotypical ethnic minorities, ignoring her proven talent.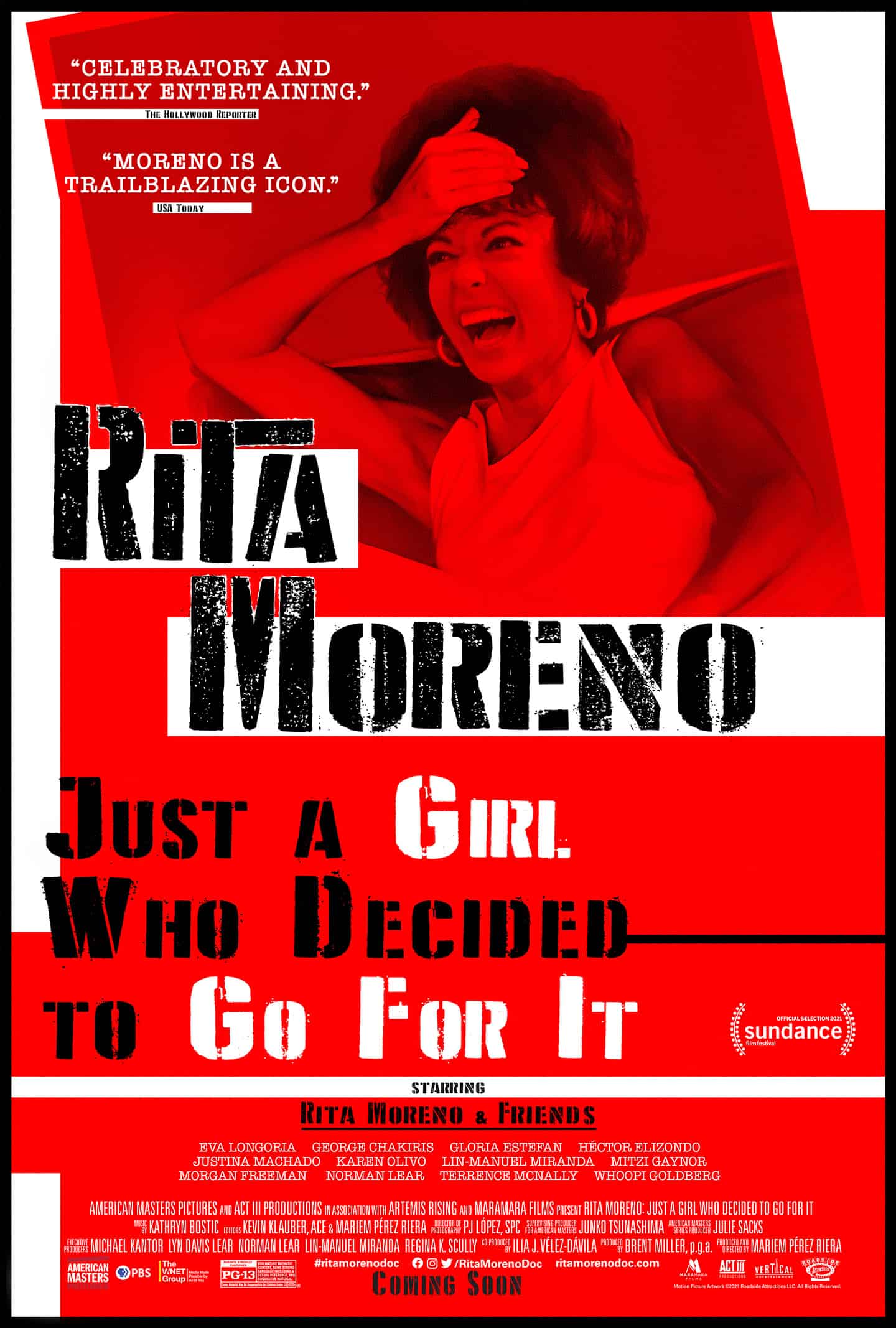 RITA MORENO: JUST A GIRL WHO DECIDED TO GO FOR IT illuminates the humor and the grace of Moreno, as well as lesser-known struggles faced on her path to stardom, including pernicious Hollywood sexism and abuse, a toxic relationship with Marlon Brando, and serious depression a year before she emerged an Oscar winner. Moreno's talent and resilience triumphed over adversity, as she broke barriers, fought for representation and forged the path for new generations of artists.
89 Minutes
#RitaMorenoDoc
For more information please visit: https://www.RitaMorenoDoc.com/
Twitter @RitaMorenoDoc / Instagram @RitaMorenoDoc / Facebook @RitaMorenoDoc
Go check out these movies when they arrive. More on each movie will be available at AndersonVision now and in the future.