Escape from Fort Bravo is an early 50s Western that plays odd now. Imagine that. Basically, William Holden runs a Union prison for Confederates, but he doesn't seem to be that good at his job. Anyone can visit the prison, while no one is really shaking down the credentials of those that visit. So, when Eleanor Parker shows up…nobody questions her arrival as a wedding guest. When Parker breaks out her Confederate pals, most of the Union wants them to die in the wild Desert surrounding Fort Bravo.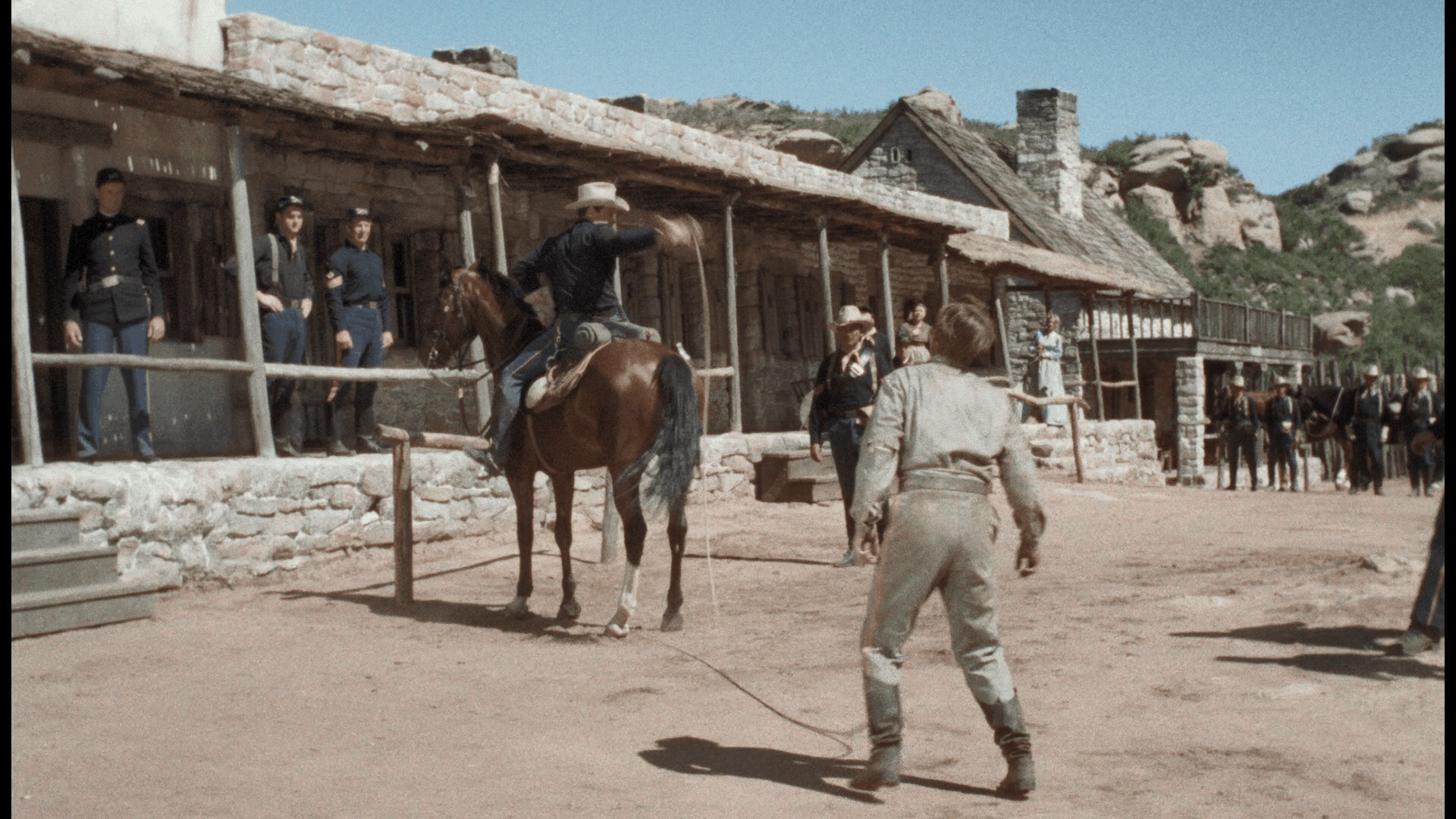 Westerns have such a wide berth when you check off the few required boxes. Many would argue that this is a 19th century prison escape movie, but I disagree. Escape from Fort Bravo is one of the first major studio movies that used the Old West environment as a deterrent. There's a lot to that, as it reinforces the macho perception of the West. Not everyone can live there and wussies from the East will die screaming.
William Holden plays it cool to the point of being catatonic. Escape from Fort Bravo suffers from a lot of that outside of the Indian guide trying to help the Confederates escape. So, when the good guys eventually meet up with the prison escape party, the resolution doesn't feel that great. A lot of Escape from Fort Bravo is vaporware in a way. But, it also plays like a dimestore Western paperback without a point.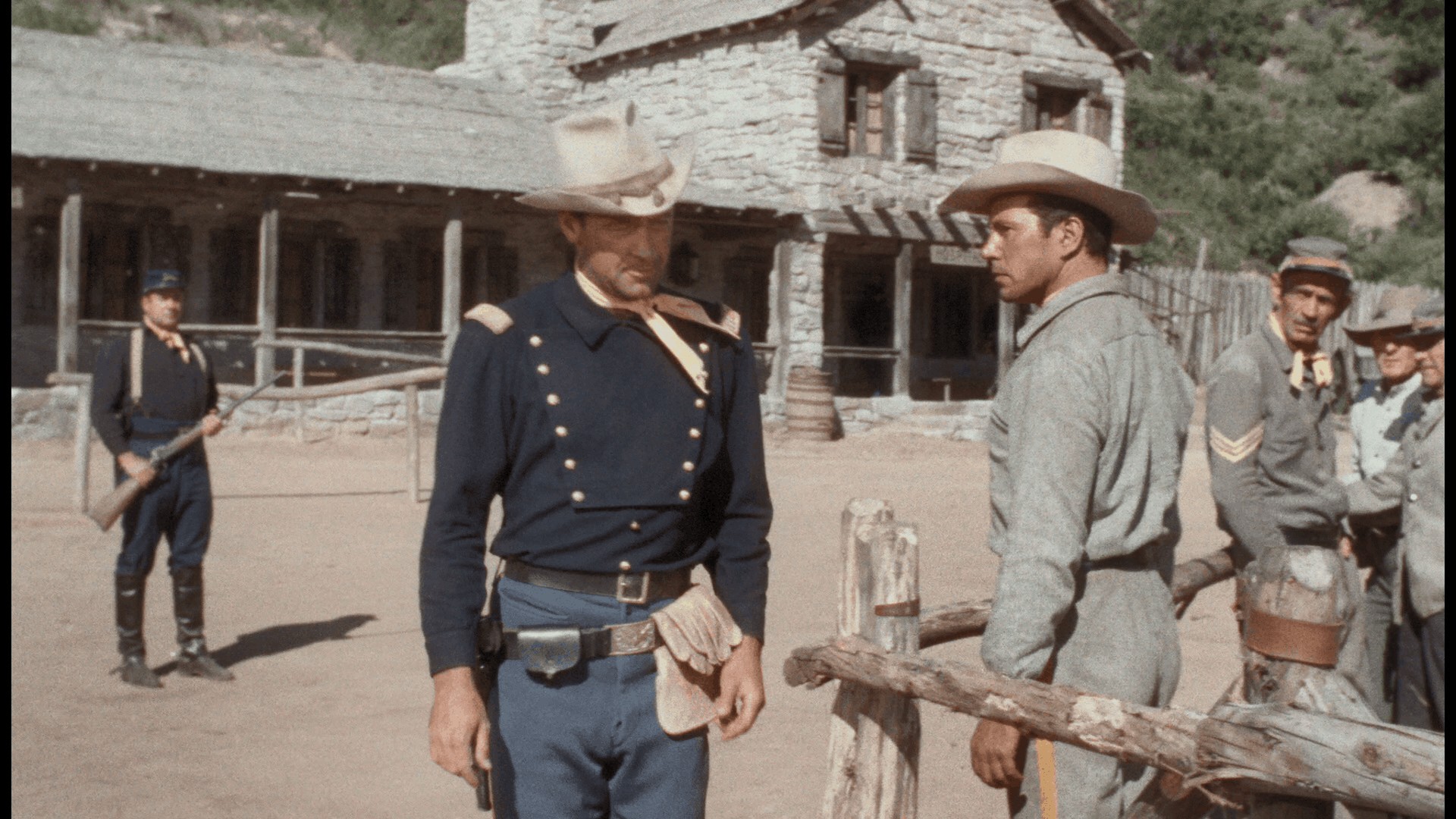 MGM Westerns run that gamut. There are the grandiose outings and then there are films people watch to waste an afternoon. Even the cinematography for Escape from Fort Bravo shows a general lack of focus on the surroundings. Everything is hot and muddy, as the Union chases after the escaped prisoners. When they meet up, everyone just feels exhausted.
That's not exactly inspiring for a Western. But, it also doesn't fit a prison escape movie. So, what is this movie? After watching it twice, I'm not sure what to call it. Frank Fenton's screenplay leaves a lot to be desired, but I don't put the blame on him. Sometimes, a film just doesn't connect like it should. The miracle is in just getting something like Escape from Fort Bravo made.
I wish the transfer was a little better. A lot of that is due to the natural cinematography and how the film was shot in that era. That being said, the film hits a wall on so many fronts that it's kinda hard to just fault the film's look. This isn't a men on a mission movie. This is a look at how hard it is to be imprisoned and escape.
You feel the sheer level of being tired trying to control the lives of others. The romance subplot between Parker and Forsythe feels tired and forced. But, it's also kinda funny seeing how many people in the cast ended up becoming big TV stars. In a way, this entire film could play like some never-ending hour long episode of a 60s western. I've seen better and I've definitely seen a lot worse.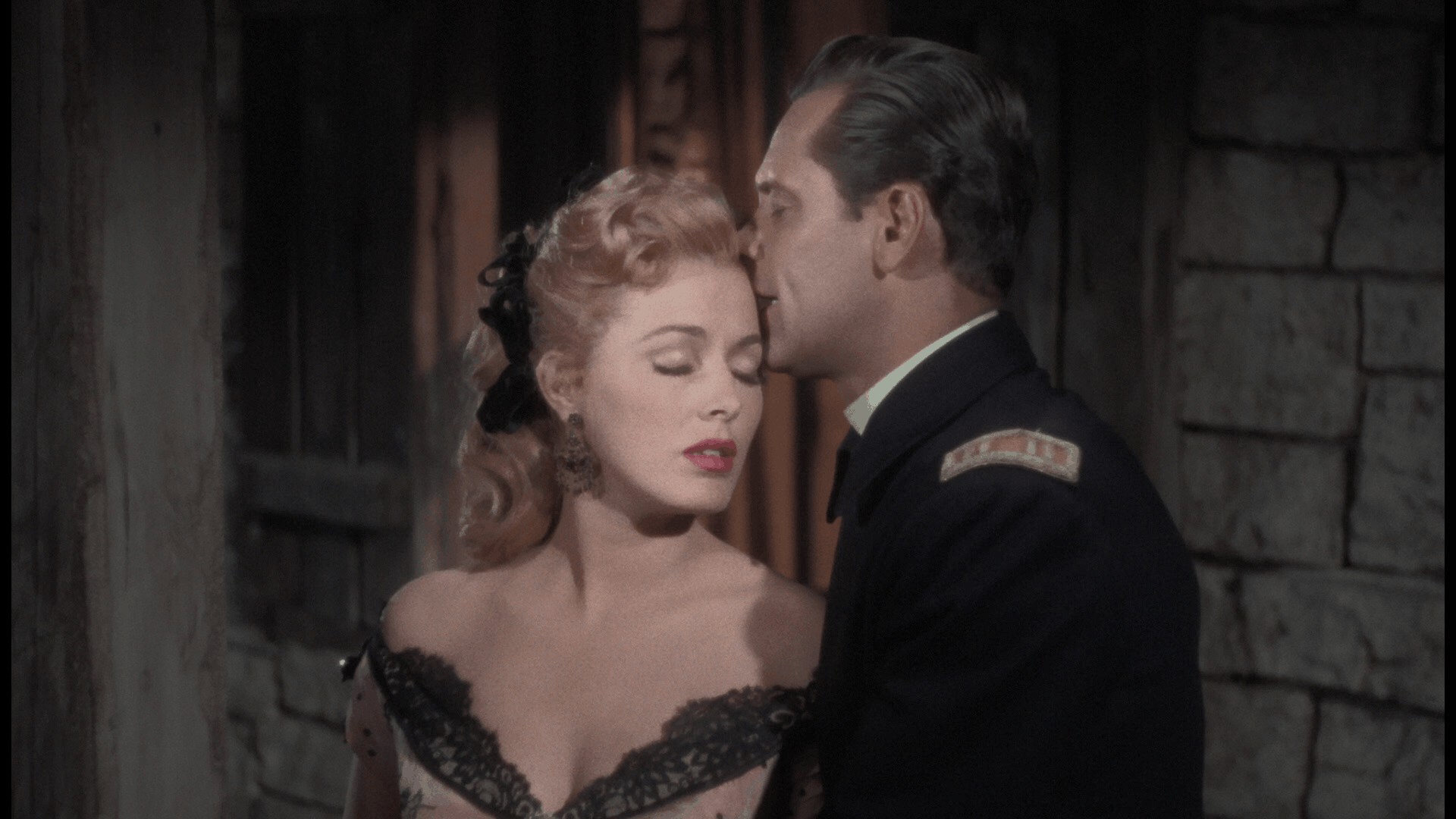 Warner Archive brings Escape from Fort Bravo to Blu-ray with no special features. This is one of those releases where getting the movies onto store shelves is the real battle. We're hitting a point in our history where the people that saw these movies first run are running low. So, it's up to the students and masters of film history to keep movies like Escape from Fort Bravo alive.