The Peripheral's stellar pilot sets up a ton and promises even more. But, will this series buck the downward spiral that Westworld faced?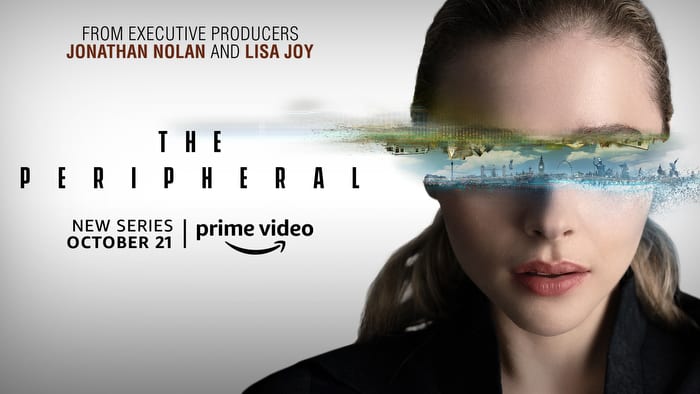 The not too distant future of Rural Georgia tracks
William Gibson's novel of The Peripheral arrived less than a decade ago and it already feels plausible. Mind you most people haven't had thoughts of 2099 since Marvel tried to Ravage us in the 1990s. While the novel felt like a rather flat murder mystery at time, Joy and Nolan go out of their way to take you into the world of Flynne Fisher. Both of them.
Director Vincenzo Natali balances what makes the worlds of 2030 and 2099 so different and yet alien to us in 2022. You feel the desperate living of the Fisher siblings, as they handle their dying mother and lack of forward progress in Rural Georgia. Threats lie under the surface that will boil up in later episodes, yet there is that invisible hand reaching back from 2099 to ruin their lives.
A dead end job and video game knowledge begets a secret mystery
What The Peripheral handles so well in this stellar pilot is the sense of hopelessness. There's something about rural living where this Pawn Shop like environment can make VR and 3D printing feel like a retail chore. Between the depressing situation at home and the lack of anything great at work, you want Flynne to improve her life. So, when she takes on the job for her brother, even something dangerous feels like a break in the monotony.
Chloe Grace Moretz is tackling adult roles with polish
Chloe Grace Moretz was a child and teen actress that is aging into adult performance with less bumps than you typically see. As this stellar pilot rolled out, you feel that The Peripheral would have a bigger hill to climb if handled by someone with less chops than Moretz. Given her origins, Moretz's Georgia accent feels accurate without ever being showy.
Couple that with the balance between small-town living and hoping her mother makes it through another day gives that sense of hopelessness without being defeating.
Let's not overlook the supporting cast
This is the strongest supporting cast I've seen in a Nolan/Joy show without having to rely on big stars. Carr, Reynor and Herthum make you feel that Rural Georgia is so real that you forget that you're watching a Sci-Fi show. Whether it's the siblings interacting, the network of friends or the lingering threat of Corbell Pickett…this stellar pilot makes you believe in this world.
While a lot of the major supporting players don't come into play until we get into futuristic London with Episode 2, this is quite an experience to have as a first viewing. If you haven't already been watching the series, I recommend to begin streaming.
Our takeaway from the Pilot
The Peripheral represents the latest in a recent line of hit offerings for Prime Video. While I would like to see the energy of this stellar pilot keep going, I'm not going to be shocked if it goes a little quiet going forward. After all, an eight episode first season needs some quiet moments to move the drama forward.
That being said, I went back to my copy of the Gibson novel after watching the entire series. What I appreciated was the showrunners' ability to actually mine a real human story out of what we've come to expect from Gibson. It gives me high hopes for their upcoming work on Fallout and other projects.
The Peripheral's stellar Pilot and more Episodes are now streaming on Prime Video