Ronin Flix to Release New Collector's Edition "I SPIT ON YOUR GRAVE" Blu-ray Box Set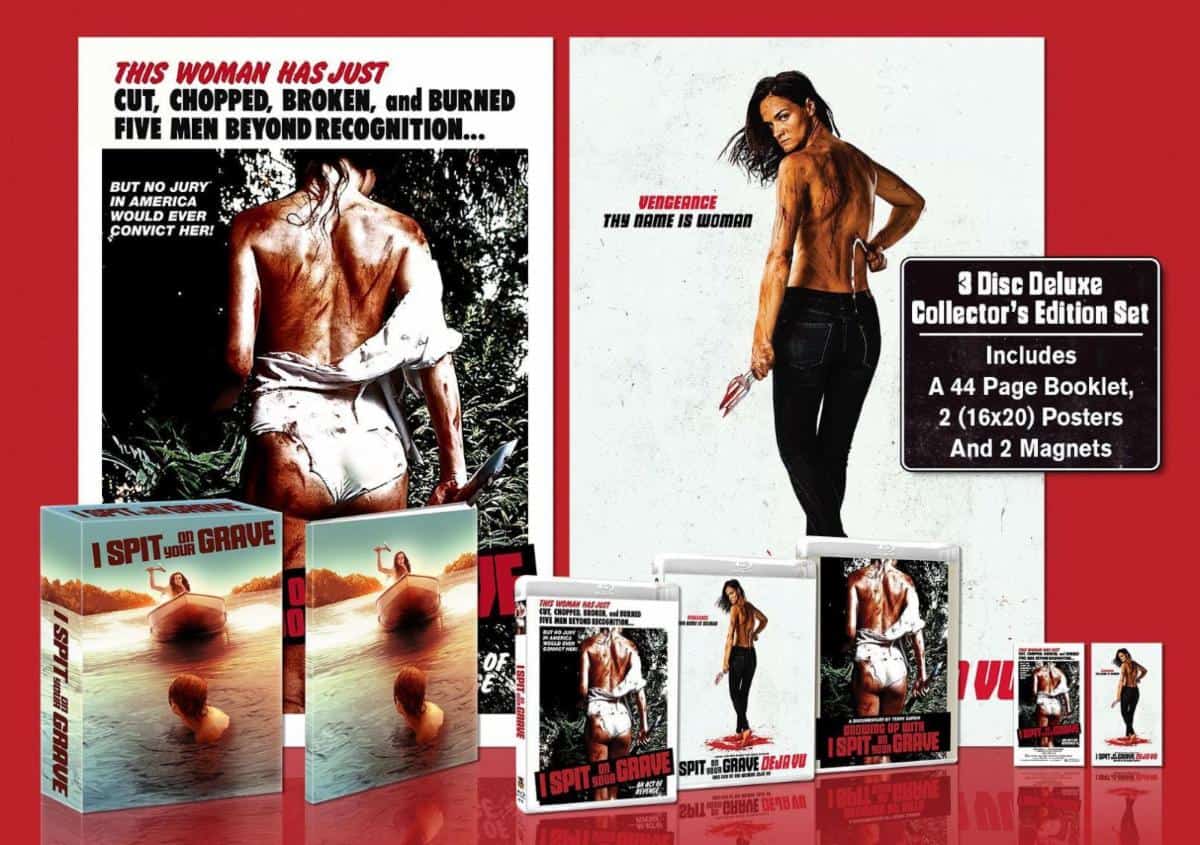 Ronin Flix is pleased to commemorate one of the most controversial feature films of all time with a new 3 disc Collector's Edition I SPIT ON YOUR GRAVE Blu-ray Box Set just in time for the holidays. This box set features a new 4K scan and restoration of director Meir Zarchi's 35mm original camera negative ofI SPIT ON YOUR GRAVE, along with a newly restored original mono soundtrack.

Additionally, this box set includes I SPIT ON YOUR GRAVE: DEJA VUand, for the first time on Blu-ray in North America,GROWING UP WITH I SPIT ON YOUR GRAVE, plus a collection of special features including a new location featurette hosted by writer Michael Gingold, new cast interviews and deleted scenes, an exclusive making-of featurette, rare and behind-the-scenes photos from the set, home movies, reversible cover art (I Spit on Your Grave only) and more.

Also included is a newly commissioned 44 page booklet featuring exclusive historical photos and liner notes by horror writers Michael Gingold and Meagan Navarro, plus 2 fold out mini-posters and 2 replica VHS box-style magnets – all laid to rest in a deluxe custom slipcase with original and newly commissioned artwork by Adam Stothard.

Ronin Flix is proud to present this commemorative box set as its second release, following a highly praised first release of HARDWARE. The 3 disc Collector's Edition I Spit on Your Grave Blu-ray Box Set will be available for pre-order exclusively on roninflix.com beginning September 24, 2020. The initial print run will be limited to 5,000 copies.

"It's about the strongest "Take Back the Night" statement ever made. She doesn't just take back the night.She takes back the night, the morning, the afternoon, and steals the clock while she's at it." – Joe Bob Briggs, Film Critic "The Drive In", AMC Shudder
Named as one of the most ridiculously violent films in history. – Time Magazine
Disc 1: I Spit on Your Grave (1978)
Video: High Definition Blu-ray 1080p Widescreen Presentation (1.85:1) utilizing a new 4K scan and restoration of director Meir Zarchi's 35mm original camera negative
Audio: Newly Restored DTS-HD Master Audio Mono, DTS-HD 5.1
Subtitles: English SDH
Special Features: NEW Jennifer's Journey – the locations of I Spit on Your Grave featurette hosted by writer Michael Gingold, Audio Commentary with writer / director Meir Zarchi, Audio Commentary with Film Critic Joe Bob Briggs, The Value of Vengeance – Meir Zarchi Remembers I Spit on Your Grave, Alternate Day of the Woman Opening Title, Theatrical Trailers, TV & Radio Spots, Still Gallery and NEW Slideshow with Rare & Behind-the-Scenes Photos from Set, Reversible Cover
Disc 2: I Spit on Your Grave: Deja Vu (2018)
Video: High Definition Blu-ray 1080p Widescreen Presentation (2.39:1)
Audio: DTS-HD Master Audio 5.1 Surround
Subtitles: English SDH
Special Features: NEW Audio Commentary with Film Critic Joe Bob Briggs, NEW Cast Interviews, Exclusive The Making of I Spit on Your Grave: Deja Vu, Behind-the-Scenes footage with director Meir Zarchi and cast, Theatrical Trailers
Disc 3: Growing up with I Spit on Your Grave (2019)
Video: High Definition Blu-ray 1080p Widescreen Presentation (16:9:1)
Audio: DTS-HD Master Audio 5.1 Surround
Subtitles: English SDH
Special Features: Exclusive Deleted Scenes, NEW Terry Zarchi's 8mm film starring Camille Keaton, NEW Home Movies – Camille and Meir's wedding, Trailer
Happy Horror-days! TOYS OF TERROR is coming to Digital 10/27 and Blu-ray & DVD 1/19
Season's Screamings and Happy Horror-days! Just in time for the most spooktackular time of the year, Warner Bros. Home Entertainment will have you on the edge of seats with an all-new original feature-length horror film – Toys of Terror – on Digital October 27, 2020 and on Blu-ray and DVD January 19, 2021.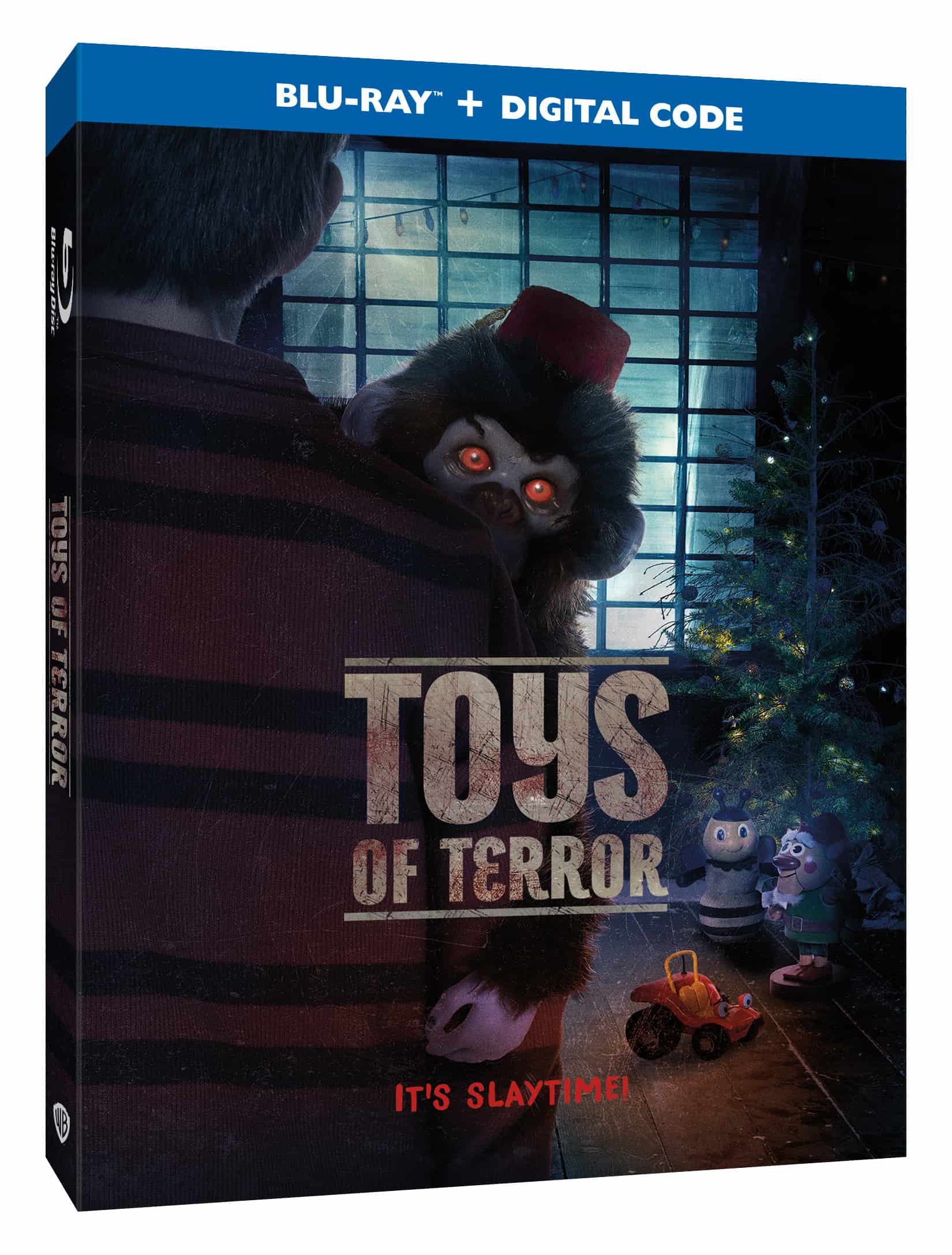 The movie is priced to own at $14.99 SRP for Digital, $24.98 SRP ($29.98 in Canada) for Blu-ray which includes a Digital Copy, $19.98 SRP ($24.98 in Canada)for the DVD. Both disc sets have an order due date of December 15, 2020.

David and Hannah Cashman have promised their family a fun Christmas getaway, but when they arrive at a grand, old house in the snowy woods of Washington and are greeted by familiar construction foreman, the kids realize their parent's plan to make it a working vacation; renovating the place in the hopes of flipping it. Alicia, the eldest, is annoyed but the younger kids are soon distracted when, wandering through the creepy mansion, they find a stash of old toys in an abandoned playroom and take to them instantly.
Before long, they seem to be inseparable from their new playthings, much to the consternation of their nanny Rose who, along with Alicia, senses that something in the house is not quite right. As stranger and stranger things start to happen, Rose and Alicia have a hunch that there may be more to the history of the old house than the Cashman's are letting on. Can the family escape with their lives – or will they stay forever in the crumbling house, never to celebrate another Christmas again?
"Toys of Terror will grip you from beginning to end with its creepily life-like toys and chilling plot twists," said Mary Ellen Thomas SVP Originals, Animation & Family at WBHE. "Get into the holiday spirit and be prepared to be horrified the same time with this all-new horror classic."
Bringing the nostalgia of stop motion holiday specials – Toys of Terror stars Kyana Teresa ("Shadowhunters," "Star Trek: Discovery") as Hannah Cashman, Georgia Waters ("Siren") as Rose Mathis, Verity Marks ("The Christmas Club") as Alicia Cashman, Dayo Ade ("Workin Moms," "October Faction") as David Cashman, Saul Elias as Franklin Cashman and Zoe Fish as Zoe Cashman.
The film is written and executive produced by Dana Gould ("Stan Against Evil," "The Simpsons") and directed by Nicholas Verso (Boys in the Trees, "Nowhere Boys"). The movie is produced by Blue Ribbon Content in association with Warner Bros. Home Entertainment and SYFY. Toys of Terror will make its broadcast debut on SYFY this December.
MARKETING SUPPORT The release of Toys of Terror will be supported by a national media and publicity campaign.
BLU-RAY & DVD SPECIAL FEATURES
Toys of Terror Come to Life
A Terrifying Weekend: Making of Toys of Terror
Toys of Terror will also be available on Movies Anywhere. Using the free Movies Anywhere app and website, consumers can access all their eligible movies by connecting their Movies Anywhere account with their participating digital retailer accounts.
All Aboard! SNOWPIERCER: THE COMPLETE FIRST SEASON – Go On An Epic Journey 1/26 When The Blu-ray & DVD Come To A Town Near You!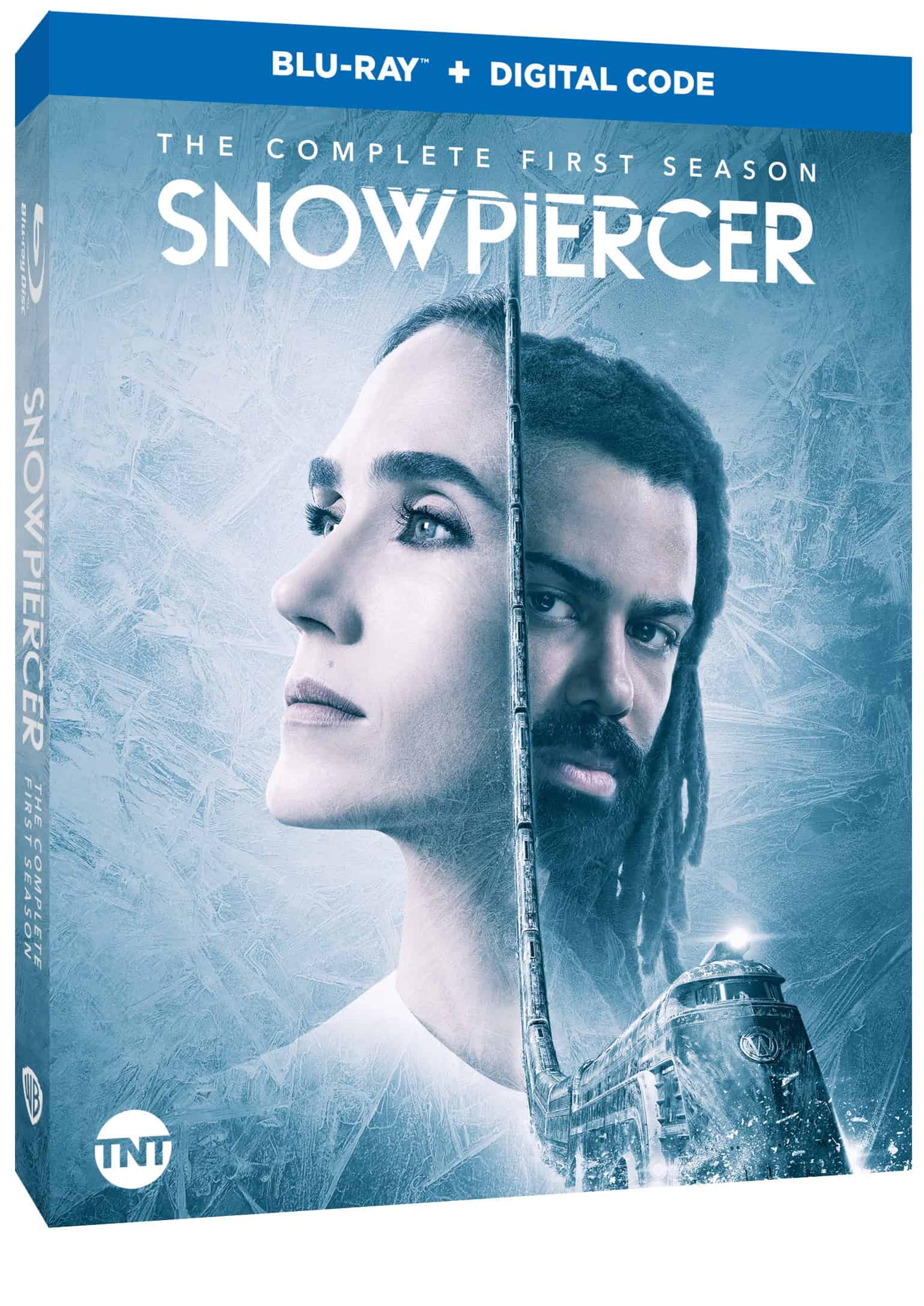 Attention all passengers – the revolution is coming! Get ready for more secrets, plot twists, and reveals as Warner Bros Home Entertainment takes you on an epic journey with the release of "Snowpiercer: The Complete First Season" on Blu-ray and DVD on January 26, 2021.
Strap yourself in for an exhilarating ride with all 10 episodes from the first season, plus enjoy the captivating extra features, behind-the-scenes interviews, featurettes, and more! "Snowpiercer: The Complete First Season" is priced to own at $24.98 SRP for the DVD and $29.98 SRP for the Blu-ray, which includes a Digital Copy. Both sets have an order due date of December 22, 2020.
"Snowpiercer: The Complete First Season" is also available to own on Digital via purchase from digital retailers. Set more than seven years after the world has become a frozen wasteland, "Snowpiercer"centers on the remnants of humanity who inhabit a perpetually moving train, with 1001 cars, that circles the globe. Class warfare, social injustice and the politics of survival play out in this riveting television adaptation.

"In only its first season this insanely brilliant series, with incredible actors takes us through the ultimate journey of what could potentially be the aftermath of global warming," said Mary Ellen Thomas, WBHE Senior Vice President, Originals, Animation & Family Marketing. "Get ready for the ride of a lifetime as you binge watch the entire first season on Digital, Blu-ray & DVD!"

Based on the critically acclaimed graphic novel series and the film from Academy Award® winner Bong Joon Ho ("Parasite"), the all-new series stars Academy Awardwinner Jennifer Connelly ("A Beautiful Mind"), Grammy® and Tony Award® winner Daveed Diggs ("Hamilton," "Black-ish") Emmy® nominee Alison Wright ("The Americans"), Mickey Sumner ("Frances Ha," "Battle of the Sexes"), Susan Park ("Ghostbusters"), Iddo Goldberg ("Peaky Blinders," "The Zookeeper's Wife"), Katie McGuinness ("Dirty Filthy Love"), Tony Award winner and Grammy nominee Lena Hall ("Hedwig and the Angry Inch"), Annalise Basso ("Bedtime Stories"), Sam Otto ("Jellyfish"), Roberto Urbina ("Narcos"), Sheila Vand ("Argo") and Jaylin Fletcher ("Saturday Church").

The series is executive produced by Graeme Manson, Marty Adelstein and Becky Clements, James Hawes, Matthew O'Connor, Ben Rosenblatt and Scott Derrickson, and the original film's producers, including Bong Joon Ho, Miky Lee, Tae-sung Jeong, Park Chan-wook, Lee Tae-hun and Dooho Choi. The show is produced by Tomorrow Studios (a joint venture between Adelstein and ITV Studios), along with CJ Entertainment. ITV Studios handles international distribution.
Cable's #1 new drama series, "Snowpiercer" season two will premiere Monday, January 25 at 9 p.m. ET/PT on TNT.

SPECIAL FEATURES
Overview
Class Warfare
Jennifer & Daveed – Behind The Scenes Interview
The Train
Behind the Curtain: Art of the Frozen World
10 ONE-HOUR EPISODES
First, The Weather Changed
Prepare to Brace
Access is Power
Without Their Power
Justice Never Boarded
Trouble Comes Sideways
The Universe Is Different
These Are His Revolutions
The Train Demanded Blood
994 Cars Long
Embrace The Strange As Doom Patrol: The Complete Second Season Comes To Blu-ray & DVD 1/26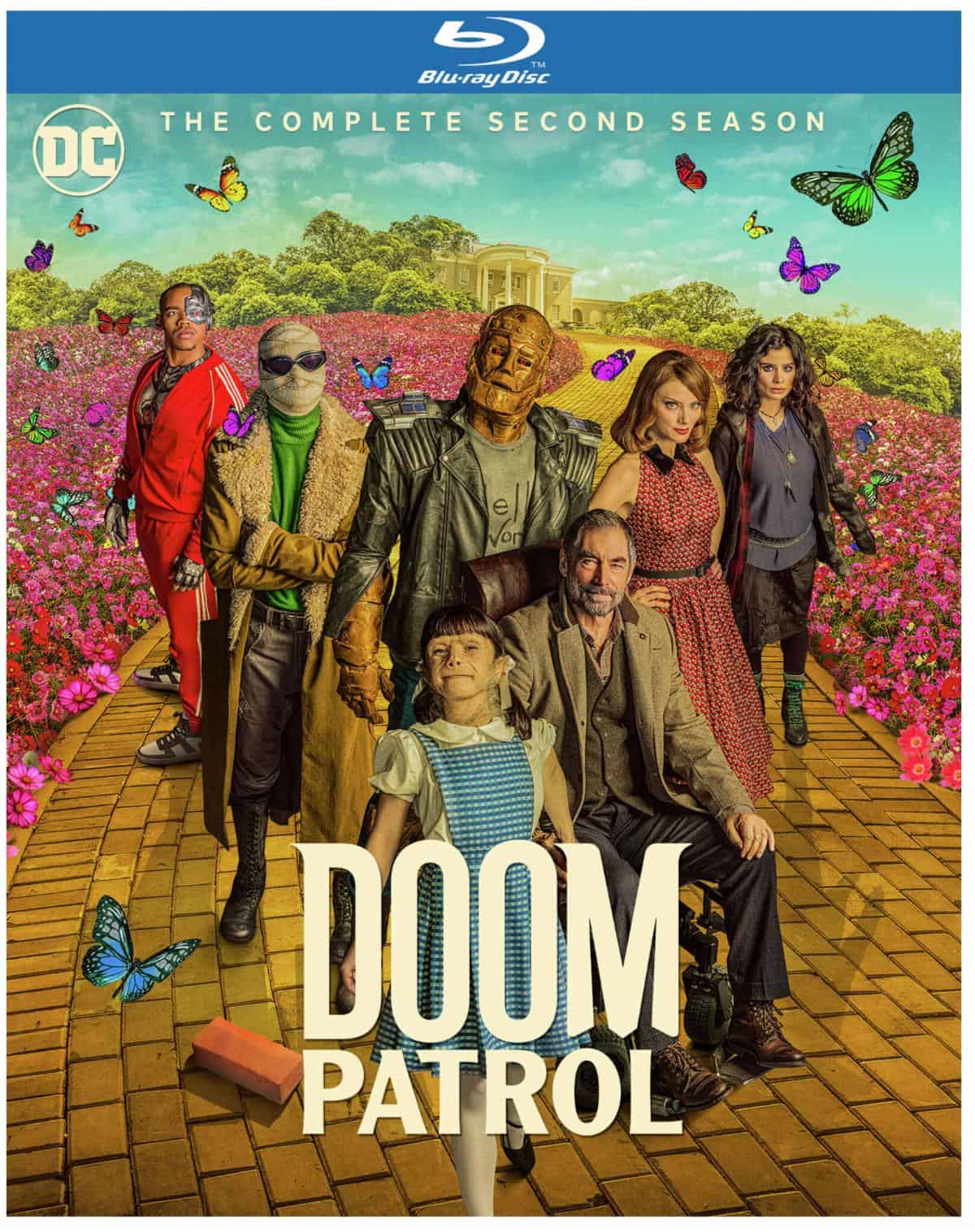 Get ready to embrace the strange. DC's favorite misfit heroes are back to save the world once again with the release of Doom Patrol: The Complete Second Season on Blu-ray and DVD on January 26, 2021 from Warner Bros. Home Entertainment. Strap yourself in for an exhilarating ride with all 9 episodes from the second season of the original DC series, plus enjoy the captivating extra features including two behind-the-scenes featurettes.
Doom Patrol: The Complete Second Season is priced to own at $29.98 SRP for the DVD ($39.99 in Canada) and $39.99 SRP for the Blu-ray ($44.98 in Canada), which includes a Digital Copy (U.S. only). Both sets have an order due date of December 22, 2020.

DC's strangest group of Super Heroes are back again to save the world – that is if they can find a way to grow up…both figuratively and literally. Following the defeat of Mr. Nobody, the DOOM PATROL now find themselves mini-sized and stranded on Cliff's toy race car track.
Here they begin to deal with their feelings of betrayal with Niles Caulder aka The Chief, while confronting their own personal baggage. As each Super Hero faces the challenge of moving beyond trauma and failure, they must come together to protect the newest family member, Niles' daughter, whose powers remain a mysterious but real threat to bringing on the end of the world.

"The critically acclaimed series received a 96% certified "fresh rating" on RottenTomatoes.com – and continues to soar with ratings," said Rosemary Markson, WBHEG Senior Vice President, TV Marketing. "Join in on the world's weirdest phenomena with these unique DC Super Heroes – and get ready to binge watch the second season of their fascinating story on Blu-ray & DVD!"
With Blu-ray's unsurpassed picture and sound, Doom Patrol: The Complete Second Season will be released in 1080p Full HD Video with DTS-HD Master Audio for English 5.1.
The 2-disc Blu-ray will feature a high-definition Blu-ray and a Digital Copy of all 9 episodes from season two (available in the U.S.). Doom Patrol stars Diane Guerrero ("Orange is the New Black"), April Bowlby ("Two and a Half Men"), and Joivan Wade ("Doctor Who"), with Matt Bomer (Magic Mike), and Brendan Fraser (The Mummy), and a special appearance by Timothy Dalton (License to Kill).
Based on the characters from DC, Doom Patrol is produced by Berlanti Productions in association with Warner Bros. Television, with executive producers Greg Berlanti ("The Flash," "Supergirl," "Riverdale," "DC's Legends of Tomorrow)", Jeremy Carver ("Supernatural," "Frequency"), Geoff Johns (Aquaman, Wonder Woman), Chris Dingess (Agent Carter, Eastwick)and Sarah Schechter ("The Flash," "Supergirl," "Blindspot," "Black Lightning"). Doom Patrol has been renewed for a third season exclusively on HBO Max.
SPECIAL FEATURES
The Transformers: Doom Patrol's Make-up FX
Doom Patrol – Come Visit Georgia PSA
9 ONE-HOUR EPISODES
Fun Size Patrol
Tyme Patrol
Pain Patrol
Sex Patrol
Finger Patrol
Space Patrol
Dumb Patrol
Dad Patrol
Wax Patrol
ULTRAMAN Library Streaming on Shout! Factory TV November 1
Following an exclusive North American streaming acquisition from Mill Creek Entertainment and Indigo Entertainment earlier this year, Shout! Factory TV will release its first collection of films and series from Tsuburaya Productions' iconic Ultraman library November 1 on both Shout! Factory TV platforms and Shout's Tokusatsu channel TokuSHOUTsu™, available on Pluto TV.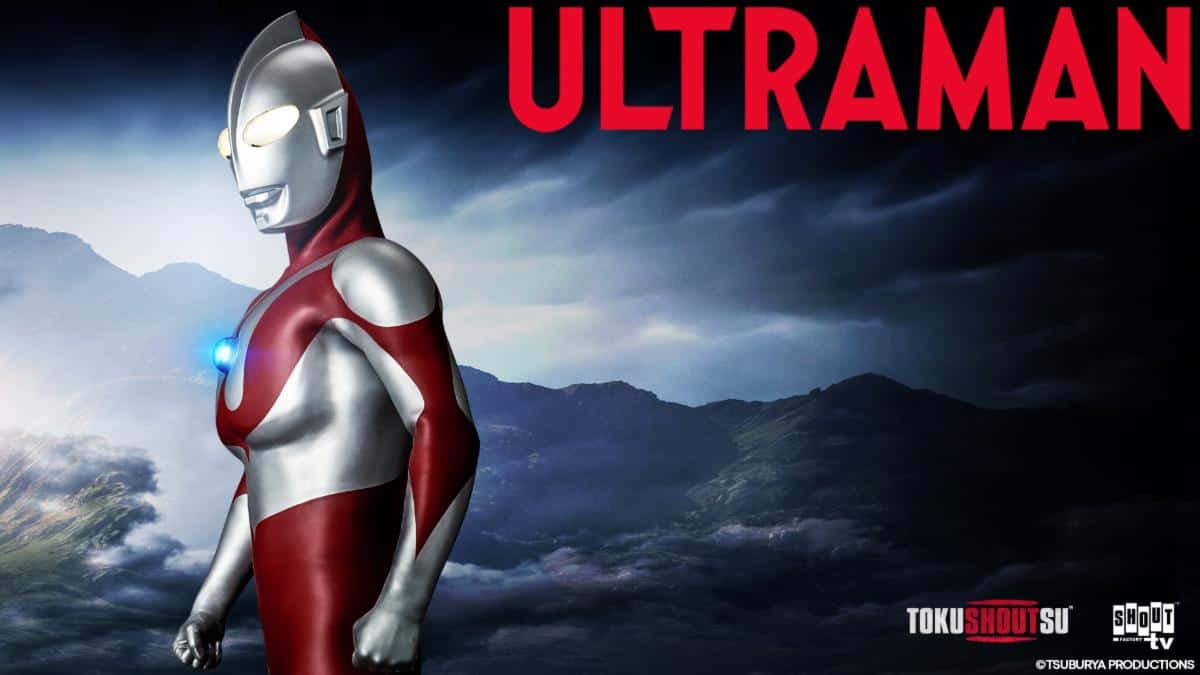 The first offering from the beloved and renowned library will include five complete television series and two films spanning over 50 years of historic fandom, from the first of the Ultraman series, 1966's Ultra Q, to the 2018 Ultraman Geed film.
The full offering launching November 1 includes series Ultra Q, Ultraman, Ultraseven, Ultraman Orb and Ultraman Geed alongside films Ultraman Orb The Movie: Let Me Borrow the Power of Bonds! and Ultraman Geed The Movie: Connect the Wishes!

Classic Ultraman series Ultra Q, Ultraman and Ultraseven will also premiere on Shout! Factory TV and TokuSHOUTsu in high definition, newly available for Shout! Factory's expanding streaming audience.

All Ultraman content will be available for streaming on demand across Shout! Factory TV platforms, on ShoutFactoryTV.com; Shout! Factory TV's Roku, Amazon Fire, Apple TV, and Android apps; and on various Shout! Factory TV branded channels including Tubi, Amazon Prime Channels, and the Roku Channel.

Ultraman content can also be seen on TokuSHOUTsu, a linear channel (#848), in the Gaming + Anime section of Pluto TV. Pluto TV can be found on all leading digital streaming devices and services, including Roku, Amazon Fire, Apple TV, Google Chromecast and more, as well as major smart TVs and game consoles.

The classic Ultraman live-action television series of the 1960s and 70s, produced by Tsuburaya Productions, established new heights of quality adventure and special effects-driven entertainment and built a worldwide audience for the property. The popularity of Ultraman—and the aliens and monsters—has enabled the series to persist to this day, generating over $50 million per year in toys and merchandise in Japan.

Shout! Factory TV plans a continued aggressive rollout of Ultraman properties on its channels in forthcoming months.
The Wonderful: Stories From The Space Station | Official Sneak Peek
Over twenty years ago rival nations put aside political and cultural differences and came together in a demonstration of international co-operation to create something unique – The International Space Station. For the first time in history, driven by his innate impulse to explore man had a permanently inhabited foothold in the heavens.
THE WONDERFUL draws together personal stories from men and women from around the world who have been a part of this extraordinary endeavour providing a fascinating insight into human nature and our relationship with planet Earth.

These testimonials bring an intimacy and uniqueness to the story – bringing life in space alive, yet showing the strong emotional ties that bind these astronauts to the earth – and we are left not only with a sense of the vast 'velvet bottomless bucket' of the universe but also the remarkable resilience and potential of mankind.
ARROW Announces Sick Filth for November to Keep Halloween Alive

Arrow Video is excited to announce the November lineup of their new subscription-based ARROW platform, available now in the US and Canada. Building on the success of the Arrow Video Channel and expanding its availability across multiple devices and countries, ARROW boasts a selection of cult classics, hidden gems and iconic horror films, all curated by the Arrow Video team. November will include the launch of Ban This Sick Filth!, a rotating catalog highlighting some of the most controversial films ever made, including We Are the Flesh, Orgies of Edo, The Baby, The Woman and Bat Pussy.
The lineup begins November 2nd with The El Duce Tapes, the new X-rated music documentary about the self-styled "King of Sleaze". ARROW will also debut the Essential Giallo Collection, the Female Prisoner Scorpion Collection and, as an exclusive, He Came From the Swamp: The William Grefé Collection, including Sting of Death, Death Curse of Tartu, Mako: Jaws of Death and more.

November 9th will kick off Burst City and Ban this Sick Filth! Presents: Rebel Yell, a season of ARROW films that celebrate the angry howl of youth in revolt and the ever-identifiable need to go you own way, be yourself, find your people, or just let loose a cathartic scream. Highlights include Deadbeat at Dawn, Teenage Yakuza and more.
Historic First 24/7 Live Queer Female TV Channel Premieres Globally Oct. 29th
Revry, the first global LGBTQ+ virtual cable TV network, today unveiled the newest addition to its lineup of free linear TV channels with OML on Revry –the first 24/7 live TV channel exclusively catering to queer womxn (lesbian, bi, trans female, gender non-binary, queer, etc.).
This announcement adds to Revry's suite of boundary-defying queer entertainment on its apps and FAST channels ("Free Ad Supported TV")–available for free globally to over 250+ million households and devices in over 130 countries.


The OML on Revry channel furthers Revry's mission of 360 degree LGBTQ+ representation by highlighing queer female or femxle stories in a truly "always on" environment and free of charge. This unprecedented move expands on the company's early 2020 unveiling of its new queer-focused live, multi-channel platform–a niche twist on the growing emergence of free virtual cable TV networks such as Pluto TV, Peacock, and XUMO.
Initially launching with four FAST channels– including Revry News (the first queer news network)–Revry has expanded with today's announcement of OML on Revry, the company's first 3rd party FAST channel to live exclusively in Revy's virtual cable TV ecosphere. "I'm incredibly proud of the brand we've built and the relationships we've cultivated with the LGBTQ+ community for the last decade," shares OML founder, Shirin Etessam.
"What started as a portal to curate and share quality lesbian video content has become a powerful platform to launch, stream, distribute and promote some of the very best LBTQ+ content online. We are thrilled about our partnership with Revry as its multifaceted global platform will allow us to reach a greater audience and to make Femxle-driven LBTQ+ content accessible to an even broader audience. Truly a win-win-win for all of us: Revry, OML, and our community."
GKIDS Brings WOLFWALKERS To Theaters Nationwide On Nov. 13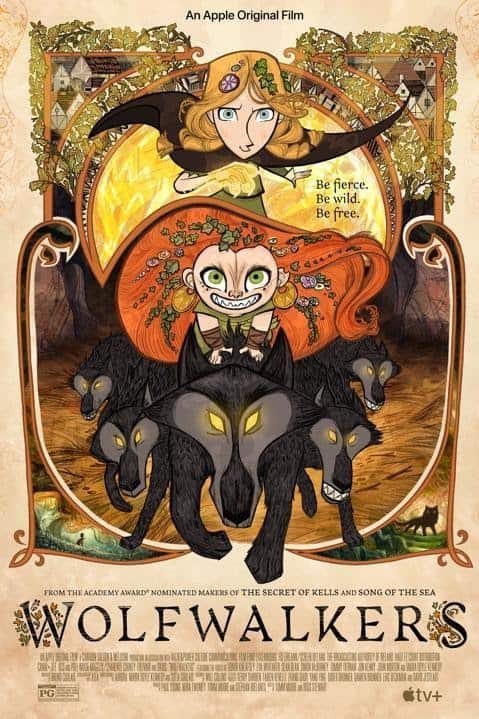 GKIDS, the acclaimed distributor of multiple Academy Award®-nominated animated features announced today they will bring "Wolfwalkers" to cinemas nationwide, with the film set to open in 500 theaters starting November 13. Tickets are available now at WolfwalkersMovie.com, and participating theater box offices.
The U.S. theatrical release will include multi-day event screenings in partnership with Fathom Events on November 13, 14, and 15, as well as simultaneous full theatrical runs with Landmark, Angelika, LA's Vineland drive-in, and other independent theaters nationwide and in Canada starting November 13. The film premieres globally on Apple TV+ on Friday, December 11.

An Apple Original Film, "Wolfwalkers" is the latest from two-time Academy Award-nominated director Tomm Moore ("Song of the Sea," "The Secret of Kells") and director Ross Stewart ("The Secret of Kells"), and co-produced by the award-winning animation studios Cartoon Saloon (Oscar and Golden Globe nominee, "The Breadwinner") and Melusine Productions (Oscar nominee, "Ernest & Celestine").

"Wolfwalkers" made its world premiere at the Toronto International Film Festival this year to rapturous reviews and won the top audience award at AFI Fest, the first time an animated film has taken home the prize. The film currently has a Metacritic scale of 94, and is 95% positive on Rotten Tomatoes, making it one of the best reviewed films of the year.

GKIDS has a long-standing relationship with Cartoon Saloon, having distributed Tomm Moore's Oscar nominated "The Secret of Kells" and "Song of the Sea", and Nora Twomey's "The Breadwinner." In addition to handling distribution, GKIDS principles Eric Beckman and Dave Jesteadt are executive producers on both "The Breadwinner" and "Wolfwalkers."

Synopsis: In a time of superstition and magic, a young apprentice hunter, Robyn Goodfellowe, journeys to Ireland with her father to wipe out the last wolf pack. While exploring the forbidden lands outside the city walls, Robyn befriends a free-spirited girl, Mebh, a member of a mysterious tribe rumored to have the ability to transform into wolves by night.
As they search for Mebh's missing mother, Robyn uncovers a secret that draws her further into the enchanted world of the "Wolfwalkers" and risks turning into the very thing her father is tasked to destroy.
Entertainment Professionals Launch COVID Film Certification to Reopen Hollywood Safely
"American Chopper" Executive Producer Franco Porporino Jr., along with a team of industry professionals, announced today the official launch of COVID Film Certification, an inventive program designed to educate and prepare production crews and talent on set to ensure Hollywood can resume production safely.
The program is a "one stop shop" for the safe resumption of production, including an industry-specific safety exam for production personnel, crew and talent to comply with CDC guidelines and other best practices on set, a Compliance Officer training designed for those in a supervisory role, EPA approved PPE available for purchase, and full consulting services by seasoned showrunners to create customized budgets for production EICs.

"Many producers are facing significant hurdles in light of all the complications and challenges posed by COVID-19," said Franco Porporino Jr., creator of COVID Film Certification. "Production companies need to get back to work, but must do so in a way that prioritizes health and safety for all personnel, and with this program, production companies and studios can welcome their employees back with peace of mind, knowing that each person is fully informed on how to safely navigate production during this pandemic."

The COVID Film Certification program features training modules that cover industry specific COVID-19 protocols and best practices for all pre-production and post-production personnel. Upon completing the course and passing the exam, all of which are administered online, test takers will receive a certificate valid for one year.
The COVID Film Certification also offers training for Compliance Officers who oversee all COVID-related health and safety issues on set. COVID Film Certification has also partnered with a private healthcare company to provide licensed registered nurses, nurse practitioners, and licensed practical nurses, eliminating the need to hire multiple compliance personnel. With this option, production companies can have professional RN or NP Compliance Officers on set.

"As we all navigate this pandemic, safety for our crews and talent must remain our highest priority, and Big City TV, along with my partners at the Content Group, were not satisfied with simply 'meeting protocols' for our shows," said CEO of Big City TV and Executive Producer, Lori Rothschild Ansaldi.
"Our goal is to always go above and beyond for our clients and talent to ensure that we create and maintain safe and healthy work environments, so every crew member and talent across Big City's entire portfolio of projects will be trained and certified by COVID Film Certification."

Along with Rothschild Ansaldi, the COVID Film Certification's advisory board consists of an array of industry experts, including Ra Kumar of United Talent Agency, Lucilla D'Agostino of Big Fish Entertainment, Hans Schiff, formerly a partner at Creative Arts Agency, Darin Frank, a partner in the entertainment law firm of Sloane, Offer, Weber and Dern, and Peter Rajsingh, PhD of NYU.

For more information, visit CovidFilmCertification.com.
FREE VIEWING: Selling Lies – Award-Winning Doc on Fake News From Leslie Iwerks – Free Prior to Election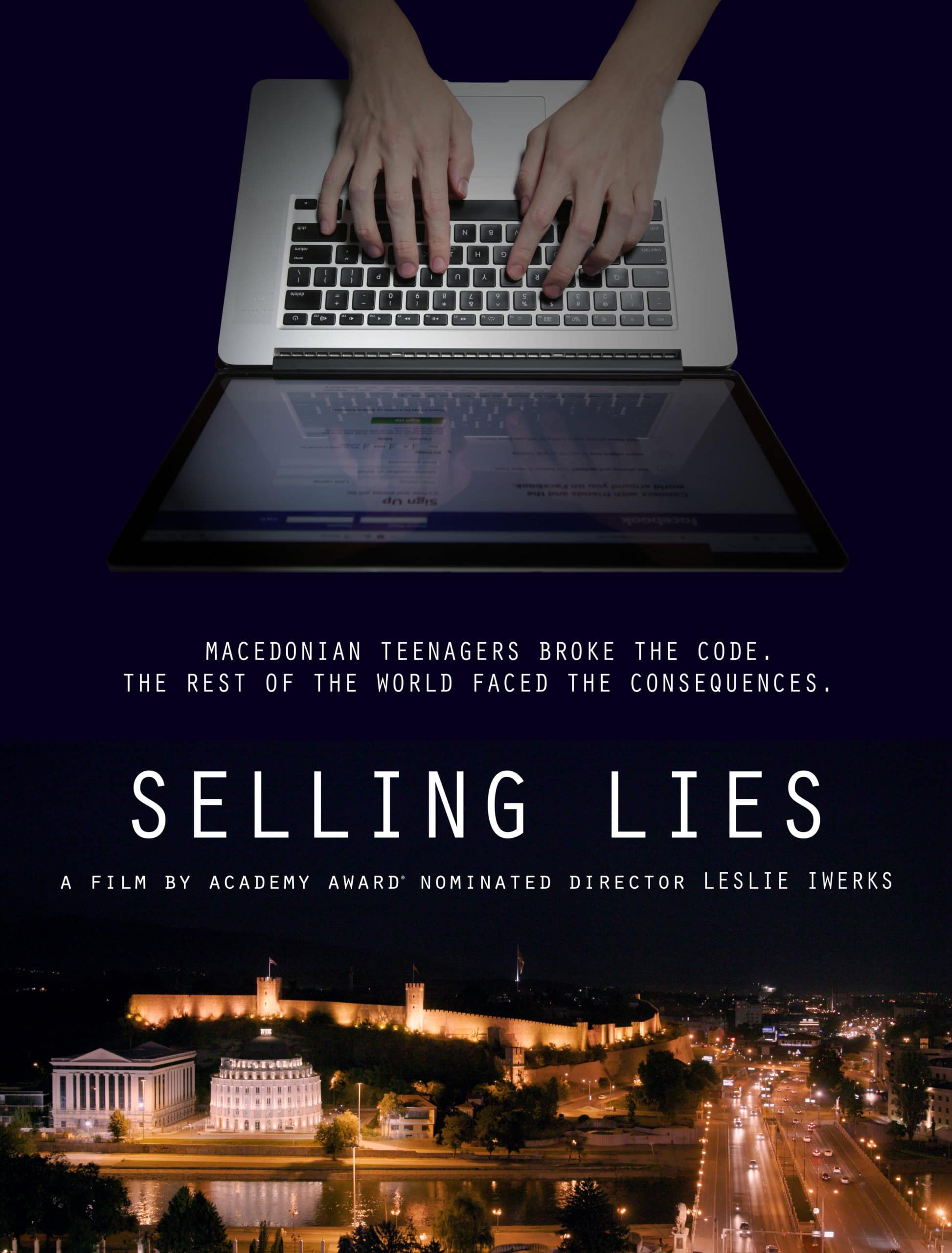 The award-winning short documentary, Selling Lies, chronicling the impact of fake news, is now available on iTunes, Google Play, Amazon, Vimeo on Demand, and Virtual Cinema!

In honor of this year's incredibly important election, ShortsTV and Iwerks & Co. are offering viewers the opportunity to watch Selling Lies for free, from Friday 10/30 through Tuesday 11/3.

Fans can watch the film by clicking HERE to register for a free view link.