Prepare for a spine-tingling season of entertainment as Paramount Home Entertainment unveils its inaugural, limited-edition collection of hair-raising films: PARAMOUNT SCARES VOL. 1, arriving on October 24, 2023.
What to Expect from Paramount Scares Vol. 1
Dive into the depths of the horror genre with this exclusive box set, showcasing five unforgettable movies in stunning 4K Ultra HD. Each film comes nestled in deluxe packaging, featuring exclusive artwork on special sleeves.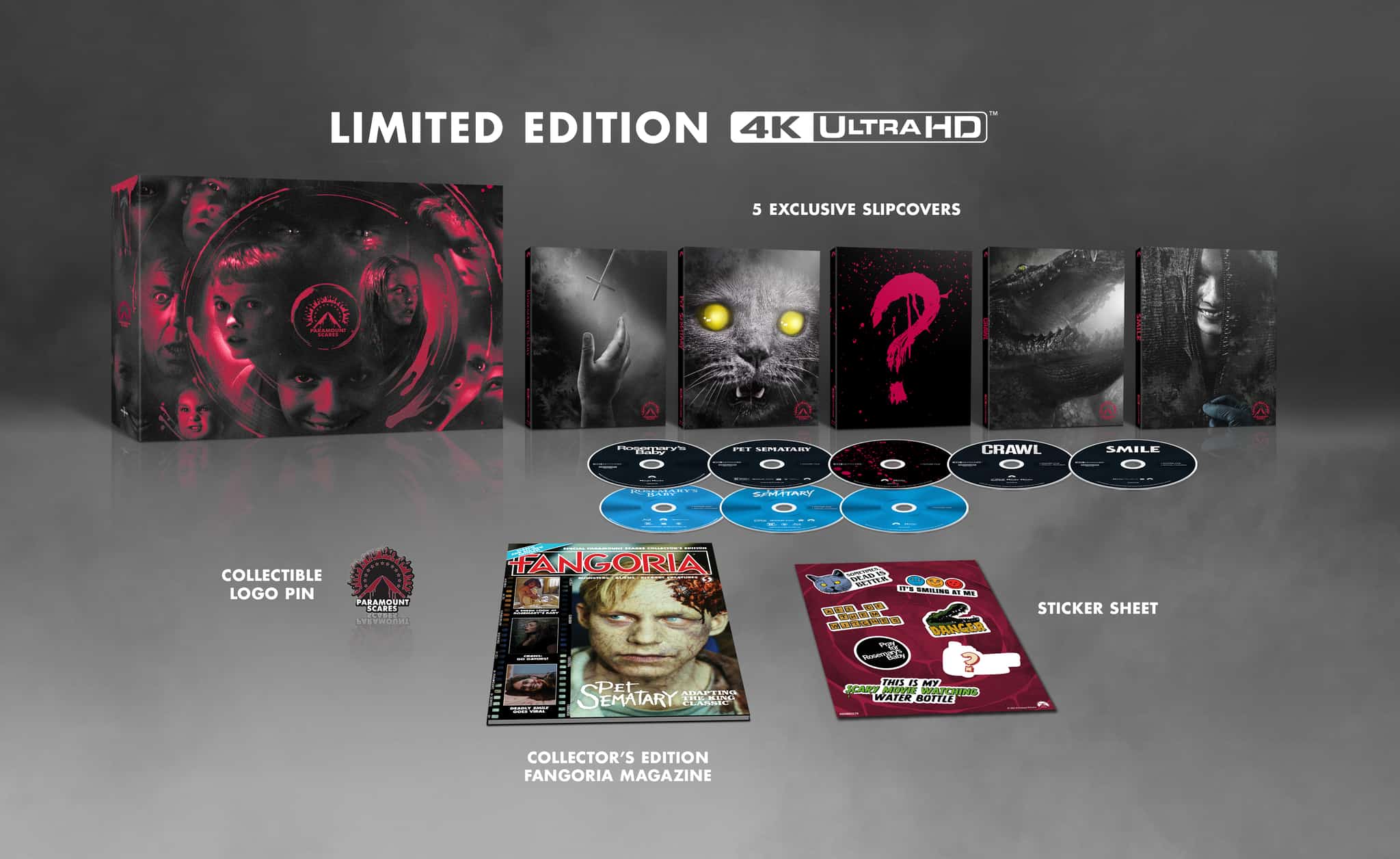 Here's a sneak peek at what awaits you:
Rosemary's Baby (1968)

Newly Remastered on 4K Ultra HD
Celebrating its 55th anniversary, this iconic classic redefined the modern thriller with groundbreaking camerawork and bone-chilling suspense. Ruth Gordon's Oscar®-winning role as the eccentric neighbor adds an unforgettable layer of intensity. This film, hailed as one of the greatest horror classics, was even preserved in the National Film Registry by the Library of Congress in 2014.

Bonus Content (on Blu-ray Disc™):

Rosemary's Baby – A Retrospective
Mia and Roman
Theatrical Trailer
50th Anniversary "Redband" Trailer
Pet Sematary (1989)

Screenplay by Stephen King
Based on King's bestseller, director Mary Lambert's thrilling adaptation became the highest-grossing horror film of its time, surpassing $57 million. The remastered 4K version, supervised by Lambert using the original film negative, brings back the unspeakable evil to electrify audiences once more.

Bonus Content (on Blu-ray Disc):

Commentary by director Mary Lambert
Pet Sematary: Fear and Remembrance
Pet Sematary: Revisitation
Stephen King Territory
The Characters
Filming the Horror
Galleries
Smile (2022)

A True Horror Phenomenon
Writer and director Parker Finn's terrifying creation took the world by storm, earning over $217 million globally and securing its spot as the #1 original horror film of 2022. Brace yourself for a sequel currently in development, with Finn returning as the director.

Bonus Content (on 4K Ultra HD Disc):

Commentary by director Parker Finn
Something's Wrong with Rose: Making Smile
Flies on the Wall: Inside the Score
Deleted Scenes with Optional Commentary by director Parker Finn
Laura Hasn't Slept – Original Short with Introduction by director Parker Finn
Crawl (2019)

A Suspense-Filled Creature Feature
Produced by Sam Raimi and directed by Alexandre Aja, this unexpected gem captivated audiences and critics alike. Join a father and daughter in a fight for survival against alligators in a flooded house during a hurricane. With a $13 million budget, Crawl surged past $91 million worldwide.

Bonus Content (on 4K Ultra HD Disc):

Intro to Alternate Opening
Alternate Opening
Deleted and Extended Scenes
Beneath Crawl
Category 5 Gators: The VFX of Crawl
Alligator Attacks
Mystery Title

A Surprise Unveiled
The fifth film in the box set is a well-kept secret, making its 4K Ultra HD debut in this collection. Get ready for even more suspense and surprises!
Exclusive Collectible Items
This limited-edition set comes complete with an exclusive, full-size Fangoria magazine, specially crafted for this release. Dive into a curated selection of new and classic articles from the magazine's archives. You'll also find a Paramount Scares enamel pin, unique stickers, and access to a Digital copy of each film.
Mark Your Calendar for Paramount Scares Vol. 1!
Paramount Scares Vol 1 hits 4K UHD on October 24, 2023
Don't miss out on this spine-chilling cinematic experience. PARAMOUNT SCARES VOL. 1 promises to be a must-have for horror enthusiasts, offering a treasure trove of terrifying tales in unparalleled 4K Ultra HD quality. Reserve your copy and prepare for a season of unrelenting scares!