UNHINGED Starring Russell Crowe Opening in Theaters on 8/21
We are excited to announce that Unhinged will open August 21st, 2020, making it the first new wide release in American movie theaters since they shut down in March due to Covid-19.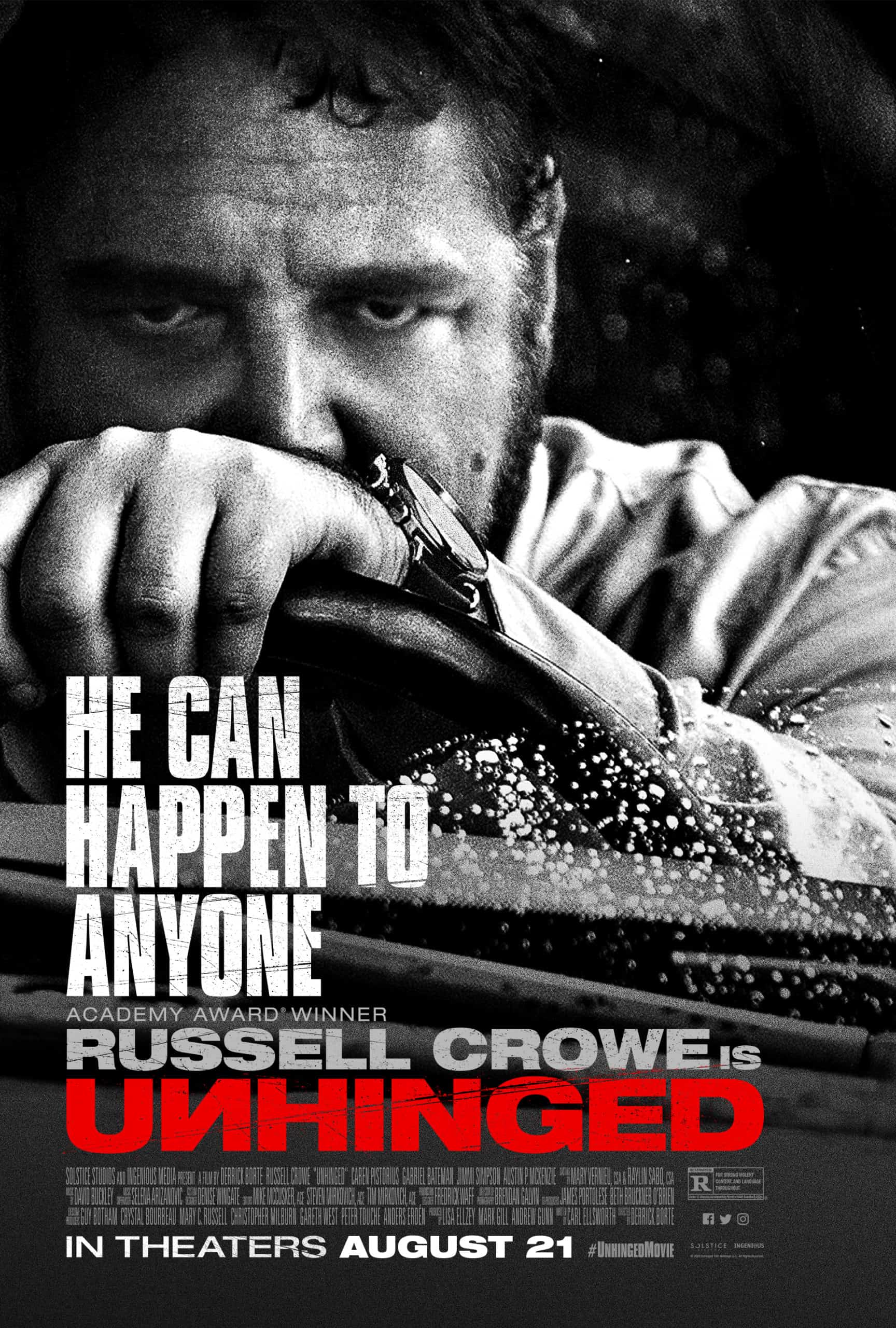 While our release date plans for Unhinged have changed a few times due to the dynamic nature of reopening movie theaters in the midst of a pandemic, our desire to give moviegoers a safe viewing experience, and our ongoing commitment to our exhibition partners – large and small – have remained unwavering. We know that theaters won't be open in every city or county when we launch.
However, we anticipate that the vast majority of movie theaters will be open and ready to meet what nationwide polls consistently show is substantial pent-up audience demand to see new movies in theaters. That said, no opening in this time period will be largely about the opening weekend. A significant number of additional theaters plan to open in our second week, and with a relatively light schedule of competitive films, the expectation is that "Unhinged" will open more modestly but stay in theaters longer.
Moviegoers have expressed a clear desire to return to theaters this summer (80% say they will definitely attend), while making it equally clear that they want the experience to be both comfortable and safe. Our partners in exhibition have answered this call by employing advanced sterilization and filtration methods, social distanced seating, no touch payment systems, and many other measures to prioritize safety over all else.
Without their thorough commitment to safety, we would not be proceeding. John Fithian, President and CEO of the National Association of Theater Owners, stated,
"On behalf of the U.S. exhibition community, I want to thank Solstice Studios for their commitment to bringing Unhinged to theaters, and for doing their part to help reinvigorate the theatrical movie business. Movie theaters are able to safely reopen with thorough health and safety measures in many states across the country, but if studios wait until 100% of the theaters are open, it will be too late. We need supporters like Solstice Studios, and Unhinged is the perfect film to kick off the opening of theaters to capture the last weeks of summer box office, followed by Tenet on Labor Day weekend and a strong fall schedule."
On the International front, Unhinged opened number 1 in Germany on July 16th to a great result, and remained the number one film this past weekend. Our global expansion continues in Australia, New Zealand and the UK this Thursday, 7/30. Solstice Studios was founded on the belief that nothing matches the theatrical moviegoing experience, and we are proud to play our part in bringing that beloved experience back to audiences across the globe.
Last year, the theatrical film industry grossed over $11 billion in the US alone. Its revitalization is as important to our economy and the many local businesses that support and benefit from movie going, as it is to our culture and preserving our rich creative history as storytellers. Thank you for joining us in supporting our local movie theaters. See you at the movies in August!
Sept. 4: THE B-52s: LIVE AT US FESTIVAL On DVD and Digital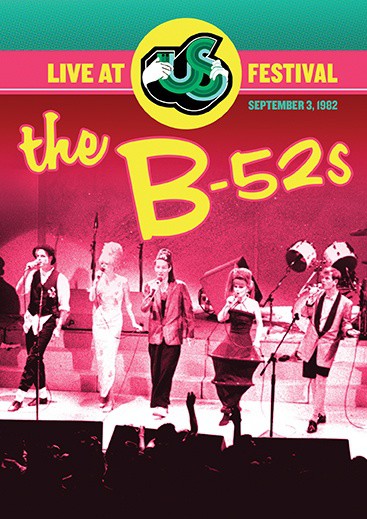 Travel back in time to a carefree Labor Day weekend in 1982, when The B-52s: Live At The US Festival comes to DVD and digital platforms on September 4th, from Shout! Factory. The performance features all five founding band members, and the film is dedicated to Ricky Wilson, who passed away 5 years after the US Festival performance. In brand-new interviews included in The B-52s: Live At The US Festival, band members Fred Schneider, Kate Pierson, and Cindy Wilson talk about Ricky, and what he meant to their unique sound, along with memories of performing at the US Festival.

Dance this mess around with the all-time, good-time party band The B-52s in a wild and unforgettable live performance. This hour-long set, recorded at the inaugural US Festival in 1982, had the crowd dancing from start to finish, and was considered to be one of the best of the entire festival.
"It was hot as hell in the desert but as soon as we got going we had the audience dancing up a dust storm," says Fred Schneider.

This rare footage shows off the joyous energy and unique spirit that has been a hallmark of their music and live performances for over 40 years.
Packed with 13 hits and favorites from the group's early years, including "Rock Lobster," "Planet Claire," Private Idaho," and others, Live At US Festival is the first-ever live concert DVD release from The B-52s' classic era, and a tasty slice of rock history that's an absolute must-see for anyone who likes to party out of bounds!

The B-52s: Live At The US Festival is available for pre-order now at Shoutfactory.com and amazon.com.

The B-52s: Live At The US Festival
Performances: Party Out Of Bounds Give Me Back My Man Planet Claire Throw That Beat In The Garbage Can Lava Mesopotamia 6060-842 Big Bird 52 Girls Dance This Mess Around Private Idaho Rock Lobster Strobe Light
Bonus Features Unveiled! THOMAS AND THE MAGIC RAILROAD (20TH ANNIVERSARY EDITION) On Blu-ray for the First Time!
The beloved fan-favorite Thomas And The Magic Railroad (20th Anniversary Edition) is coming to Blu-ray™ + DVD on September 29 from Shout! Kids, marking the first time the film will be available in high definition. The release is packed with extensive special features, sure to thrill fans who have long clamored for the film's deleted scenes to be released. The list of special features includes new interviews with the film's stars Alec Baldwin, Mara Wilson, and Didi Conn as well as the film's composer Hummie Mann, a two-part documentary with writer/director/producer Britt Allcroft, a behind-the-scenes reel, and deleted storylines and lost scenes, including deleted scenes with Peter Fonda, Didi Conn, Russell Means, and Doug Lennox.

Starring Alec Baldwin (The Boss Baby, 30 Rock), Mara Wilson (Mrs. Doubtfire, Matilda), Peter Fonda (Easy Rider, Ulee's Gold), Didi Conn (Grease, Shining Time Station), Russell Means (Last of the Mohicans, Pocahontas), and of course Thomas the Tank Engine, Thomas and the Magic Railroad is a longtime family-favorite.

For as long as anyone can remember, the magical Island of Sodor has been the realm of enchantment, innocence, and talking train engines. Mr. Conductor (Alec Baldwin) is taking care of the whole railway whilst Sir Topham Hatt is away.

Mr. C comes from a family of miniature Conductors who travel between the Island of Sodor and Shining Time Station thanks to a supply of mysterious gold dust. However, Sodor's steam engines suddenly find themselves heading for a load of trouble courtesy of the railroad baddie Diesel 10, whose plan is to destroy our hero Thomas and Mr. C… then take over Sodor before Sir Topham Hatt's return. Thomas and Mr. C must save the engines before his dwindling supply of gold dust runs out!

Lily (Mara Wilson) has a hunch that her grandfather (Peter Fonda), up in his workshop on Muffle Mountain, can be the one to crack the code that will save the Conductor family… and bring back to life the Magic Railroad, which runs between Sodor and the beautiful Indian Valley surrounding Shining Time. Lily teams up with Mr. C and Thomas and sets out to get Sodor back on track in this beloved, full-length adventure starring the world's #1 tank engine.
While Thomas And The Magic Railroad celebrates its 20th anniversary, Thomas the Tank Engine is marking his 75thyear as a beloved children's character. Originally part of the Rev W. Awdry's Little Railway book series, first released in 1945, Thomas was brought to life through the cherished TV series Thomas & Friends, created by Britt Allcroft (director/writer/producer of Thomas And The Magic Railroad) in the early 1980s. In the late '80s, Allcroft and Rick Siggelkow introduced Thomas to America when they created Shining Time Station. Many years on, Thomas' legacy remains everlasting.

SPECIAL FEATURES · "Return To Shining Time: Your Ticket To Thomas And The Magic Railroad" – Two-Part Documentary With Writer/Director/Producer Britt Allcroft · "Hello Mr. Conductor" – Interview With Alec Baldwin · "Finding Your Sparkle" – Interview With Mara Wilson · "There's Something About This Place" – Interview With Didi Conn · "The Sounds Of Sodor" – Interview With Composer Hummie Mann · Behind-The-Scenes Reel · Deleted Story Lines