Sylvia Kristel 1970s Collection 4xBlu-ray / 4xDVD December 14, 2021
Sylvia Kristel 1970s Collection from Cult Epics on Vimeo.
Cult Epics website exclusive includes an additional DVD with Interview with director Just Jaeckin on Sylvia. Limited to 200 copies www.cultepics.com
In conjunction Cult Epics will release Sylvia Kristel: From Emmanuelle written by Jeremy Richey as a Hardcover book, on January 17, 2022 (new release date). 352 Pages, fully illustrated, 12×10 inches.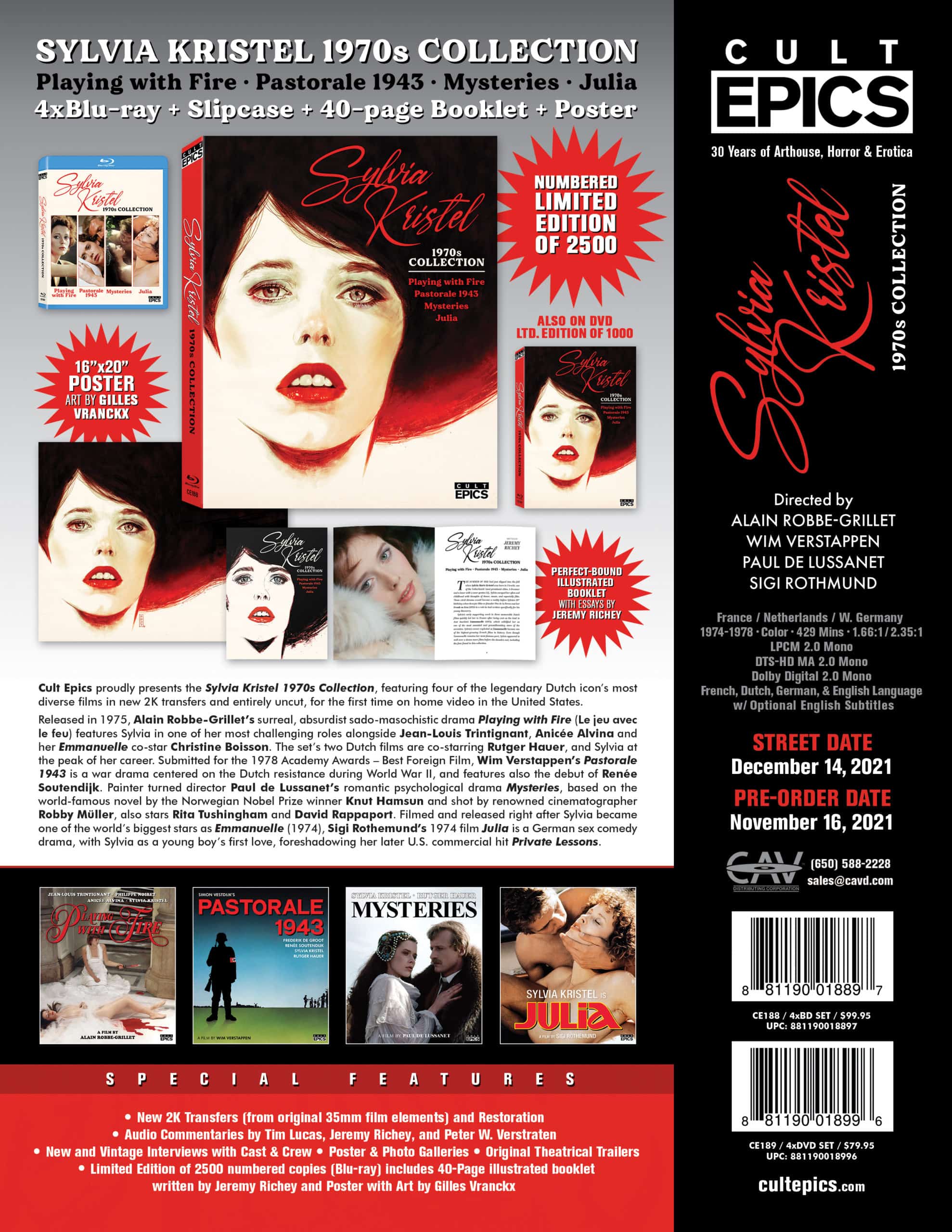 VERVE VENTURES RECEIVES NORTH AMERICAN SALES RIGHTS TO MOTHER, MAY I?

Bad Grey announced today that it has completed a deal for Verve Ventures to serve as its North American sales agent for their upcoming title, MOTHER, MAY I?. Written and directed by Laurence Vannicelli, MOTHER MAY I? stars Kyle Gallner (Dinner in America, Scream), Holland Roden (Mayans M.C., Escape Room: Tournament of Champions) and Chris Mulkey (Twin Peaks).
In this psychological thriller, Emmett (Gallner) and Anya (Roden), unexpectedly inherit his estranged mother's house after her passing. As they sift through her estate, Anya begins acting more and more like Emmett's mother—forcing him to question if she's pushing him to confront his traumatic past or if she's been possessed by his mother's spirit.
MOTHER, MAY I? is produced by Dane Eckerle, Daniel Brandt, Daisy Long and Cole Eckerle, as well as Holland Roden. Sam Slater, Paul Bernon and Phil Keefe of Burn Later Productions served as executive producers along with Alex Whitney, Erin Donovan, Chris Long, and Raj Trivedi. Jason R. Ellis of Eclipse Management & Entertainment is a co-producer. The film was shot by Craig Harmer and is currently in post-production in LA, being edited by Keola Racela.
"Due to Covid, we tried to build our production pod to be as safe and tight-knit as possible," Producer Dane Eckerle stated. "The result was everyone living and working on one property and getting closer than on any traditional set. We formed an amazing bond, and the hope is that the unity and energy of the production comes through in the quality of the final product."
"Mother May I? is an example of a spine chilling, haunting, supernatural thriller done right! Excited to get this in front of distributors and audiences alike, said Amy Beecroft, Verve Ventures.
The film was developed by filmmaking couple Laurence Vannicelli and Daisy Long, who began ideating together during the Covid-19 pandemic. Long, a former ballerina, initially hatched the story that Vannicelli would go on to write and direct. The film is punctuated with supernatural elements expressed through movement and dance and was choreographed by Long.
Vannicelli is repped by Circle of Confusion. Roden is repped by A3 Artists Agency, Eclipse Management & Entertainment, and Schreck Rose Dapello Adams Berlin & Dunham. Gallner is repped by Paradigm Talent Agency, Integral Artists, and Hansen, Jacobson, Teller, Hoberman, Newman, Warren, Richman, Rush, Kaller & Gellman. Mulkey is repped by Buchwald.
VERVE VENTURES
Verve Ventures is the independent film finance and sales team at Verve Literary and Talent Agency. Providing full-service consulting from script to screen, the Venture group's main mission is to help take high quality, creator-driven cinema from script to screen—and everywhere in between.
Upcoming projects from the Venture group include Steve Buscemi's THE LISTENER, starring Tessa Thompson, I LOVE MY DAD with Patton Oswalt, EMILY THE CRIMINAL starring Aubrey Plaza, ARI & DANTE starring Eugenio Derbez and Eva Longoria, Halston Sage-starring romantic comedy THE LIST, and queer musical GLITTER & DOOM, amongst others.
Past titles include contemporary romantic comedies MARY, MARY & SOME OTHER PEOPLE and PLUS ONE, Bryan Bertino's supernatural horror film THE DARK AND THE WICKED and Anthony Maras's HOTEL MUMBAI.
Ventures is headed by Amy Beecroft, a former worldwide sales agent, and Ross Putman, who was formerly an award-winning independent producer.
BAD GREY
Bad Grey is a production company founded by brothers Dane and Cole Eckerle, that is based out of LA and New York. Prior to joining forces, Dane was a development executive at Eli Roth's CryptTV, and Cole got his start producing and directing in the NYC hip-hop music video world. Together, they now focus on genre-bending content, disruptive perspectives, and building a platform for emerging new artists.
Dave Grohl Praises Wendy Rae Fowler's Warped:Resurrection Album, Out Today
Wendy Rae Fowler and GhostRhythm Records announced today that the digital release of Warped: Resurrected on all major platforms is out now as well as a Bandcamp Vinyl Campaign where fans can support the production of a double gatefold LP to accompany their digital copy.
To celebrate this release, Wendy Rae Fowler will be playing a live record release show on 11th November at Amp Studios, Old Kent Road, London. Tickets available here.
"Like a contemporary soundtrack to a Bela Tarr cityscape where southern goth, Ennio Morricone and Siouxsie Sioux melt together, the shadow atmospherics of Wendy Rae Fowler is brooding and visceral, dark and dreamlike. Highly recommended," – Mark Lanegan

Wendy's work as an artist has included many film and tv pieces and she will be appearing at a Screening and Q&A session for the new film CLAY & BONE with director Brian McClave and narrator and best-selling author Will Self, at The Depot, Lewes, UK on November 8th, 2021. Details here.

Tracklisting
1.This is Not a Love Song
2. Red Dust
3. Run
4. Volcanic
5. Plain Gold Ring
6. Svengali
7. Golden Brown
8. Hollow
9. Lying in the Sun
10. The Sound of My Heart

Wendy Rae Fowler Social Media links:
https://wendyraefowler.bandcamp.com/
https://www.facebook.com/WendyRaeFowler
https://www.instagram.com/wendyraefowler/
Level 33 Entertainment releases LA FLAMME ROUGE – AVAILABLE IN THEATERS & ON DEMAND 11.5.21
One violent night sends a cycling champ into a nightmare of murder, steroids, and assassins. Only a renegade detective can help him survive.

RATING: NR TV-14
RUN-TIME: 94 Minutes
THEATRICAL RELEASE: November 5, 2021
DIGITAL RELEASE: November 5, 2021
STUDIO/DISTRIBUTOR: Level 33 Entertainment
GENRE: Drama, Thriller, Crime, Horror, Independent
DIRECTOR: Brent Scott Maze, Derek Maze
WRITER: Brent Scott Maze, Derek Maze
PRODUCER: Brent Scott Maze, Derek Maze, Ehren Parks, Dana Altman, Chad Bishoff, Alexandra Surer, Balthazar Getty, Jonathan Groce
CAST: Balthazar Getty, Clint Howard, Nicole LaLiberté, Todd Lowe, George Griffith, Charlie McElveen, Sebastian Quinn, Josh Martin, Colby Coash
LANGUAGE: English
YEAR: 2021
COUNTRY: USA
IMDB: https://www.imdb.com/title/tt10298870/
IDA RED arrives on DVD January 4th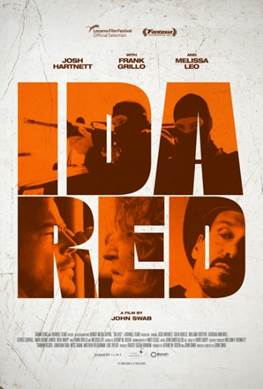 Release Dates: Now in Theaters, On Digital and On Demand
On DVD January 4, 2022
Starring: Josh Hartnett, Sofia Hublitz, William Forsythe, Deborah Ann Woll, George Carroll,
Mark Boone Junior, Beau Knapp, with Frank Grillo, and Melissa Leo
Directed By: John Swab
Written By: John Swab
Synopsis: Crime boss Ida "Red" Walker (Oscar® winner Melissa Leo*) turns to her son,
Wyatt (Josh Hartnett), to pull off one last heist to get out of prison. But with the FBI closing in, Wyatt must choose between family and freedom in this high-octane thriller.
Genre: Action, Thriller, Crime
Run Time: 111 Minutes
Rating: R
That's it for the Weekend News!