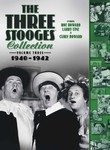 CLICK HERE TO REVIEW IT FROM NETFLIX!
Experience the golden age of the Three Stooges with these 23 hilarious short films that find comedy masters Larry, Moe and Curly dressing up as little girls, pretending to be refugee children and even trying to get thrown into prison. Among the shorts are the political comedies "You Natzy Spy!" and "I'll Never Heil Again," in which the hapless half-wits brilliantly mock the Third Reich and the Axis powers of World War II.
                                   <div class="section"><h6>Genres:</h6><p><a href="http://www.netflix.com/Genre/Classics/306">Classics</a>

THE AV REVIEW
"A Plumbing We Will Go" is possibly the best comedy ever made by the Stooges and alone is worth the price of admission. Here the Stooges attempt to repair the plumbing in a wealthy household. Of course they don't know what they're doing, as is always the situation. They end up crossing the electrical system with the plumbing with some hilarious sight gags resulting. You'll also see the Stooges taking advantage of Moe's strong resemblance to a certain German leader as the Stooges exit the depression and enter the war years.
"You Natzy Spy" – This is the Stooges' (and Hollywood's) first spoof of Hitler and his band of "merry men." Moe does a remarkable turn of Adolf; Charlie Chaplin's wonderful "The Great Dictator" was not released until some nine months later. Quite honestly, I found Moe's portrayal of Hitler much better, although Chaplin fans will argue the point. Larry is particularly interesting in his role as Pebble – minister of propaganda.
"A Plumbing We Will Go" – The classic "Moe, these pipes are all clogged up with wires" short, later remade with Shemp. The original version, features a manic Curly, tangled up in the waterpipes; his childlike antics are never more hilarious (as a side note, the remake with Shemp was a classic as well).
"How High is Up" – A frenetic short in which the boys end up at the top of a skyscraper construction site. Nothing particular to note here (other than the "Get the tools" routine), but just a fun one.
"All the World's A Stooge" – Moe, Larry and Curly play three refugee children, who are called upon to pass themselves off to a wealthy society matron. Their parody of precious little children is priceless, especially Larry, with his typical brand of humor.
"I'll Never Heil Again" – The worthy sequel to "You Natzy Spy," provides a fitting end to the erstwhile dictator and his henchman.
"An Ache in Every Stake" – The boys are icemen, delivering ice to a home at the top of one of those long LA staircases. Classic gags abound. Stooge regular Vernon Dent is at his blustery best.
"What's the Matador" – The Stooges are vaudeville performers, taking their bullfighting act to Mexico. They annoy the jealous husband of a gorgeous Mexican woman and hilarity ensures. Perfect timing from beginning to end. Curly is at his best in this one. This short was remade with Joe Besser as "Sappy Bullfighters." While one of Joe's better efforts, it pales in comparison to Curly's antics.
The DVD is a fun release that packages a lot of material into a tiny space. Hell, you even get killer A/V Quality. I don't know how much restoration that SONY did, but it shows. It's a quite classic release. That's why I recommend it as a blind buy.