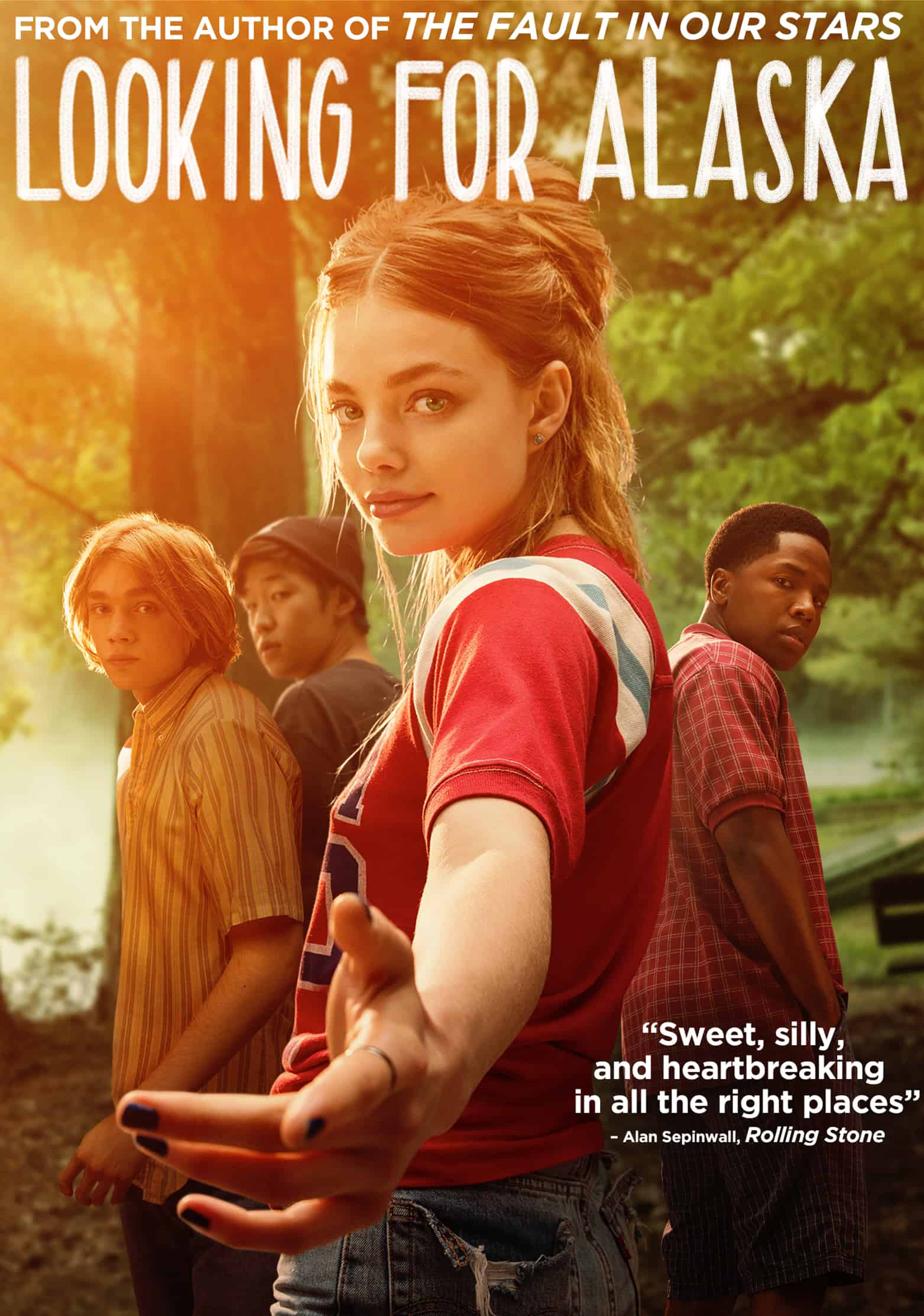 LOOKING FOR ALASKA arrives on DVD April 21
Called "beautiful and idealized, foreboding, and entirely relatable" (The Daily Beast), the limited series LOOKING FOR ALASKA debuts on DVD April 21, 2020 from Paramount Home Entertainment.
Based on author John Green's ("The Fault In Our Stars") award-winning first novel of the same name, LOOKING FOR ALASKA is a moving story of friendship, love and loss. With a 92% average Tomatometer and 93% average audience score on Rotten Tomatoes, the limited series was embraced by critics and viewers alike when it debuted on Hulu in October of 2019.
The 3-disc DVD set includes all eight episodes, plus over 40 minutes of fan-centric bonus content, including 18 never-before-seen deleted scenes and two featurettes that incorporate an exclusive interview with John Green.
LOOKING FOR ALASKA follows Miles "Pudge" Halter (Charlie Plummer) who is searching for a deeper perspective on life and decides to enroll at the boarding school Culver Creek Academy. He finds a loyal group of friends and falls in love with Alaska Young (Kristine Froseth). After an unexpected tragedy, the close group of friends tries to cope with everything they've been through and find some answers along the way.

"Looking for Alaska" is the award-winning, genre-defining debut novel from John Green, the #1 international bestselling author of "The Fault in Our Stars" and "Turtles All the Way Down." With millions of copies sold, the novel, which was released in 2005, is a New York Times best seller, a USA Today best seller, a Los Angeles Times Book Prize Finalist and one of TIME Magazine's 100 Best Young Adult Novels of All Time. Green was awarded the American Library Association's Michael L. Printz Award for "Looking for Alaska," which was also named as one of America's Best Loved Novels in a national survey conducted by PBS' The Great American Read initiative.
Created for television by Josh Schwartz ("The O.C." and "Gossip Girl"), the series comes from Paramount Television Studios and Schwartz and Stephanie Savage's Fake Empire. Savage and Schwartz serve as executive producers alongside Jessica Tuchinsky, Mark Waters, John Green, and Marty Bowen and Isaac Klausner of Temple Hill. Fake Empire exec Lis Rowinski is co-executive producer. Sarah Adina Smith ("Hanna" and "Legion") directed the first episode.
Sam Mendes' 1917 Available on Digital March 10 and 4K Ultra HD, Blu-ray and DVD March 24
1917, the critically acclaimed, multi-award winning action spectacle including Academy Award® winner for Best Cinematography arrives on Digital March 10, 2020 and on 4K Ultra HD, Blu-rayTM and DVD March 24, 2020 from Universal Pictures Home Entertainment. Hailed as "One of the most extraordinary cinematic achievements of the year" (JoBlo), the universally acclaimed film combines groundbreaking film making, memorable performances, and an unforgettable insight into the human experience against the shattering background of war. Additionally an Oscar® winner for Best Visual Effects and Best Sound Mixing, 1917 is "a new war movie classic" (NY Post).
In 1917 at the height of the First World War, two young British soldiers, Schofield (MacKay) and Blake (Chapman) are given a seemingly impossible mission. In a race against time, they must cross enemy territory and deliver a message that will stop a deadly attack on hundreds of soldiers—Blake's own brother among them. 1917 comes to Digital, 4K Ultra HD, Blu-rayTM and DVD with bonus content showcasing the incredible craft and artistry behind the immersive feature, including a detailed look into the production design, how the film engineered a one shot, 360-degree format and interviews with the cast and crew.
In 1917, Academy Award®-winning director Sam Mendes (American Beauty, Spectre, Skyfall) brings his Golden Globe® and BAFTA award-winning directorial performance to a script co-written alongside Krysty Wilson-Cairns ("Penny Dreadful"). The filmstars breakout actors George Mackay (Captain Fantastic, Pride, Sunshine on Leith) and Dean-Charles Chapman (HBO's "Game of Thrones"). Accompanying Mackay and Chapman are standout performances by Mark Strong (Tinker Tailor, Kingsman, The Imitation Game), Andrew Scott ("Fleabag", Sherlock, Spectre), Richard Madden (Netflix's "The Bodyguard", Rocketman, HBO's "Game of Thrones"), Colin Firth (The King's Speech, Kingsman, Bridget Jones) and Benedict Cumberbatch (Sherlock, Dr. Strange, The Imitation Game). The film was produced by Mendes, Pippa Harris ("Penny Dreadful", "Call the Midwife"), Jayne-Ann Tenggren (Spectre, Extremely Loud & Incredibly Close), Callum McDougall (Spectre, Skyfall, Casino Royale) and Brian Oliver (Rocketman, Black Swan).

BONUS FEATURES ON 4K ULTRA HD, BLU-RAYTM, DVD & DIGITAL:
– Academy Award® winner Sam Mendes discusses his personal connection to World War 1.
Learn how the one shot, 360-degree format was executed and the pivotal role Academy Award® winner Roger Deakins served in bringing Sam Mendes' vision to life.
Composer Thomas Newman and filmmakers discuss the important role of the Academy Award®-nominated score.
Go behind the scenes with the cast of 1917.
Filmmakers offer a detailed look at the production design challenges of recreating the First World War.
1917 will be available on 4K Ultra HD combo pack, which includes 4K Ultra HD, Blu-ray™, & Digital Code.
4K Ultra HD is the ultimate movie watching experience. 4K Ultra HD features the combination of 4K resolution for four times sharper picture than HD, the color brilliance of High Dynamic Range (HDR) with immersive audio delivering a multidimensional sound experience.

1917 4K Ultra HD is available with HDR10+™, providing a premium HDR picture quality. HDR10+ transforms your movie watching experience with incredible brightness and contrast for each scene, delivering brighter brights and deepest darks.
Blu-ray™ unleashes the power of your HDTV and is the best way to watch movies at home, featuring 6X the picture resolution of DVD, exclusive extras and theater-quality surround sound.
Digital lets fans watch movies anywhere on their favorite devices. Users can instantly stream or download.
The Movies Anywhere Digital Appsimplifies and enhances the digital movie collection and viewing experience by allowing consumers to access their favorite digital movies in one place when purchased or redeemed through participating digital retailers. Consumers can also redeem digital copy codes found in eligible Blu-rayTM and DVD disc packages from participating studios and stream or download them through Movies Anywhere. Movies Anywhere is available only in the United States.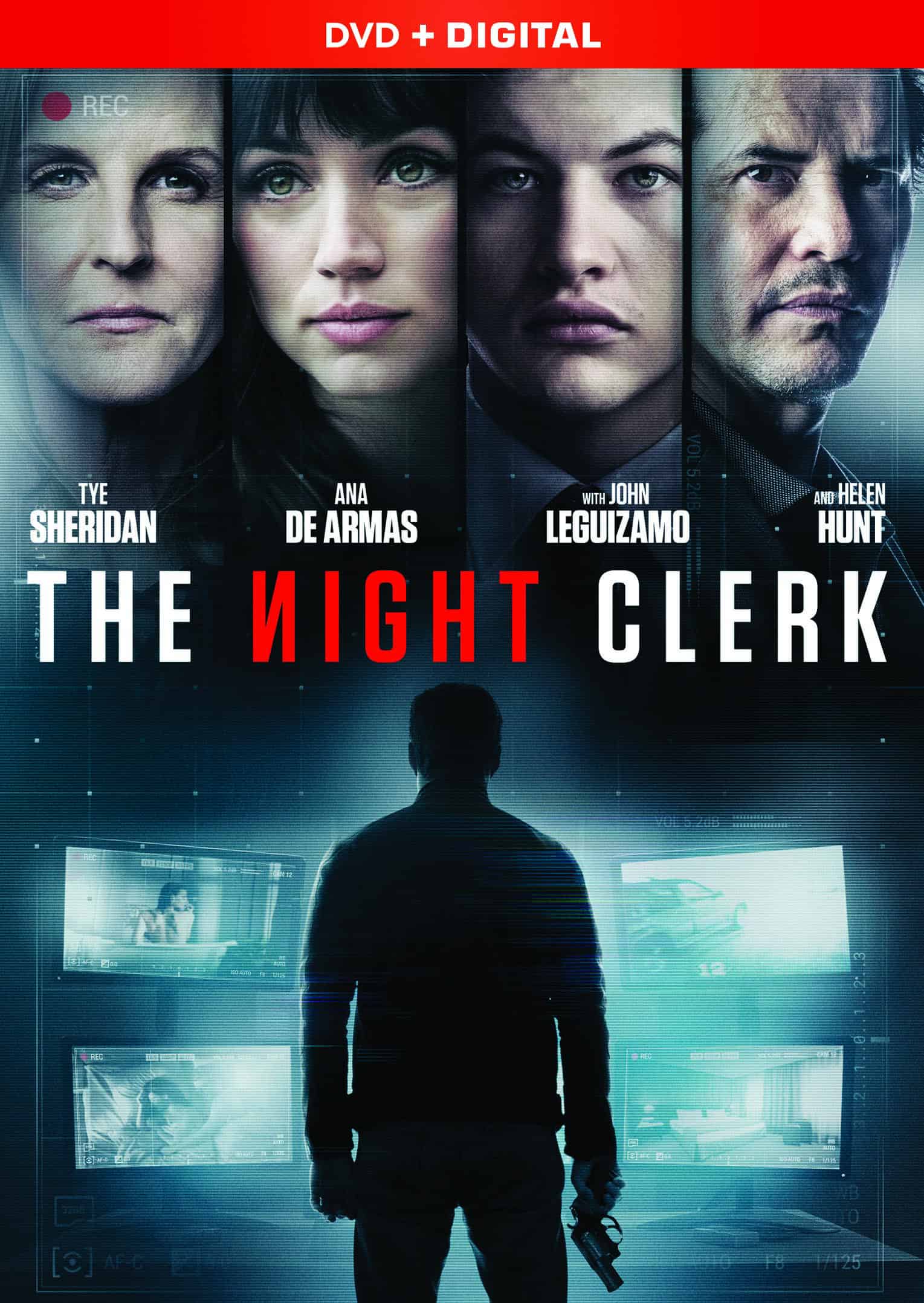 THE NIGHT CLERK is out now in theaters, On Demand and on Digital, DVD to follow April 7th
Release Dates: Now in theaters, On Demand and on Digital
On DVD April 7, 2020
Starring: Tye Sheridan, Ana de Armas with John Leguizamo and Helen Hunt
Directed By: Michael Cristofer
Written By: Michael Cristofer
Produced By: David Wulf, Tye Sheridan, Arianne Fraser
Synopsis: Tye Sheridan stars as hotel night clerk Bart Bromley who is a highly intelligent young man on the autism spectrum. When a woman is murdered during his shift, Bart becomes the prime suspect. As the police investigation closes in, Bart makes a personal connection with a beautiful guest named Andrea (Ana De Armas), but soon realizes he must stop the real murderer before she becomes the next victim. Also Starring Helen Hunt as Ethel Bromley and John Leguizamo as Detective Espada.
Genre: Thriller
Run Time: 90 minutes
Rating: Rated R for language, some sexual references, brief nudity and violent images
Studio TRIGGER's Worldwide Hit 'PROMARE' on Blu-ray+DVD, SteelBook & Digital This May from GKIDS, Shout! Factory
The top-grossing original anime feature of 2019, Promare makes its way to home entertainment this spring following a phenomenally successful North American theatrical run. The hyperkinetic, candy-colored visual masterpiece will be released on digital download and On Demand on May 5, 2020 and on Blu-ray™ + DVD combo pack and as a standalone DVD on May 19, 2020 from GKIDS and Shout! Factory. Bonus features include an interview with director Hiroyuki Imaishi, a round table with Studio TRIGGER, and Side: Galo and Side: Lio short films with new English dubs featuring the original dub cast.

Fans who pre-order the Blu-ray + DVD combo pack from ShoutFactory.com will receive an exclusive, limited-edition 18"x 24" lithograph, while supplies last. There will also be a SteelBook edition of the Blu-ray available exclusively at Best Buy, to be released on May 19.
The first feature-length film from the acclaimed studio TRIGGER, creators of KILL la KILL, Little Witch Academia and the upcoming B.N.A., and director Hiroyuki Imaishi (GURREN LAGANN), Promare is a blistering action-adventure that will set your soul on fire.

Thirty years has passed since the appearance of the Burnish, a race of flame-wielding mutant beings who destroyed half of the world with fire. When a new group of aggressive mutants calling themselves Mad Burnish appears, the epic battle between Galo Thymos, a new member of the anti-Burnish rescue team Burning Rescue, and Lio Fotia, the leader of Mad Burnish, begins. Promare's all-star English dub voice cast includes Billy Kametz (Neon Genesis Evangelion Series), Johnny Yong Bosch (Bleach, Akira, Might Morphin Power Rangers), Crispin Freeman (Mirai), and Alyson Leigh Rosenfeld (Pokémon, Yu-Gi-Oh!).

Bonus Features: · Interview with Director Hiroyuki Imaishi · Studio TRIGGER Round Table · Side: Galo and Side: Lio Short Films with English Dub · Trailers
On 3/17, Commemorate the Bravery of a Nation with THEIR FINEST HOUR: 5 BRITISH WWII CLASSICS, All Restored and Available on BD for the Very First Time from Film Movement Classics
THEIR FINEST HOUR: 5 BRITISH WWII CLASSICS brings together some of the most celebrated British war films, digitally restored and available for the very first time on Blu-ray. Titles include the Ealing Studios-produced, Graham Greene adaptation WENT THE DAY WELL? (1942) along with Michael Anderson's Oscar-nominated THE DAM BUSTERS (1955), as well as three box-office hits starring John Mills – THE COLDITZ STORY (1955), DUNKIRK (1958) and ICE COLD IN ALEX (1958).

WENT THE DAY WELL? (1942) Based on a story by Graham Greene and directed by Alberto Cavalcanti. Bramley End, snug and safe, seemed far away from the perils of World War II. Little did the villagers suspect the grim events that would arrive at their doorsteps. Surprised by the lorry loads of Royal Engineers that rolled onto their village green, they had no reason to believe that these soldiers were disguised German paratroopers, and even less reason to be suspicious of Oliver Wilsford (Leslie Banks), their trusted town squire. A.O. Scott of The New York Times, said this Ealing Studios wartime production "contemplates some pretty grim stuff, but with equipoise, discipline and a sense of humor that embody exactly the virtues it sets out to defend. Apart from its considerable historical interest, this is a movie about how civilization survives." THE COLDITZ STORY (1955)

The Nazis believed that no man could break out of Colditz Castle. A medieval fortress located in the heart of Saxony and situated 400 miles from any neutral frontier, it was the prison where the most contentious Allied POWs were held. Determined to find a way out, a British officer (John Mills) hatches a plan to navigate the castle's subterranean tunnels towards freedom. Based on the best-selling book by actual Colditz escapee Major Pat Reid and brought to screen by four-time James Bond director Guy Hamilton. Nominated for a "Best Film" BAFTA Awards, THE COLDITZ STORY was called "Easily one of the best prisoner-of-war yarns to come from any British studio" (Variety). THE DAM BUSTERS (1955)

Based on actual events. Convinced that the war can be shortened by attacking the German industrial nerve center, Dr. Barnes N. Wallis (Michael Redgrave) develops a "bouncing bomb" that can be used to destroy the Ruhr dams. Facing seemingly impossible odds, the 617 Squadron, led by Air Ace Wing Commander Guy Gibson (Richard Todd), is then tasked with carrying out the dangerous night raids to complete the mission. Adapted by R.C. Sherriff from the book by Paul Brickhill and featuring innovative special effects photography by Gilbert Taylor (cinematographer of Star Wars: A New Hope), The Dam Busters would become a major influence on George Lucas in his storyboarding and filming of the Death Star attack sequence. James Dennis of Screen Anarchy called the film "a triumph of British ingenuity [that] served to highlight the best of the war effort in a wonderfully celebratory fashion." Nominated for a Special Effects Oscar, as well as Best Film, Best British Film and Best British Screenplay at the BAFTA Awards, THE DAM BUSTERS was directed by Michael Anderson.
DUNKIRK (1958)
It is early May 1940. London is lulled into an atmosphere of false security, but war correspondent Charles Foreman (Bernard Lee) knows better. As the Battle of France takes a turn for the worse, he joins the Merchant Navy and volunteers for Operation Dynamo, the greatest rescue mission ever mounted. John Mills and Richard Attenborough star in this Leslie Norman-directedfirst cinematic retelling of the 1940 evacuation of Dunkirk, produced by Ealing Studios.
James McAllister of The London Economic said, "Those who thought Christopher Nolan's shattering summer spectacle could have benefitted from greater historical context, need look no further than this epic wartime classic." ICE COLD IN ALEX (1958) The year is 1942. Along the barren North African coast where war has turned towns into smoking ruins, Captain Anson (John Mills), a commanding officer in the Royal Army Service Corps, is tired and thirsty. Separated from his unit while evacuating to Alexandria in a military ambulance, he takes on several passengers but soon realizes that one of them may be a German spy. Nominated for four BAFTA Awards and winner of the FIPRESCI Prize at the 1958 Berlin International Film Festival. Lou Thomas of the British Film Institute says, "Sixty years after its release, director J. Lee Thompson's desert epic still stands up as an essential war film."

BONUS FEATURES THE COLDITZ STORY
Colditz Revealed documentary
Restoration Comparison

THE DAM BUSTERS
The Making of The Dam Busters
Sir Barnes Wallis documentary
617 Squadron Remembers documentary
Footage of the Bomb Tests
The Dam Busters Royal Premiere
Restoration of a Classic featurette
The Dam Busters 75th anniversary trailer
DUNKIRK
Dunkirk Operation Dynamo Newsreel
Young Veteran Ealing Studios documentary (1940)
Interview with actor Sean Barrett
John Mills home movie footage
ICE COLD IN ALEX
Extended Clip from A Very British War Movie documentary
John Mills home movie footage
Interview with Melanie Williams
Steve Chibnall on J. Lee Thompson
Interview with Sylvia Syms
PROGRAM INFORMATIONType: Blu-ray (New Digital Restorations) Running Time: 572 Total minutes Aspect Ratio: 1.37:1 Original Aspect Ratio: WENT THE DAY WELL, THE COLDITZ STORY, THE DAM BUSTERS; 1.66:1 Original Aspect Ratio: DUNKIRK, ICE COLD IN ALEX Audio: Mono