Distributed By: Passion River
Release Date: November 9, 2021
Directed by: John Beckham
Written by: Bethany McKenzie, John Beckham
Executive Produced by: Bethany McKenzie, Amanda J Adkins, James and Deborah Reynolds
Producers: John Beckham, Andros Rodriguez, Belinda Fettke, Bonnie Assad, Carolyn Ketchum, Daniel St. Ours, Danny Gohr, Gaja Andzel, Jordan Cohen, Judith Rebekah Walters, Narmina and Andrew Lovely, Ryan Attar, Sharon Svensson, Simon Kim
Subjects: Jeremy and Jamie Wells, Dr. Attar, Dr. Dikeman, Ondria Cesar, Bethany McKenzie, Matthew Kneeland, Keary Cheney, Rosalyn Wesley, Dr. Richard Bernstein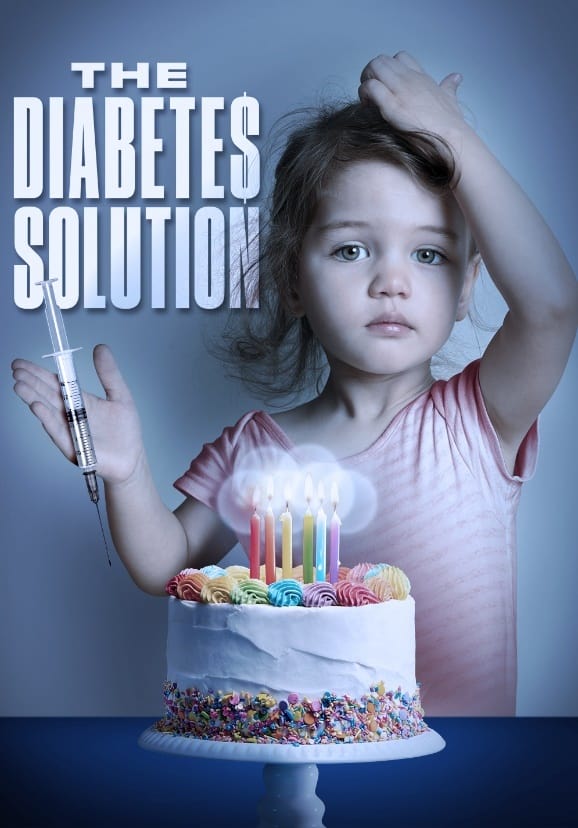 The Diabetes Solution Synopsis:
When Bethany and Matt's 5-year-old son River was diagnosed with type 1 diabetes, they followed all of the current dietary guidelines for managing his disease, and for three years, they were in a constant state of crisis management. Their son had dangerously high and low blood sugars, endless trips to the school nurse, and he continually missed activities due to diabetes. In June of 2016, they hit rock bottom and changed everything.
After a very sincere and defeated post on social media by Bethany, several families reached out to inform them about their similar story and another way to manage diabetes inspired by an 86-year-old doctor.
Immediately, they changed their diets and instantly they saw results. River went from feeling miserable all day to being an honor student and a nationally ranked athlete. It only took a few tweaks to his diet and insulin strategy for his blood sugars became normal and healthy.
The Diabetes Solution examines their all-too-familiar story, the current guidelines, their success, and the corruption that hides this solution from people with diabetes. It's an undeniable example of how people with diabetes can prevent complications and live a full and healthy life. Its purpose is to bring a message of hope to people with diabetes and to shine a light on why the truth has been hidden all along.
Everyone deserves normal blood sugars.
The Diabetes Solution looks like a promising documentary