The Chocolate War is a Keith Gordon directed adaptation of the classic Robert Cormier novel. What was once a controversial look at how a Catholic High School used chocolate bar sales to force conformity now feels like a relic of the 1980s.
What is The Chocolate War?
The Chocolate War is a typical Teen Lit to feature film adaptation about defying corrupt authority. In this instance, it's evil Brother Leon using a school gang to enforce participation in a chocolate sale. New kid Jerry is trying to overcome his mother's death, while dealing with some creepy monk and his pet boys trying to force him to sell World's Finest Chocolate.
Ilan Mitchell-Smith spends the first part of the movie remembering his family trauma and then meeting The Vigils. It's not long before token female interest (Jenny Wright) shows up to give us a lady in the middle of this All-Boys school drama.
What does the MVD Rewind Collection Blu-ray look like?
MVD Rewind Collection continues their blast from the past finesse with The Chocolate War. Hell, I remember when MGM did their barebones DVD about a decade ago for the movie. So many Gen Xers flipped out and I was like, this is just old premium cable fodder until I watched it. That being said, standard definition cable isn't exactly painting the A/V Quality is rose colored glasses.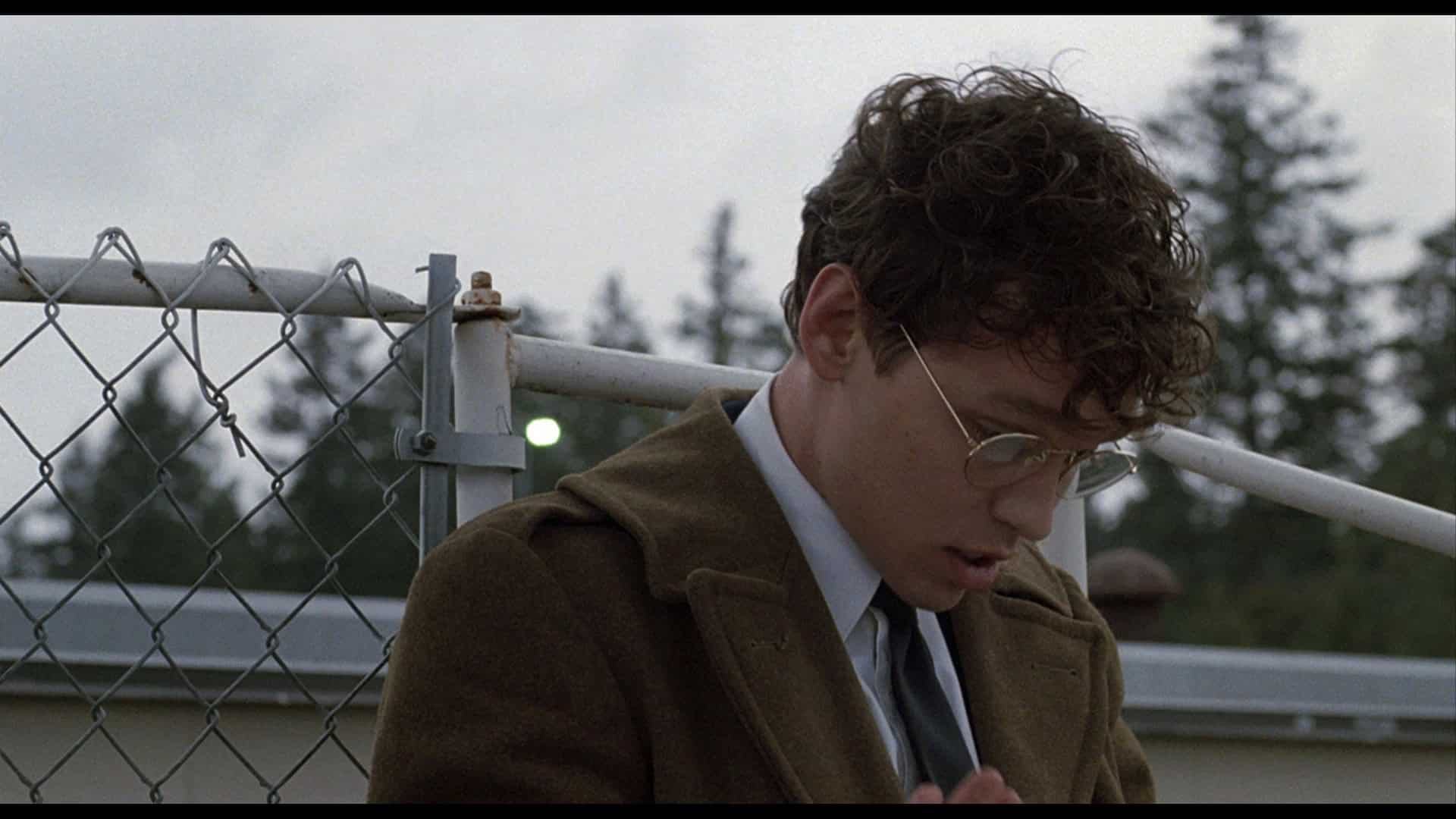 Why should you watch The Chocolate War?
The Chocolate War represents something I love and hate about Teen Lit film adaptations. That being its power over the audience typically depends on how close they are to the rules of the source material. Meaning that it's not uncommon to see young people making videos and essays about the film and novel during certain points of their life.
But, adults are at a point where they would just slap the shit out of Brother Leon. It's one thing to rough up kids, it's another to go after people who get beat you to the point that you get to go meet Jesus. And, for what? Making somebody sell 50 boxes of candy bars?
I thought Catholic Schools were supposed to have better funding than public schools. Why is it that everybody with a student population has to take to selling loose scraps like a gang of hoodlums? How much are band trips costing people? Anyways, back to the film.
The Chocolate War does the most dangerous thing in the world. It asks adults to care about the world of youth. While so much out there treats anyone under the age of 18 as kids or potential criminals, it's in those murky areas that people get confused and don't know what to make of narratives.
Honestly, I'd take that over whatever weepy John Green fare is getting pushed to the forefront 3 years ago. So, what does this mean for you the casual film fan? If you want to watch an 80s movie, you're more than likely going to pick something light-hearted. That being said, you come to movies like The Chocolate War to see something that goes undiscovered. Give it a shot.
What's on the Blu-ray disc?
Movie length commentary from Keith Gordon
Interview with director Keith Gordon
The trailer
A collectible mini-poster
How does it look and sound?
| | |
| --- | --- |
| Visuals | Ideal for the film's age without being overpowering. |
| Audio | Everything is upfront for a reason. Most theaters that showed the film in November 1988 would have had it a Dolby 2.0 surround configuration. |
| Overall | The Chocolate War gets a solid disc that respects its A/V Quality origins. |
The Chocolate War is now available from MVD!