Care to Laugh is the first documentary released by the AARP. Focusing on stand-up comedian Jesus Trejo and his active caretaking of his parents, the documentary forces us to examine aging in America.
ANDERSONVISION: I've just got to say that I loved the documentary. I feel bad that it was a screener and I couldn't share it with everybody around AV Central. I'm a documentary nerd, so I automatically get into every documentary I see. How exactly did the AARP and you come together?
The documentary started a few years back. The AARP had done a study to determine what caregivers needed . When the study came back, it said that caregivers needed time and laughter. So, they decided to have this event at the Hollywood Improv called Care to Laugh. Caregivers and care givees came down for a night of laughs and a nice dinner.

Jim Breuer was headlining that night and I was opening the show. That's where I first met AARP Studios. That was such a success that they wanted to do another event on the East Coast. They had reached out and asked if I would be willing to do another show much like the Care to Laugh in LA.

I wasn't able to take it on, as it was around the time my father was getting sick. They came back later with an offer regarding me telling my story. A crew would follow me for a year and it's obviously something I needed to discuss with my parents.

I didn't push them, I just kind of left it on the table. I came back to here and here we are a few years later.

Jesus Trejo comedian/star (Care to Laugh)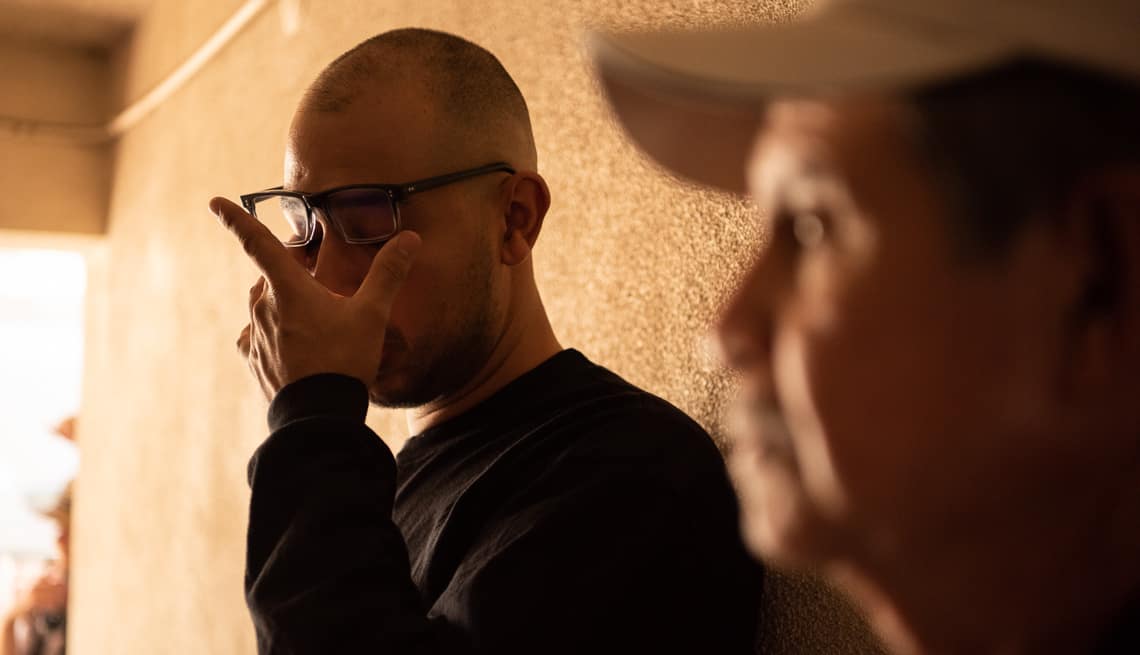 ANDERSONVISION: That's very interesting and relates to my next two questions. I discovered this documentary existed when I heard about it on Bertcast. I'm a huge fan of all the major comedy podcasts, so when I heard about it…I wondered when is the documentary coming out? Then, two months later…Care to Laugh is coming out.
I love Bert. Bert is the guy who I look up and I was able to go on the road with recently. We definitely talked about Care to Laugh there. Everything comes around full circle.

Jesus Trejo (Care to Laugh)
ANDERSONVISION: It was very interesting. Because of that podcast, I watched your Showtime special first and now I'm trying to find the special to show off to people. Is that still streaming?
Yeah, the Showtime special (Stay at Home Son) is streaming on Showtime right now. However, there is going to be a wide release in the coming months. You'll be able to get it on iTunes and Amazon Prime.

For now, it's still on Showtime. But, Care to Laugh is available to rent on all platforms.

Jesus Trejo (Care to Laugh)
ANDERSONVISION: What about your Taco show on First We Feast? It's coming back soon. What about Tee Time?
Tee Time! That was a Passion Project I did with All Things Comedy. I want to get back out there and do more. But, then COVID happened and everything got put on hold. But, hopefully soon we can figure out a way that we can get out there with a crew.

Tacos Con Todo Season 2 premieres August 25th. The trailer is out now. Check it out at First We Feast. That show looks a lot different in the second season. COVID impacted the crew we were able to have. Still lots of laughs and good tacos to be had.

Jesus Trejo (Care to Laugh)
ANDERSONVISION: There is a funny thing that came up when I was researching you. Going through the old site notes, I was supposed to interview you during promo for Sullivan and Son.
That's right. Yeah, that was the very first TV thing that I ever did. It was a sitcom on which I played Javier. That was Steve Burns' awesome show on TBS. That's so crazy.

I had a great time making that show. It was on for a few seasons. The network went in a different direction, but what good times being on set.

Jesus Trejo (Care to Laugh)
ANDERSONVISION: Do you think you could end up doing something like Bertcast? I love Tee Time, but what about doing a dedicated podcast? Something like what Joey Diaz has now.
Joey Diaz is the king. Something like The Church of What's Happening Now. I am definitely tinkering with the idea of a podcast. More of a low-key hang that produces free flowing conversations.

I'm definitely working on it now. The thing with Podcasts are that they are very tough. I've recorded a few of them, but I guess I'm a Perfectionist. I'm finally getting close to getting my confidence level up in order to release some of them.

The name of the podcast is Crumbs Podcast. I mostly talk about food and what's going on. Hopefully soon.

Jesus Trejo (Care to Laugh)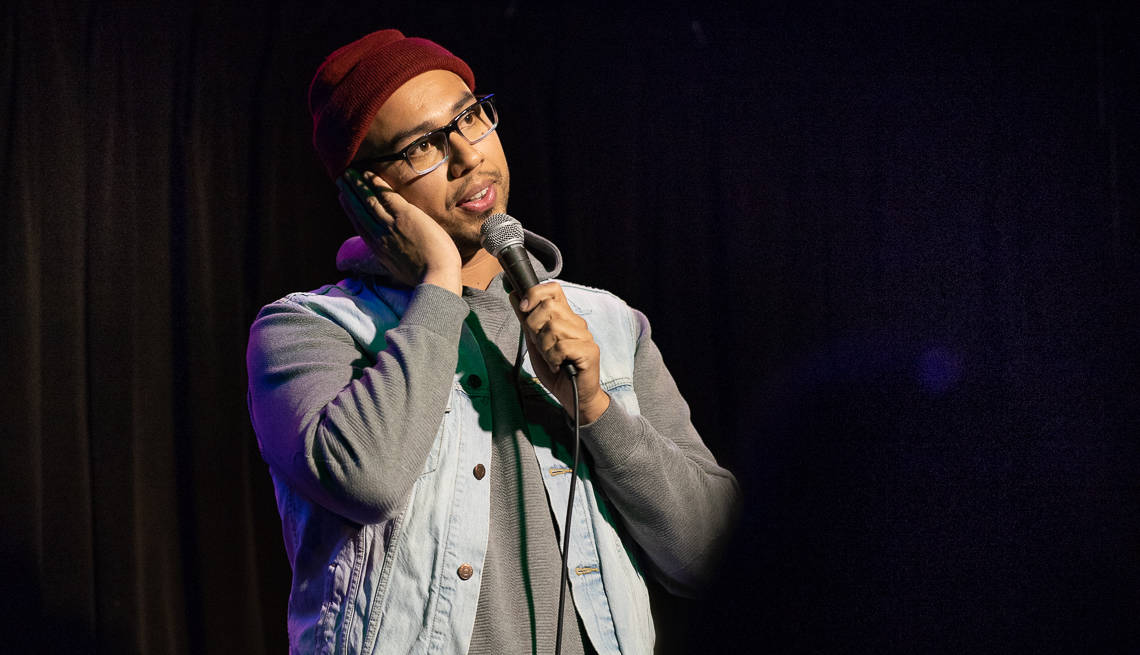 ANDERSONVISION: I'm there for a podcast. It could be a good Friday podcast. I think that's the only date without a comedy podcast.
Yeah, I just got to get my confidence up for an Audio/Visual Podcast.

Jesus Trejo (Care to Laugh)
ANDERSONVISION: Is there anything you're doing next?
Well, I'm promoting this documentary some more. It's a really cool story. For anyone listening out there, so many people are caregivers. They're either caregivers to family members. Adults or even kids with special needs. I always think about the journey of a caregiver.

Anyone that is a caregiver feels alone in that journey. The truth of it is that there are so many resources out there. I've had the good fortune of working with AARP and AARP Studios. They've got a good thing going on over there.

There a lot of resources on their website. For anyone listening, if you're a caregiver or know somebody that can benefit from some caregiving resources, go to aarp.org.

If you want to learn more about the documentary, visit and see what film festivals we've played…visit Care to Laugh on the AARP site. I'm happy that it has distribution and people get to see this very American story.

Jesus Trejo (Care to Laugh)
ANDERSONVISION: Care to Laugh is a very special film that I feel everyone needs to watch. Anyone that I can reach, I want to watch this movie. But, I think it's slightly hurt by people that aren't in that caregiver mindset. Having to have the experience to suddenly providing care for a loved one changes how a viewer can approach Care to Laugh.
Yeah, it's like anyone that has gone down this path knows how hard it is to juggle life. Self-care, care giving and everything else to juggle is a lot. The documentary really focuses on the strive to balance, especially with my journey to becoming a stand-up comic. Therapy serves as my job and many other things.

I was a caregiver from such a young age that it took a lot. My parents sacrificed a lot and it was about me taking that and going forward. Even in the special, I talk about my parents quite a bit. I'm paying my homage to my parents and I hope it resonates.

Jesus Trejo (Care to Laugh)
ANDERSONVISION: Thank you for making Care to Laugh.
Oh yeah, thanks to AARP Studios for making this. For everyone that was involved, it's like AARP as a whole was nothing but amazing and great people. We instantly became best friends. I've yet to meet anyone over there that wasn't loving.

I'm really happy that my family and I were able to work with AARP. Anyone that needs resources as a caregiver needs to know they are not alone. Reach out the AARP website.

Jesus Trejo (Care to Laugh)
ANDERSONVISION: That's great to here and I highly recommend that our readers check out the Care to Laugh documentary. We're going to post direct links to renting or buying it on the immediate right hand panel of the Jesus Trejo interview.
CARE TO LAUGH IS NOW AVAILABLE TO RENT AND STREAM!
SPECIAL THANKS TO JESUS TREJO AND AARP STUDIOS FOR MAKING THIS HAPPEN!
The Care to Laugh documentary review is coming sooner than later! New movies are back and we've got an onslaught of reviews on tap!