Netflix is opening Fear Street Rentals. After all, nothing scares Zoomers like a video store!
On the outside, FEAR STREET RENTALS is a 90s video rental storefront and on the inside, it's an immersive experience that takes you back in time and brings to life the horrors of Shadyside in 1994, 1978 and 1666. Filled with iconography and Easter eggs from the Fear Street Trilogy and a secret passageway that takes you into the world of 1978 (Camp Nightwing) & 1666 (the church), the pop up is an experience built for horror and Fear Street fans alike.

The event is free and open to the public. Admission is first come, first served.

Note: Rideshare is highly encouraged. Parking will be limited. We recommend parking on Melrose or metered parking. Please be respectful of the West Hollywood neighborhood and not park in residential areas.
For more information, please visit: FearStreetRentals.com

WHEN: Friday, July 9 – Sunday, July 18 Wednesday – Saturday: 5 – 11pm, Sunday: 1-8pm
Closed Monday & Tuesday

WHERE: MELROSE / WEST HOLLYWOOD 8552 Melrose Ave, West Hollywood, CA
ULTRAMAN DAY STREAM HAS BEGUN! WATCH A CLIP!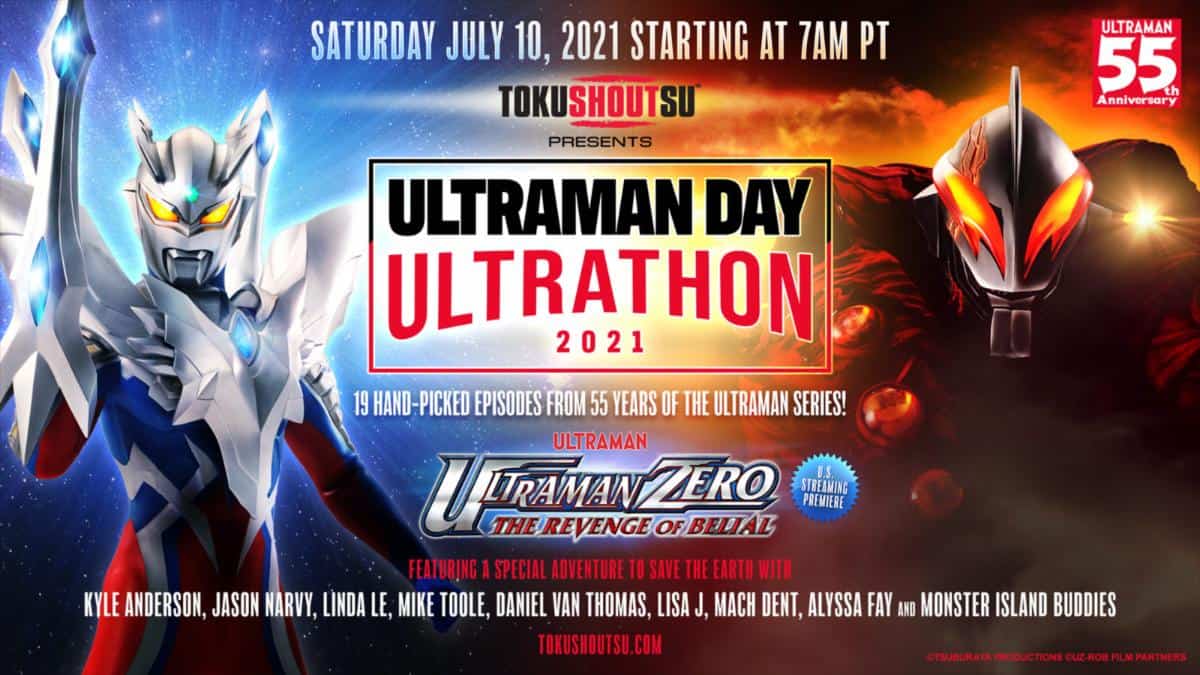 In celebration of the 55th anniversary of the landmark series Ultraman, Shout! Factory TV™ and its premier Tokusatsu channel TokuSHOUTsu™ will proudly present a full-day streaming event entitled Ultraman Day: Ultrathon on Saturday, July 10. The marathon – featuring 19 episodes that span 55 years of the Ultraman series – culminates in the U.S. streaming premiere of Ultraman Zero: The Revenge of Belial.
The Ultrathon will stream across all Shout! Factory TV and TokuSHOUTsu platforms and feature one-of-a-kind fan engagement, including exclusive giveaways of top toys from Bluefin Brands and promotional support from Marvel Entertainment, Factory Entertainment, VIZ Media and RightStufAnime.com. As part of an all-day adventure of intergalactic battles, Kaiju, aliens, heroes and villains, Ultrathon will also include In Search Of An Ultraman! The Invasion From Another Space!
A journey across time and space to save Earth from invasion, this newly produced special features top voices representing franchise fans around the world, including Kyle Anderson (Nerdist), Jason Narvy (Mighty Morphin Power Rangers), Linda Le (Vampy Bit Me), Mike Toole ("The Mike Toole Show" on Anime News Network), Lisa J (No Pink Spandex), Daniel Van Thomas (English voice of Ultraman Zero), Mach Dent (Vintage Henshin), Alyssa Fay (Daikaiju Legends), and Monster Island Buddies.
IFC FILMS AND BANKSIDE FILMS ANNOUNCE PETER STRICKLAND'S 'FLUX GOURMET' HAS WRAPPED, RELEASE SET FOR 2022
IFC Films, Bankside Films, and Head Gear/Metrol Technology have wrapped production on Peter Strickland's latest film, FLUX GOURMET. The film will be released with IFC Films across North America, who have previously collaborated with Strickland on his explosive english-language debut BERBERIAN SOUND STUDIO (2012) and follow-up feature THE DUKE OF BURGUNDY (2014), which both earned critical acclaim upon release and have subsequently garnered a fiercely loyal cult following leading up to his most recent film IN FABRIC (2018).
FLUX GOURMET stars Asa Butterfield (Sex Education, Hugo), Gwendoline Christie (Game of Thrones, In Fabric), Ariane Labed (The Souvenir: Part II,Alps, Attenberg), Fatma Mohamed (Berberian Sound Studio, The Duke of Burgundy, In Fabric), and Makis Papadimitriou (Chevalier). Leo Bill and Richard Bremmer co-star.
This marks Strickland's fifth film, and third with IFC Films, who plan to release the film in 2022. FLUX GOURMET was produced by Serena Armitage of Red Breast Productions and Pietro Greppi of Lunapark Pictures, and co-financed by IFC Films, Bankside Films, and Head Gear Films/Metrol Technology.
Serving as executive producers are Arianna Bocco and Betsy Rodgers of IFC Films, Stephen Kelliher & Sophie Green of Bankside Films, Phil Hunt & Compton Ross of Head Gear Films/Metrol Technology, Ian Benson of Blue Bear. Bankside Films will handle international sales. SYNOPSIS: At an institute devoted to culinary and alimentary performance, a collective finds themselves embroiled in power struggles, artistic vendettas and gastrointestinal disorders.
Director Peter Strickland said, "FLUX GOURMET came about through a personal frustration with how alimentary disorders or food allergies have been comically portrayed in some films, and without wanting to embark on a finger-wagging mission, I wanted to write something devoted to the disruptions of the stomach whilst attempting to maintain a degree of dignity to deeply private and embarrassing symptoms."
IFC Films President Arianna Bocco added, "Peter Strickland's films are unmistakable in their visual style and brilliant narratives and he consistently confronts audiences in a way that challenges and rewards each time. We are thrilled to continue to work with such a singular talent as Peter, and to partner with Bankside Films and the incredible filmmaking team who worked so hard to get this film off the ground."
Stephen Kelliher and Sophie Green of Bankside Films added, "Following IN FABRIC, we are thrilled to be continuing our relationship with Peter Strickland, one of the most original and commanding voices in cinema today. We couldn't be happier to partner with IFC Films on this film from its very inception and to be working with them as financiers and executive producers on the project."
Nick Cannon's She Ball is coming to theaters and on demand on August 6th, 2021. It's nice to see that Nick Cannon had time to do other things in the last year.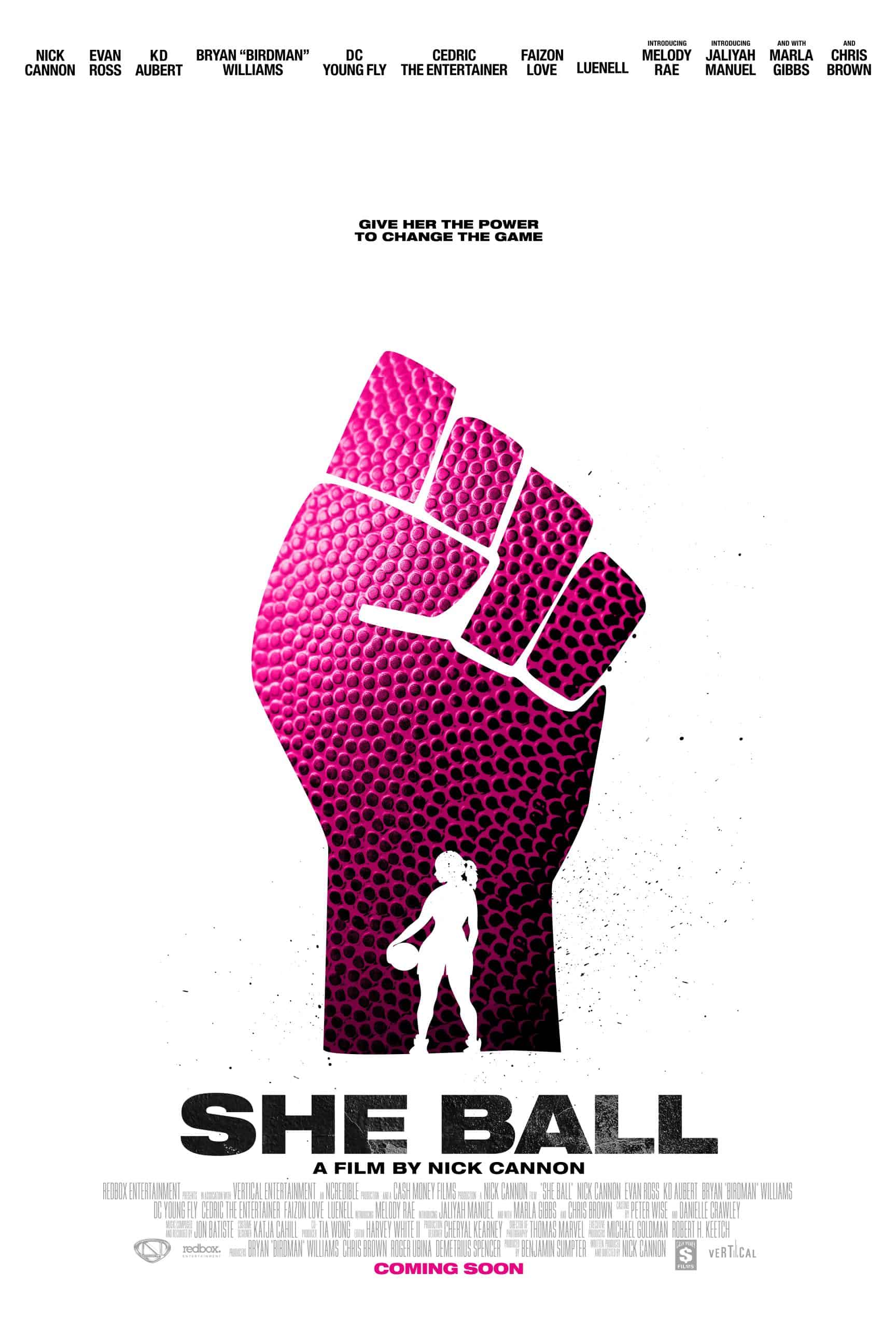 | | |
| --- | --- |
| Distributed By: | Redbox Entertainment, Vertical Entertainment |
| In Theaters & On Demand: | August 6, 2021 |
| Written & Directed By: | Nick Cannon |
| Produced By: | Nick Cannon, Benjamin Sumpter |
| Starring: | Nick Cannon, Chris Brown, Bryan "Birdman" Williams, DC Young Fly, Cedric the Entertainer, Melody Rae, KD Aubert, Jaliyah Manuel, Marla Gibbs, Evan Ross |
| Runtime: | 100 mins |
| Rating: | R |
| Genre: | Drama, Comedy |
| Synopsis: | On a mission to save his Inglewood community center, Avery Watts (Nick Cannon) enlists a talented basketball player, Shelby (Melody Rae), to help him win the grand prize in a street ball tournament. Together, Avery and Shelby challenge local politicians, gangs and their own stereotypes to save their community. She Ball is produced by Nick Cannon, executive produced by Chris Brown and Bryan "Birdman" Williams, and features new music from Chris Brown, Birdman, Lil Wayne, Roddy Rich, Stevie Wonder and Kierra Shierd. |