Loot Crate news, Hulu is dealing with a Sasquatch and more movie news kicks off this Sunday coverage.
Hulu's "SASQUATCH" – Weed, Greed, and Murder Mystery Docuseries – dir. by JOSHUA ROFÉ – exec. produced by the DUPLASS BROTHERS – Premiering APRIL 20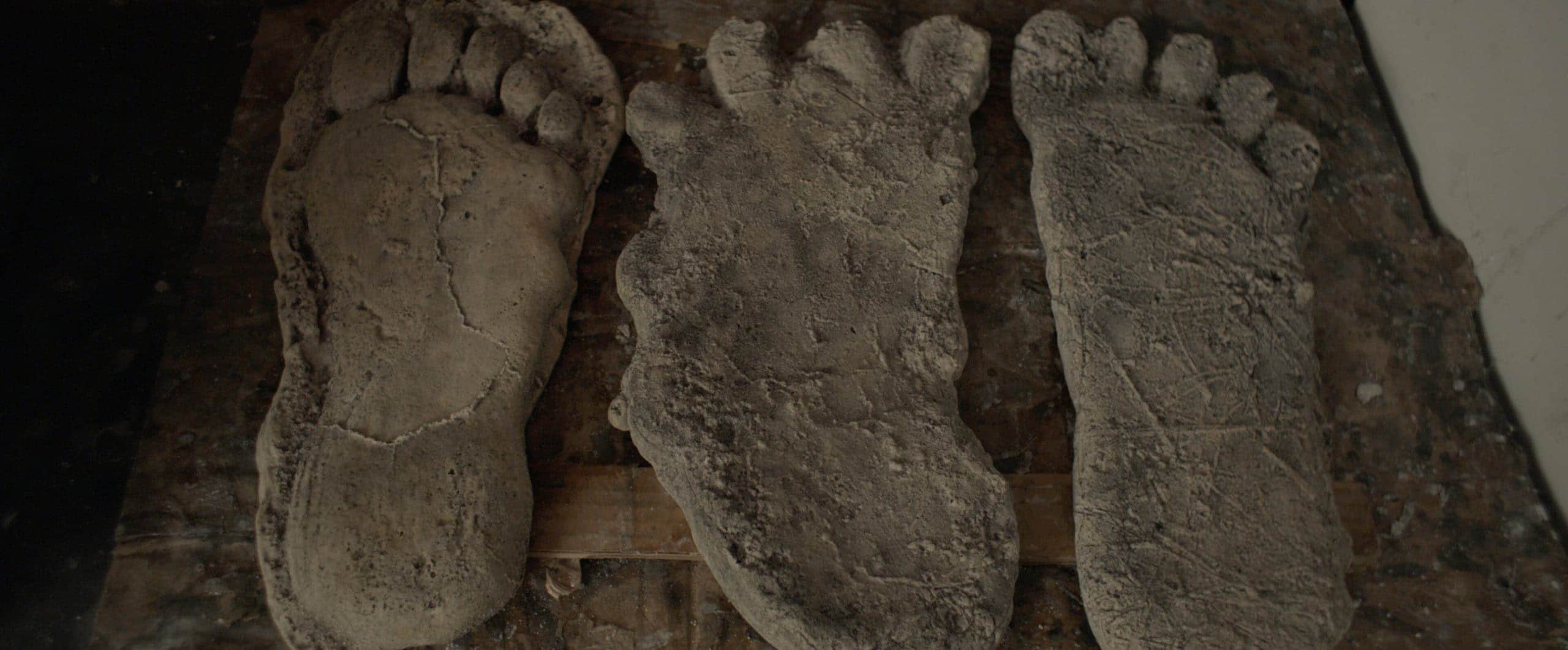 SXSW WORLD PREMIERE – Episodic Premieres
PREMIERING APRIL 20 ON HULU
While visiting a pot farm in Northern California in 1993, investigative journalist David Holthouse heard a story that still haunts him: On a nearby farm three men were torn limb from limb in a savage Bigfoot attack. SASQUATCH follows David as he revisits the Redwoods 25 years later, in search of any evidence that might lead to the truth of what happened that night. As he pulls at the threads of this story, he'll be taken down a path that's far more terrifying than anyone would have imagined.
Directed By
Joshua Rofé (Lorena, Swift Current)
Featuring
David Holthouse
Executive Produced By
Mark Duplass, Jay Duplass, Mel Eslyn (Wild Wild Country, Evil Genius) Joshua Rofé, Steven Berger of Number 19 David Holthouse, Zach Cregger
Produced By
M. Elizabeth Hughes
The TMNT Limited Series II is Now Available from Loot Crate and NECA!
No way, dude! Loot Crate, the world leader in fandom subscription boxes and NECA, the leading creator, marketer, and global distributor of licensed pop culture products have teamed up again to bring turtle lovers the TMNT Limited-Edition Series II. This awesome collection of limited-edition TMNT collectibles, apparel and gear follows the first series that quickly sold out, with collectibles and figures going for over $300 on Ebay. Don't miss out on this new and exclusive Teenage Mutant Ninja Turtles series because it will SELL OUT FAST!
The TMNT Limited-Edition Series II kicks things off with the 1990 Movie themed crate. Join the Turtles on the big screen with a blockbuster-worthy celebration featuring a one-of-a-kind exclusive Danny Pennington Figure, TMNT T-shirt and more. This first crate ships in the summer with the rest of the series shipping in the following months.
Crate 2 is arcade-themed and comes with a NECA exclusive Armaggon figure.
Crate 3 is themed after the comic books and includes a menacing Mutant Shredder exclusive figure.
Crate 4 will be themed after the cartoons with an exclusive Donatello the Dark Turtle figure. Order all 4 and get a totally tubular Scrag bonus figure! (Supplies are limited.)
Supplies for the bodacious bi-monthly TMNT Series II crates are extremely limited and will be an awesome addition to your TMNT collection! To hang with Leonardo, Michelangelo, Donatello, and Raphael, order by March 23 at 9:00pm PST for August delivery. TMNT Series II crates are $49.99 plus shipping and handling and will sell out, so order yours before they're gone!
The greatest thing since sliced pizza is here! Order the TMNT Series II Limited-Edition Series!
The Greg the Bunny Tapes Marathon Streaming March 6 on Shout! Factory TV
Shout! Factory TV will proudly present The Greg The Bunny Tapes Marathon on March 6 to celebrate the cult classic comedy series' debut on Shout! Factory TV. The marathon will feature ten hours of The Greg the Bunny Tapes, a never-before-seen cut of the show, and a brand-new virtual reunion special The Greg the Bunny Tapes Rewind.
Fans will be treated to an hourlong retrospective special celebrating the origin and evolution of these outrageous characters—from their public access beginnings to their popular IFC parodies—through a very special reunion with their creators; Spencer Chinoy, Sean Baker and puppeteer Dan Milano.
The Greg The Bunny Tapes premieres on Shout! Factory TV as a recut of the cult favorite IFC series guest starring Eugene Levy, Seth Green, and Sarah Silverman. This version will contain 19 half-hour episodes perfect for binge-watching, with Greg, Warren and Count Blah starring in hilarious parodies of independent films. The marathon begins March 6th at 12 p.m. PT and will continue all day.
The stream can be viewed on ShoutFactoryTV.com; Shout! Factory TV's Roku, Amazon Fire, Apple TV, and Android apps; and the following digital streaming platforms: Twitch, Pluto TV, Samsung TV Plus, Comcast Xfinity, Xumo, Vizio, Redbox, IMDb TV, STIRR, Sling TV, THETA.tv and Local Now.
The Greg The Bunny Tapes are also now available for viewing on demand on ShoutFactoryTV.com; Shout! Factory TV's Roku, Amazon Fire, Apple TV, and Android apps; and on various Shout! Factory TV branded channels including Tubi, Amazon Prime Channels, and the Roku Channel.
Infinity Train: Book Two – Explore The Mystery On 5/25 When the DVD Comes To A Town Near You!
Every train car is an adventure, and nothing is what you expect! Created by Owen Dennis (former writer and storyboard artist from Cartoon Network's Emmy-nominated series, "Regular Show"), the critically acclaimed, Infinity Train: Book Two will be released on DVD on May 25, 2021 from Warner Bros. Home Entertainment. Developed through Cartoon Network's award-winning Global Artists program, Infinity Train's original short provoked immediate attention, garnering more than 5 million views on its YouTube page to date!

Infinity Train: Book Two follows Mirror Tulip, an escaped reflection from the mirror world, and Jesse Cosay, a 14-year-old jock from Arizona. As the pair finds themselves on the run from the mirror police, themes of identity, friendship and peer pressure arise.

Go on an epic journey with all 10 episodes from the second season and bring home over an hour of bonus features including commentaries, animatics, and an image gallery! Infinity Train: Book Two DVD is priced to own at $14.97 SRP ($18.94 in Canada).

SPECIAL FEATURES
Commentaries
Animatics
Image Gallery
10 EPISODES
The Black Market Car
The Family Tree Car
The Map Car
The Toad Car
The Parasite Car
The Lucky Cat Car
The Mall Car
The Wasteland
The Tape Car
The Number Car
Baron Noir Season 3 Streaming Exclusively on TOPIC on March 4, 2021!
*Streaming Exclusively on Topic.com on March 4, 2021*
French politician Philippe Rickwaert (Kad Merad) thirsts for revenge against his political enemies in this suspenseful, epic drama from creators and writers Eric Benzekri and Jean-Baptiste Delafon (Maison Close).
Philippe's political career is in shambles after he is sacrificed by presidential candidate Francis Laugier (Niels Arestrup) during the election. As Philippe plots against him, forging alliances and cultivating friendships across social strata, his life becomes a fascinating, organized chaos, and a constant battle against his enemies and his own demons.
***Nominated Best Series by Globes De Cristal Awards, Venice TV, Association des Critiques de Series***
DX March Loot Crate is here!
Our favorite female warriors are ready for a fight in Loot Crate DX's FIERCE March crate!
In honor of Women's History Month, Loot Crate DX wants to honor pop culture's bravest heroines with their March-themed "Fierce" crate. Pop culture's famous female warriors are suiting up with collectibles and gear from Wonder Woman, Aliens, Buffy the Vampire Slayer, and She-Ra! This crate is fierce-filled with girl-powered goods you won't find anywhere else.
Our "Fierce" crate will get you ready to fight alongside your favorite heroines with an exclusive Ripley Stylized Figure (Alien), a Wonder Woman Backpack and Pin, Buffy the Vampire Slayer Wood Stake Pen in Coffin Set, and a She-Ra Shaker.
Loot Crate DX crates start at $49.99 plus shipping and handling. Supplies are limited. Be sure to order by March 20 at 9:00pm PST!
Celebrate Women's History Month when you subscribe to Loot Crate DX!
ARROW Blooms Into Spring with March Lineup, Jill Gevargizian's THE STYLIST
March to Highlight Stomach-Churning Special Effects & the Short Films of Jim Cummings & Brian Lonano 30 Day Trial Available Alongside Monthly & Annual Subscriptions
London, UK – Arrow Video is excited to announce the March 2021 lineup of their new subscription-based ARROW platform, now also available to UK subscribers, joining the US and Canada.
The March lineup blooms with the March 1 release of Jill Gevargizian's debut feature The Stylist. Based on Gevargizian's award-winning short of the same name, The Stylist reunites Gevargizian with the short's lead actor Najarra Townsend (Contracted, Wolf Mother). Townsend stars as Claire, a lonely hairstylist who becomes obsessed with her clients…to their peril. Brea Grant (After Midnight, director of 12 Hour Shift) joins the feature as Olivia, an unsuspecting bride who makes the deadly mistake of hiring Claire for her big day. The Stylist streams exclusively on ARROW in the US, Canada and the UK.
ARROW Stories will be home to a host of exclusive extras for The Stylist, including the original award-winning short, an introduction to the film by Gevargizian, behind the scenes featurettes and more, giving fans an insight into how the acclaimed thriller came together.