Queer Reality Series Premieres Second Season July 5th – PUTTING ON: 2nd Season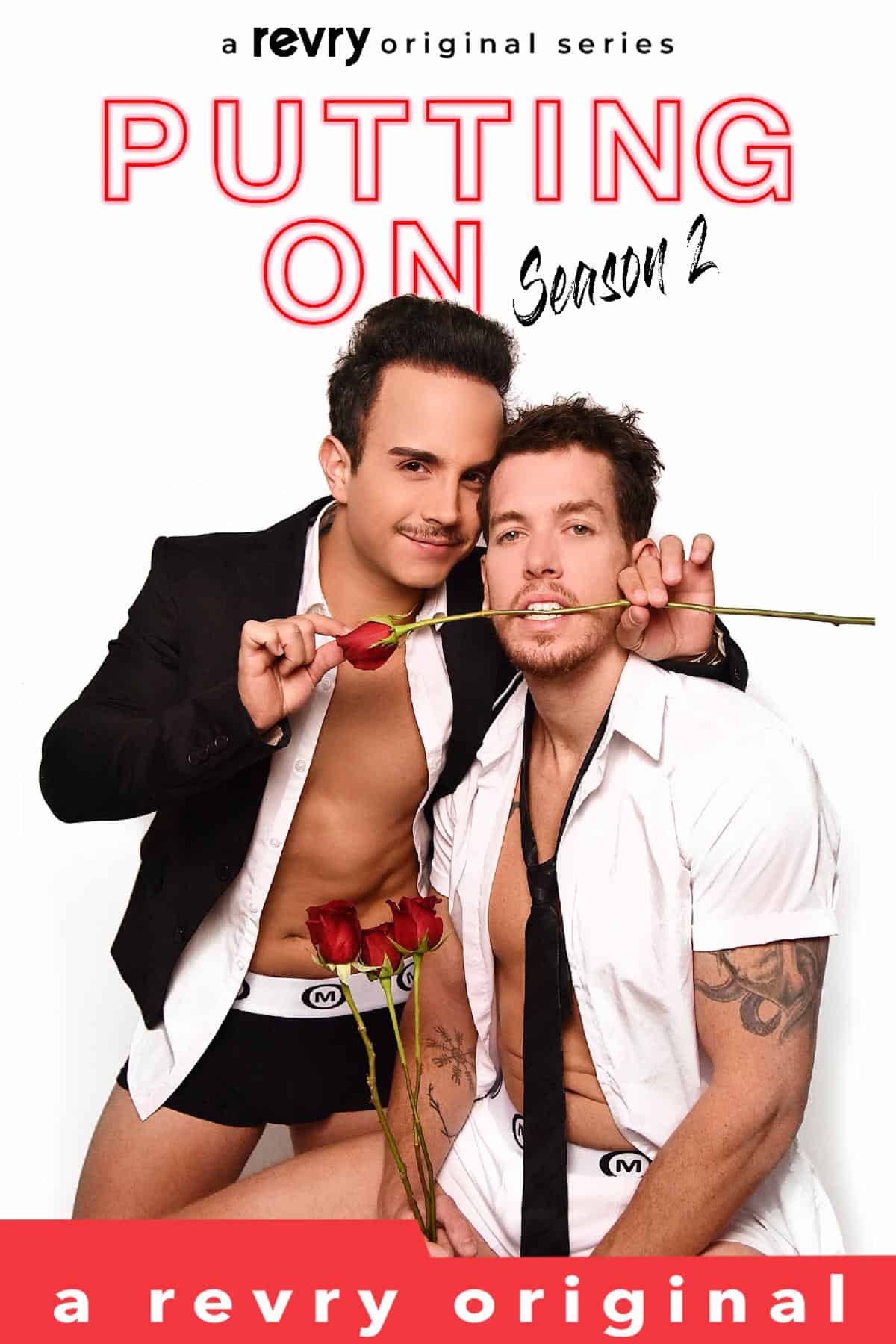 The first season explored the trials and tribulations that On experienced in starting his own underwear brand…with his ex-boyfriend. Premiering this July 5rd at 4pm & 7pm (PST) on the Revry Live channel with new episodes airing every Sunday at the same times or binge the entire second season on Revry Premium on the 5th.
The full-length Season 2 dives deeper inside the private and professional life of On Mekahel–and the new love of his life, Dave Cederberg. High-stakes (and high reality TV drama) abound this season with episodes featuring: business ventures in the "Big Apple", Israel and the West Coast, as well as a wedding in Paris. As On deals with his own trials, Dave has his own challenges: while On travels to LA to do press for his new underwear line, Dave is busy navigating the justice system and wrapping up his parole duties in order to make On's dream wedding in Paris a reality.
And that's just the first episode! What else can you expect from a 26 year old who wants to rule the world?
"A natural roller coaster ride that is filled with highs and lows – the glitz and glam of the fashion industry meets the raw emotions that are destined to be revealed." -Subvrt Magazine
On Mekahel's Comments
"As with many reality shows, the storyline has evolved because my life is forever changing. For season 2, I chose to offer more private moments from my life. I think we kicked up the excitement level a bit with the lead up to my wedding ceremony in Paris all while moving across the country to Los Angeles and running my company! Life is drama and that is something that just comes effortlessly to me.

It's obvious that I'm a 'fame monster,' so I definitely enjoying having cameras around me all the time but what truly keeps me going with this show is being able to set an example as a successful, openly queer man. It's so important to me to be able to reach LGBTQ people across the globe on Revry who might not see themselves portrayed on TV–let alone as the star of their own reality show–and show them that our LGBTQ lives are just as real, relatable, and important as our straight counterparts."
Subscribers of Revry Premium (Revry's subscription on-demand offering) can watch the second season premiere of PUTTING ON starting July 3rd on the Revry network (available on iOS, tvOS, Android, Android TV, Fire TV, Roku, Samsung and the web at www.revry.tv).
On Mekahel Biography
On Mekahel is an Israeli born model/actor, social media influencer and entrepreneur, boasting an impressive 630,000 followers on Instagram alone. With a resume that spans the course of a decade, he began modeling at the age of 14. In 2014, On became an international citizen, moving to New York City to further his career and to attend acting school at Lee Strasburg Theatre and Film Institute.
Upon graduating from acting school in 2017, On appeared in television shows on networks such as HBO, Starz and NBC. Not only can he be seen portraying characters in film and TV, the first season of "Putting On" a reality show following On and the creation of his underwear empire premiered on REVRY and was the first IGTV reality tv series to be released on Instagram.

Staying true to his modeling roots while in New York City, On was featured in ad campaigns by some of the largest global companies, from Gap to H&M, Nike, Adidas and Puma. Additionally, he can be spotted around the world at some of the most sought after industry events such as NY Fashion Week, Amfar, Fashion For Relief and Cannes Film Festival.

Since relocating to the US, On Mekahel has further diversified his brand and business ventures, beginning with the creation of his underwear company, MO Underwear, in 2016. This particular project has consumed a great deal of his efforts, with the launch and assembly of the underwear line itself, as well as the marketing and publicity that surround it. On spared little expense and left no details untouched, investing half a million dollars into this endeavor. MO Underwear appeared in publications including, but not limited to Vogue, Nylon Magazine, and New York Times.
In 2019, MO Underwear joined the global market, landing in stores across Israel, Europe, and the Middle East. Finding little time for rest, On launched in 2019 his signature fragrance, ON N.25 – This is quite a personal experience, as he is the sole creator and proprietor of this original scent.
More recently, On relocated to the Los Angeles area with his husband to further pursue his career within the entertainment industry.
Presently, the second season of his reality show will premiere July 3rd on Revry. He is currently hosting the after show for Project Runway and Making The Cut on Afterbuzz TV.
ALL THE HAIL THE POPCORN KING – Joe 'Bubba Ho-Tep' R. Lansdale doc features Bruce Campbell, Mick Garris & more!
With Squee Projects' All Hail the Popcorn King, filmmaker Hansi Oppenheimer paints a vivid picture of award-winning author and screenwriter Joe R.Lansdale ("Bubba Ho-Tep", "Cold in July") in what's been described as a "five star" film (GrimdarkMagazine). Chronicling the life and career of the Lone Star State's "writer of the purple rage" (The Austin Chronicle), the acclaimed documentary also features new interviews with the likes of Bruce Campbell, James Purefoy, Joe Hill, Don Coscarelli, Mick Garris, Del Howison, Amber Benson, novelist David J. Schow and former Fangoria editor Tony Timpone.All Hail The Popcorn King has been touring the country and will be released wider over the coming months.

Official Synopsis : All Hail the Popcorn King trailer about writer Joe R. Lansdale who's written over 50 novels and 500 short stories including Bubba Ho-Tep. Cold in July, The Drive-in, the Hap & Leonard series. Joe is also a Master in Martial Arts and created his own technique. He's well known for his unique voice andhis generosity and support of other writers and filmmakers.
Into the Dark: The Current Occupant lands a new trailer
Check out the new trailer for Into the Dark's July episode, THE CURRENT OCCUPANT! Trapped in a mysterious psychiatric ward, a man with no memory comes to believe that he's the President of the United States and the subject of a diabolical political conspiracy. As the asylum's soul-crushing forces bear down on him, he fights to preserve his sanity and escape so that he can return to power.
Loot Crate Celebrates the Red, White and Blue!
Loot Crate is shooting off its own colorful fireworks display with July's 'Red, White and Blue!' themed Anime Crate. Show off your Ultraman love, display your Mobile Suit Gundam pride and get cute with a Sailor Moon capsule containing a random collectible.
The July crate includes colorful items and gear from some of your favorite anime properties. Fans won't want to miss out on getting an awesome Ultraman T-shirt, Mobile Suit Gundam figure, Sailor Moon capsule and more.
To unbox this radiant assortment of anime items be sure to order by July 27 at 9:00pm PST. Anime Crates start at $28.95 plus shipping and handling.
Subscribe to the Anime crate and bring some color into your life! https://www.lootcrate.com/crates/anime
Red Penguins arrives August 4th – WATCH THE TRAILER!
Detailing an incredible true story involving gangsters, strippers, and live bears serving beer on a hockey rink, Red Penguins tells the wild forgotten true story of capitalism and opportunism run amok in Moscow. Shortly after the collapse of the Soviet Union, the Pittsburgh Penguins and the famed Red Army hockey team formed a joint venture that redefined what was possible in the new Russia. Eccentric marketing whiz, Steve Warshaw, is sent to Moscow and tasked to transform the team into the greatest show in Russia, attracting some of the biggest names in Hollywood and advertising along the way. He takes the viewer on a bizarre journey highlighting a pivotal moment in U.S.-Russian relations during a lawless era when oligarchs made their fortunes and multiple murders went unsolved.
Total Run Time: 80 min Language: English, Russian Country: USA
Documentary feature "Unraveling Athena: The Champions of Women's Tennis," a film by Francis Amat, launches August 11, 2020.
Chronicling the lives of some of the world's most extraordinary athletes, UNRAVELING ATHENA: THE CHAMPIONS OF WOMEN'S TENNIS explores the interweaving lives and narrative of female tennis royalty.
Featuring extensive interviews with Billie Jean King, Martina Navratilova, Chris Evert, Evonne Goolagong, Pam Shriver, Martina Hingis, Arantxa Sánchez-Vicario, Monica Seles, Kim Clijsters, Caroline Wozniacki, Ana Ivanovic, Justine Henin, Jelena Jankovic, Victoria Azarenka, Bethanie Mattek-Sands, Sania Mirza, Dinara Safina, and Tracy Austin, this is an inspirational story of perseverance, trials and tribulations, and remarkable achievements, told in their own words to create a single, unified narrative of the female heroine of today.
The movie provides an extraordinary insight into the mind of the professional athlete and the ultimate exploration of what it takes to make a champion. Shout! Studios | 103 minutes
UNRAVELING ATHENA: THE CHAMPIONS OF WOMEN'S TENNIS Debuts on Digital for Watch-At-Home on August 11, 2020
AppleTV, Amazon, VUDU, GooglePlay, hoopla, Fandango Now, Comcast Xfinity, Spectrum, Cox, and Charter.
Shout! Factory, Mill Creek Entertainment Announce 'Ultraman' Distribution Alliance
Shout! Factory, a multi-platform media company, and Mill Creek Entertainment announced a landmark distribution alliance to bring Tsuburaya Productions' iconic ULTRAMAN superhero library to streaming entertainment platforms in North America.
The announcement was made today by Shout! Factory's founders and CEOs Bob Emmer and Garson Foos; Jeff Hayne, SVP of Mill Creek Entertainment; Shout's Senior Vice President of Digital Enterprises and Shout! Factory TV, Gene Pao; and Jordan Fields, Shout's Vice President of Acquisitions. The multi-year alliance provides Shout! Factory and its multi-platform streaming service, Shout! Factory TV with exclusive SVOD and AVOD digital rights in the U.S. and Canada to Tsuburaya's expansive catalog of ULTRAMAN properties including more than 1100 episodes and 20 movies.
Iconic series and popular movies include ULTRA Q, ULTRAMAN, ULTRASEVEN, RETURN OF ULTRAMAN, ULTRAMAN ACE, ULTRAMAN TARO, ULTRAMAN GAIA, ULTRAMAN GAIA: THE BATTLE IN HYPER SPACE, ULTRAMAN COSMOS, ULTRAMAN NEXUS, ULTRAMAN MAX, ULTRAMAN MEBIUS, ULTRAMAN MEBIUS & ULTRAMAN BROTHERS, MEGA MONSTER BATTLE ULTRA GALAXY: THE MOVIE, ULTRAMAN SAGA, ULTRAMAN GINGA, ULTRAMAN GINGA S, ULTRAMAN X, ULTRAMAN ORB, ULTRAMAN GEED, and a long list of notable titles.
Shout! Factory TV plans an aggressive rollout of ULTRAMAN pop culture properties on its new TOKUSHOUTSU™ streaming channel this year, including individual programs as well as complete series. As excitement builds, Shout! Factory TV, in collaboration with Tsuburaya Productions and Indigo Entertainment, will announce additional news and activities in forthcoming months.
"A colossus of the tokusatsu genre, Ultraman is one of the most beloved and enduring pop culture brands in the world and, amazingly, it's still growing. So it's particularly exciting to present more than 50 years of TV series and feature films to North American audiences, much of it for the first time. They've got a lot of catching up to do, and we aim to help that happen," stated Jordan Fields, Vice President of Acquisitions at Shout! Factory.
"We're incredibly excited about this new relationship with Mill Creek Entertainment and Indigo Entertainment. Tsuburaya Productions' Ultraman continues to stand as a seminal pop-culture phenomenon to this day. Over the years, Shout! Factory TV has presented Ultraman Leo and multiple seasons of other popular Japanese tokusatsu series to incredible fan reception. We look forward to bringing these highly entertaining Ultraman series and movies to our streaming program lineup for Shout's TokuSHOUTsu™ channel, available on Pluto TV," stated Gene Pao.
"As we actively expand our reach in streaming and digital platforms, this deal exemplifies the type of pop culture content we plan to pursue, which taps into the interests and passions of our loyal fanbase." "We are thrilled about this collaboration with Shout! Factory," stated Jeff Hayne, SVP of Mill Creek Entertainment.
"Their passion for tokusatsu content combined with the reach their digital channels have to fans will create further awareness of the Ultraman content library and the collectible SteelBook® and Blu-ray products that Mill Creek Entertainment will continue to release." The classic Ultraman live-action television series of the 1960s and 70s, produced by Tsuburaya Productions, established new heights of quality adventure and special effects-driven entertainment and built a worldwide audience for the property.
Hailing from the distant Nebula M78, Ultraman is a Giant of Light who protects Earth and the human race from an endless array of invading aliens and terrifying monsters together with the crew of the Earth-based defense team using advanced high-tech weapons and vehicles. Ultraman battles monsters that cause endless mayhem and destruction on Earth.
With the ability to extend his height to over 130 feet, Ultraman merges with a human and only emerges in times of extreme danger to save people and the Earth. The popularity of Ultraman—and the aliens and monsters—has enabled the series to persist to this day, generating over $50 million per year in toys and merchandise in Japan.
Never-Ending Story's Tami Stronach, Sean Astin, Christopher Lloyd join new fantasy film "Man & Witch"
Tami Stronach, the Childlike Empress from timeless 80's classic "The NeverEnding Story", will star in and executive produce a new children's fantasy film titled "Man & Witch", written by her husband Greg Steinbruner.

Produced and Directed by Indie stalwart Rob Margolies ("She Wants Me", producer of The Duffer Brothers first short film "We All Fall Down"), team Stronach is joined by an expanding cast of iconic actors including fellow 80's child star Sean Astin ("The Lord of the Rings"), and Emmy winners Rhea Perlman ("Cheers"), Christopher Lloyd ("Back to the Future"), and Michael Emerson ("Lost").

"Man & Witch", a heartwarming homage to the lo-fi fantasy films of the 80's, is a comic adventure that both fulfills and subverts the expectations of what a fantasy universe can be, featuring the long awaited comeback of one of Hollywood's most enigmatic child stars, Tami Stronach. Stronach plays the reclusive Witch, a being of power and mystery, who loses her heart to a hapless goatherd when he hires her to break a curse by an Evil Wizard.

Further casting to be announced. Production is expected to begin late fall in the New York Tri-State Region.