News & Special Video for the edgy suspense series B: THE BEGINNING — The Ultimate Collection (Oct 6 release)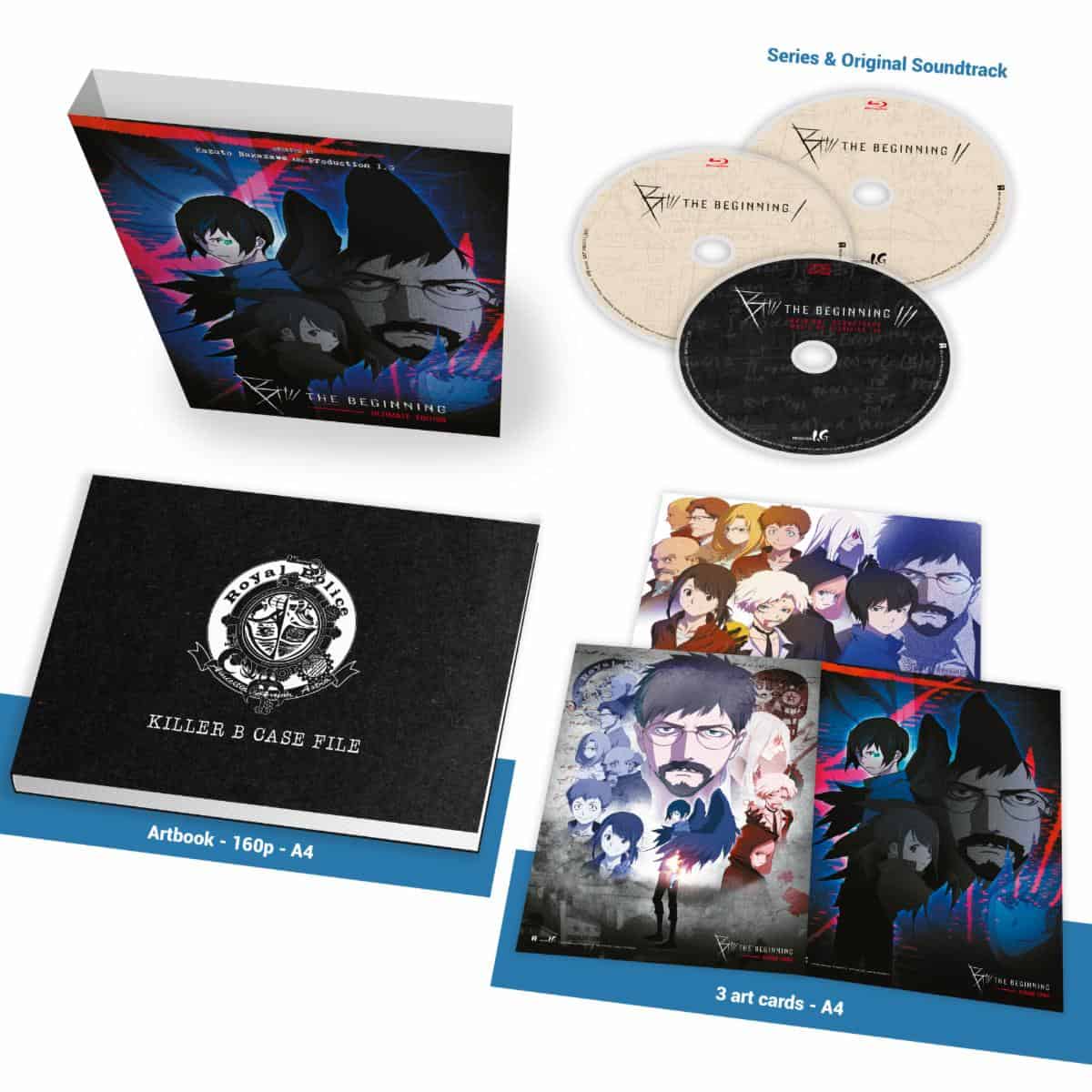 From the renowned animation powerhouse Production I.G. (Psycho-Pass, Ghost in the Shell, Attack on Titan) and director Kazuto Nakazawa (Parasite Dolls, animation director of Kill Bill: Vol. 1) comes the popular action suspense anime series, B: THE BEGINNING.

Directed by Nakazawa and Yoshinobu Yamakawa (Little Busters!), this gripping, character-driven crime procedural uniquely blends the visual marvel of anime, dystopian sci-fi supernatural fantasy, and gritty mystery narrative in equal measures. The series music is composed by Yoshihiro Ike (Blood: The Last Empire, Tiger & Bunny), with the theme song provided by former Megadeth guitarist Marty Friedman.

Hailed by anime enthusiasts and worldwide fans for its distinctive genre-bending storytelling, B: THE BEGINNING SEASON ONE arrives on national home entertainment shelves and digital download to own on October 6, 2020 from Shout! Factory, in collaboration with Anime Limited.

Debuting for the first time on North American home entertainment shelves, B: THE BEGINNING SEASON ONE Blu-ray Combo Pack (Blu-ray + DVD) collects all twelve thrilling episodes (both versions – the original Japanese audio with English subtitles and the English dub), a mini-poster, two art cards, and insightful bonus content featuring the pilot film that inspired the series, a special video interview with director Kazuto Nakazawa, and more.

The English dub boasts a popular voice cast of Johnny Yong Bosch, Allegra Clark, Ray Chase, Brianna Knickerbocker, among other notables!
If ever an anime series was meant to be seen in a deluxe home entertainment packaging, that series is here now. Shout! Factory, in collaboration with Anime Limited, will also release B: THE BEGINNING – THE ULTIMATE COLLECTION on the same day. This limited-edition set comes housed in a visually striking slipcase, with three art cards and a 160-page hardback book.

The book is a comprehensive series bible, packed with information about every element of B: The Beginning's world and story, taking fans behind the scenes of its production with staff interviews, character designs, background artwork, location information and more.

Featured in a deluxe disc portfolio will be the Blu-ray of the complete first season, the pilot film that inspired the series, a special interview with director Nakazawa, original soundtrack on CD (featuring 21 tracks, including the previously unreleased "Farewell to the Black-winged King"), and more. B: THE BEGINNING – THE ULTIMATE COLLECTION is available for pre-order now at ShoutFactory.com.
EIGHT RIVERDANCE SPECIALS FOR DIGITAL PURCHASE IN FALL 2020 FROM SHOUT FACTORY
Shout! Factory has announced the digital release of eight spectacular Riverdance specials, including Riverdance Live From Beijing and Riverdance Live From New York City on October 5, Riverdance Live From Geneva, The Best Of Riverdance on October 19, Riverdance in China, Riverdance: The Ten Years on November 3, and Riverdance Today's Stars, Riverdance: A Journey on November 17. Live From Beijing and Live From New York are available for pre-order now, with the others to be available soon.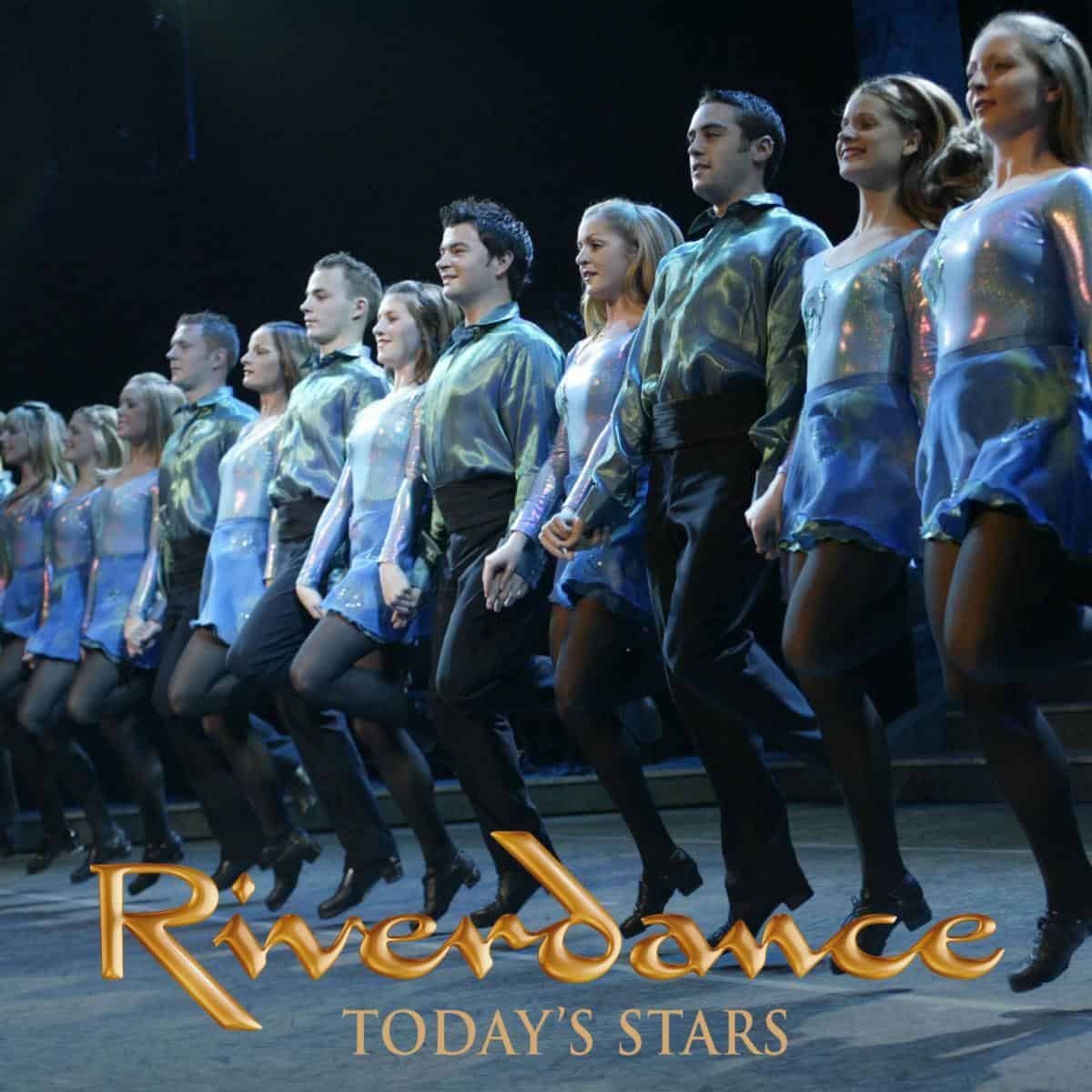 A beloved favorite hailing from Ireland, Riverdance burst onto the scene as a performance for the 1994 Eurovision Song Contest, which featured championship-winning dancers Jean Butler, Michael Flatley, and the vocal group Anúna. Produced by Moya Doherty, directed by John McColgan, and composed by Bill Whalen, it quickly grew into a one-of-a-kind touring production, showcasing spectacular lighting, projection, stage and costume designs.

Adored the world over by fans of all ages, Riverdance continues to enchant and delight fans with its grace, energy, and passion, and its GRAMMY®-winning score. Now fans can enjoy these 8 sensational specials in the comfort of their homes.

Riverdance Digital Release Schedule: Oct. 5 Riverdance Live From Beijing and Riverdance Live From New York City Oct. 19 Riverdance Live From Geneva and The Best Of Riverdance Nov. 3 Riverdance in China and Riverdance: The Ten Years Nov. 17 Riverdance Today's Stars, Riverdance: A Journey
On Oct 24 THOMAS AND THE MAGIC RAILROAD' CELEBRATES ITS 20TH ANNIVERSARY BY RETURNING TO MOVIE THEATRES NATIONWIDE
Hear that whistle? Ride the rails to adventure with "THOMAS AND THE MAGIC RAILROAD," when it celebrates its 20th Anniversary by returning to theatres nationwide for one day only on October 24, brought to you by Fathom Events and Shout! Factory. Starring Peter Fonda (Easy Rider, Ulee's Gold), Mara Wilson (Mrs. Doubtfire, Matilda), Alec Baldwin (The Boss Baby, 30 Rock), Didi Conn (Grease, Shining Time Station), Russell Means (Last of the Mohicans, Pocahontas), and Thomas the Tank Engine, Thomas And The Magic Railroad is a cherished family-favorite.

Tickets for "THOMAS AND THE MAGIC RAILROAD" can be purchased now at www.fathomevents.com and participating theatre box offices.
Theatregoers will be treated to an exclusive look behind-the-scenes with the director Britt Allcroft and actor Alec Baldwin as they talk about making the beloved film. This special footage also includes a peak at some of the scenes that were deleted from the original cut of the film, as well as vintage behind-the-scenes interview footage with Peter Fonda.

For as long as anyone can remember, the magical Island of Sodor has been the realm of enchantment, innocence, and talking train engines. Mr. Conductor (Alec Baldwin) is taking care of the whole railway whilst Sir Topham Hatt is away. Mr. C comes from a family of miniature Conductors who travel between the Island of Sodor and Shining Time Station thanks to a supply of mysterious gold dust.
However, Sodor's steam engines suddenly find themselves heading for a load of trouble courtesy of the railroad baddie Diesel 10, whose plan is to destroy our hero Thomas and Mr. C…then take over Sodor before Sir Topham Hatt's return. Thomas and Mr. C must save the engines before his dwindling supply of gold dust runs out!

Lily (Mara Wilson) has a hunch that her grandfather (Peter Fonda), up in his workshop on Muffle Mountain, can be the one to crack the code that will save the Conductor family… and bring back to life the Magic Railroad, which runs between Sodor and the beautiful Indian Valley surrounding Shining Time. Lily teams up with Mr. C and Thomas and sets out to get Sodor back on track in this beloved, full-length adventure starring the world's #1 tank engine.

While Thomas And The Magic Railroad celebrates its 20th anniversary, Thomas the Tank Engine is marking his 75thyear as a beloved children's character. Originally part of the Rev W. Awdry's Little Railway book series, first released in 1945, Thomas was brought to life through the cherished TV series Thomas & Friends, created by Britt Allcroft (director/writer/producer of Thomas And The Magic Railroad) in the early 1980s.
In the late '80s, Allcroft and Rick Siggelkow introduced Thomas to America when they created Shining Time Station. Many years on, Thomas' legacy remains everlasting.

"I am thrilled that, thanks to Fathom Events and Shout! Factory, Thomas and The Magic Railroad will be making a one night only encore appearance on cinema screens nationwide," said Britt Allcroft. Add to that, the fact that families will catch glimpses of scenes cut out of its first release in 2000, I – for one – will be on my own Cloud Nine – just as the lyrics of 'This is Your Shining Time' play in the film."
"Thomas has played an important role in the lives of children for many generations," said Fathom Events CEO Ray Nutt. "We're excited to continue our relationship with Shout! Factory, and bring Thomas and this beloved story back to the big screen for the 20th Anniversary."
POPEYE celebrates 40th Anniversary with Blu-ray debut December 1st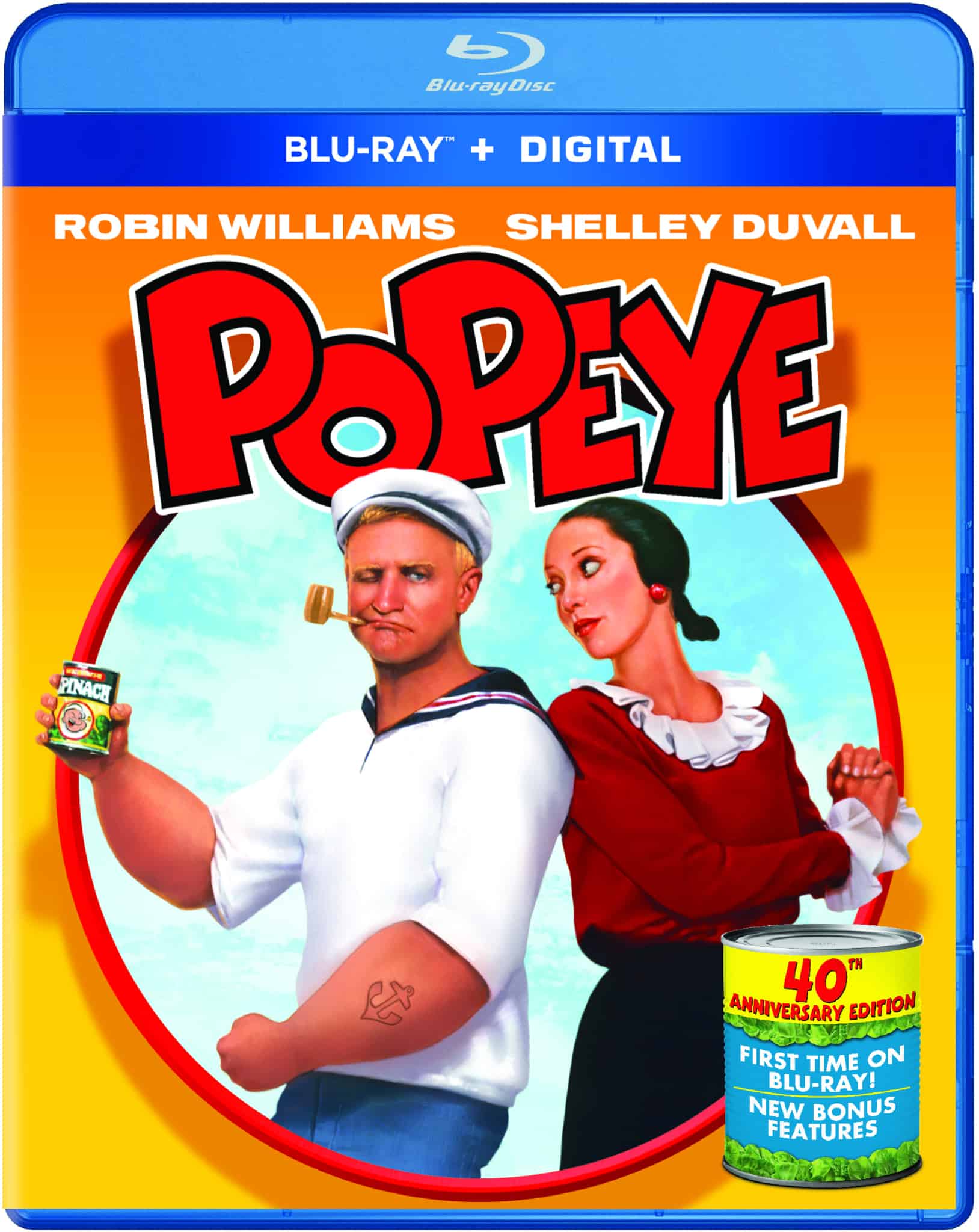 The beloved anvil-armed sailor of the seven seas comes magically to life in POPEYE, arriving on Blu-ray for the first time ever December 1, 2020 from Paramount Home Entertainment. Starring the incomparable Robin Williams in his first big-screen role and Shelley Duvall as his devoted sweetie, Olive Oyl, the delightful musical celebrates its 40th anniversary this year, having debuted in theaters on December 12, 1980.
The new Blu-ray includes access to a Digital copy of the film, along with nearly 30 minutes of all-new bonus content featuring excerpts from one of Robin Williams' final interviews, an interview with director Robert Altman from 2014, as well as a newly conducted interview with Stephen Altman. The full list of bonus features is below:
Return to Sweethaven: A Look Back with Robin and the Altmans
The Popeye Company Players
Popeye's Premiere
The Sailor Man Medleys
Theatrical Trailer
Legendary producer Robert Evans and screenwriter Jules Feiffer worked for nearly three years to get POPEYE into production. The film combined the talents of Robert Altman, composer and lyricist Harry Nilsson, numerous filmmaking artisans, and an outstanding cast of actors, mimes, athletes and street performers to bring the world of the beloved character to life. The result is an uplifting and visually delightful film that celebrates the magic of what Altman called "a genuine American hero."
Douglas Lee Debut Album Out Oct. 23 Conjures up Nino Rota, Angelo Badalamenti, Niklos Rosza & Carl Stalling – whoa!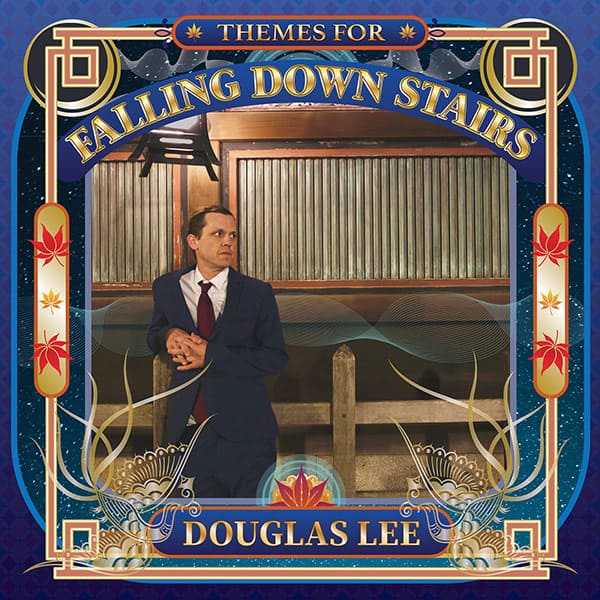 Douglas Lee, is set to release his debut album Themes For Falling Down Stairs on Friday October 23, 2020. Themes for Falling Down Stairs is an aural treat that takes the listener to remote place in their imagination. Sounding like a mash-up of Nino Rota, Angelo Badalamenti, Niklos Rosza and Carl Stalling, it's equal parts 40s Film Noir soundtrack, Romani gypsy music, Shibuya-Kei Japanese pop, 60s Italo-western soundtracks and 30s Shanghai cabaret.
Fleshed out with postmodern arrangements incorporating electronic noise, live manipulated electro-acoustic sound effects and various exotic devices to produce rich soundscapes, the album sounds as if somewhere in time, the muslin gauze has been pulled off the concussed head of a transfixed toy doll as a child to reveal the world's strangest down and out performance of all time. The track listings for Themes for Falling Down Stairs is:
Evening Stars of Cyrangoon
Raid On The Purple River
Jeminor's Lost Night In Kakarta
Montgomery's Trek
Zarseilles Lowrider
Emzir's Ark
Jasmine Hover Blossom
Lucky Money Music
"I've performed around the world on television, been a featured soloist on the glasses and work assisting and developing wild sonic tools and practices, but nothing compared to completing my debut solo album Themes for Falling Down Stairs," said musician Douglas Lee. "I was able to create my own world using otherworldly music and my love of outré instruments like the glasses, Theremin, the koto, musical saw and shamisen to inhabit a time and space that exists separate from the location of the listener."
Written and arranged by Lee, Themes for Falling Down Stairs features him performing an array of instruments including the musical glasses, koto (a thirteen string traditional Japanese zither), shamisen (a traditional Japanese string instrument similar to the banjo), guitar, gong and chime orchestra, Baschet sound-sculpture, marimba, vibes, electric organs, analog synths, wild noisemakers and soundscapes.
Produced by Michael Rozon (Ministry, Bastard Noise), Themes utilizes nine musicians performing a range of diverse instruments.
Woodwinds, brass, string and analog synths carry melodies through an ever-changing experimental electro-acoustic collage of glass and marimba. All are supported by a rhythm section of upright bass, piano, organ, ambling guitar and drums.
Mixed with field recordings, locational performances inside a large silo and live-manipulated sound effects it's like nothing you have ever heard before. An entirely instrumental album, Themes for Falling Down Stairs creates an aural place that can be visited distinctly separate in time and space from the location of the listener. It's an audible cognitive illusion of a euphoric destination, rich with detail and immersive imagery.
Opening Date: Woody Allen's A RAINY DAY IN NEW YORK Opens 10/9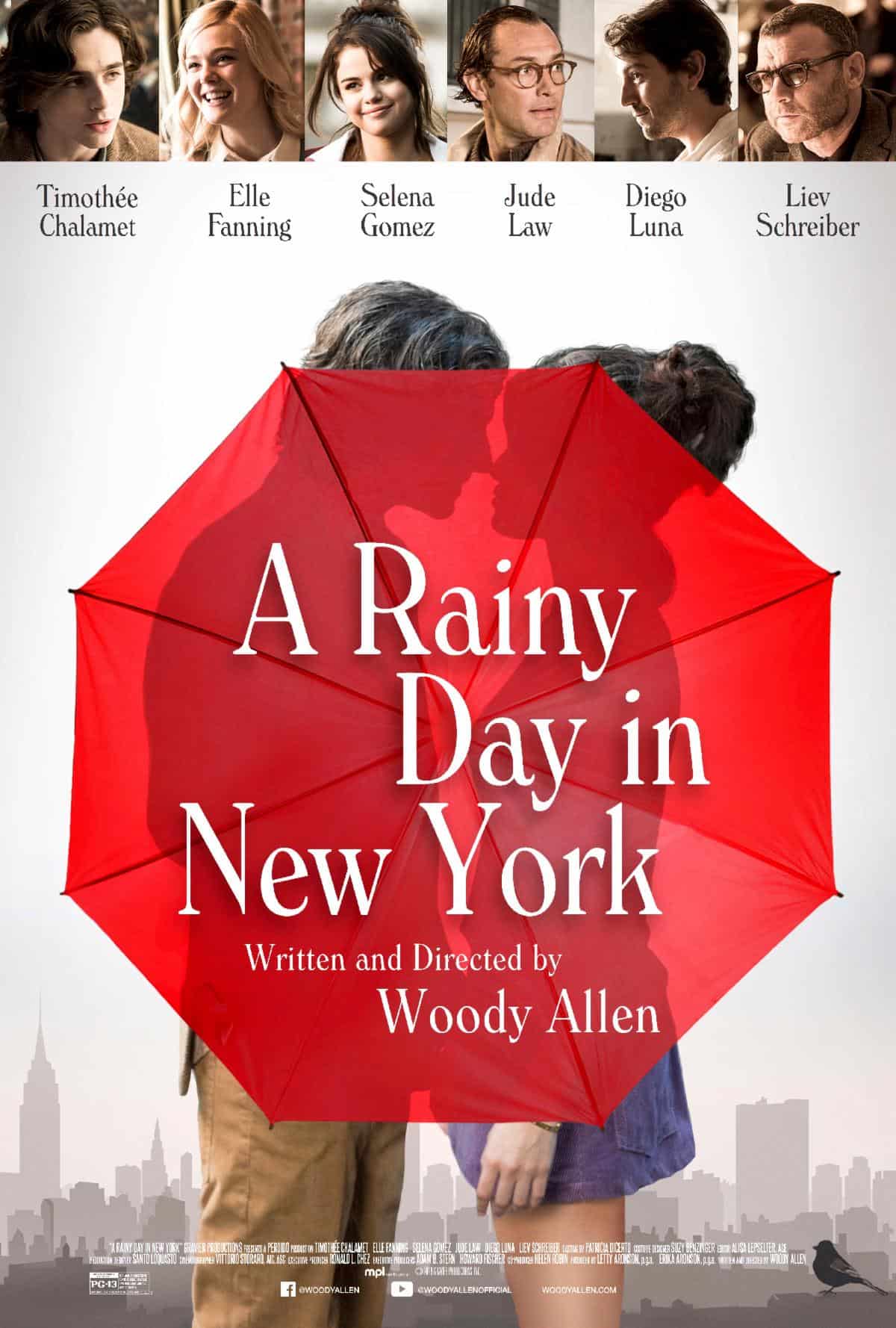 Deadpool's Taking Over Your Loot Crate Holiday!
Forget Santa Claus, The Other Guy in Red will deliver all the Deadpool collectibles you'll want this holiday season!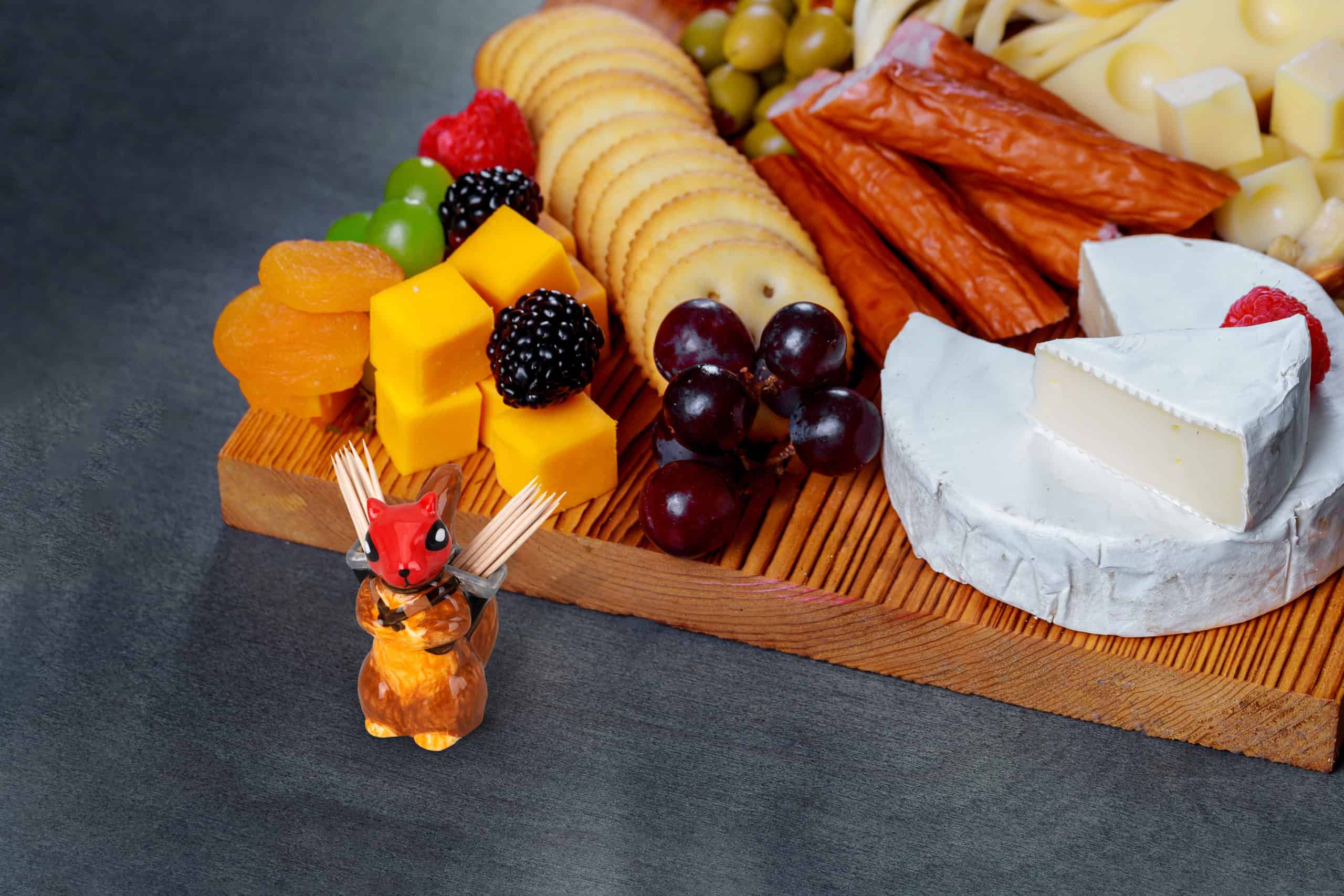 He's naughty, he's nice and he's delivering all of the holiday swag you're looking for with Loot Crate's December Deadpool crate 'The Other Guy in Red.' Leave a plate of cookies and wake up to a holiday-filled crate that will be the best gift you can give yourself (or a loved one if you must).
This Merry Merc-mas themed crate showcases the most original Deadpool gear you'll find outside of the North Pole, including an original Squirrelpool Toothpick Holder, Ugly Sweater Tee, Slipper Socks and more. This is one stocking stuffer that will stuff you with joy all year round.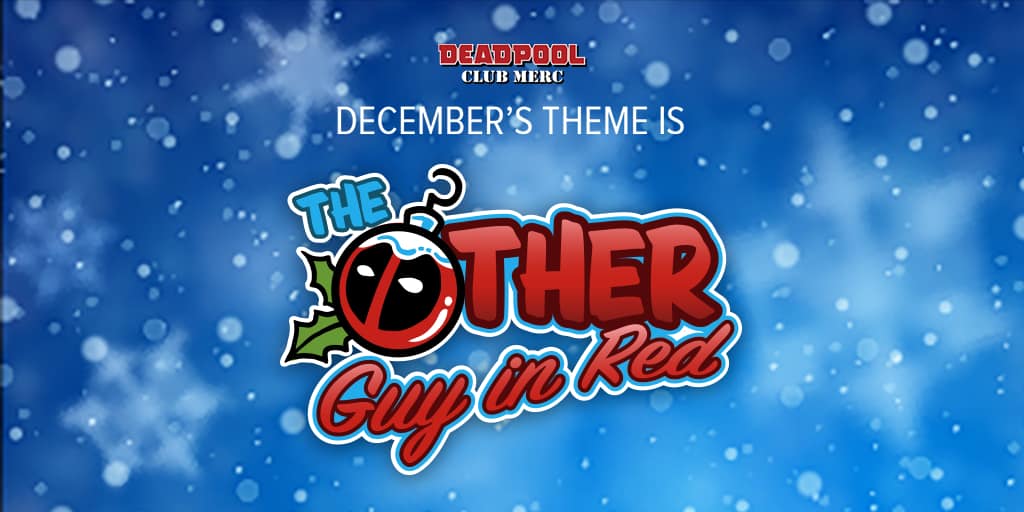 To make sure The Other Guy in Red delivers the best gift ever for the holidays, be sure to order by December 15 at 9:00pm PST. Deadpool Crates start at $34.99 plus shipping and handling. Supplies are limited.
Get on the naughty list when you subscribe to the Deadpool crate! https://www.lootcrate.com/crates/deadpool
Debuting this October, The Chattering Hour
Just in time for the best holiday of the year, Chris Roe Management and Tea Time Productions will launch The Chattering Hour Youtube show and podcast hosted by Nicholas Vince (Hellraiser, Nightbreed). Each week, Vince will delve into entertainment in the horror and thriller genre and chat with special guests.
Initial guests will include Traci Lords (Excision, Cry-Baby), Malcolm McDowell (Bombshell, "Mozart in the Jungle", A Clockwork Orange), Kathleen Kinmont (Bride of Re-Animator, Halloween 4), Courtney Gains (Children of the Corn) and best-selling author Daniel Kraus. The weekly Youtube show and podcast will debut on October 8, 2020.
"Podcasts are an excellent medium and have been in a growth mode for the past few years," commented Chris Roe, producer of The Chattering Hour and founder of Chris Roe Management. "It is estimated that close to 50% of all U.S. homes are podcast listeners and with the horror and thriller marketplace having such devoted fans, we thought it would be an excellent way to entertain during and after this pandemic."
Host Nicholas Vince added, "I love interviewing other artists and getting their take on the craft. The Chattering Hour podcast will give me a chance to connect with my fellow actors as well as the fans."
Nicholas Vince played The Chatterer Cenobite in Clive Barker's Hellraiser franchise and Kinski in Barker's Nightbreed. At the end of 2019, he performed his autobiographical one-man show, I AM MONSTERS! at the Pleasance Theatre in London as part of the London Horror Festival and to a sell-out audience in Las Vegas. He's written and directed three short films and starred in countless independent feature films as well as having written two collections of short stories.
He was awarded a Lifetime of Torment Award by Texas Frightmare, the London Horror Society Award for Outstanding Contribution to UK Independent Horror and a Dedication to Horror Award from the Liverpool Horror Club. He previously hosted a popular YouTube show dubbed Chattering with Nicholas Vince which featured indie filmmakers, actors, writers and artists. The show ended in December 2018 and had 140 episodes.