Awesome! The TMNT Hesher Capsule Collection is Here! from Loot Crate!
The Teenage Mutant Ninja Turtles are here and ready to rock with the Loot Crate TMNT Hesher Capsule Collection. This limited-edition collection is a series of exclusive TMNT Tees inspired by heavy metal bands that can only be purchased from Loot Crate. Get VIP access to the concert before these headbangin' tees are gone forever!
The TMNT Hesher Capsule Collection includes four different heavy metal inspired designs exclusive to this collection, including a Bebop & Rocksteady Headbangers T-shirt, a TMNT Metalheads T-shirt, Shredhead T-shirt and a Shellshock Glam Metal T-shirt.
Purchase any shirt or buy all four to complete your wardrobe! This is a limited-edition, non-recurring series you can't get anywhere else. Tees will ship to your sewer door in January 2021. One shirt costs $30 plus shipping and handling. All four shirts are $100 plus shipping and handling. Order the entire set and get a bonus pair of TMNT socks (while supplies last)!
Purchase your limited-edition TMNT Hesher Capsule Collection Tees here:
GKIDS Announces Theatrical & Streaming Release Dates for Studio Ghibli's "Earwig and the Witch"
GKIDS, the acclaimed distributor of multiple Academy Award®-nominated animated features, will release Studio Ghibli's highly-anticipated new feature EARWIG AND THE WITCH in both theaters and on streaming in early February, followed by a home entertainment release in the spring. The film will open theatrically on February 3, 2021, in both Japanese subtitled and English dub versions.
The film will appear in select theaters nationwide with longtime partner, Fathom Events, as well as independent theater circuits. Starting February 5, Earwig and the Witch will also be available to stream in the US on HBO Max. HBO Max is the exclusive US streaming home of the Studio Ghibli catalog and Fathom Events has been a longtime partner in GKIDS' annual Ghibli Fest events. EARWIG AND THE WITCH will also qualify for awards consideration.

The latest film from Japan's legendary Studio Ghibli (Spirited Away, My Neighbor Totoro, Princess Mononoke and more) is directed by Goro Miyazaki (From Up on Poppy Hill, Tales from Earthsea) and produced by studio co-founder Toshio Suzuki, with planning from Academy Award®-winner Hayao Miyazaki.
An official selection for the 2020 Cannes Film Festival, the film aired on NHK in Japan December 30, 2020. Based on the children's novel by Diana Wynne Jones (Howl's Moving Castle), the film marks Studio Ghibli's first CGI animated feature and first feature film production in four years.

The recently announced English language cast features the voices of Richard E. Grant (Can You Ever Forgive Me?, Gosford Park), Kacey Musgraves ("Golden Hour" "Same Trailer Different Park") and Dan Stevens (Eurovision Song Contest: The Story of Fire Saga, FX's Legion), as well as Taylor Paige Henderson as "Earwig".
In addition to her debut voice acting role as "Earwig's Mother," six-time Grammy Award winner Kacey Musgraves sings the English language version of the film's theme song, "Don't Disturb Me."

"We are thrilled to be bringing Goro Miyazaki's magical new film to North American audiences next month," said GKIDS president Dave Jesteadt. "Earwig and the Witch is the first new Studio Ghibli release in four years, and is the studio's first foray into computer animation. Working together with HBO Max, Fathom Events, and other theatrical partners will enable GKIDS to bring this wonderful film to the widest possible audience."

"Once again Studio Ghibli has created a visual and storytelling masterpiece, said Fathom CEO Ray Nutt. "Fathom is excited to continue our partnership with GKIDS, and bring the premiere of Earwig to theaters and fans nationwide."
ARROW Rings in the New Year with LOVE WITCH, WE NEED TO TALK ABOUT KEVIN, JSA, & More
Arrow Video is excited to announce the January 2021 lineup of their new subscription-based ARROW platform, available now in the US and Canada, coming soon to the UK. Building on the success of the Arrow Video Channel and expanding its availability across multiple devices and countries, ARROW boasts a selection of cult classics, hidden gems and iconic horror films, all curated by the ARROW team.
The lineup begins with the exclusive ARROW launch of the inaugural ARROW Shorts Collection: a selection of entries from Arrow Video's Horror Lockdown Shorts contest, judged by genre film veterans Justin Benson and Aaron Moorhead (Synchronic, The Endless).

A testament to resourcefulness and creativity amidst the uncertainty of the global pandemic, the collection features burning passion in UnTooned, the disturbing aftermath of The Wedding Ritual, bad bears in Toys, a break-in gone terribly wrong in Stagnant, a neon Giallo homage in A Date with Death, the paranoid and claustrophobic Insecticide, chills in The Drawing, obsessions in The Garden, the sleepless nightmare of first time parenthood in Night Feed, and the unseen dangers of online shopping in Silent & Deadly. The shorts are exclusively available to stream on ARROW.

The seasons kick off with Loved to Death, an assortment of titles that show the price of passion: murder, enchantments, mayhem, and gore. Featured titles include Anna Biller's mesmerizing The Love Witch, punches for love in Tokyo Fist, dark and depraved passion in We Are the Flesh and Orgies of Edo and the quirky heated drama Toys are Not for Children.
Every second counts in Short on Time, ARROW's collection of compelling shorts and features that grip audiences fast and furiously, with every feature under 75 minutes. Featured titles include Patrick Picard's hauntingly atmospheric The Bloodhound, Herschell Gordon Lewis's groundbreaking splatter films Blood Feast and The Gruesome Twosome, and Shinya Tsukamoto's cyberpunk Tetsuo: The Iron Man. The shorts include Roadkill: The Last Days of John Martin and A Hot Night at the Go Go Lounge.
Streaming on ARROW, visionary filmmaker Park Chan-wook (Oldboy, The Handmaiden) takes audiences to the demilitarized zone between North and South Korea in Joint Security Area (JSA), the acclaimed thriller which swept awards and captivated audiences on its release in 2000.
In the DMZ separating North and South Korea, two North Korean soldiers have been killed, supposedly by one South Korean soldier.

But the 11 bullets found in the bodies, together with the 5 remaining bullets in the assassin's magazine clip, amount to 16 bullets for a gun that should normally hold 15 bullets. The investigating Swiss/Swedish team from the neutral countries overseeing the DMZ suspects that another, unknown party was involved – all of which points to some sort of cover up.

The highest-grossing film in Korean film history at the time, Joint Security Area took home a number of accolades, including Best Film at South Korea's Blue Dragon Film Awards and Grand Bell Awards and launched Park Chan-wook on the world stage.

As the new year gets into full swing, ARROW invites you to own up to your sins as January 11th sees the arrival of Ban this Sick Filth Presents: Pray for Forgiveness with a sinful selection of films for you blasphemous heretics including Beyond the Door, Killer Nun, Children of the Corn and Mark of the Devil.


On January 18th, ARROW let loose a rabble of pintsized ruffians who are badly behaved and baying for blood with Little Monsters, featuring We Need to Talk About Kevin, Bloody Birthday, Blood Rage and Madhouse.


School is in session on January 22nd with Make-Up Effects Masterclass – stare in awe at the best examples of hand-made artery-gushing, flesh-peeling practical effects with Re-Animator, Bride of Re-Animator, Creepshow 2 and Island of Death.
Arrow Video is offering fans a 30 day free trial of ARROW, and subscriptions are available for $4.99 monthly or $49.99 annually. A UK rollout is planned for February.
ARROW is available in the US and Canada on the following Apps/devices: Roku (all Roku sticks, boxes, devices, etc), Apple TV & iOS devices, Android TV and mobile devices , Fire TV (all Amazon Fire TV Sticks, boxes, etc), and on all web browsers at https://www.arrow-player.com.
She's The Man celebrates 15th Anniversary, debuts on Blu-ray March 2nd
Amanda Bynes scores loads of laughs in the romantic and rollicking comedy SHE'S THE MAN, arriving on Blu-ray for the first time March 2, 2021 from Paramount Home Entertainment. The film will also be available in the new Girls Rule 3-Movie Blu-ray Collection, which will also arrive on March 2 and includes the infinitely quotable and culturally iconic films Mean Girls, Clueless, and She's The Man.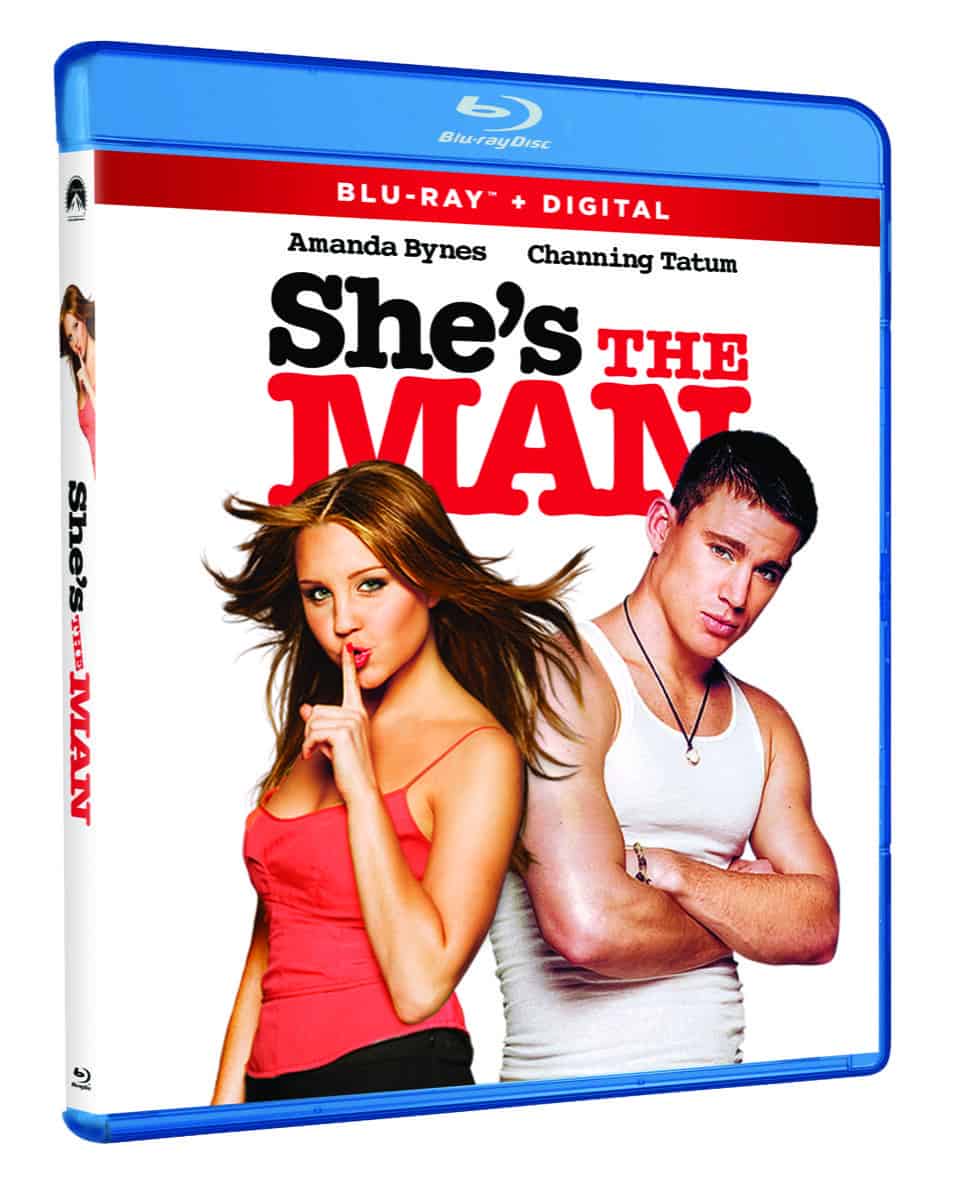 Celebrating its 15th anniversary this year, SHE'S THE MAN features a sensational cast led by Bynes, including Channing Tatum (21 Jump Street), Laura Ramsey (Lords of Dogtown), Robert Hoffman ("90210") and Alexandra Breckenridge ("This Is Us").
The SHE'S THE MAN Blu-ray includes access to a digital copy of the film, as well as the following previously released bonus content:
Commentary by actors Amanda Bynes, Channing Tatum, Laura Ramsey, Robert Hoffman and Alexandra Breckenridge, director Andy Fickman and co-writer/producer Ewan "Jack" Leslie
Second commentary with Ewan "Jack" Leslie and producer Lauren Shuler Donner
"Making The Man"
"The Troupe"
"Inspired By Shakespeare's…"
Nine Deleted Scenes with optional commentary by Amanda Bynes, Andy Fickman and Ewan "Jack" Leslie
Gag Reel
Cast Photo Album
Shakespeare, Soccer and Such Trivia Track
"Let Go" Music Video by David Lichens
Synopsis
Amanda Bynes proves that girls can do anything guys can do in this hysterical comedy of errors. When Viola (Bynes), disguised as her twin brother, Sebastian (James Kirk), joins the high school boys' soccer team, she ends up helping them win the big game. She also unexpectedly falls for Duke (Channing Tatum), the hot star forward.
Level 33 Entertainment releases SIMMER Video On Demand on January 26th
When Chef Hernandez finds out his family will be deported if he doesn't pay $60,000 in government-imposed fees, he turns to his successful restaurateur boss who offers him a questionable opportunity to earn the money before time runs out.
STUDIO/DISTRIBUTOR: Level 33 Entertainment
LEVEL 33 ENTERTAINMENT Social Media:
FACEBOOK: https://www.facebook.com/Level33Entertainment/
TWITTER: https://twitter.com/Level33_ent
INSTAGRAM: https://www.instagram.com/level33entertainment/
TRAILER: https://www.youtube.com/watch?v=uNE55ztUd80
GENRE: Thriller, Action, Drama, Suspense, Independent
LANGUAGE: Spanish w/English Subtitles
RUN-TIME: 97 Minutes
RATING: TV-14
DIRECTOR: Stefan van de Graaff, Nick Rush
WRITER: Stefan van de Graaff, Nick Rush
PRODUCER: Eric Wood, Stefan van de Graaff, Nick RushCAST: Marsuvio Sanchez, Richard Keep, Travis Su'a, Chris Eguizabal, Monica Lopez, Eric Wood, Elvia Martinez, Eliana Su'a, Oscar Sanchez, Karina Segura, Jess Ruiz DelVizo, Kelsie Elena, JR Timothy, Zadik Sanchez, Raymond Kelleher, Lorenzo Silva
Zappa Available on Blu-ray™, DVD, and On-Demand in March
With unfettered access to the Zappa family trust and all archival footage, ZAPPA explores the private life behind the mammoth musical career of Frank Zappa, which never shied away from the political turbulence of its time.
Director and writer Alex Winter's (Bill & Ted Face the Music) assembly features appearances by Frank's widow, Gail Zappa, and several of Frank's musical collaborators, including Mike Keneally, Ian Underwood, Steve Vai, Pamela Des Barres, Bunk Gardner, David Harrington, Scott Thunes, Ruth Underwood, Ray White and more.
Blu-Ray, DVD & Digital
Street Date: March 2, 2021
Run Time: 127 minutes
Rating: Not Rated
SRP: $29.98 (Blu-Ray), $26.98 (DVD)
Catalog: 11715 (Blu-Ray), 11711 (DVD)
The Night opens on January 29th. Check out the new trailer and poster!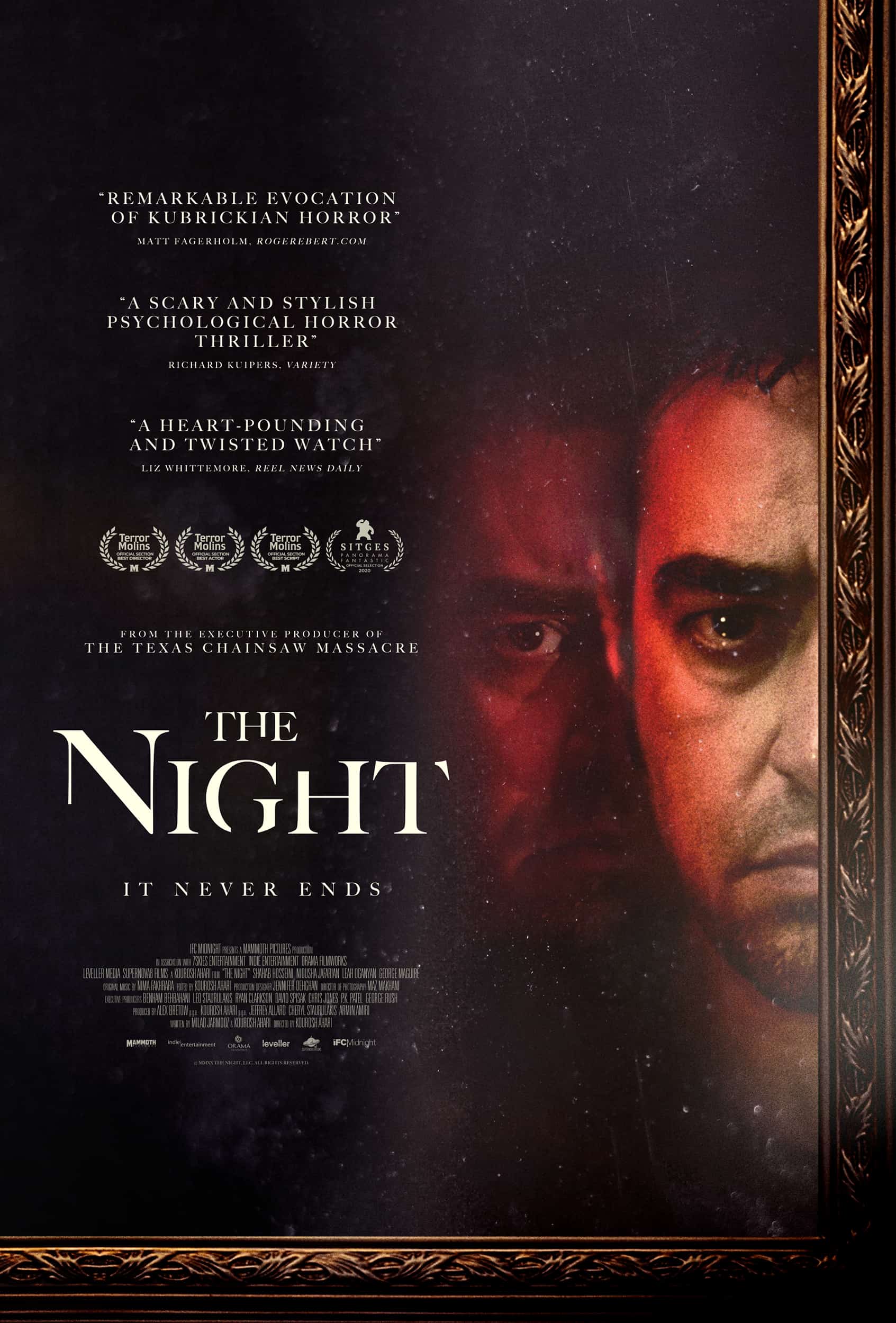 The Night is a psychological thriller that follows an Iranian couple, Babak and Neda, and their one-year-old daughter, Shabnam. Returning home from a friend's gathering, Babak drives drunkenly, too stubborn to let Neda drive with a suspended license. When Babak's driving threatens the safety of the family, Neda insists they stay the night at a hotel.
Once they check-in, Babak and Neda find themselves imprisoned, forced to face the secrets they've kept from each other. And though the clock moves forward, "the night" never ends.

About The Production
The Night went into production in the US in 2018, at the onset of Trump's Iran sanctions imposition, employing a diverse cast and crew made up of predominantly Iranian immigrants or US-born Iranian-Americans.
All department heads leading the production, from production through post, are Iranian or of Iranian descent. The Night employed Iranians in leadership roles in all key creative positions above and below the line, both lead acting roles, while being US-produced.

Iranians are so underrepresented, they are combined with a number of other ethnic backgrounds in both AMPAS' classifications and the US Census as "Middle Eastern", despite Iran's cinema and cultural heritage being one of the most significant in global cinema's history.

Shot on location in the US, The Night recently received a license for theatrical release in Iran, making it the first US-produced film to do so since the Iran revolution, which Deadline called "a historic benchmark".

Directed by: Kourosh Ahari Writtenby: Milad Jarmooz & Kourosh Ahar Producedby: Alex Bretow, Kourosh Ahari, Jeffrey Allard, Cheryl Staurulakis, Armin Amir Cinematographer: Maz Makhan Editedby: Kourosh Ahari Starring: Shahab Hosseini, Niousha Jafarian, Leah Oganyan, and George Maguire Runtime: 106 mins Language: Farsi Film Website:www.thenightfilm.com