Blumhouse Takes Over November's Loot Fright Crate!
The current masters of movie horror are taking over the newest Loot Fright crate! Get ready to showcase your love of all things horror with the November Loot Fright crate. This celebration of Blumhouse hits includes officially licensed and exclusive collectibles from The Invisible Man, The Purge, Upgrade and Happy Death Day.

Celebrate Blumhouse's spine-tingling tales of terror with an officially licensed and exclusive Blumhouse T-shirt, Invisible Man Water Activated Bath Mat, Happy Death Day Bayfield Babies-styled Dad Hat, Upgrade Pin and more.
There's also a Premium Add-on Item: a Blumhouse Screen Printed Poster.
The "Blumhouse Takeover" Loot Fright crate must be ordered by November 15 at 9:00 pm PST. Loot Fright crates are $34.99 plus shipping and handling. Supplies are limited and will sell out fast!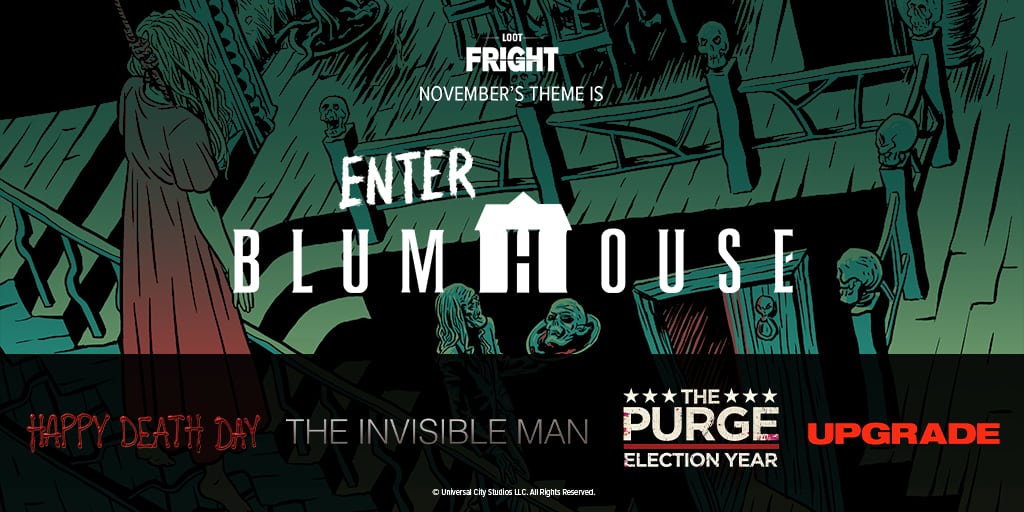 It's always a scary good time when you subscribe to the Loot Fright crate!
http://loot.cr/LootFright
Get the WWE Slam Crate and Watch Extreme Rules!
Loot Crate and WWE® are proud to announce the relaunch of the WWE Slam Crate, a bi-monthly subscription service filled with officially licensed and exclusive collectibles, gear and items for fans of the WWE Universe that you can only find at Loot Crate.
For the new WWE Slam Crate relaunch, step into the devil's playground with the October "Hell" crate, themed after the infamous "Hell in a Cell" steel structure that has housed some of the most memorable moments in WWE history. The "Hell" themed WWE Slam Crate offers no escape with an exclusive Undertaker vs. Mankind Tee, honoring one of the most shocking matches in Hell in a Cell history. Other exclusive items include an Alexa Bliss Pillow, Mankind Tie and more.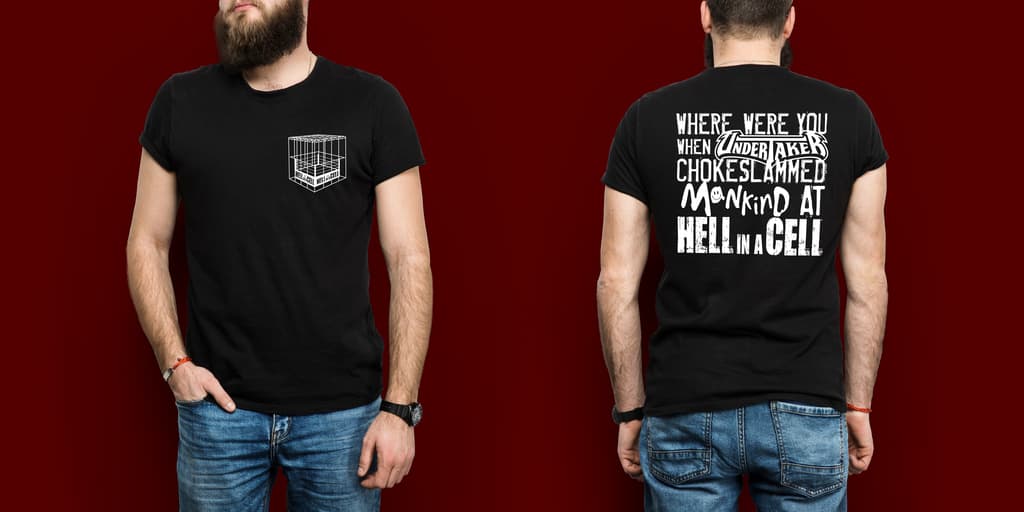 To accompany your new Slam Crate subscription, be sure to watch the most extreme event of the year, WWE Extreme Rules, which streams exclusively Sunday, September 26 on Peacock in the U.S. and WWE Network everywhere else.

The WWE "Hell" Slam Crate is $34.99 plus shipping and handling. Supplies are limited. Be sure to order by 10/15 at 9:00pm PDT to get this crate before it gets counted out!
Tag in and win when you subscribe to the WWE Slam Crate!
New Horror Film THE NEW HANDS has its world premier October 1st at Hollywood's historic Chinese Theater!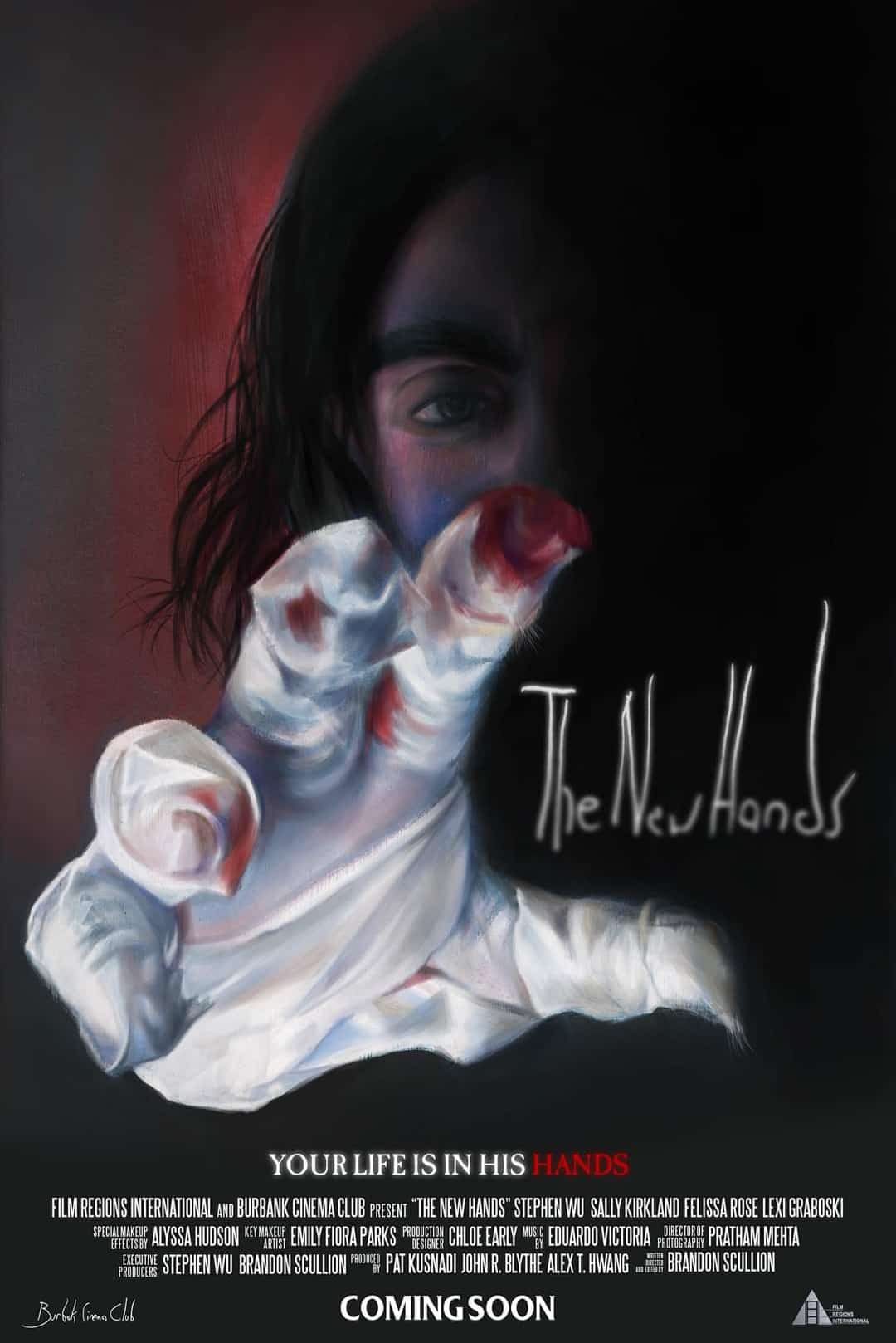 Join us for a night of thrills, chills, and hand amputation! The producers of the upcoming horror comedy feature film THE NEW HANDS are most pleased to announce that the film will formally hold its World Premiere at the historic Chinese Theater in Hollywood, CA on Friday October 1st at 5:00PM as part of the Silicon Beach Film Festival.

Written and Directed by Brandon Scullion (based on his short film The New Hands), the film is produced by Scullion, Pat Kusnadi and John R. Blythe and stars Oscar® nominee and Golden Globe® winner Sally Kirkland ("Best of the Best"), Stephen Wu, Lexi Graboski and horror icon Felissa Rose ("Sleepaway Camp").
THE NEW HANDS is the story of a man who believes cutting off his recently mangled hands and replacing them with a new set he's constructed from the pieces of his victims will bring his ex-girlfriend back to him.

Tickets are available now!
Celebrate Batman Day with the Batman Capsule Collection!
He is vengeance. He is the night. He is Batman! Celebrate Batman Day on Saturday, September 18, 2021 with this elevated and fashion-forward homage to the classic look of the Dark Knight. This officially licensed collection pays tribute to the Caped Crusader with a limited-edition set of wearables that can only be purchased from Loot Crate.
The Batman Capsule Collection includes three pieces of Gotham City crime fighting wear including a Batman Bomber Jacket, Vintage Tech Hoodie and Heritage Retro T-shirt. The Bomber Jacket features an all-over printed sleeve design, plus a chenille appliqued patch.
The medium-weight Hoodie emulates Batman's cowl with a nylon hood and features an embroidered Bat Signal and Gotham cityscape printed on the front. Each item is made from 100% cotton.
The Batman Bomber Jacket is $80 plus shipping. The Vigilante Tech Hoodie is $60 plus shipping, and the Heritage Retro T-shirt is $25 plus shipping. Purchase the complete collection for $145 plus shipping. You'll save 12% and also get an exclusive pin! Items will ship in January 2022.
Show off your new look on social media with #BatmanCapsule

Celebrate the Dark Knight when you order the Batman Capsule Collection here:
Trailer Available For V/H/S/94 – On Shudder October 6th
A Shudder Original Film, V/H/S/94 is the fourth installment in the hit horror anthology franchise and marks the return of the infamous found footage anthology with segments from franchise alumni Simon Barrett (Séance) and Timo Tjahjanto (May the Devil Take You Too) in addition to acclaimed directors Jennifer Reeder (Knives & Skin), Ryan Prows (Lowlife) and Chloe Okuno (Slut).
In V/H/S/94, after the discovery of a mysterious VHS tape, a brutish police swat team launch a high intensity raid on a remote warehouse, only to discover a sinister cult compound whose collection of pre-recorded material uncovers a nightmarish conspiracy.
Runtime: 100 minutes
Country: U.S. / Indonesia
Language: English / Indonesian
Sundance Fantasy Thriller THE BLAZING WORLD – Starring Carlson Young, Udo Kier, Dermot Mulroney, Vinessa Shaw, & more – In Theaters and VOD October 15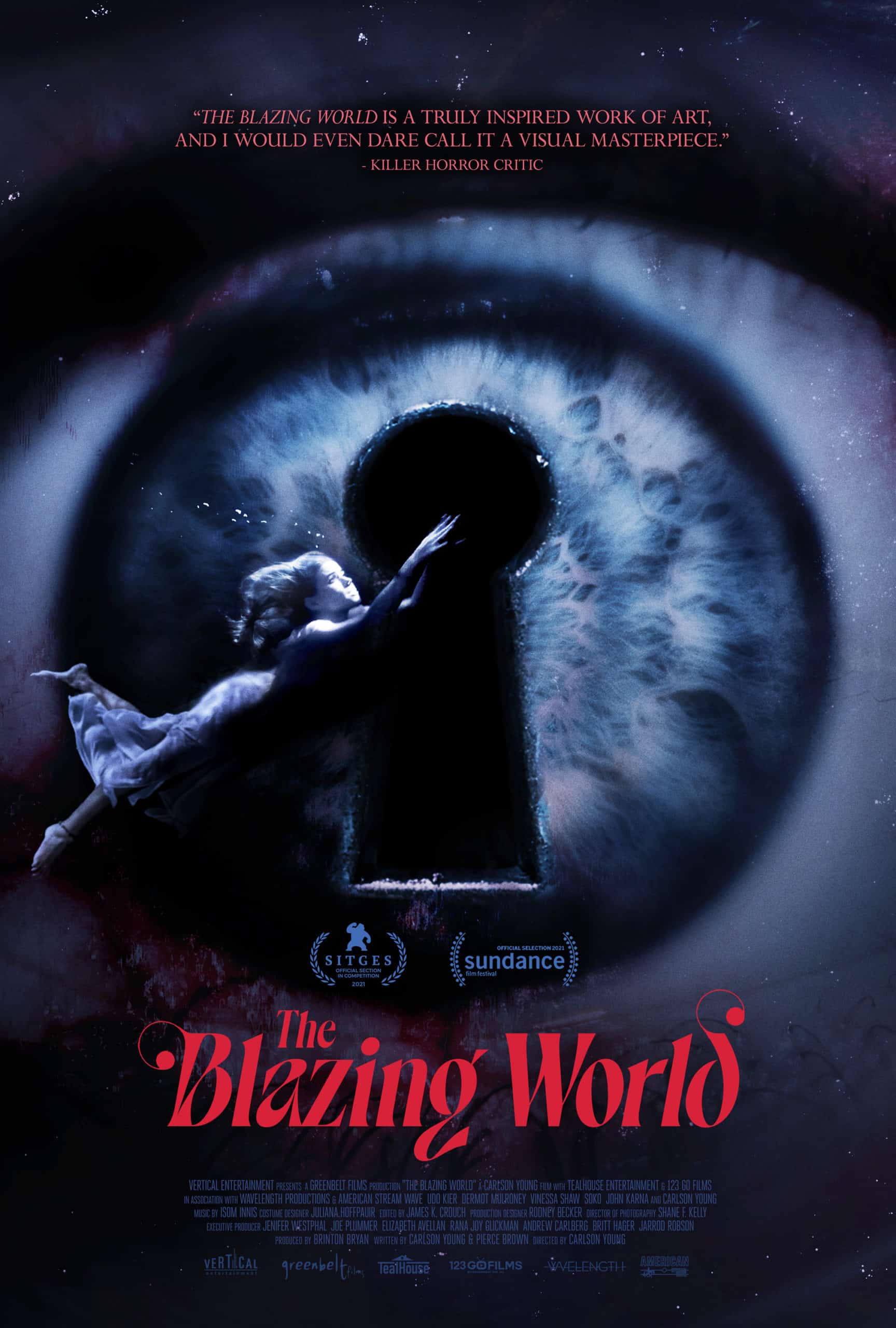 | | |
| --- | --- |
| Directed by: | Carlson Young |
| Written by: | Carlson Young & Pierce Brown |
| Starring: | Udo Kier, Dermot Mulroney, Vinessa Shaw, Soko, John Karna, Carlson Young |
| Run time: | 99 minutes |
| Rating: | NR |
| Genre: | Thriller, Fantasy |
| Synopsis: | Decades after the accidental drowning of her twin sister, a self-destructive young woman (Carlson Young) returns to her family home, finding herself drawn to an alternate dimension where her sister may still be alive. Through an epic journey down the darkest corridors of her imagination, she tries to exorcise the demons pushing her closer and closer to the edge. |
Lost Ones Will Release VENUS AS A BOY On PVOD On September 24th
A struggling artist, living a life in limbo between who he is and who he wants to be, is interrupted by a beautiful woman who forces him to choose.
Synopsis
Hunter, a freewheeling artist navigates heartbreak, addiction, and LA's impossibly hip gallery scene. After refusing to sell a painting to an eager buyer, a chance encounter leads him to Ruby, a gorgeous and successful Instagram influencer reeling from the recent death of her father. Polar opposites attract and after spending an intimate weekend together, Hunter's life is completely enmeshed with Ruby's. VENUS AS A BOY offers a personal and poetic examination of masculine and feminine, ego and alter ego.
Runtime: 104 minutes
Language: English
Country: USA
ARROW Announces October SVOD Lineup, Leading With Micro-Budget Horror DEMENTER & TEXAS CHAINSAW MASSACRE: THE SHOCKING TRUTH
Arrow Video is excited to announce the October 2021 lineup of their new subscription-based ARROW platform, available to subscribers in the US, Canada, the UK and Ireland.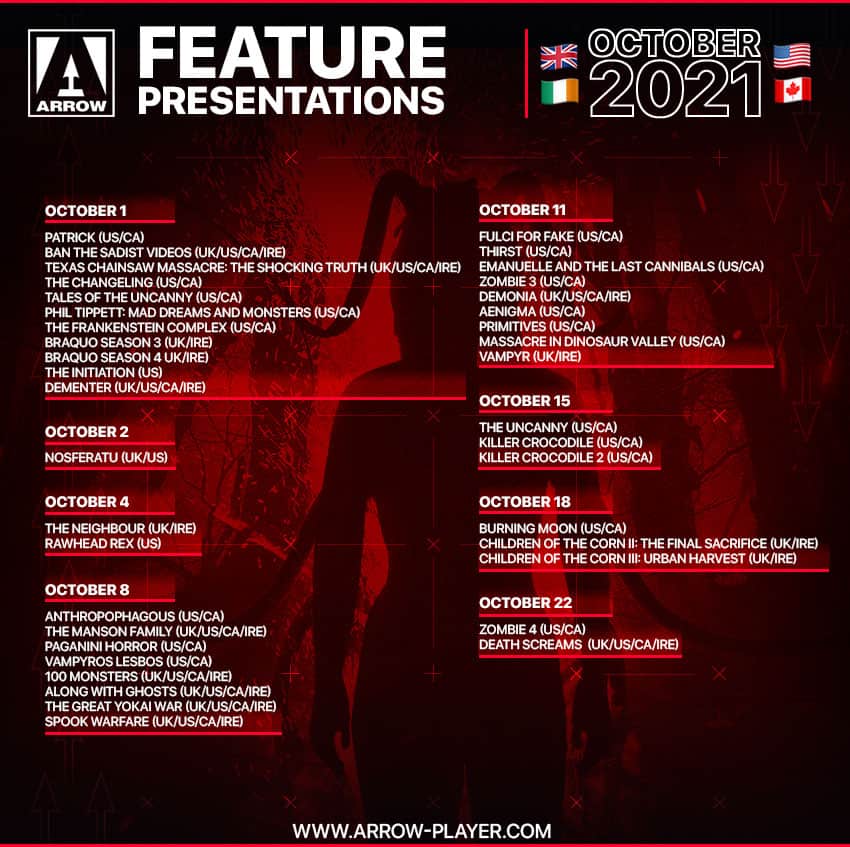 The October lineup leads with the ARROW release of Chad Kinkle's sophomore feature Dementer, available to subscribers in the US, Canada, the UK and Ireland. Raw and unsettling, Dementer is a brave and unflinching story of lives lived on the fringes of society, and a battle with demons inside and out.
Shot on real locations with many non-actors playing versions of themselves – including Kinkle's real life sister Stephanie – Dementer is a deeply personal genre film with an emotional punch that lingers long after the credits have rolled. The film will debut on ARROW October 1.
ARROW Stories will be home to a number of exclusive extras for Dementer, including several audio commentaries with director Chad Crawford Kinkle and the cast, The Making of Dementer, a brand-new in-depth look behind the scenes of how and why the film was made and In the Words of Larry, a new interview with actor Larry Fessenden discussing his role in Dementer and what drew him to the project.

Ahead of the ARROW bow of his latest film, Kinkle shared, "The idea for Dementer came from my desire to build a horror film around my sister Stephanie, who has Down syndrome. I wanted to go through this journey with her and see what type of experience it would be like to create a film like this and also to see what kind of film it would make."
October 1 will see the arrival of Dementer (UK/US/CA/IRE), Patrick (US/CA), Ban the Sadist Videos (UK/US/CA/IRE), Texas Chainsaw Massacre: The Shocking Truth (UK/US/CA/IRE), The Changeling (US/CA), Tales of the Uncanny (US/CA), Phil Tippett: Mad Dreams and Monsters (US/CA), The Frankenstein Complex (US/CA), and The Initiation (US).

October 1's Seasonal offerings kicks off with The Shocktober 31. 31 days, 31 movies. This October ARROW is bringing back the infamous Shocktober 31 and highlighting some of our favourite horror titles streaming on ARROW each day. From classic bloody chills to new thrills, the lineup changes daily so you won't need to spend hours scrolling for your fright fix this Halloween season.

Titles include: Dementer, Threshold, Kolobos, Beyond the Door, Dark Water, The Woman, Audition, Ringu, Deep Red, The Hills Have Eyes, The Stylist, The Mutilator and more. Also launching on October 1 is Shocktober Essentials. This Halloween, ARROW is bringing home a devilishly curated selection of twelve must-watch collections with our Shocktober Essentials. All treats, no tricks. The categories include: Zombies, Vampires, Monsters, Spirits, Giallo, Slashers, Comedies, Gore, Psychological, Documentaries, 70s Horrors, and 80s Horrors.

October 2 sees the arrival of F.W. Murnau's Nosferatu (UK/US). An unauthorized adaptation of Bram Stoker's Dracula, Murnau's surreal 1922 cine-fable remains the original and landmark entry in the entire global tradition of "the horror film".

October 4 will debut Clive Barker's Rawhead Rex (US), following a hulking, ancient demon as it tears a bloody swathe across the Irish countryside.

October 8 packs the spooky schedule with Anthropophagous (US/CA), The Manson Family (UK/US/CA/IRE), Paganini Horror (US/CA), Vampyros Lesbos (US/CA), 100 Monsters (UK/US/CA/IRE), Along with Ghosts (UK/US/CA/IRE), The Great Yokai War (UK/US/CA/IRE), and Spook Warfare (UK/US/CA/IRE).

October 8's Season goes to the ghouls with Monster Mash: a suitably spooky offering of five Japanese monster movies. Titles include: 100 Monsters, Along with Ghosts, Spook Warfare, The Great Yokai War, The Snake Girl and the Silver Haired-Witch.

October 11 gets full with the spirit of Halloween, launching Fulci for Fake (US/CA), Thirst (US/CA), Emanuelle and the Last Cannibals (US/CA), Zombie 3 (US/CA), Demonia (UK/US/CA/IRE), Aenigma (US/CA), Primitives (US/CA), and Massacre in Dinosaur Valley (US/CA).

Also on October 11 is a Seasonal celebration of the Godfather of Gore with Maestro of the Macabre: The Films of Lucio Fulci. From eye-gouging horrors, to demonic mayhem, plus a twisted take on the classic Italian Western, ARROW is ready to unlock the gates of Hell to unleash a brand of Italian terror that you'll never forget! Titles include: Demonia, Zombie, Aenigma, Massacre Time, Manhattan Baby.

October 15 goes deep into the dangers of the animal kingdom with The Uncanny (US/CA), Killer Crocodile (US/CA), and Killer Crocodile 2 (US/CA).

October 15 heads to the Amazon for a Season of tropical terror with Welcome to the Jungle. Titles include: Emanuelle and the last Cannibals, Robowar, Killer Crocodile, The Annihilators.

October 18 weaves a terrifying tale with Olaf Ittenbach's The Burning Moon (US/CA), complete with two terrifying bedtime stories of the damned.

October 22 caps off the month, heading straight towards Halloween with a celebration of death and gore with Zombie 4 (US/CA) and 1982's Death Screams (UK/US/CA/IRE), a body count-heavy, long overlooked slice of Southern fried hack-and-slash. Lovingly restored from the only-known existing 35mm print, this little-seen slasher classic is ready to carve its way into the bleeding hearts of horror fans everywhere!

On October 22, ARROW honors the reason for the season with a look back at a number of horror classics in the final Season of the month: Behind the Screams. Behind the Screams is a curated lineup of deep-diving docs that will dish dirt and drop knowledge on everyone and everything from The Texas Chainsaw Massacre to Ken Russell's The Devils to Hellraiser and beyond. Titles include: Ban the Sadist Videos, Texas Chainsaw Massacre: The Shocking Truth, Hell On Earth: The Desecration and Resurrection of Ken Russell's The Devils, Phil Tipett: Mad Dreams and Monsters, Fulci for Fake.
LEVERKUSEN 2010, The Latest CD/DVD Release In The Continuing Series Of Classic Allan Holdsworth Live Recordings, Due November 5 From Manifesto Records
LEVERKUSEN 2010, the fifth and latest release in the continuing series of classic live recordings by Allan Holdsworth, is due November 5 from Manifesto Records. The double-disc CD/DVD set features the guitar great live at the Leverkusen Jazztage Festival in Germany on November 9, 2010, 13 years after his triumphant 1997 performance at the festival. The package offers audio and visual versions of the 10-song set recorded and filmed in high-definition for German television.
The already high-quality audio and video have been digitally remastered from the original tapes. For the performance, Holdsworth was backed by acclaimed drummer and long-time collaborator Chad Wackerman and ace bassist Ernest Tibbs. The bass player also wrote liner notes for the set, based on his personal memories of performing with Holdsworth and Wackerman, and, along with Wackerman, is also featured in an interview included on the DVD as a bonus.
As Tibbs explains, the Leverkusen Festival was a treat to play. "It had the best sound quality, best stage, best crew – I always had a great time there. The audience at Leverkusen was totally supportive and into the music, real superfans of jazz and fusion. Those are the core people that you love to play for." However, playing with Holdsworth provided some unique challenges for Tibbs, who is known for his work with a diverse roster of artists ranging from Andy Summers and David Benoit to Dionne Warwick and Lee Ritenour.
"When you were playing in Allan's trio, you didn't have a piano or keyboard player that you could rely on, so you had to be able to cover and be the drivetrain," Tibbs says. "Coming from an R&B background, I figured that this was going to be a great experience for me. I took it as a challenge and once I got it, it felt great."
LEVERKUSEN 2010 follows the previous four releases in the Holdsworth live series, LIVE IN JAPAN 1984, WARSAW SUMMER JAZZ DAYS '98, FRANKFURT '86, and LEVERKUSEN '97, which were embraced by Holdsworth's hardcore fanbase. A guitarist's guitarist, Holdsworth's music and legacy have been embraced by a who's who of axe-slingers over the years, ranging from Eddie Van Halen and Joe Satriani to Frank Zappa and Tom Morello.
It was Van Halen who brought the British-born Holdsworth to the attention of Warner Bros. Records, while Zappa once called him "one of the most interesting guys on guitar on the planet." LEVERKUSEN 2010 opens with "Leave Them On," which later turned up on Gary Husband's studio album, Dirty & Beautiful, Volume 1, slightly retitled "Leave 'Em On." Other highlights include the Holdsworth live staples "Proto-Cosmos" and "Water on the Brain – Pt. II," as well as the triple shot of "Madame Vintage," "Above and Below" and "The Things You See (When You Haven't Got Your Gun)."
As was often the case, Holdsworth also generously shared the spotlight with his collaborators, covering the Wackerman composition "The Fifth" and allowing the drummer to solo on "Letters of Marque." In all, LEVERKUSEN 2010 is a worthy addition to the Holdsworth legacy of live performances filled with stellar musicianship. As Tibbs puts it, "I think that Allan's music is in a class of its own. Harmonically and improvisation-wise, it's out of this world. People will be studying his music a hundred years from now.
I'm already seeing a whole new generation of young guitarists studying his music the same way that young saxophonists study John Coltrane's music." "Allan was a beautiful person; a really nice person and he was very generous and very thoughtful.," he adds. "It was an honor for me to have had the opportunity to make music with him and play in his trio."
That honor now extends to Holdsworth fans worldwide with the release of LEVERKUSEN 2010. Other Allan Holdsworth albums available on Manifesto include IOU, Road Games, Metal Fatigue, Atavachron, Sand, Secrets, Wardenclyffe Tower, Hard Hat Area, None Too Soon, The Sixteen Men of Tain, Flat Tire and Then!, as well as Eidolon: The Allan Holdsworth Collection.
LEVERKUSEN CD & DVD TRACK LISTING:
1. LEAVE THEM ON
2. FRED
3. WATER ON THE BRAIN – PT. II
4. MADAME VINTAGE
5. ABOVE AND BEYOND
6. THE THINGS YOU SEE (WHEN YOU HAVEN'T GOT YOUR GUN)
7. MATERIAL REAL
8. THE FIFTH
9. LETTERS OF MARQUE
10. PROTO-COSMOSDVD BONUS FOOTAGE:
INTERVIEW WITH ERNEST TIBBS & CHAD WACKERMAN
PRE-ORDER LINK: https://bit.ly/leverkusen2010
Dark Comedy / Thriller HOW TO KILL YOUR ROOMMATES AND GET AWAY WITH IT has its world premier this October in Hollywood!
How to Kill Your Roommates and Get Away with It tells the story of Ellie (Nicole Cinaglia) who has had it with her roommates (Lara Jean Sullivan & Eric Reingrover) and is ready to take drastic action. With the help of her best friend, Jacob (Hunter Johnson), the two start plotting ways to get out of her miserable living situation and not get caught. But one mistake may bring the full force of the law (played by Felissa Rose and Dave Sheridan) down on them.

How to Kill Your Roommates and Get Away with It will have its world premiere on October 3rd, 2021 at 6:00 PM at the Hollywood's historic Chinese Theater as part of Silicon Beach Film Festival 2021. Limited seats are available for public and the cast & crew will be in attendance.
Tickets are available here on BLOCK S:
https://siliconbeachfilmfestival.ticketspice.com/2021-silicon-beach-film-festival

This film was produced by the multi-award winner, Alexander T. Hwang ("Paranormal Attraction") along with Robbie Dias ("13 Fanboys") and Erick Stryker (TV's Worst Week Ever). Executive produced by Will Garay ("Bloodthirst")
Director Statement:
I've been producing many features over the years, but finally I am here with my directorial feature debut, and I'm very proud of the work my cast and crew have done. We shot this safely in early 2021 during a difficult time for film productions, and I have to say, it wouldn't have happened if my producer Alex Hwang had not pushed me to do the best job possible, and safely, using all COVID precautions. So thank you to Alex for what we delivered.
I also wanted to thank the hardworking cast and the rest of the crew. They were great, worked hard and were very helpful in getting this movie made. It has been quite a journey. I cannot wait for everyone to see it. So please join us on the big screen at the Hollywood's historic Chinese Theater!
Amon Tobin's HOW DO YOU LIVE Out Today!
How Do You Live is Amon Tobin's first new album since he launched his Nomark Records label with the #1 Fear in A Handful of Dust and its sister album, Long Stories, in 2019. In the 25 years since Amon Tobin released his first album under the pseudonym Cujo, he has made music that has not only tested the boundaries of sound but has also challenged our emotional response to the music that electronics can make.
Tobin has released pioneering bass music as Two Fingers, psyche-folk as Figueroa, rock electronica as Only Child Tyrant. His most recent outing as Stone Giants showed another side as he explored love songs through his own unique lens. When considering the influence of his Nomark label mates on this new album, Amon comments, "Everything feeds in. After spending time in the micro of personal experiences with Stone Giants and Figueroa this record explores bigger scenery from a distance, for the most part."
In a quarter century of music making Tobin is one of those artists who has never sat still; restless to always try one more thing, one more avenue, a different fork in the road. Tobin's records are musical anomalies. They've been this way since the beginning, and in 2021 his musical curiosity remains as sharp as ever.
HOW DO YOU LIVE TRACK LISTING
1. How Do You Live
3. Sweet Inertia (feat. Figueroa)
4. Phaedra
5. In a Valley Stood the Sun
6. This Living Hand
7. Button Down Fashion Bow
8. Now Future
9. Black As The Sun
10. All Things Burn
How Do You Live is available here