There's a new Movie Trailer for HEART OF CHAMPIONS – Starring Michael Shannon, Alexander Ludwig, Charles Melton, Alex MacNicoll, and more – In Theaters October 29
Distributed By:
Vertical Entertainment
Release Date:
October 29, 2021
Directed By:
Michael Mailer
Written By:
Vojin Gjaja
Produced By:
Daniel Dávila, Lucas Jarach, Vojin Gjaja, Robert Ogden Barnum, Frank Buchs, Michael Shannon, Byron Wetzel
Starring:
Michael Shannon, Alexander Ludwig, Charles Melton, Alex MacNicoll, Ash Santos with Lilly Krug and David James Elliott
Runtime:
120 minutes
Rating:
PG-13
Genre:
Drama / Sports / Coming-of-Age
Synopsis:
After finishing last in the national championship, a college rowing team descends into turmoil and constant infighting between team leaders Alex (Alexander Ludwig), Chris (Charles Melton), and John (Alex MacNicoll). A tough Army veteran, Coach Murphy (Michael Shannon), arrives at the start of the new season to transform the status quo and unlock their true potential.

Using his experience and unconventional methods to help them overcome petty rivalries and personal challenges, Coach Murphy must inspire these young men to learn what it takes to be a team before they can be champions.
The Blazing World took over Sundance and now it has a new trailer! Udo Kier is having a great Fall 2021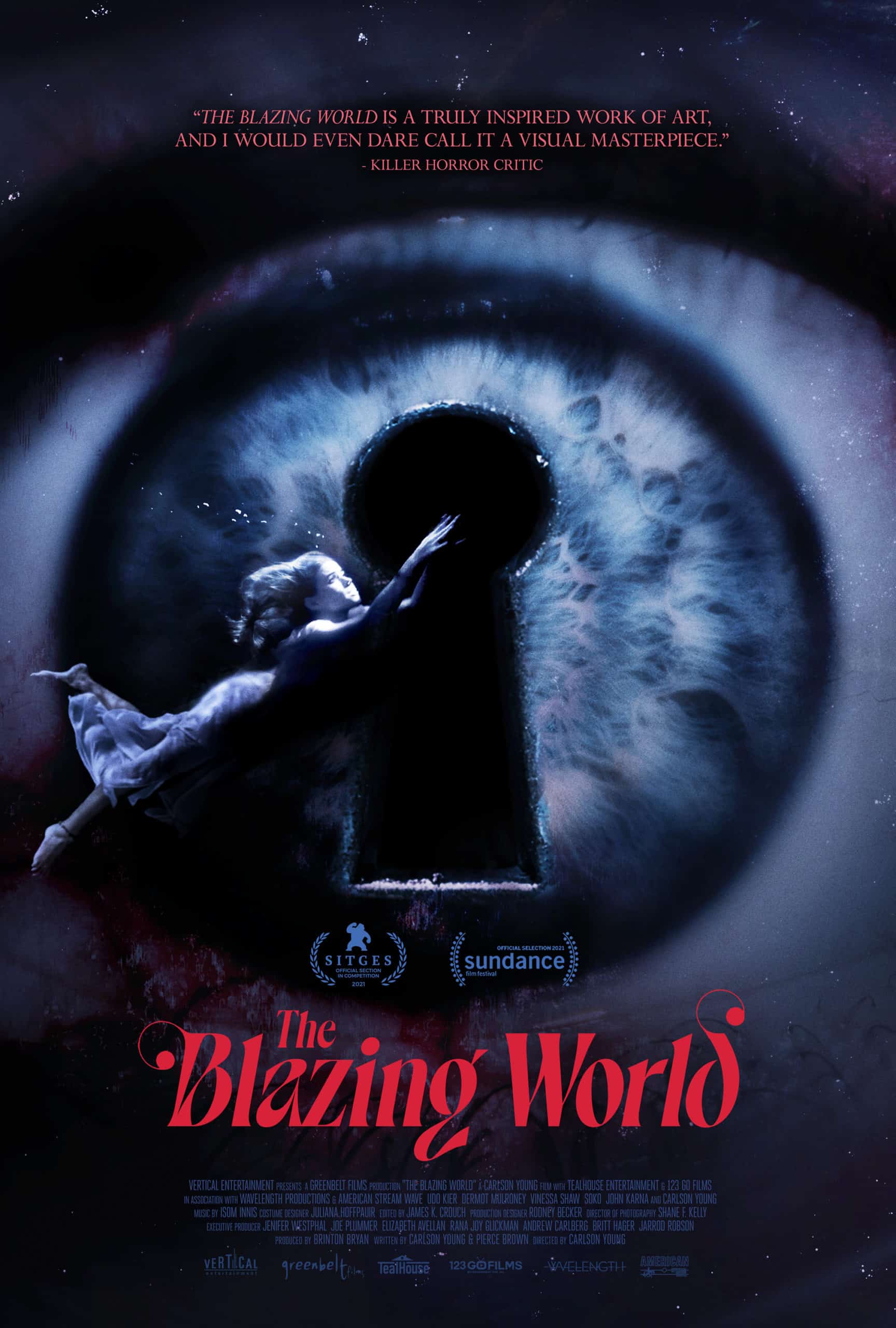 | | |
| --- | --- |
| Directed by: | Carlson Young |
| Written by: | Carlson Young & Pierce Brown |
| Starring: | Udo Kier, Dermot Mulroney, Vinessa Shaw, Soko, John Karna, Carlson Young |
| Run time: | 99 minutes |
| Rating: | NR |
| Genre: | Thriller, Fantasy |
| Synopsis: | Decades after the accidental drowning of her twin sister, a self-destructive young woman (Carlson Young) returns to her family home, finding herself drawn to an alternate dimension where her sister may still be alive. Through an epic journey down the darkest corridors of her imagination, she tries to exorcise the demons pushing her closer and closer to the edge. |
IFC FILMS AND FILMNATION ENTERTAINMENT WIN BIDDING WAR FOR 'HAPPENING', VENICE GOLDEN LION WINNER DIRECTED BY AUDREY DIWAN
IFC Films President Arianna Bocco and FilmNation Entertainment's CEO Glen Basner announced today that they are acquiring U.S. rights to French writer-director Audrey Diwan's sophomore feature HAPPENING. The film marks Diwan's arrival as a major talent and was written by Diwan with Marcia Romano as an adaptation of Annie Ernaux's semi-autobiographical novel of the same name.
HAPPENING had its world premiere at the 2021 Venice Film Festival where Diwan took home the festival's top prize, the coveted Golden Lion, an early indicator of Oscar® prospects in years past. Diwan's film was the unanimous choice from the jury that included recent Oscar® winners Bong Joon Ho and Chloé Zhao. HAPPENING is poised to be a major contender for France's official Oscar® entry for Best International Film. HAPPENING was produced by Rectangle Productions' Édouard Weil (Declaration of War, Love, Climax, Vortex) and co-produced by Srab Films (Les Miserables).
IFC Films will release the film theatrically in early 2022. HAPPENING is set in France, 1963. Anne is a bright young student with a promising future ahead of her. But when she falls pregnant, she sees the opportunity to finish her studies and escape the constraints of her social background disappearing.
With her final exams fast approaching and her belly growing, Anne resolves to act, even if she has to confront shame and pain, even if she must risk prison to do so. The critical reception out of Venice was explosive, describing the film as 'timely', 'important', 'uncompromising', and touting Diwan as a major talent. In his review for The Hollywood Reporter, David Rooney said, "HAPPENING is a slice of clear-eyed French social-realism that will be meaningful to anyone who cares about personal freedoms."
IFC Films has a long-standing history of supporting and releasing films from Europe's premiere filmmakers. Notably the Palme d'Or winners Abdellatif Kechiche's BLUE IS THE WARMEST COLOR and Jacques Audiard's DHEEPAN, as well as one of the Dardenne Brothers' highest grossing film of their career, TWO DAYS, ONE NIGHT, which landed an Oscar® nomination for Marion Cotillard.
IFC Films made a splash at Cannes this year with three of the buzziest films of the festival including Mia Hansen-Løve's BERGMAN ISLAND set to release this month, as well as the new Audiard PARIS, 13TH DISTRICT and the most talked about festival film of the season, BENEDETTA from Paul Verhoeven which will open theatrically December 3rd. Most recently, IFC Films released THE PAINTED BIRD which was shortlisted for the Best International Feature category at the 92nd Academy Awards.
Arianna Bocco, President of IFC Films said, "Audrey has crafted an award-winning film that puts a face on the choices women have to make, achieving something incredibly rare and rewarding in its powerful depiction of humanity. We look forward to working with Audrey, Glen and the entire filmmaking team to bring this film to the widest audience possible in the US."

Glen Basner, CEO of FilmNation Entertainment said, "Audrey's stunning and powerful film could not be more timely and we are thrilled to collaborate with Arianna and her team at IFC Films to bring this emotional cinematic experience to US audiences."
Director Audrey Diwan added, "Through the lens of IFC Films and FilmNation, I realized what HAPPENING could represent to audiences in the U.S. I feel incredibly supported by this alliance, whose common goal is to take this story to new heights and champion my artistic vision. Arianna Bocco and Glen Basner have both long advocated for compelling and important films, which assures me this partnership that we are about to embark on together will be an extremely exciting one."
The deal for the film was negotiated by IFC Films' President Arianna Bocco with CAA Media Finance and Wild Bunch on behalf of the filmmakers. Wild Bunch International is handling international sales.
SOULMATES – Starring Stephanie Lynn, Alexandra Case, and Mark Famiglietti – In Theaters & VOD 11/12
| | |
| --- | --- |
| DIRECTED BY: | Timothy Armstrong |
| WRITTEN BY: | Stephanie Lynn, Alexandra Case |
| STARRING: | Stephanie Lynn, Alexandra Case, Mark Famiglietti |
| RUN TIME: | 91 minutes |
| RATING: | NR |
| GENRE: | Comedy |
| SYNOPSIS: | Lifelong best friends, Sam and Jess, are each other's everything. But when Jess meets a handsome out-of-stater, Landon, Sam begins to fear she's being cast aside. To make matters worse, a massive corporation—who happens to be Landon's employer—is threatening the small-town way of life they know and love in Vermont. In order to save her sisterhood and protect the town, Sam will pull out all the stops to keep both Jess's relationship and the ominous company from developing any further. |