Rick and Morty gets the complete series so far treatment from Warner Brothers. Cohen wants you to learn about French cinema. If that's not enough Unearthed and Cult Epics has some fancy smut for you to watch on Blu-ray.
Cohen Media Group announces the release of JOURNEYS THROUGH FRENCH CINEMA on Blu-ray on 3/30/2021
JOURNEYS THROUGH FRENCH CINEMA
Comes to Blu-ray on March 30, 2021
My Journey Through French Cinema (2017), Bertrand Tavernier's César-nominated three-and-a-half-hour tour through French film history, was too short to introduce audiences to all that he wanted to share. In this new eight-part series, the acclaimed director of such films as Coup de Torchon and 'Round Midnight guides us through a roster of filmmakers both influential and forgotten, explores how his country's cinema was shaped by the German occupation and changed again through the New Wave, spotlights little-known female filmmakers, and more. Subjects include: René Clément, Henri-Georges Clouzot, Julien Duvivier,Henri Decoin, Claude Autant-Lara, as well as composers who made movie music an art in and of itself, far from the Hollywood spotlight.

JOURNEYS THROUGH FRENCH CINEMA Directed by: Bertrand Tavernier
Language: French original with English subtitles Genre: Documentary Distributor: Cohen Media Group/Kino Lorber Cast: Rene Clement, Henri-Georges Clouzot, Julien Duvivier, Henri Decoin, and Claude Autant-Lara Run Time: 459m
RICK AND MORTY: SEASONS 1-4 – Bring Home The Antics on Blu-ray & DVD March 2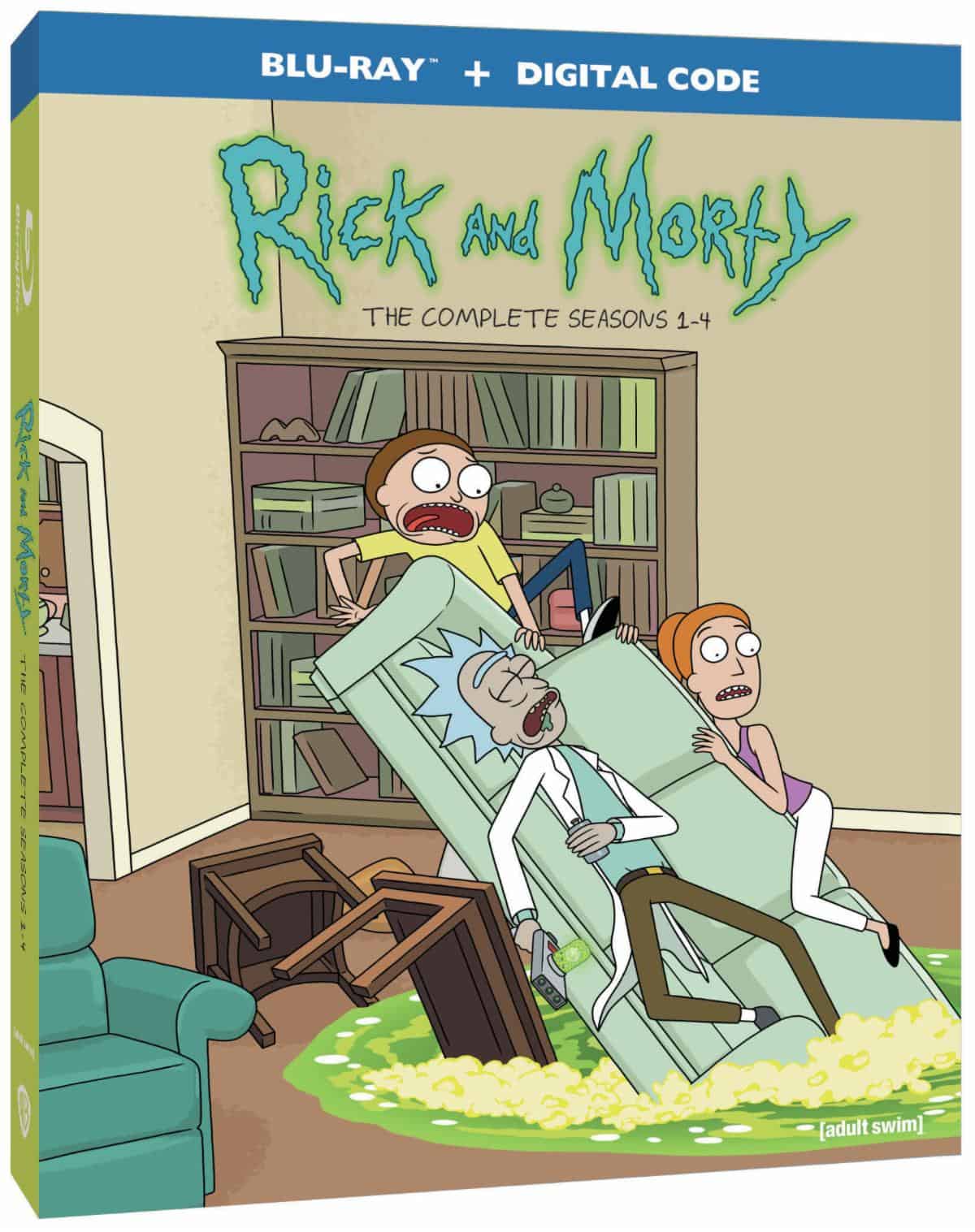 Wubba-lubba-dub-dub! From creators Justin Roiland ("Adventure Time") and Dan Harmon ("Community"), go on an intergalactic journey across the multi-verse with the release of Rick and Morty: Seasons 1-4 boxed set from Warner Bros. Home Entertainment on March 2, 2021.
Get ready to binge on one of cables #1 watched comedies – and follow the misadventures of America's favorite crazy scientist and his grandchildren with this outrageous boxed set which includes all 41 episodes from the first four seasons of the award-winning series, along with copious special features, including audio commentary, deleted scenes, "Inside the Episode" segments, numerous featurettes, past animatic sketches, and more. For a limited time, fans who purchase the set will receive an exclusive poster from the series.
Rick and Morty: Seasons 1-4 is priced to own at $79.99 SRP for the DVD ($89.99 in Canada) and $89.99 SRP for the Blu-ray ($99.99 in Canada), which includes a Digital Copy (U.S. only). Rick and Morty also available to own on Digital via purchase from digital retailers.

After having been missing for nearly 20 years, Rick Sanchez suddenly arrives at daughter Beth's doorstep to move in with her and her family. Although Beth welcomes Rick into her home, her husband, Jerry, isn't as happy about the family reunion. Jerry is concerned about Rick, a sociopathic scientist, using the garage as his personal laboratory.
In the lab, Rick works on a number of sci-fi gadgets, some of which could be considered dangerous. But that's not all Rick does that concerns Jerry. He also goes on adventures across the universe that often involve his children, Morty and Summer.

With Blu-ray's unsurpassed picture and sound, Rick and Morty: Season 1-4 Blu-ray release will include 1080p Full HD Video with DTS-HD Master Audio for English 5.1. Featuring all 41 episodes from the season 1-4 in high definition, as well as a digital code of the seasons (available in the U.S. only).

RICK AND MORTY SEASON 1-4 DIGITAL
Rick and Mortyis available to own on Digital. Digital allows consumers to instantly stream and download all episodes to watch anywhere and anytime on their favorite devices. Digital is available from various retailers including iTunes, Amazon Video, Google Play, Vudu, PlayStation, Xbox and others. A Digital Code is also included in the U.S. with the purchase of specially marked Blu-ray discs for redemption and cloud storage.

BONUS FEATURES Season 1
Commentaries for Every Episode
Animatics for Every Episode
Behind the Scenes
Deleted Scenes
Season 2
Commentaries for Every Episode
Animatics for Every Episode
Deleted Animatic Sketches
Rick and Morty Season 2 Premiere Party Featuring Chaos Chaos
Season 3
Commentaries for Every Episode
Animatics for Every Episode
"Inside the Episode" for Every Episode
Exclusive "Inside the Recording Booth"
Origins of Rick and Morty Part 1 & 2
Season 4
A Day at Rick and Morty: Inside Season 4
"Inside the Episode" for Every Episode
Creating Snake Jazz
Directing Rick and Morty
Samurai and Shogun
Prop Process
Character Creation
Animation Challenges
41 (22 Minute) EPISODES Season 1
Pilot
Lawnmower Dog
Anatomy Park
M. Night Shaym-Aliens!
Meeseeks and Destroy
Rick Potion #9
Raising Gazorpazorp
Rixty Minutes
Something Ricked This Way Comes
Close Rick-Counters of the Rick Kind
Ricksy Business
Season 2
A Rickle in Time
Mortynight Run
Auto Erotic Assimilation
Total Rickcall
Get Schwifty
The Ricks Must Be Crazy
Big Trouble In Little Sanchez
Interdimensional Cable 2: Tempting Fate
Look Who's Purging Now
The Wedding Squanchers
Season 3
The Rickshank Rickdemption
Rickmancing the Stone
Pickle Rick
Vindicators 3: The Return of Worldender
The Whirly Dirly Conspiracy
Rest and Ricklaxation
The Ricklantis Mixup
Morty's Mind Blowers
The ABC's of Beth
The Rickchurian Mortydate
Season 4
Edge of Tomorty: Rick Die Rickpeat
The Old Man and the Seat
One Crew over the Crewcoo's Morty
Claw and Hoarder: Special Ricktim's Morty
Rattlerstar Ricklactica
Never Ricking Morty
Promotyus
The Vat of Acid Episode
Childrick of Mort
Star Morty Rickturn of the Jerri
UnearthedFilms.com Re-Design Unveiled Ahead of Special Edition Release of A SERBIAN FILM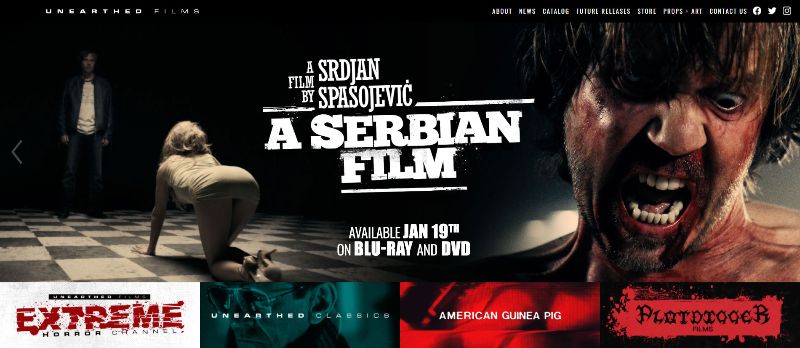 Unearthed Films is kicking off the new year with a new website ahead of three upcoming releases, including a special edition Blu-Ray and DVD release of A SERBIAN FILM on Jan. 19. Unearthed Films is also accepting pre-orders for 29 NEEDLES, the latest addition to its Too Extreme For Mainstream line, and Todd Sheets' cult film staple DREAMING PURPLE NEON.

"We're excited to kick off the new year with great releases, new toys, and a fresh new website," said Stephen Biro, President and Founder, Unearthed Films. "We think Unearthed Films will have an amazing year and horror fans will be chomping at the bit to see some of the rarest titles, with new scans, and also pick-up some crazy toys no one has ever seen coming."

A SERBIAN FILM: Available Jan. 19. Pre-order now.

Srdjan Spasojevic's 2010 horror-thriller A SERBIAN FILM has been vilified by "mainstream" critics and banned worldwide. It's also been called "great" by legendary director William Friedkin (The Exorcist) and is beloved by diehard horror fans. Truly polarizing, one thing is certain: A SERBIAN FILM is perhaps the most controversial film of all time. Now, the notorious horror film is being released on Blu-ray and DVD from the 4k master for the first time, in all its uncut and uncensored glory. All A SERBIAN FILM orders placed directly from UnearthedFilms.com include a special 11×17 poster, while Blu-rays come with a custom slipcover. Unearthed's A SERBIAN FILM release also brings the 2nd figure in the Unearthed Toys line, "Milos", limited to 200 pieces in numbered resealable collectable packaging.

29 NEEDLES: Pre-order now.

Unearthed Films keeps the gore flowing with the latest addition to the Too Extreme for Mainstream line, 29 NEEDLES, directed by artist Scott Philip Goergens. It earns its Too Extreme billing with subversive and beautiful, yet horrific scenes, all with an homage to famous painters and their subjects. 29 NEEDLES explores sadism, masochism, and one man's ready descent into his personal hell. It is available now for pre-order on Blu-ray and DVD for 30 days exclusively at UnearthedFilms.com. 80 limited special edition sets will come with both an 11×17 poster and a severed finger embedded in acrylic as a souvenir piece of art from the film, created and signed by director Scott Philip Goergens.

DREAMING PURPLE NEON: Pre-order now.

Todd Sheets is a cult film staple of the horror community and his fans have been vocal, demanding a Blu-ray release of his film, DREAMING PURPLE NEON. The limited pre-order BDRs are being made to honor Sheets and his fans and can be ordered exclusively from the Unearthed Films website.

2021 brings a facelift and an entirely new mobile and consumer-friendly look and feel to UnearthedFilms.com. Highlights include news, future releases, a new layout, the entire Unearthed Films catalog with specs for each film and trailers, and of course, the store. Special discounts are available throughout January in celebration of the new website.
About Unearthed Films
Unearthed Films was founded in 2002 to distribute independent horror films from around the world in the United States and Canada. We release films in all media including theatrical, home video, television, and video-on-demand. From its inception, Unearthed has concentrated on cult and horror genres, and has established a unique label brand for fans of cutting edge "horror" cinema. Over the intervening years, our ever-growing catalogue of unique titles has attracted a dedicated customer base and made Unearthed Films the "go to" place for discerning horror fans.
MADAME CLAUDE Blu-ray & DVD February 9, 2021 from Cult Epics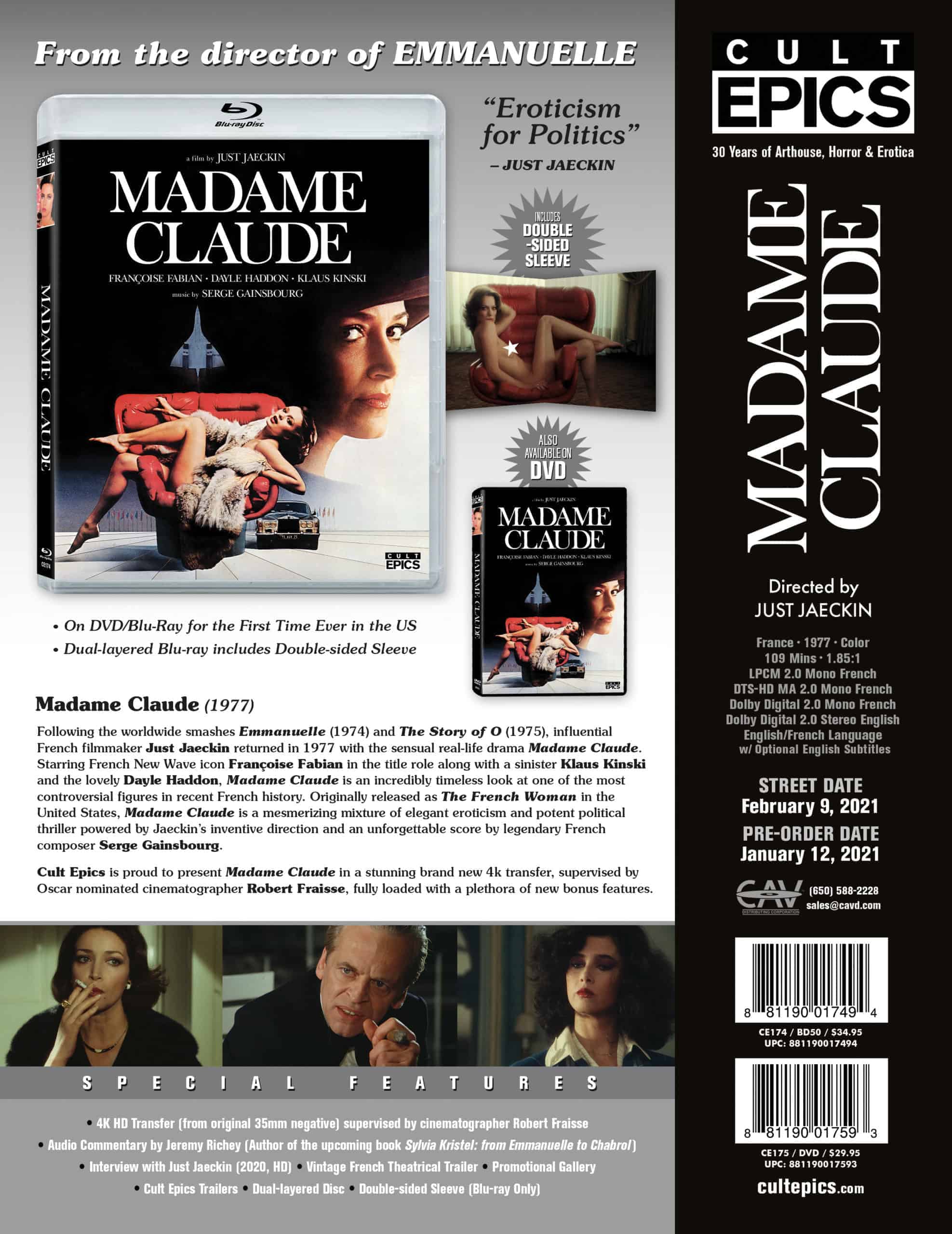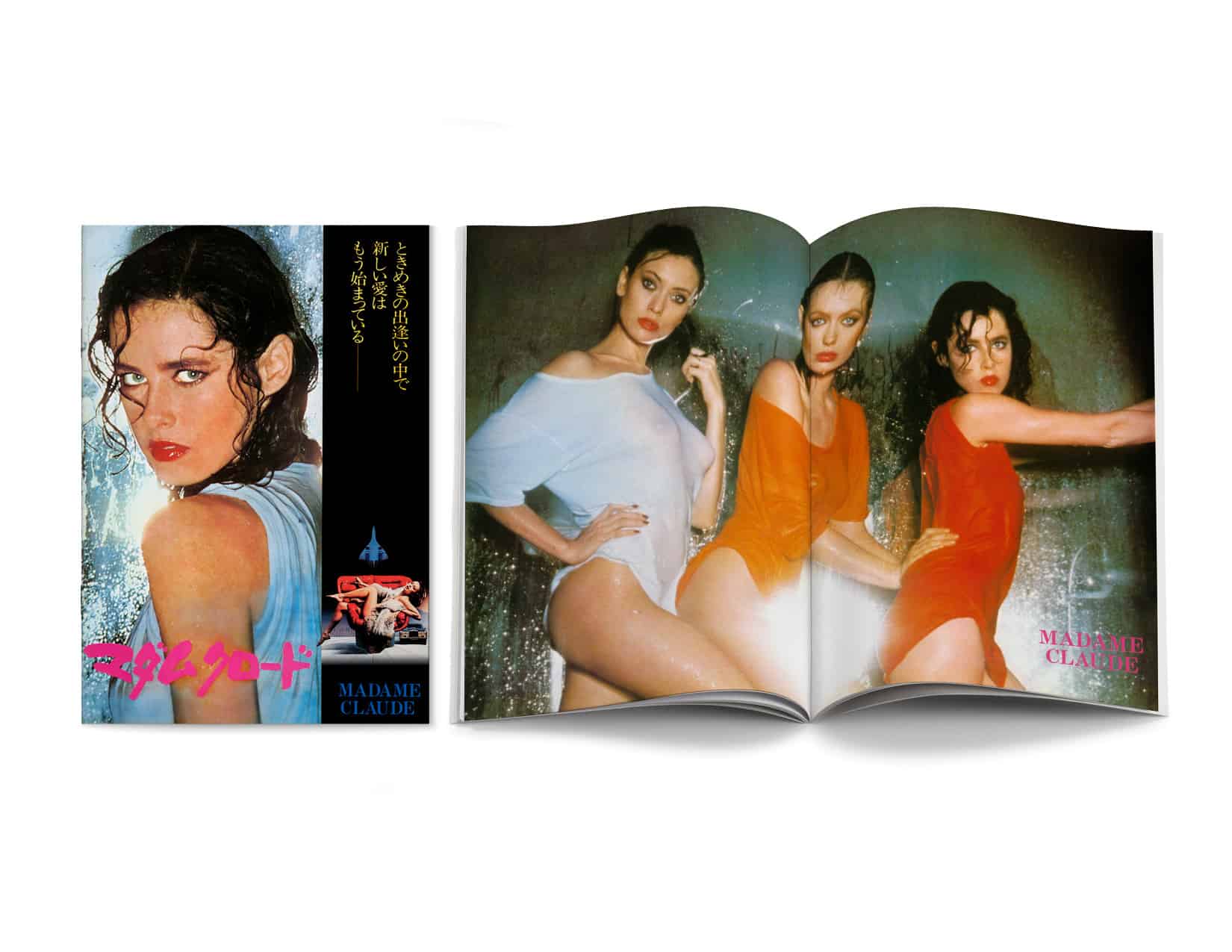 The above booklet is a reproduction exclusive.
This Website exclusive 20-Page Repro Japanese Promo booklet for first 300 Pre-orders.