November marks 40 years since Terms of Endearment first charmed audiences, nabbing five Oscars including Best Picture. Now this beloved generational drama has been restored to its full glory for its first-ever 4K Ultra HD release on November 14, 2023. Fans can experience this funny and heartfelt film like never before thanks to its Paramount Presents Blu-ray set.
James L. Brooks pulled triple duty producing, writing, and making his directorial debut on Terms of Endearment. Adapted from the Larry McMurtry novel, it earned 11 Academy Award nominations and took home Oscars for Brooks' direction and screenplay as well as the searing lead performance by Shirley MacLaine.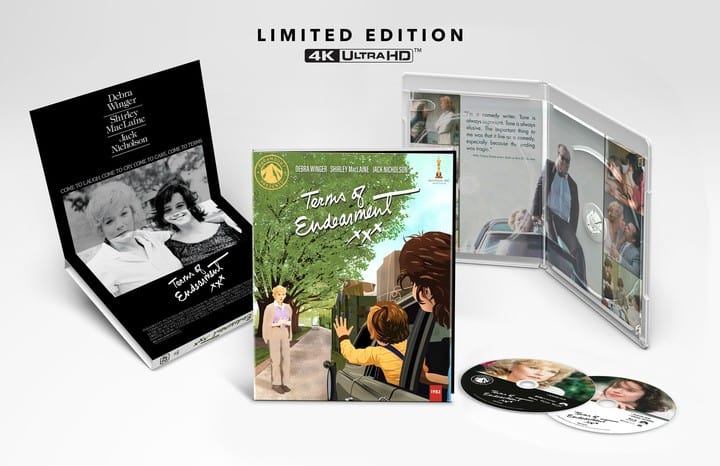 The acclaimed cast also includes Debra Winger as MacLaine's daughter, along with Jack Nicholson in an Oscar-winning turn as their affable neighbor. Rounding out the principal players are Danny DeVito and John Lithgow. After opening on November 23, 1983, the film became both a critical darling and box office smash.
Terms of Endearment chronicles 30 years in the lives of widow Aurora Greenway (MacLaine) and her daughter Emma (Winger) as their relationship ebbs and flows. Aurora's protective nature clashes with Emma's search for independence, but their frayed connection is bound by true love. Nicholson livens things up as retired astronaut Garrett Breedlove, Aurora's charismatic neighbor with a wandering eye.
The 4K Ultra HD release debuts a new transfer overseen by Brooks, ensuring the best possible picture quality. The Blu-ray set also includes legacy special features like Brooks' commentary with producers and the theatrical trailer. An exclusive new Filmmaker Focus interview features the director reflecting on his first time behind the camera and working with Nicholson.
At turns hilarious and gut-wrenching, Terms of Endearment reigns as one of the great American relationship dramas. Now its magnetic performances and timeless story shine brighter than ever in 4K. For established fans or those discovering it for the first time, this is the definitive way to experience this top-tier tearjerker about the unbreakable bond between mother and daughter.
Relive the laughs, tears, and triumphs when Paramount Presents Terms of Endearment on 4K Ultra HD and Blu-ray on November 14.