The Private Lives of Elizabeth and Essex is a vintage Michael Curtiz movie. It's also a 1930s romantic comedy about the Spanish vs. English naval wars. When the Irish get rowdy, Elizabeth has to show Essex that she cares. But, what is she going to do for a big bad man trying to show off for his friends? Cue the Savage Garden and get ready for some montages.
Bette Davis wasn't a good Queen Elizabeth I. But, she was great at being Bette Davis. While she is ordering Essex around through the country, she does it with the grace of a Sandra Bullock or Anna Faris. But, with the stuck-up air saved for the snobbiest A24 fans. In less than 2 hours, she goes from girlboss to executing the man of her dreams for defying her. If you're a historian or know anything about this period, a lot of the third act is going to annoy you.
Errol Flynn is the strongest part of The Private Lives of Elizabeth and Essex. He doesn't play Essex any better than Davis handles Elizabeth. However, you like the guy and support his quest to do whatever it takes to keep England free and Elizabeth happy. The dude gets a little Gung Ho at the end. You know, the whole Higher Chain of Being was a thing back then. But, you can't really fault Flynn for wanting to be a girlboss.
The Private Lives of Elizabeth and Essex does get one thing right. Everybody wants to be a Girlboss, but nobody wants to be an unpopular leader. Queen Elizabeth I is boy crazy, but she also cares about staying a true leader for her nation. The Spanish are attacking from the South and the Irish are coming from the North. No one knows the right answers, but everybody keeps fighting for what they believe.
While that all sounds well and good, let's be honest. The movie is better remembered for its early technicolor cinematography and costume design. It was an amazing visual achievement, but why doesn't the movie connect on a story level? I chalk that up to the general malaise that comes with how people have never connected with period movies. By that, I'm talking about mainstream viewers. Not you precious angels saving cinema by arguing about Criterion Collection selections.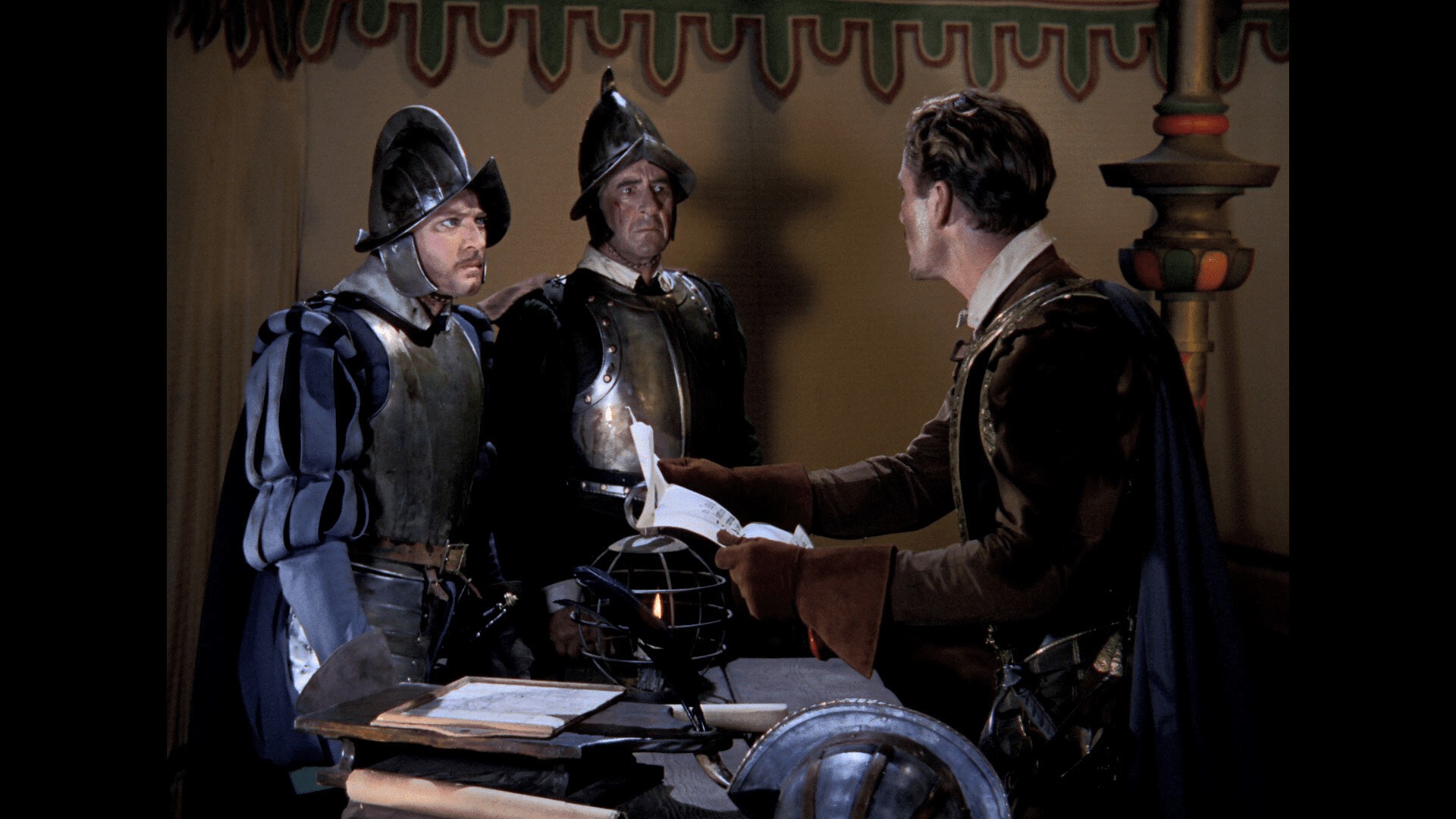 So, what can you do? A lot of recent film scholarly talk likes to play up how the film presents an older Elizabeth going after Essex. But, that's the kind of modern read you expect for The Privates Lives of Elizabeth and Essex. When in doubt, find a way to work your modern personal hang-ups into the film read. This is where you ask, well what is The Private Lives of Elizabeth and Essex really about?
The short answer is always girlboss. The much longer answer is that the film was ahead of its time. By that, I mean it was an actor's vanity project that while it packed great direction, the film was all about giving everything to Bette Davis to chew on at a moment's notice. If you can divorce Errol Flynn's personal life from the performance, then a modern novice can enjoy it.
Warner Archive brings The Private Lives of Elizabeth and Essex with the Warner Night at the Movies presentation. I love how they used to do this on the DVD releases to make it look like how it arrived in 1939. You get musical shorts, cartoons, trailers and a featurette. The A/V Quality is super strong and supportive of its early stage technicolor. I'd recommend the film to Bette Davis fans.