Gizmo + Loot Crate DX = a Mixtape of Fun!!
Gizmo leads a MIXTAPE of your favorite pop culture franchises in May's Loot Crate DX!
Get a retro rewind of pop culture goodness with Gizmo and the May themed "Mixtape" crate. Fight alongside everyone's favorite Mogwai and his battling buddies the Teenage Mutant Ninja Turtles, Power Rangers, and Transformers. This crate is filled with exclusive collectibles, items, and wearable goods you won't find anywhere else.
Our "Mixtape" crate starts with this officially licensed and exclusive Gizmo figure from Gremlins II. When they pushed him too far, Gizmo takes matters into his own hands by dressing as Rambo and taking down the mischievous Mohawk. The "Mixtape" themed crate fun continues with awesome exclusives from TMNT, Zordon and the Power Rangers, and a cool Transformers collectible.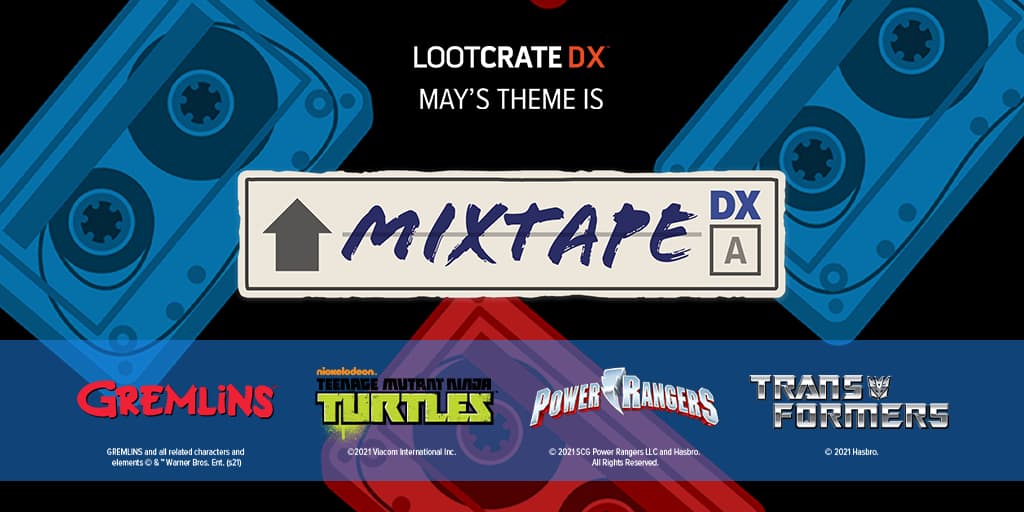 Loot Crate DX crates start at $49.99 plus shipping and handling. Supplies are limited. Be sure to order by May 19 at 9:00pm PDT to get this crate before it's sold out!
It's a mixtape of awesomeness when you subscribe to Loot Crate DX!
'Chaos Walking' Coming Soon to Digital/Digital 4K Ultra HD™ & 4K Ultra HD Combo Pack, Blu-ray™ Combo Pack and DVD
Fan-favorite stars Daisy Ridley (Star Wars: Episode IX – The Rise of Skywalker) and Tom Holland (Spider-Man: Far from Home) headline the futuristic action-adventure Chaos Walking, exploding onto Digital May 14 and Blu-ray Combo Pack, DVD, and On Demand May 25 from Lionsgate. From Director Doug Liman (Edge of Tomorrow, The Bourne Identity), and also starring Mads Mikkelsen ("Hannibal"), Demián Bichir (Godzilla vs. Kong), Cynthia Erivo (Bad Times at the El Royale), Nick Jonas (Jumanji: The Next Level), Kurt Sutter ("Sons of Anarchy"), and David Oyelowo (Selma), Chaos Walking was adapted from the best-selling novel The Knife of Never Letting Go by Patrick Ness.
In the not too distant future, Todd Hewitt (Tom Holland) discovers a mysterious girl named Viola (Daisy Ridley). She has crash-landed on his planet, where the women have disappeared and the men are afflicted by "The Noise," a force that puts all their thoughts on display. In this dangerous landscape, Viola's life is threatened and, to protect her, Todd must discover his inner power and unlock the planet's dark secrets in this thrilling action-adventure.
Packed with a trove of never-before-released bonus content including interviews with the film's cast and crew, behind-the-scenes looks, and exclusive audio commentary, the Chaos Walking home entertainment release also features nearly an hour of deleted scenes. The Chaos Walking 4K Ultra HD Combo Pack, Blu-ray Combo Pack, and DVD will be available for the suggested retail prices of $42.99, $39.99, and $29.95, respectively. Additionally, the Digital 4K Ultra HD release will be available for the suggested retail price of $14.99.
Produced by Doug Davison, Allison Shearmur, Erwin Stoff, and Alison Winter. Based Upon the Book The Knife of Never Letting Go by Patrick Ness. Screenplay by Patrick Ness and Christopher Ford. Directed by Doug Liman.
4K UHD / BLU-RAY / DVD / DIGITAL SPECIAL FEATURES
Audio Commentary with Director Doug Liman, Producer Alison Winter and Editor Doc Crotzer
"A Director's Noise" Featurette
"Inner Thoughts with Patrick Ness" Featurette
"The Source of Silence" Featurette
"Citizens of Prentisstown" Featurette
"Establishing Shot with Ben Seresin" Featurette (4K Exclusive)
"The Music of Chaos Walking" Featurettes
Deleted Scenes with Optional Audio Commentary
Amon Tobin's Debut from Stone Giants Confirmed for July 2 (+ Track Listing) on Nomark Records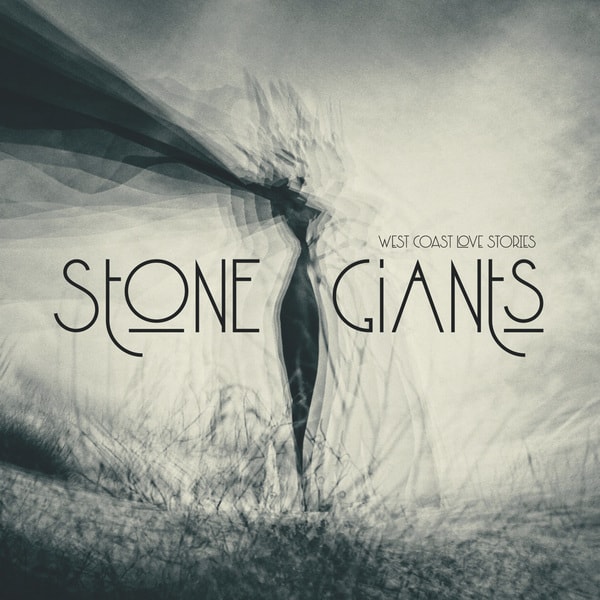 West Coast Love Stories is the debut album from Stone Giants. Humans and electronics pooling resources to explore themes of love and being none the wiser for it. Celebrations of the powerful, funny, frustrating emotion that love is, in all its hopeful and damned glory.

"Looking back on a sea of spectacular missteps dotted with remote islands of sound judgement, West Coast Love Stories is the weathered account of a fair run with romantic experiences. Things I wouldn't trade for any number of more sober affairs." – Amon Tobin
Track listing as follows: 1. West Coast Love Stories 2. Metropole 3. A Year To The Day 4. Best Be Sure (Feat. Figueroa) 5. A Well Run Road 6. Stinson Beach 7. Fairweather 8. The Girl WIth The Great Ideas (That I Steal) 9. Dad's Big Camping Trip 10. All Of The Pillows
Celebrate Alien Day with the Alien Capsule Collection!
Scream to your heart's content when you wear Loot Crate's exclusive Alien Capsule Collection!
In space, no one can hear you scream. On earth, everyone will hear you scream with delight when you get your hands on the exclusive new Alien Capsule Collection from Loot Crate. Join the crew of the Nostromo and face hug your way into fashion with this officially licensed exclusive collection. These limited-edition pieces are inspired by the 1979 horror classic that can only be purchased from Loot Crate.
The Alien Capsule Collection includes three pieces of chest-bursting apparel, including an Egg + Facehugger Pocket T-shirt, Chestburster Henley and Alien Hoodie. Each item is 100% cotton, woven from the screams of audience members, and made in the U.S.A.
Purchase any officially licensed Alien shirt or buy all three. This is a limited-edition, non-recurring series you can't get anywhere else. Items will burst to your door this spring.
The Egg + Facehugger Pocket T-shirt is $25 plus shipping and handling. The Chestburster Henley is $30 plus shipping and handling. The Alien Hoodie is $35 plus shipping and handling.
The Alien Capsule Collection is extremely limited, so reserve yours now!
Get eggcited and purchase the Alien limited-edition Capsule Collection here:
THE MONSTER COLLECTION Blu-ray Collector's Edition from Doppelganger Releasing will be available to own beginning July 13th.
The Monster Collection Blu-ray Collector's Edition
BY GILLES PENSO AND ALEXANDRRE PONCET
A THREE-DISC BLU-RAY RELEASE CELEBRATING THEWILD, WEIRD AND WONDERFUL STORIES BEHIND THE CREATION OF THE WORLD'S GREATESTMOVIE MONSTERS, ALIENS AND SCI-FI CREATURES
FEATURING TWO FEATURE-LENGTH FILMS AND MORE THAN 12 HOURS OF BONUS MATERIALS
PHIL TIPPETT:MAD DREAMS AND MONSTERSThe acclaimed documentary on the legendary visual effects artist of Star Wars, Jurassic Park and Twilight fame!

THE FRANKENSTEIN COMPLEXThe landmark chronicle on the art of making monsters for the movies, from King Kong to Alien to Avatar to The Lord of the Rings to The Walking Dead…and everything in between!
12+ HOURS OF BONUS FEATURES Including commentary tracks, making-of featurettes, short films, a master class with Guillermo del Toro and much more!
3-Disc Box Set Available to Own July 13, 2021

WILDCAT arrives on DVD June 29th
Release Dates: Now in Select Theaters, On Digital & On Demand
On DVD June 29, 2021
Starring: Georgina Campbell, Luke Benward, Ibrahim Renno, Mido Hamada, Ali Olomi, Maz Siam
Directed By: Jonathan W. Stokes
Written By: Jonathan W. Stokes
Synopsis: An ambitious reporter (Georgina Campbell) stationed in the Middle East is taken captive after a militant group ambushes her convoy. Convinced that the young woman is hiding her true identity, they'll stop at nothing to extract information crucial to the success of their upcoming terrorist attack. With time running out, she must find a way to survive and turn the tables on her assailants.
Genre: Thriller
Run Time: 93 minutes
Rating: R for violence/torture and language
A Crime on the Bayou lands a trailer
Opens in NYC, LA and Select Theaters Nationwide June 18, 2021 from Shout! Studios.
A poignant yet inspiring true story about allyship, justice and how groups of activists from disparate backgrounds have worked together in the quest to dismantle institutional racism, documentary feature A Crime on the Bayou will open in select theaters nationwide June 18, 2021 from Shout! Studios.
Written and directed by ​Nancy Buirski​ (The ​Loving Story, The Rape of Recy Taylor​), this eye-opening documentary had its world premiere at the 2020 DOC NYC Film Festival and is the third film in director's trilogy profiling brave individuals who fought for justice in and around the Civil Rights era. Executive produced by​ Mike Jackson, John Legend, Ty Stiklorius and Austyn Biggers of Get Lifted Film Co and Regina K. Scully, Geralyn Dreyfous, Harlene Freezer, Jules Horowitz, Felicia Horowitz, Brenda Robinson, Amy Tiemann, Mark Trustin and Jamie Wolf. The film also features a new original song, "My Path" written and performed by Raphael Saadiq.
A Crime on the Bayou is the story of Gary Duncan, a Black teenager from Plaquemines Parish, a swampy strip of land south of New Orleans. In 1966, Duncan tries to break up an argument between white and Black teenagers outside a newly integrated school. He gently lays his hand on a white boy's arm. The boy recoils like a snake. That night, police burst into Duncan's trailer and arrest him for assault on a minor.
A young Jewish attorney, Richard Sobol, leaves his prestigious D.C. firm to volunteer in New Orleans. With his help, Duncan bravely stands up to a racist legal system powered by a white supremacist boss to challenge his unfair arrest. Their fight goes all the way to the U.S. Supreme Court, and their lifelong friendship is forged.
Not Rated | RT: 89 Minutes
AMAZON STUDIOS ACQUIRES Marginal MediaWorks LATINX TV SERIES!
Marginal MediaWorks' Founder & CEO Sanjay Sharma today announced the company's official expansion into premium scripted series with "Hummingbird," an hour long, LatinX genre series. In a competitive bidding situation, the series was sold to Amazon Studios.

"Hummingbird" was developed by Primetime Emmy Award-winning documentary filmmaker Rudy Valdez, working closely with Sharma and writer Marcella Ochoa, with whom MARGINAL also partnered on the recently announced Blumhouse & Amazon film project "Madres." Ochoa will write the pilot, with Valdez directing. Sharma, Valdez & Ochoa will also serve as Executive Producers on the series.
The show is a Stephen King-style American Gothic, from the perspective of a Mexican American family living in the Midwest whose search for the American dream finds them haunted by something far more sinister. The series concept is loosely inspired by Valdez's life.

"We are thrilled to delve into the world of what we call Mexican Americana – a story about a family lured in by the American dream, only to become haunted by it," said Sharma.
"With Rudy & Marcella, we have crafted a first of its kind exploration that imports supernatural and psychological horror elements into what, at the end of the day, is an aspirational American family drama that will be intriguing to audiences around the world."

"I've spent my career building my voice in documentaries, but more importantly telling the stories of underserved and marginalized communities through giving them agency and light," said Valdez.
"Marcella's personal background, her growing body of work in the space, and her keen sense of Mexican American lore, coupled with Sanjay's own immigrant background and story development expertise, made us the perfect trio to bring this vision to life."
"I grew up loving horror, but never saw myself represented in the genre," said Ochoa.
"Taking our culture, our ancestors' stories and oral histories, and crafting a commercial, broadly accessible but culturally specific series with a prolific filmmaker like Rudy was nearly effortless. I'm thrilled to bring this vision to the world in series form with MARGINAL with whom I also did my second feature film."

Rudy Valdez is among the most important documentary filmmakers in the country. His breakout feature "The Sentence" was on the New York Times list of the 20 most definitive LatinX movies of the century. Valdez has active features and series across streamers.
He is directing a series for Disney+ with Blumhouse on the Detroit Youth Choir, and his current series "We Are: The Brooklyn Saints" has been critically acclaimed and is streaming now on Netflix. Valdez has also been awarded the Roger Ebert Prize for Documentary, is a Sundance Festival Audience Award winner, and is a Critic's Choice Award nominee for Best New Director. "Hummingbird" marks his entry into fiction storytelling.

Marcella Ochoa recently co-wrote the LatinX feature film "Madres" for MARGINAL, Blumhouse and Amazon. Currently, Ochoa is writing a supernatural thriller for Paramount Players. She previously wrote and directed an award-winning short film based on her family in South Texas, "My Name is Maria de Jesus," which premiered on HBO Latino. "Hummingbird" marks her entry into scripted television.

MARGINAL has quickly gained traction in feature film, its first project premiering at TIFF and its second selected for Tribeca 2021. The last two years, the company has produced and set up features across streamers and major studios. "Hummingbird" is the first scripted series off the company's growing slate of episodic projects in fiction, nonfiction and animation – all from a diverse, new generation of storytellers for U.S. and global markets.

Deal was negotiated on behalf of MARGINAL by CAA and Granderson Des Rochers.

Valdez is repped by ICM.

Ochoa is repped by CAA, Inclusion Management, and Felker Toczek Suddleson Abramson.