46th Annual Saturn Awards Nominees Announced
The Academy of Science Fiction, Fantasy & Horror Films proudly unveiled the nominations for the 46th Annual Saturn Awards today. Due to the unprecedented challenges that face the motion picture and television community during this global crisis, the organization made necessary changes to present this year's awards show. The Academy extended the nomination period 16 months this year covering a wider selection of submissions between July 15, 2019 through November 15, 2020 and the group extended the eligibility rules to include streaming and VOD in addition to the theatrical release of motion pictures.
This year's show honoring the best and most significant achievements in genre film, television and theater will be held later this year with details to be announced. The recipients of Lifetime Achievement Awards including The Dan Curtis Legacy Award, previously awarded to such luminaries as Vince Gilligan, Bryan Fuller and Sarah Schechter will be announced shortly. The Saturn Awards ceremony will again be produced by the organization and will be honoring the best and most significant achievements in genre film, television and theatre. The Academy was founded in 1972 by Doctor Donald A. Reed and is one year shy of celebrating its 50th Anniversary.
Lucasfilm/Disney's Star Wars franchise dominated the Saturn nominations with Star Wars: Episode IX – The Rise of Skywalker earning 12 noms in features, and The Mandalorian and The Clone Wars in TV/Streaming. Christopher Nolan's Tenet boasted an impressive 9 nom, Doctor Sleep scared up 8, Knives Out, Once Upon a Time… in Hollywood, 7 apiece, and Birds of Prey and Disney's live action Mulan, 6.
Directors Gina Prince-Bythewood of Netflix's The Old Guard and Niki Caro of Disney's Mulan lead the diverse and talented pack of film nominees, which included such talent as Delroy Lindo (Da Five Bloods), John David Washington (Tenet), Yifei Liui and Donnie Yen (Mulan), Zazie Beetz (Joker),
Jurnee Smollet and Ella Jay Basco (Birds of Prey), Kyliegh Curran (Doctor Sleep) as well as talented screenwriters, editors, costumers and Special FX artists.
Television perennials Better Call Saul (AMC), Outlander (Starz) and The Walking Dead (AMC) lead the way with 5 nominations apiece, followed closely by such newcomers as Evil, Stargirl, What We Do in the Shadows, The Witcher, The Boys, Watchmen and Lovecraft Country. Nominations featured a diverse pool of talent, including Mike Colter (Evil), Jonathan Majors (Lovecraft Country), Regina King (Watchmen), Cynthia Erivo (The Outsider), and Billy Porter (The Twilight Zone) just to name a few.
Warners Bros. Pictures lead all studios with 34 nominations, followed by Walt Disney Studios with 27, and with 12: Lucasfilm Ltd. and Netflix, bolstered by Vince Gilligan's El Camino: A Breaking Bad Story, David Fincher's Mank, Spike Lee's Da Five Bloods and Gina Prince-Bythewood/Charlize Theron's The Old Guard and an additional 13 for streaming television. The CW lead with 14 nominations, with virtually all networks and streaming services such as Apple TV, Amazon and CBS All Access represented. Home Entertainment also made a big splash with Kino Lorber, leading the way with 8 nominations.
"We could not be more excited to continue the ongoing mission of our late founder Dr. Donald A. Reed in shining a light on the best and most important genre productions and filmmakers," said Robert Holguin, president of the Academy and Executive Producer of the Saturn Awards. "In a year such as this, looking towards the future is more important than ever and we are proud to continue to celebrate this genre we love so much as we approach our 50 year anniversary."
The Academy of Science Fiction, Fantasy and Horror Films is a non-profit organization, founded in 1972 by film historian Doctor Donald A. Reed, and is supported by several hundred genre enthusiasts and professionals (such as JJ Abrams, Jordan Peele, Dean Devlin, Gale Anne Hurd, Guillermo Del Toro, Ryan Coogler and Kevin Fiege) who have participated in the ongoing efforts of the Academy to promote genre film production and television programming for almost 50 years.
The organization is currently headed by President Robert Holguin and leadership including Bradley Marcus, Kevin Marcus, Michael Laster and Mark Altman.
OLYMPIA – A film about Academy Award(R) winning actress Olympia Dukakis by Harry Mavromichalis available on Apple TV, Digital & ON Demand 3/23/21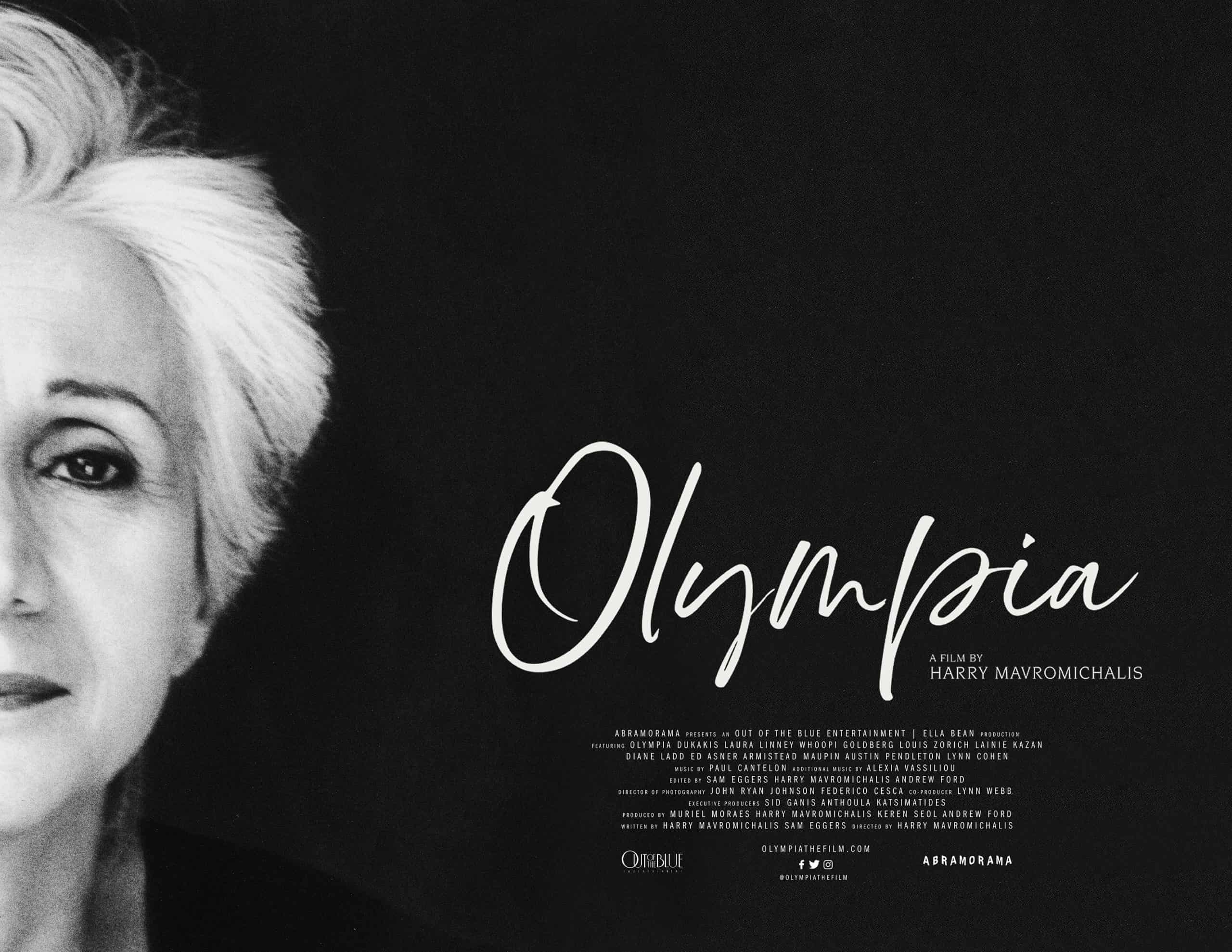 This sublimely intimate fly-on-the-wall verité documentary tells a poignant story of a woman finding her own voice on her own terms to assert a gigantic creative force into the world. Rebelling against her suspicious Greek mother to assert her strong sexual drive, fighting the feeling she was "too ethnic" in Boston, and starting her own theatre company in New Jersey instead of waiting for the phone to ring, Olympia Dukakis models how to live life with blazing courage.
Throughout an engrossing story that seamlessly blends past and present, she opens her heart and exposes her truest self to Harry Mavromichalis' unobtrusive camera. The raw honesty with which Olympia leads us into the core of herself is what makes this film luminary. As fellow actors with whom she has shared the limelight Laura Linney, Diane Ladd, Whoopi Goldberg, and Armistead Maupin all testify, Olympia is "totally open and crazy", which is what turns out to be the marker of her absolute sanity.
Exhibiting both candor and vulnerability, we see her deal with age, grief and sexuality while opening up about her past struggles with depression, suicide and drug addiction. This intimate portrait of a working class professional, a scholar actor of intuitive power, and a woman beloved around the world, culminates on the steps of the Dukakis' humble ancestral home in Lesbos, Greece. Through her brutal honesty and sincerity, Olympia compels us to confront our own shortcomings and differences by letting go, and move forward with defiant conviction.
ABOUT OLYMPIA DUKAKIS
Actress.
Born June 20, 1931 in Lowell, Massachusetts. The daughter of Greek immigrants, Dukakis earned two degrees from Boston University and worked as a physical therapist while pursuing a stage career. Olympia Dukakis won an Academy Award for her performance in Moonstruck, a role that also earned her a Golden Globe Award, American Comedy Award, and the Los Angeles Film Critics Award for Best Supporting Actress.
She has appeared in more than 60 feature and short films, including Steel Magnolias, Cloudburst, Dad, Mr. Holland's Opus, Working Girl, Look Who's Talking I, II & III, Mighty Aphrodite, Jeffrey, Away From Her, among many others. Her television include : Big Driver, Sex & Violence, Forgive Me, Bored to Death, Last of the Blond Bombshells, Sinatra (Golden Globe Nominee), Joan of Arc (Emmy Nominee), Tales of the City, More Tales of the City (Emmy Nominee), Further Tales of the City among more than 40 others.
She has performed in over 130 productions on and off-Broadway and regionally at theatres including the Public Theater, A.C.T., Shakespeare in the Park, Shakespeare & Co., and the Williamstown Theatre Festival, where she also served as Associate Director. She was a Founding member and Producing Artistic Director of the Whole Theatre in Montclair, NJ, for 19 years; also a founding member of the Actor's Company and the Charles Playhouse in Boston.
She continues to teach acting at NYU and master classes for professional theatre companies, colleges, and universities across the country. She was bestowed the National Arts Club Medal of Honor and her star on the Hollywood Walk of Fame was placed in 2013.
Academy Award-nominated LOVE AND MONSTERS available on Digital, 4K UHD, Blu-ray and DVD
For everyone who want to catch up on all the Oscar nominated films, LOVE AND MONSTERS is currently available on Digital, 4K Ultra HD, Blu-ray and DVD.
Dylan O'Brien stars in this wildly imaginative, post-apocalyptic adventure that's filled with LOVE AND MONSTERS.
The film was a critical and audience hit following its theatrical and Premium Video-On-Demand debut, with a 92% critic score and 89% audience score on Rotten Tomatoes. (as of 3/15/21)
SYNOPSIS | Seven years after the Monsterpocalypse, Joel Dawson (Dylan O'Brien), along with the rest of humanity, has been living underground ever since giant creatures took control of the land. After reconnecting over radio with his high school girlfriend Aimee (Jessica Henwick), who is now 80 miles away at a coastal colony, Joel begins to fall for her again. As Joel realizes that there's nothing left for him underground, he decides to venture out to Aimee, despite all the dangerous monsters that stand in his way. The fun-filled and action-packed adventure also stars Dan Ewing, Michael Rooker and Ariana Greenblatt.
76 DAYS is Available Now On Demand and for Digital Purchase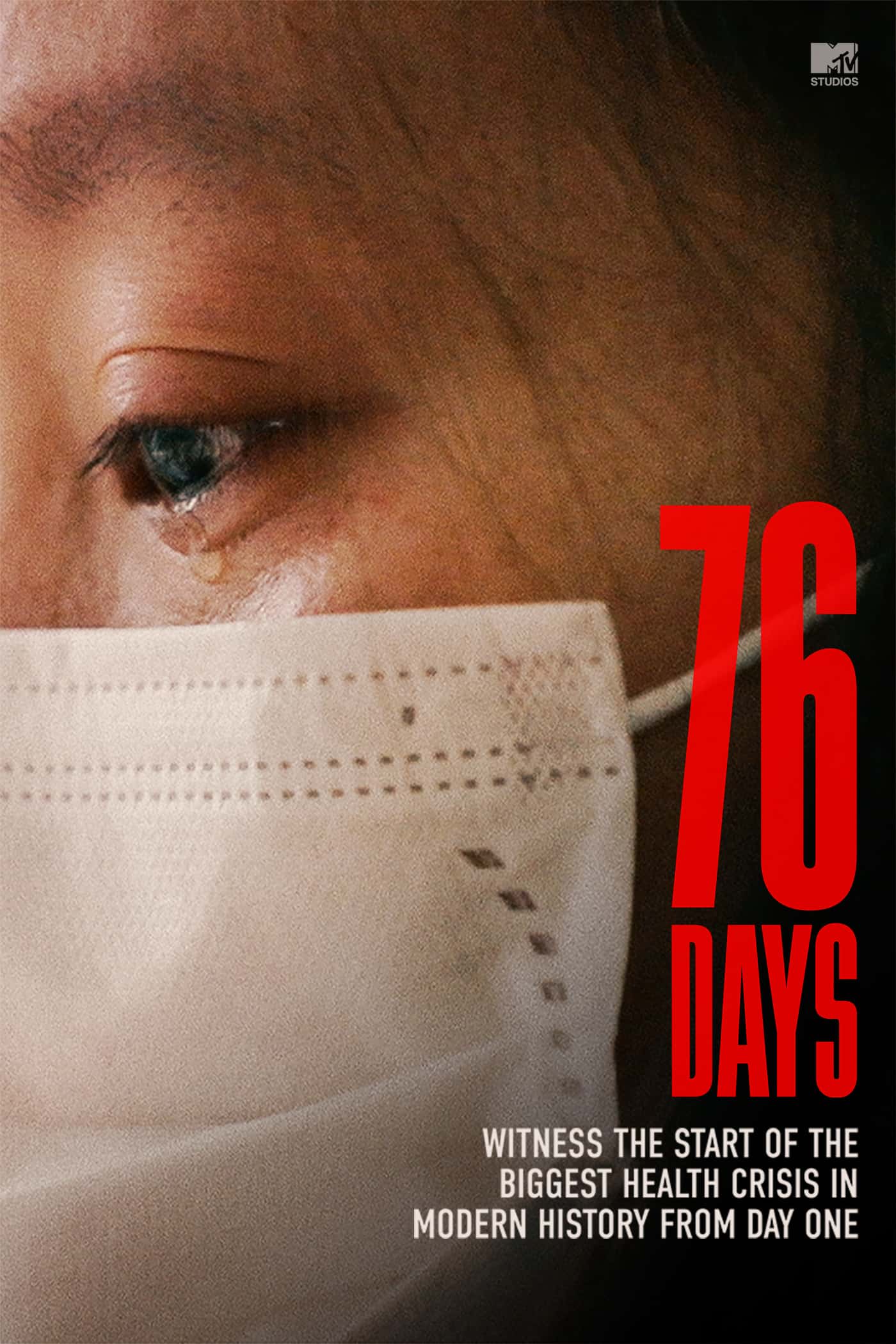 SYNOPSIS | On January 23, 2020, China locked down Wuhan, a city of 11 million, to combat the emerging COVID-19 outbreak. Set deep inside the frontlines of the crisis in four hospitals, 76 Days tells indelible human stories of healthcare workers and patients who struggle to survive the pandemic with resiliency and dignity.
AVAILABLE ON DIGITAL PLATFORMS | Apple TV, Amazon Prime Video, Google Play, VUDU, Microsoft Movies & TV, Sony PlayStation Video, FandangoNOW and more.
PARAMOUNT+ | 76 Days can also be streamed on Paramount +, the direct-to-consumer digital subscription video on-demand and live streaming service from ViacomCBS. Paramount+ is available online at ParamountPlus.com; via the Paramount+ app for iOS and Android; and across a wide number of platforms, including smart TVs, connected-TV devices, online, mobile, gaming consoles, and leading OTT providers.
DIRECTED BY |Weixi Chen, Hao Wu
PRODUCED BY | Jean Tsien, Hao Wu, Xin Liu
WRITER |Hao Wu
Runtime | 97 Minutes
Rating | Unrated
#76DaysFilm
SNOOPY 4-MOVIE COLLECTION arrives on Blu-ray May 18th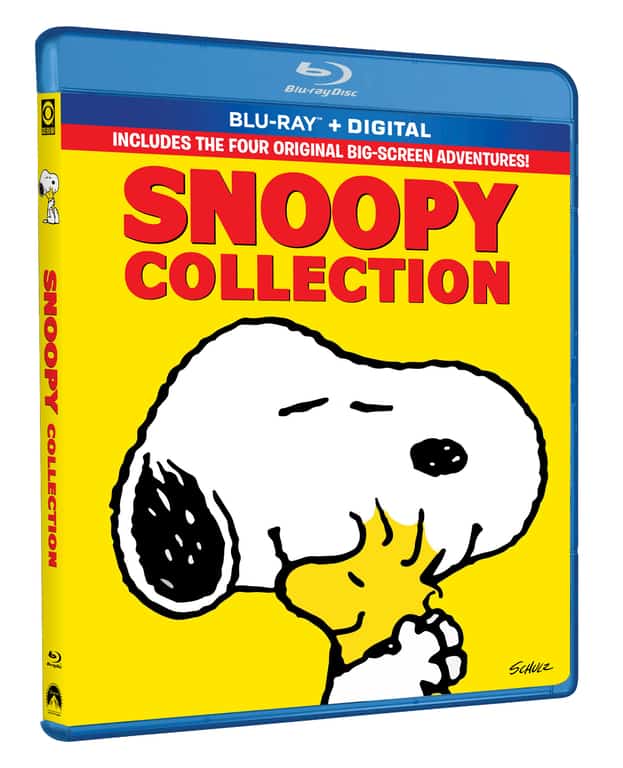 Bon Voyage, Charlie Brown and Race for Your Life, Charlie Brown Make Their Blu-ray Debuts in Collection Arriving May 18, 2021
Four family-friendly movies starring the beloved Peanuts® gang arrive together on Blu-ray for the first time on May 18, 2021 in the SNOOPY 4-MOVIE COLLECTION from Paramount Home Entertainment.
The SNOOPY 4-MOVIE COLLECTION includes the debut classic A Boy Named Charlie Brown, the on-screen debut of Woodstock in Snoopy Come Home, the outdoor adventure Race For Your Life, Charlie Brown, and the globe-trotting antics of Bon Voyage, Charlie Brown (and Don't Come Back!).
The SNOOPY 4-MOVIE COLLECTION also includes access to digital copies of each of the films, all of which were written by Peanuts® creator Charles M. Schulz.
Lara Croft: Tomb Raider- newly remastered version arrives June 1st on Blu-ray in time for film's 20th anniversary
Relive the globetrotting adventures of Lara Croft in celebration of the 20th anniversary of Lara Croft: Tomb Raider with a newly remastered version on Blu-ray June 1, 2021 from Paramount Home Entertainment.
Originally released on June 15, 2001, Lara Croft: Tomb Raider stars Angelina Jolie as the intrepid adventurer, whose exploits send her on a quest for a mysterious and powerful artifact. The movie also stars Jon Voight (Mission: Impossible), Daniel Craig (Skyfall), Noah Taylor (Almost Famous), and Iain Glen ("Game of Thrones").
The newly remastered film will be presented in a 20th Anniversary Edition Blu-ray with access to a digital copy of the film and nearly 90 minutes of previously released bonus content:
Commentary with director Simon West
Digging into Tomb Raider
Crafting Lara Croft
The Visual Effects of Tomb Raider
The Stunts of Tomb Raider
Are You Game?
Deleted Scenes
U2 "Elevation" music video
Alternate Main Title
Trailers
In addition, Lara Croft: Tomb Raider and Lara Croft Tomb Raider: The Cradle of Life will be available together for the first time in a 4K Ultra HD set, which includes access to digital copies of both films.
Lara Croft: Tomb Raider synopsis:
Exploring lost empires, finding priceless treasures, punishing villains in mortal combat… it's all in a day's work for adventurer Lara Croft (Angelina Jolie). But a secret from her father's (Jon Voight) past is about to lead Lara to her greatest challenge: The Triangle of Light, a legendary artifact with the power to alter space and time. Lara must find the Triangle before it falls into the clutches of the Illumnati, a secret society bent on world domination.
Lara Croft Tomb Raider: The Cradle of Life synopsis:
Lara Croft (Angelina Jolie) is back in action and faces her most perilous mission: to recover what ancient civilization believed to be the essence of all evil, Pandora's Box. She must travel the globe, from Greece to Hong Kong to Kenya and beyond to get to the box before it's found by a maniacal scientist (Ciarán Hinds) whose plan is to use it for mass annihilation.
Nouchka van Brakel's THE DEBUT April 13, 2021 from Cult Epics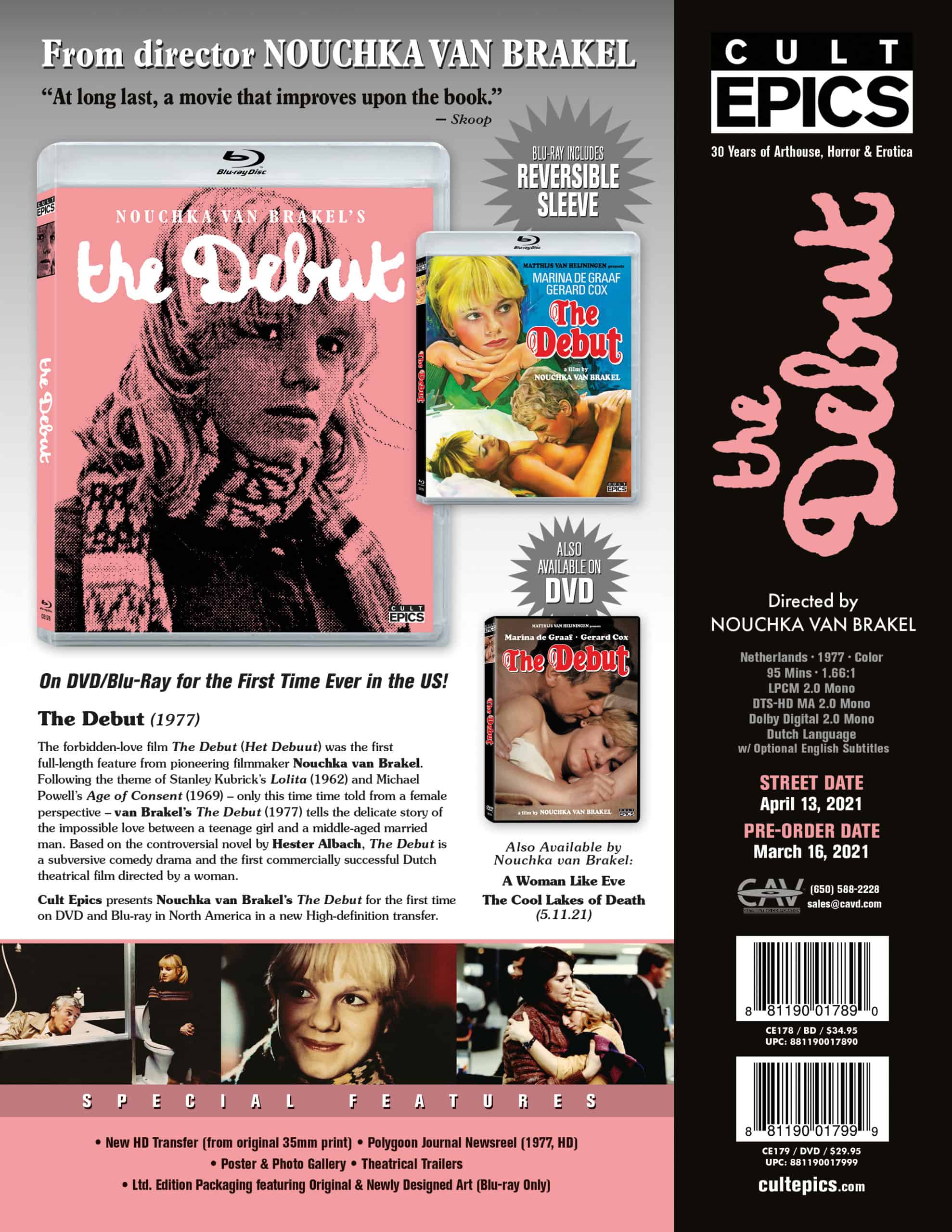 This title is part of a Trilogy of 3 films that Cult Epics will be releasing of Nouchka van Brakel with this month's A WOMAN LIKE EVE (new release date March 23) and Dutch film masterpiece THE COOL LAKES OF DEATH in May. Cult Epics currently has a website exclusive Repro Promo brochure available for first 100 pre-orders of THE DEBUT Blu-ray or DVD at www.cultepics.com
Blue Underground has a new release date for The Final Countdown coming to 4K UHD
The Final Countdown is coming to 4K from Blue Underground. Here's the date change.
NEW Order Due Date: April 20, 2021
NEW Street Date: May 25, 2021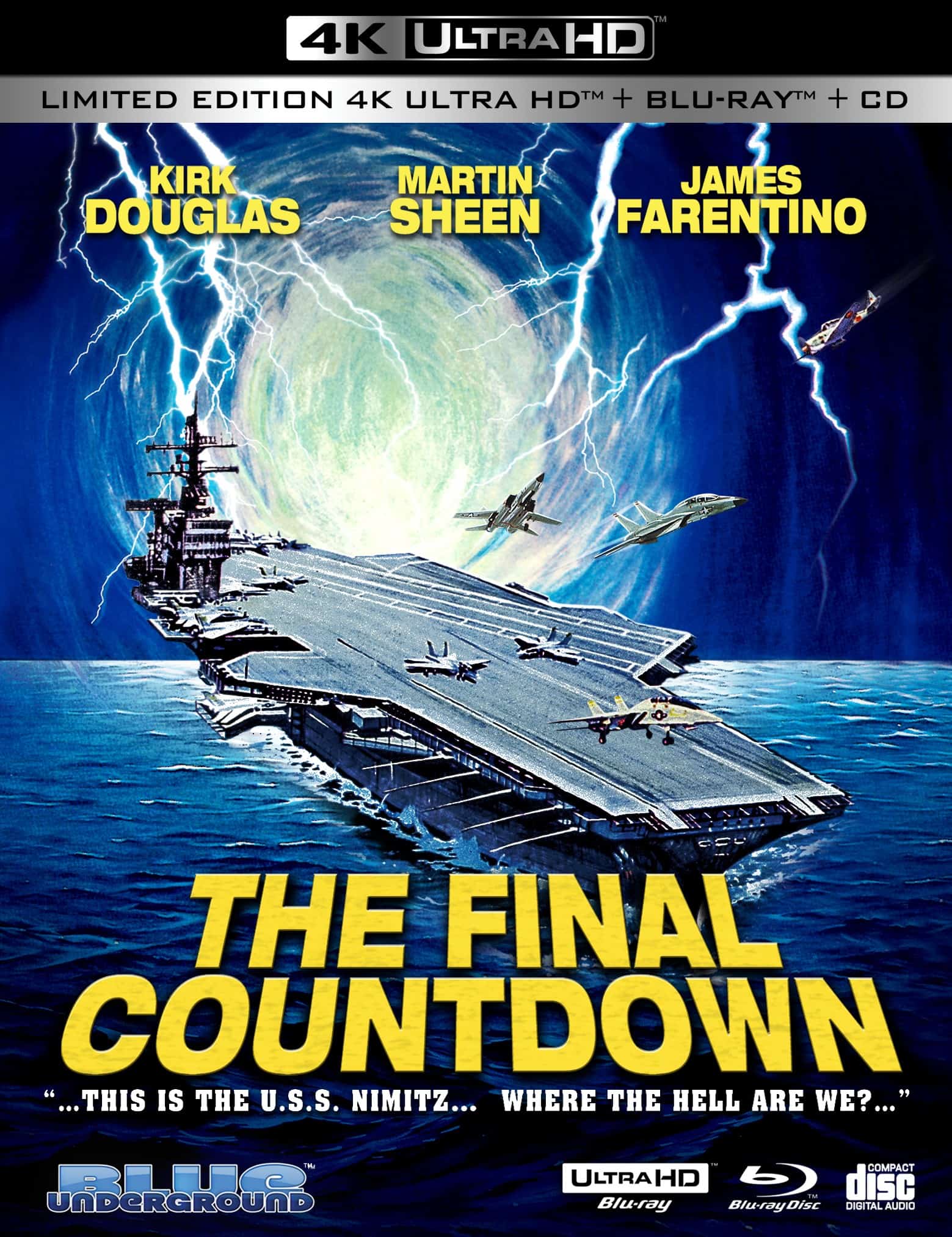 CULT EPICS INDIEGOGO CAMPAIGN FOR "SYLVIA KRISTEL: FROM EMMANUELLE TO CHABROL Written by Jeremy Richey HARDCOVER BOOK".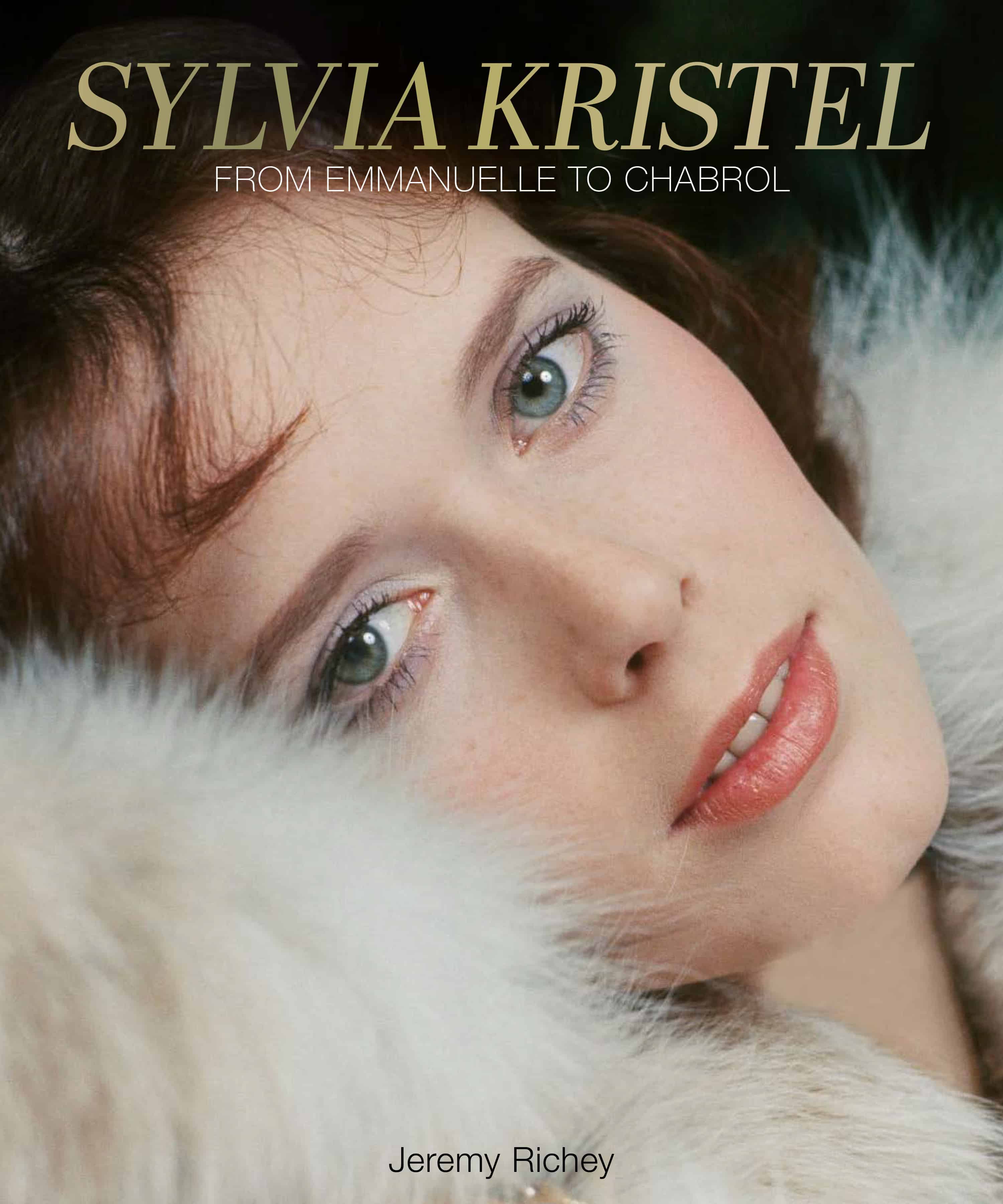 SYLVIA KRISTEL: FROM EMMANUELLE TO CHABROL
https://www.indiegogo.com/projects/sylvia-kristel-from-emmanuelle-to-chabrol-hc-book/coming_soon

Visit the Cult Epics Indiegogo Campaign for "Sylvia Kristel: From Emmanuelle to Chabrol"
A trailblazing figure in film and popular culture, Netherlands' native Sylvia Kristel became one of the biggest stars in the world as Emmanuelle in 1974. Alongside her most famous role that was directed by Just Jaeckin, a little-known fact is that Sylvia Kristel also appeared in over 20 films between 1973 and 1982 featuring remarkable work with some of the greatest directors in film history including Walerian Borowczyk, Alain Robbe-Grillet, Roger Vadim, and Claude Chabrol.
Now the story of Sylvia's astonishing career in the seventies is told in Sylvia Kristel: From Emmanuelle to Chabrol. Featuring new interviews with Just Jaeckin, Pim de la Parra, Robert Fraisse, Joe Dallesandro, and Francis Lai amongst others. Sylvia Kristel: From Emmanuelle to Chabrol is a film-by-film guide to one of the most distinctive and uncompromising careers in modern cinema and a celebration of a most remarkable woman in a fully illustrated coffee-table book written by author Jeremy Richey.
A homage to Dutch movie star Sylvia Kristel, to be released as a Hardcover book written by Jeremy Richey, and produced by Cult Epics. We need your support at the INDIEGOGO Campaign to get this book printed, please join us.

SYLVIA KRISTEL: FROM EMMANUELLE TO CHABROL Written by Jeremy Richey.
New Hardcover coffee-table book, 10×12 inches, 352 pages, fully illustrated with over 200 images, edited by Nico B. Sign up now and get the news when we launch. Early Bird Discount.
Invitation to Sign up
https://www.indiegogo.com/projects/sylvia-kristel-from-emmanuelle-to-chabrol-hc-book/coming_soon
short link
Sylvia Kristel: From Emmanuelle to Chabrol HC Book
Preston Taylor makes his TUBI TV premiere with Farm to TV. Check out the trailer!
FARM to TV is the first comedy special from up-and-coming comedian Preston Taylor as he shares stories about his upbringing in a small country farm town in Texas to his wild days in Los Angeles. From Church gatherings with family, to ass whoopings, to sleeping with every white girl possible while attending Kansas State, to tackling racism as the whitest sounding black man he knows, to sexual fetishes and even childhood lessons on how to make your junk bigger – nothing is off limits in this intimate stand-up special from this fresh new face.
Directed and produced by by Steve Balderson (FIRECRACKER), FARM TO TV premieres on April 9 on TubiTV.