JOHN WAYNE ESSENTIAL 14-MOVIE COLLECTION arrives on DVD May 11th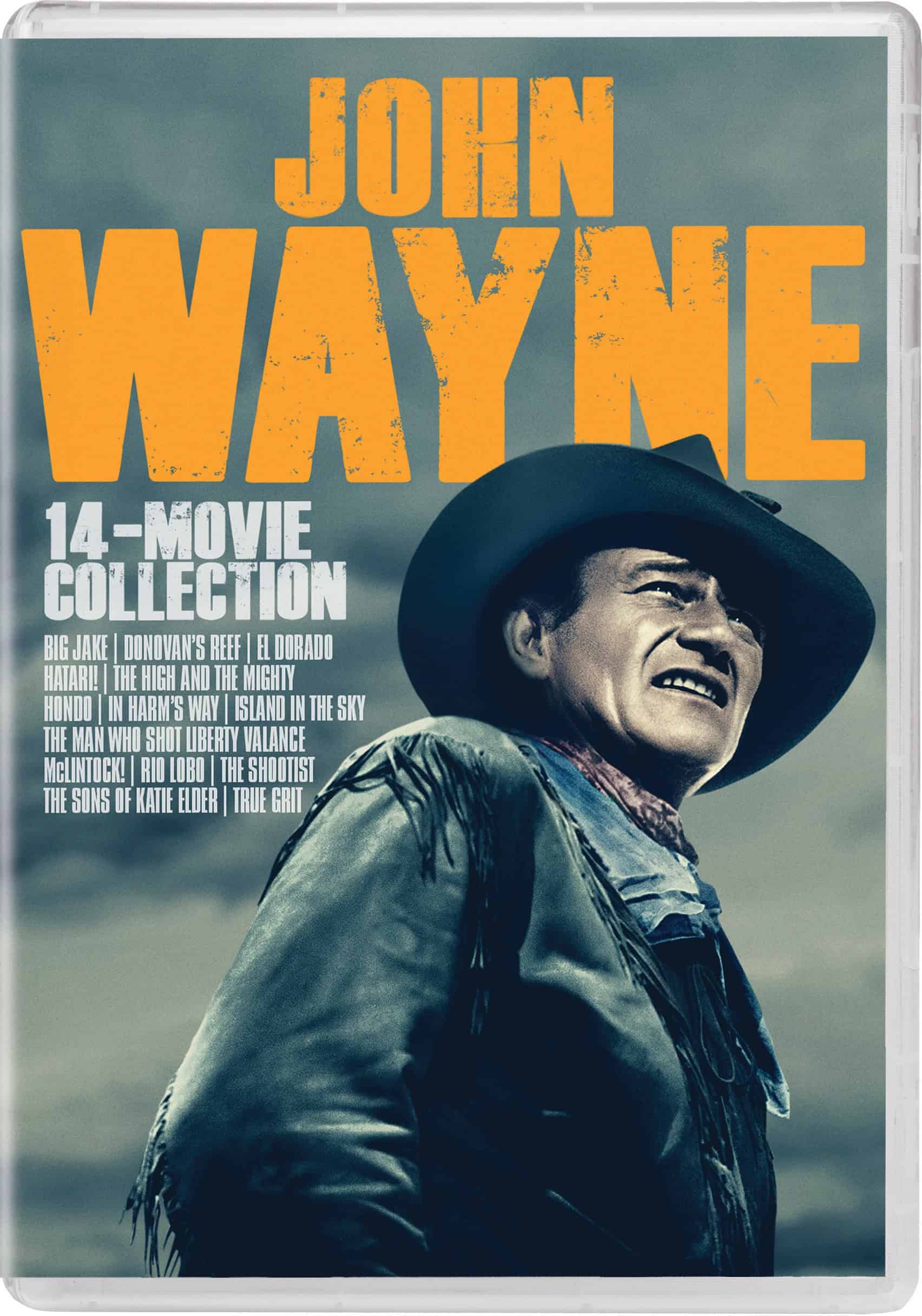 Relive some of the greatest performances by legendary actor John Wayne with the JOHN WAYNE ESSENTIAL 14-MOVIE COLLECTION, arriving on DVD May 11, 2021 from Paramount Home Entertainment.
An American hero and icon, Wayne had an epic, 50-year film career in which he played the lead in over 140 films. He was nominated* for three Academy Awards®, winning the Best Actor award for his performance in True Grit.
Representing Paramount's biggest John Wayne collection ever, this 14-movie set spans nearly 25 years of Wayne's exceptional career and includes his only Oscar®-winning performance in True Grit and his final lead role in The Shootist. Encompassing epic stories of integrity and dramatic battles of will, these fan-favorites capture the virtue, courage, and humor of an American original.
The films in the DVD collection are:
Hondo (1953)
Island in the Sky (1953)
The High and the Mighty (1954)
The Man Who Shot Liberty Valance (1962)
Hatari! (1962)
Donovan's Reef (1963)
McLintock! (1963)
In Harm's Way (1965)
The Sons of Katie Elder (1965)
El Dorado (1966)
True Grit (1969)
Rio Lobo (1970)
Big Jake (1971)
The Shootist (1976)
Abbie Cornish to Star in Iervolino Entertainment's Family, Action-Adventure Film "Dakota"
Abbie Cornish ("Three Billboards Outside Ebbing, Missouri," "Limitless," "Bright Star," "Geostorm") has signed on to star as the lead in the family, action-adventure film "Dakota", which will be directed by Kirk Harris for Iervolino Entertainment.
Johnny Harrington ("I Still Know What You Did Last Summer") wrote the screenplay
Andrea Iervolino, Monika Bacardi, Marty Poole, Kirk Harris and Ace Underhill are producing.
The film will begin shooting next month in Italy.
When Marine Clet Sanders tragically dies in Afghanistan, Sargent TJ Malcom fulfills a promise to bring Dakota, Clet's best friend and combat dog, home to his family's farm. Clet's wife Kate (Abbie Cornish) is struggling to maintain the small-town farm with her daughter, while also running the local volunteer fire department, so TJ offers to stay and help out. Dakota quickly adjusts to life on the farm and becomes a local hero after rescuing a woman from a burning building.
Meanwhile, the local Sheriff knows that Kate's land is valuable and has been leaning on her to sell the farm. He'll stop at nothing to get his hands on the land, including setting fire to the farm. With the help of TJ, her daughter, and her new best friend, Dakota, Kate realizes the true value of the family farm and most importantly, friendship.
Abbie Cornish, also known by her rap name Dusk, is an Australian actress and rapper. Following her lead performance in 2004's Somersault, Cornish is best-known for her film roles as the titular heroin addict in the drama "Candy" (2006), courtier Bess Throckmorton in the historical drama "Elizabeth: The Golden Age" (2007), Fanny Brawne in the John Keats biopic "Bright Star" (2009), "Sweet Pea" in the action film "Sucker Punch" (2011), Lindy in the science fiction thriller "Limitless" (2011) and for her work with writer/director Martin McDonagh in "Seven Psychopaths" (2012) and "Three Billboards Outside Ebbing, Missouri "(2017).
Level 33 Entertainment releases ALL AT SEA On Demand March 5th, 2021!
Retired sailor Wally and best friend Skipper are residents of a retirement home run by Ms. Reimark. When Skipper dies, Wally vows to honor his promise to bury his friend at sea. Unfortunately, he doesn't have a coffin, boat or anyone to conduct the service. Wally takes fellow residents on a madcap adventure to carry out the burial before Ms. Reimark puts an end to his daring scheme.
DIRECTOR: Robert Young
WRITER: Hugh Janes
PRODUCER: John Cairns, Stephen Cranny, Robert Young
CAST: Brian Cox, Lauren Bacall, James Fox, Hege Schøyen, Kåre Conradi, Ingrid Bolsø Berdal, Sverre Anker OusdalRATING: TV-14
RUN-TIME: 88 Minutes
THEATRICAL RELEASE: March 5, 2021
DIGITAL RELEASE: March 5, 2021
STUDIO/DISTRIBUTOR: Level 33 Entertainment
GENRE: Comedy, Drama, Independent, Adventure
LANGUAGE: English
YEAR: 2010
COUNTRY: Norway, UK
Shiva Baby is coming April 2nd!
UTOPIA WILL RELEASE EMMA SELIGMAN'S
FEATURE DEBUT "SHIVA BABY"
IN SELECT THEATERS AND TVOD APRIL 2, 2021
A near college graduate, Danielle, gets paid by her sugar daddy and rushes to meet her neurotic parents at a family shiva. Upon arrival, she is accosted by various estranged relatives about her appearance and lack of post-grad plans, while her confident ex-girlfriend, Maya, is applauded by everyone for getting into law school.
Danielle's day takes an unexpected turn when her sugar daddy, Max, arrives at the shiva with his accomplished wife, Kim, and crying baby. As the day unfolds, Danielle struggles to keep up different versions of herself, fend off pressures from her family and confront her insecurities without completely losing it.

Runtime: 77 min Language: English Country: USA Writer / Director: Emma Seligman Cast: Rachel Sennott, Molly Gordon, Diana Agron, Danny Deferrari, Polly Draper, and Fred Melamed Producers: Kieran Altmann, Katie Schiller, Lizzie Shapiro Director of Photography: Maria Rusche Editor: Hanna A. Park Music: Ariel Marx
VERTICAL & REDBOX JOIN FORCES TO ACQUIRE ACTION-THRILLER "SAS: RED NOTICE"
Vertical Entertainment and Redbox Entertainment have acquired North American rights to action-thriller SAS: Red Notice from Parabolic Pictures' Laurence Malkin and former special-forces operator Andy McNab CBE DCM MM.
The film is based on McNab's best-selling novel and stars Sam Heughan (Outlander, Bloodshot), Ruby Rose (Batwoman, John Wick: Chapter 2), BAFTA Award Winner Andy Serkis (Black Panther, upcoming The Batman), Hannah John-Kamen (upcoming Resident Evil, Ant-Man and the Wasp), Tom Hopper (The Umbrella Academy, upcoming Resident Evil), Noel Clarke (Bulletproof, Star Trek Into Darkness) and two time Academy Award Nominee Tom Wilkinson (Michael Clayton, Batman Begins).
Vertical Entertainment and Redbox Entertainment will release the film on March 16th theatrically and via premium VOD.
Tom Buckingham, a suspended special forces operator, is taking Dr. Sophie Hart from London to Paris to propose. When their train is deep inside the Channel Tunnel, heavily armed mercenaries, led by Grace Lewis, seize control of it and hold everyone hostage.
Grace threatens to blow up the Channel Tunnel and declare economic war on a government that has its fair share of secrets to keep. Unarmed and cut off from his counter terror team, Tom is the only hope that Sophie and the other passengers have to make it out alive. To save them he must embrace the unique psychology that makes Grace such a formidable adversary.
A provocative action thriller, the film hurtles from Whitehall's corridors of power through the English Countryside and the Channel Tunnel, before emerging in Paris and Mallorca. Based on the best-selling novel by former SAS operator Andy McNab, SAS: RED NOTICE is an authentic portrayal of an Emergency Response operation and the singular mindset Tom needs to survive. That psychology enables Tom to dominate the battle space but it may also cost him the only person he has ever loved.
"Watching SAS: Red Notice, it was clear to the team at Vertical Entertainment that audiences would love the heart-pounding, thrill-ride that the film takes you on," said Rich Goldberg, co-president of Vertical Entertainment. "Featuring an incredibly talented cast from Sam Heughan to Ruby Rose and Tom Wilkinson, we are excited to provide the American audience an action-packed film that will offer a unique look at the inner workings of British Special Forces."
"The millions of Andy McNab fans eager to experience it as an action-packed movie will not be disappointed," said Galen Smith, CEO of Redbox. "The all-star cast and talented creative team deliver an edge-of-your-seat action-adventure, and we're proud to team up with Vertical Entertainment to bring this highly-anticipated film to audiences in the U.S."
Writer/Producer, Laurence Malkin, added, "Bringing Andy's unique psychology and perspective on special forces to American audiences is a dream come true. The actors made that dream a reality and we can't wait for Vertical and Redbox to release the film."
Marc Danon from Redbox Entertainment and Peter Jarowey and Josh Spector from Vertical Entertainment negotiated the deal with UTA Independent Film Group, Endeavor Content, and Mike Runagall of Altitude on behalf of the filmmakers.
SAS: Red Notice was directed by Magnus Martens from a screenplay by Laurence Malkin based on the novel Red Notice by Andy McNab.
The film was produced by Laurence Malkin, Joe Simpson, Kwesi Dickson and Andy McNab; Executive Producers include Chad Thumann, John Jencks, Jay Taylor, Simon Williams, Stephen Spence, Will Clarke, Andy Mayson, Mike Runagall, Ian Lewis, Julia Stuart, Claudia Bluemhuber, Florian Dargel, Ian Hutchinson, Alastair Burlingham, Charlie Dombek, Peter Hampden, and Norman Merry. The Co-Producers are Tunde Bodnar, Daniel Findlay, Georgia Bayliff, Jack Drewe and Kata Kiss.
The production team includes Director of Photography Nick Remy Matthews ACS, Production Designer Anca Perja, Editor Megan Gill, and Composer Benji Merrison. Casting was by Anne McCarthy, Kellie Roy and Colin Jones CSA. The film was shot in London, Paris, Mallorca (via Palma Pictures) and Hungary (via HeroSquared).
Trust starring Victoria Justice | Official Trailer
Cast: Victoria Justice, Matthew Daddario, Katherine McNamara, Lucien Laviscount, with Ronny Chieng and Lindsey Broad
Director: Brian DeCubellisScreenplay By: Kristen Lazarian, K.S. Bruce and Brian DeCubellisBased on the play "Push" by Kristen Lazarian
Produced by: Steven Klinsky, Brian DeCubellis and Tom Guida
Logline
New York art gallery owner, Brooke (VICTORIA JUSTICE), and her husband Owen's (MATTHEW DADDARIO) marriage is tested by temptation when Brooke flies to Paris with her handsome new artist, leaving Owen alone with a seductive admirer (KATHERINE MCNAMARA) who has every intention but good.

Synopsis
In New York City, art gallery owner, Brooke (VICTORIA JUSTICE), and her husband, Owen (MATTHEW DADDARIO), seem to have it all. When Brooke signs a new artist-a devastatingly handsome painter with an affinity for married women-the attraction between them is unmistakable.
Left alone at home as Brooke and her artist travel to Paris, Owen finds comfort at a bar with a seductive and beautiful journalist (KATHERINE MCNAMARA). On once unshakable footing, Brooke and Owen's trust begins to dissolve as they unwittingly push the other toward the very thing they fear most.
New AUSSIE-Trailer : COME TRUE – from producer Vincenzo Natali (SPLICE)
Anthony Scott Burns' new sci-fi thriller, Come True, will be released on Digital March 17 in Australia and New Zealand by Lightbulb Film Distribution.

Come True, which celebrated its World Premiere at Fantasia, stars Julia Sarah Stone (Honey Bee, Weirdos) and Landon Liboiron (Truth or Dare).

The film was produced by Vincenzo Natali (Splice, In The Tall Grass) and the score was composed by Canadian synth-pop duo Electric Youth and Burns (under the moniker Pilotpriest).

Plagued by nightmares, a troubled teenager signs up to a sleep disorder study. Hoping that will finally stop her sinister dreams, she unknowingly becomes the channel to a horrifying new discovery.
Commenting on the release down under, Peter Thompson, Sales & Acquisitions Director at Lightbulb Film Distribution, said: "We are thrilled to be bringing this ground-breaking feature to Australia and New Zealand audiences. Come True was the most talked about film at Fantasia last year and Anthony Scott Burns is truly a visionary director. This film doesn't just require repeat viewings – it demands it."

Come True will be released in on Digital March 17 in Australia and New Zealand by Lightbulb Film Distribution. Available on iTunes, Google Play and Sony Playstation.

#ComeTrueMovie
Twitter @lightbulb_films
FUKUSHIMA 50 comes to Digital & VOD on 3/5
Japan's Tohoku Region: at a magnitude of 9.0, the strongest earthquake in the country's history strikes, triggering a huge tsunami and carnage that would end up killing thousands of people and displacing many more. It mercilessly engulfs the Fukushima Daiichi nuclear power plant in Fukushima prefecture, causing a crippling station blackout. Unable to be cooled, the nuclear reactors quickly turn into hydrogen bombs at the brink of explosion.
If the power plant is abandoned, Japan's destruction is assured. Facing a life or death situation, the power plant workers known as the"Fukushima 50", including shift supervisor Izaki and plant manager Yoshida, remain on the site until the bitter end. As the world holds its breath, the Fukushima 50 fight for their hometown, their families, and the future of Japan.
Angelica Ross, Billy Eichner & More LGBTQ+ Stars in 1st Queerties TV Broadcast Live on Revry Feb. 24th
Hosted by Heidi N. Closet and Queerty EIC, Dan Tracer, with Bright Light Bright Light Performance, Angelica Ross and Billy Eichner Special Awards and Appearances by Nicco Annan, Shangela, Veneno star Isabel Torres, The Prom's Jo Ellen Pelman Plus Many More
Los Angeles: February 18, 2021 – Free Queer TV network, Revry, is thrilled to partner with Q.Digital and Lexus for the first-ever television broadcast of Q.Digital's Queerties, the annual award show produced by entertainment site Queerty, celebrating the best in LGBTQ culture and media.

The awards ceremony will stream live at 6pm PST / 9pm EST on February 24 on Revry (including Revry's third-party channels on Samsung TV Plus, Roku Channels, Xumo, Stirr, Apple TV) as well as on Queerty's homepage, Facebook, and YouTube pages.

"We couldn't be more excited to broadcast the Queerties this year," shared Revry CEO and CoFounder, Damian Pelliccione. "To showcase such incredible, diverse queer talent across all our channels, over 250 million households and devices, will allow everyone to tune-in and enjoy the fantastic show Q.Digital produces!"

Hosted by RuPaul's Drag Race Season 12 Miss Congeniality Heidi N. Closet and Queerty Editor-in-Chief Dan Tracer, the show will include an exciting musical performance by Bright Light Bright Light. This year, Q.Digital and Lexus will present Angelica Ross with the Groundbreaker Award, and Billy Eichner will receive the MVP Award.

"I've been voting for the Queerties as a fan for years, so it's very exciting to not only be a nominee this year but the host of the show!" said Drag Race star Heidi N. Closet. "I'm honored to help celebrate so many amazing and diverse members of our community, and the incredible work they put out during such a challenging year."

The event will dawn a virtual red carpet with celebrity appearances by Nicco Annan, James Bland, Isis King, Jai Rodriguez, Cameron Esposito, Shangela, Jinkx Monsoon, BenDeLaCreme, Willam, Alaska, HBO's Veneno star Isabel Torres, Netflix's The Prom star Jo Ellen Pellman and many more. Fans broke records with well over 1.5 million votes in 23 categories, including Drag Royalty, Closet Door Bustdown, Favorite Podcast, Favorite Instagram and TikTok Follows, Best Documentary, and Badass of the Year, presented by Stoli.

"Our readers are incredibly tuned-in to pop culture, so the Queerties provide a perfect outlet to make their voices heard," said Tracer. "This year is extra exciting because the show is streaming, so voters from all around the world will get to attend for the first time!"
Rebroadcasts will also be available on Revry to watch for free On Demand.
Queerties Talent Scheduled to Appear
Angelica Ross (Pose, American Horror Story) Billy Eichner (The Lion King, American Horror Story) Heidi N. Closet (RuPaul's Drag Race) Bright Light Bright Light (Musician) Jo Ellen Pellman (The Prom) James Bland (Giants) Isis King (America's Next Top Model) Jai Rodriguez (Queer Eye for the Straight Guy) Cameron Esposito (Comedian, Take My Wife) Shangela (RuPaul's Drag Race, HBO's We're Here)

Nicco Annan (P-Valley) BenDeLaCreme (RuPaul's Drag Race, Jinkx and Dela Holiday Special) Trixie Mattel (RuPaul's Drag Race) Katya (RuPaul's Drag Race0 Kevin Spirtas (After Forever) Charles Curtis (The First) Isabel Torres (Veneno) Jack Plotnick (Call Me Kat, Grace & Frankie) Alaska (RuPaul's Drag Race) Willam (RuPaul's Drag Race) Big Dipper (Musician, Postcast host) Blossom Brown (Actress, producer, activist) Eric Cervini (Author: The Deviants) Josh Helfgott (TikTok star)

Meatball (Dragula) Megan Mitchell (News anchor, TikTok star) Michael Henry (YouTube star) Ultra Naté (Singer, Music producer) Jason Stuart (Smothered) Mitch Hara (Smothered) Jason Wimberly (Working Out is a Drag) Juan Pablo Espinosa (Half Brothers) Juli Delgado Lopera (Author: Fiebre Tropical) Kiki Xtravaganza (Gayish 2) Leanne Noelle Smith (The Influencers) Luciana Faulhaber (The Influencers) Mike Heslin (The Influencers) Noam Ash (The Influencers) Cast of the digital series "Platonic" Jayla Roxx (Gayish2)

Gretchen Wylder (These Thems) The Angelenos (Ariana & Hannah) Leigh Holmes Foster and Ellie Brigida (Hosts of Lez Hang Out podcast) Rachel Mason (Filmmaker: Circus of Books) Robert Jones Jr. (Author: The Prophets) Roberto Portales (Instagram Influencer) Samantha Gracie (The Influencers) Shaan Dasani (These Thems) Starr McQueen (TikTok star) Summer Spiro (Platonic) Tim Spencer (Ding Dong I'm Gay) Tim Zientek (The First) Vico Ortiz (These Thems) Will Branske (The First)
Artful Animated Feature THE LEGEND OF HEI arrives on BD and DVD May 11, available on digital April 20
Over five years in the making, THE LEGEND OF HEI is a heart-warming fantasy movie adventure, bolstered by beautiful animation and enchanting narrative. Filmmaker Ping Zhang (a.k.a MTJJ) derived THE LEGEND OF HEI from a popular flash animation series he created in 2011. The series gained immense popularity when it debuted online in China, and Zhang then decided to develop it into a feature-length movie.
Following successful openings in China and Japan, THE LEGEND OF HEI recently screened at Annecy International Animation Film Festival and Japan Media Arts Festival to great audience enthusiasm. Shout! Studios is proud to present THE LEGEND OF HEI on DIGITAL APRIL 20, 2021 AND on DVD and Blu-ray™+ DVD combo pack May 11, 2021.
Pre-order is available now ShoutFactory.com and Amazon.