PARAMOUNT NETWORK'S YELLOWSTONE HITS MAJOR MILESTONE SELLING ONE MILLION UNITS ON BLU-RAY & DVD
Paramount Home Entertainment today announced that Paramount Network's Yellowstonehas sold one million combined units on Blu-ray™ and DVD domestically. Season 3 of cable's #1 drama debuted on Blu-ray and DVD on December 8 and quickly became the top TV new release of 2020, pushing the series past the milestone, along with a three-season DVD gift set, which sold out on Amazon during pre-orders.
Co-produced by 101 Studios, Yellowstone continues to break ratings records with the season three finale drawing 10.7M viewers including simulcast and encores and becoming the #1 most-watched cable telecast of 2020. The show has been renewed for a fourth season on Paramount Network.
Yellowstone made its domestic debut in June 2018 and was followed by a home entertainment release in December, selling over 500K units on Blu-ray and DVD to date. Season two had its broadcast premiere in June 2019 and was released on Blu-ray and DVD debut in November.
The series stars world-renowned actor and Oscar®-winner Kevin Costner as John Dutton, who controls the largest, contiguous ranch in the United States. Amid shifting alliances, unsolved murders, open wounds, and hard-earned respect; the ranch is in constant conflict with those it borders; an expanding town, an Indian reservation, and vicious business rivalries.
The Paramount Network original drama is co-produced by 101 Studios. Co-created by Taylor Sheridan and John Linson, Yellowstone's executive producers include John Linson, Art Linson, Taylor Sheridan, Kevin Costner, David C. Glasser, Bob Yari and Stephen Kay.
BREACH arrives on DVD February 2
Release Dates: Now in Select Theaters, On Digital & On Demand
On DVD February 2
Starring: Cody Kearsley, Bruce Willis, Rachel Nichols, with Thomas Jane
Directed By: John Suits
Written By: Edward Drake, Corey Large
Synopsis: Bruce Willis stars in the action-packed, sci-fi thriller. Fleeing a devastating plague on Earth, an interstellar ark comes under attack from a new threat; a shape-shifting alien force intent on slaughtering what is left of humanity.
Genre: Sci-Fi, Action
Run Time: 89 minutes
Rating: R
LOVE STORY- 50th Anniversary today, newly restored film available on Blu-ray February 9th
The timeless classic LOVE STORY celebrates its 50th anniversary with a brand-new Blu-ray in the Paramount Presents line, debuting February 9, 2021 from Paramount Home Entertainment.
Newly restored from a 4K film transfer, this new presentation beautifully captures the highs and lows of young love in a film that remains as impactful as ever. Based on Erich Segal's best-selling novel, LOVE STORY was nominated for seven* Academy Awards®, including Best Picture, and became a cultural phenomenon, earning over $100 million at the domestic box office. In 2002, the AFI named it as #9 on its list of the 100 greatest love stories of all time.
The limited-edition Paramount Presents LOVE STORY Blu-ray includes the newly restored film, a new Filmmaker Focus with film historian Leonard Maltin, plus previously released content including a commentary by director Arthur Hiller, an introduction by film critic Ben Mankiewicz, Love Story: A Classic Remembered, and the theatrical trailer, plus access to a Digital copy of the film. The disc is presented in collectible packaging that includes a foldout image of the film's theatrical poster, and an interior spread with key movie moments.
Ryan O'Neal and Ali MacGraw both received Oscar® nominations* for their starring roles in the timeless, unmatched tale from the heart. Harvard students Oliver (O'Neal) and Jenny (MacGraw) come from opposite backgrounds, but they share a chemistry they cannot deny—and a love they can't ignore. Despite Oliver's wealthy father threatening to disown him, the young couple marries and begins to build their new life together. But fate has other plans, and soon Oliver and Jenny face a crisis only the strongest of loves can endure.
About Paramount Presents
This collectible line spans celebrated classics to film-lover favorites, each from the studio's renowned library. Every Paramount Presents release features never-before-seen bonus content and exclusive collectible packaging. Additional titles available in the Paramount Presents collection on Blu-ray include: Fatal Attraction, King Creole, To Catch a Thief, Flashdance, Days of Thunder, Pretty In Pink, Airplane!, Ghost, Roman Holiday, The Haunting, The Golden Child,Trading Places and The Court Jester.
Just Jaeckin's Madame Claude Blu-ray & DVD release February 9, 2021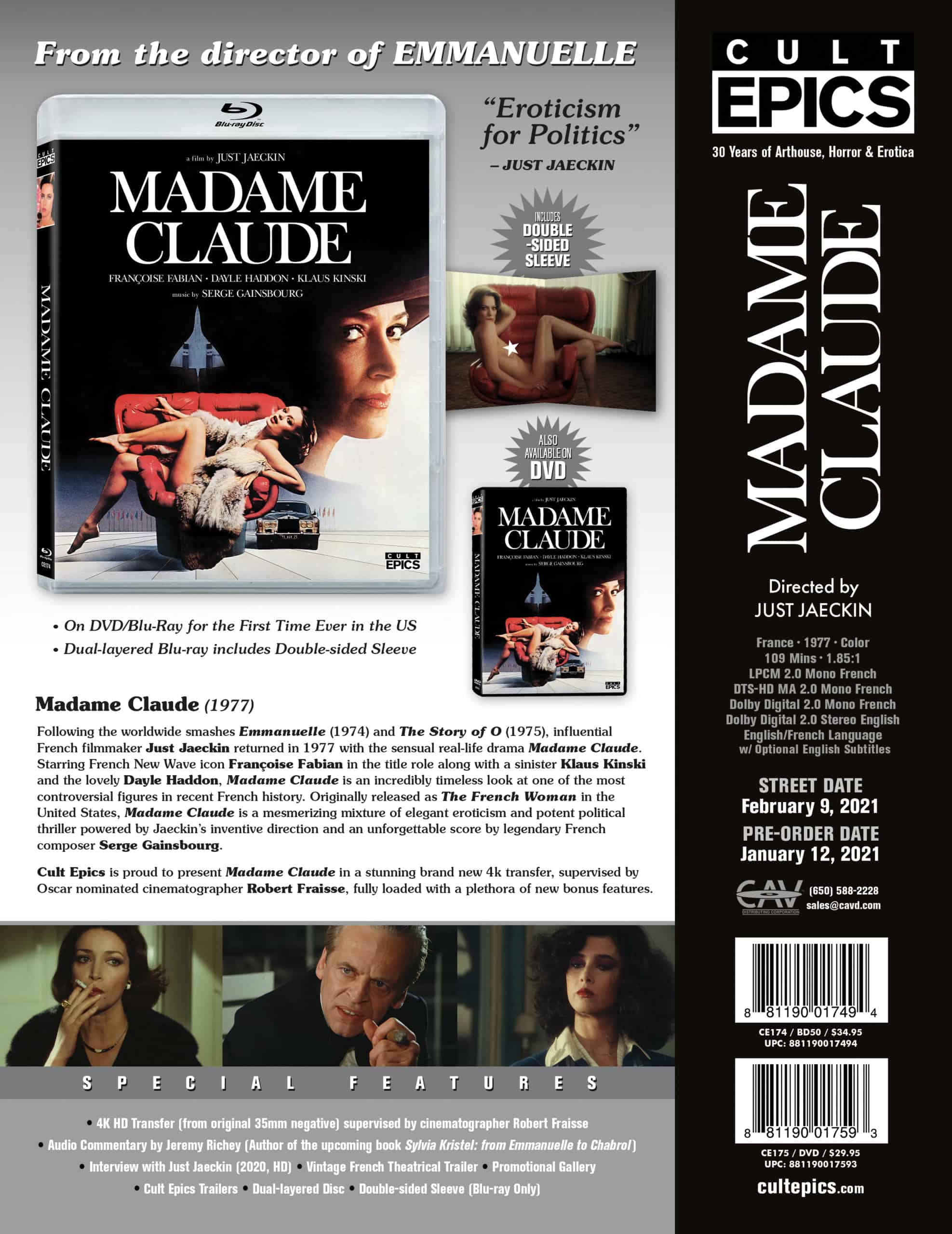 IFC FILMS LANDS OLIVER HERMANUS' STUNNING QUEER WAR DRAMA "MOFFIE" FOR U.S. DISTRIBUTION
IFC Films announced today that they are acquiring North American rights to South African Oliver Hermanus' ravishing queer war film MOFFIE – a UK indie Portobello Productions film – set against the backdrop of the Apartheid-era South African Border War. IFC Films will release the critically acclaimed film in April 2021.

Directed by Oliver Hermanus and adapted from André Carl van der Merwe's autobiographical 2006 novel by Hermanus and Portobello's Jack Sidey, MOFFIE premiered in the Orizzonti section of the 76th Venice International Film Festival, where Hermanus' previous feature The Endless River was the first South African film to be nominated for the Golden Lion.
MOFFIE stars Kai Luke Brummer, Ryan de Villiers, Matthew Vey, Stefan Vermaak, and Hilton Pelser. The film is produced by Eric Abraham – producer of Oscar-winning films Pawel Pawlikowski's IDA and Jan Sverak's KOLYA – and Jack Sidey.

Set in 1981 South Africa, the film centers on closeted 16-year-old Nicholas Van der Swart (Kai Luke Brummer) as he begins the two years of compulsory military service required of all young white South African men, preparing to defend the Apartheid regime on the Angolan war front. The threat of communism and "die swart gevaar" (the so-called black danger) is at an all-time high.
But that's not the only danger Nicholas faces. He must survive the brutality of the army – something that becomes even more difficult when a connection is sparked between him and a fellow recruit.
Reviewing positively out of Venice, Variety critic Guy Lodge praised Hermanus as "South Africa's most vital contemporary filmmaker" and Moffie as his "masterpiece in the true sense of the term".
Lodge hailed the film as "a director's triumph first and foremost: a dogs-of-war hellride of Full Metal Jacket intensity, a queer coming-of-age meditation with something of Moonlight's salt-on-skin tenderness, and a scorching evocation of South Africa's Border War shame with no major precedent in a national cinema still working through its blind spots", adding, "it fair takes your breath away".
Released across South Africa and in the UK (CURZON) earlier this year, MOFFIE has since been sold across Europe.

Arianna Bocco, President of IFC Films, said, "MOFFIE is a brilliant cinematic vision with a powerful message that will inspire audiences and critics alike. We're thrilled to come on board with such an accomplished film and singular directorial voice."

Director Oliver Hermanus added, "It's a fantastic privilege to have our film find such a wonderful American partner in IFC Films. They house the work of many of the filmmakers I greatly admire, and I am thrilled that they have taken up an interest to share Moffie with an American audience."

The deal for the film was negotiated by President of IFC Films Arianna Bocco, with Rose Schwartz of NY legal firm Franklin, Weinrib, Rudell and Vassallo and independent consultant Julie Dansker acting on behalf of the filmmakers.
Shudder Acquires Sundance Bound Feminist Revenge Fable VIOLATION
Shudder, AMC Networks' premiere streaming service for horror, thriller and the supernatural, has announced the acquisition of Violation, the debut feature written, produced and directed by Madeleine Sims-Fewer and Dusty Mancinelli, which will be released exclusively on the streaming platform.
The bold and unflinching thriller world premiered to critical and audience acclaim at the 2020 Toronto International Film Festival, where Sims-Fewer was a recipient of the TIFF Rising Star Award, and is also an official selection of the 2021 Sundance Film Festival where it will make its international premiere.
Shudder has acquired all rights for the U.S., UK, Ireland, Australia and New Zealand to premiere on its service in those territories later next year.
Violation is a turbulent feminist revenge fable that explores the idea of trauma within families and untangles a sticky web of resentment as a troubled woman on the edge of divorce embarks on a vicious crusade when her sister and brother-in-law betray her trust.
Violation has been praised as a "visceral examination of the rape-revenge narrative," (The Playlist) and "a smart, emotionally shattering piece of work" (RogerEbert.com). Highly focused on a naturalistic performance style and visual aesthetic, directors Madeleine Sims-Fewer and Dusty Mancinelli's work explores gender politics, selfishness, and abuse of power.

The deal was negotiated by XYZ Films on behalf of the filmmakers and Shudder's Emily Gotto.

"We could not be more thrilled to be working with Shudder. It is truly the perfect home for Violation," said filmmakers Madeleine Sims-Fewer and Dusty Mancinelli.

"With Violation, Shudder introduces the tremendous voices of Madeleine Sims-Fewer and Dusty Mancinelli," said Craig Engler, Shudder General Manager. "Violation is a fearless, unconventional revenge story, from which you cannot emerge unmoved.""

Shudder continues to be at the forefront of curating many of the most exciting and critically-lauded independent and international genre films, including Rob Savage's Host, Jayro Bustamante's La Llorona and Joko Anwar's Impetigore (both official selections for the 2021 International Oscar race), Richard Stanley's Color Out of Space, Josh Ruben's Scare Me, Jeff Barnaby's Blood Quantum, Ryan Spindell's The Mortuary Collection, Coralie Fargeat's Revenge, Issa Lopez's Tigers Are Not Afraid and Shinichiro Ueda's One Cut of the Dead.
The service has also garnered attention for its original programming including the breakout hit series "Creepshow" under showrunner Greg Nicotero, Jay Cheel's "Cursed Films" and the acclaimed documentary Horror Noire: A History Of Black Horror.
New Trailer for No Man's Land from IFC
NO MAN'S LAND Opens in Select Theaters, on Digital Platforms and VOD on January 22nd
Synopsis Border vigilante Bill Greer (Frank Grillo) and his son Jackson (Jake Allyn) are on patrol when Jackson accidentally kills a Mexican immigrant boy. Bill tries to take the blame but Texas Ranger Ramirez (George Lopez) sees through the lie, spurring Jackson to flee south on horseback across the Rio Grande to become a gringo "illegal alien" in Mexico. Chased by Texas Rangers and Mexican federales, Jackson journeys across deserts and mountains to seek forgiveness from the dead boy's vengeful father (Jorge A. Jimenez), as he falls in love with the land he was taught to hate.