Thomas Jane is back for the 'Give 'Em Hell, Malone' Sequel from Renegade Entertainment
Renegade Entertainment, the production company co-founded by Courtney Lauren Penn and Thomas Jane, is teaming up with Richard Rionda Del Castro's Hannibal Media to make a sequel to the cult fan favorite movie "Give 'em Hell Malone," with Thomas Jane returning to star in his role as the enigmatic Malone.
Mark Hosack, the first film's screenwriter, returns for the sequel, which is planned as the re-launch of the Malone franchise. The untitled sequel is an action-packed saga unleashing the nihilism and fury (OR rage) of the era through Malone, determined to find the man who killed him… before he dies. Courtney Lauren Penn, Thomas Jane and Richard Rionda are producing, with Rionda Del Castro's Hannibal Media fully financing, handling worldwide sales, and co-representing North American rights with Paradigm.
A legendary gunman from the big city, Malone has spent the last ten years hiding from his past. But when a chance encounter suddenly exposes him to the world, and a sinister attack starts the clock ticking on his remaining hours to live, Malone sets out to find his killer on a perilous railway known as The Line. In the tradition of classic noirs such as Rudolph Mate's "D.O.A." and Richard Fleischer's "The Narrow Margin," and neo-noirs such as the Coen's "No Country For Old Men" and David Cronenberg's "A History of Violence," the new entry in the Malone franchise is an against-the-clock thriller that pits the hard-boiled Malone against his biggest enemy.
Jane said, "Malone has always been one of my favorite characters and we're all thrilled that the original film found such a devoted fanbase. I couldn't stop thinking about where Malone would be now and where he is headed. Mark Hosack has done it again with another terrific Malone adventure. I read his riveting screenplay and said I'm in."
Penn, who heads content at Renegade, said, "We're determinedly irreverent at Renegade, and Malone is about as irreverent as it gets. Thomas and I approached Mark with a wild idea to see where Malone is in his life 10 years later: where is the unkillable gunman? Dying we supposed… but how? Who did it? And can death redeem him? We all tossed around themes and ideas and Mark turned in a script that blew us away. The creative support of Richard and Hannibal has been a joy! We have the perfect partner to go on this adventure."
Richard Rionda Del Castro said of the reteaming, "It's always a pleasure to work with Thomas and this will be our fourth film together. I am excited to bring back this bad ass revenge character to the screen for a second time. I want to thank Courtney Lauren Penn, Mark Hosack and Andrew Ruf for their active collaboration in making this happen."
"Revisiting Malone is one of the highlights of my writing career," said writer Mark Hosack. "The idea was to inject Malone into a grounded, Hitchcockian-thriller this time–and put our anti-hero, not just through a physical grinder, but an emotional one as well. Sure, there's all the action expected from a Malone movie, but as his story continues to unfold, you'll get to see him journey to some pretty extreme places as a character. The idea is to keep it real and keep it dangerous. I can't wait for everyone to check out what we're cooking up."
Principal photography is slated to commence in Q3 2021.
The original film, released in 2009, starred Thomas Jane, Ving Rhames, Elsa Pataky, French Stewart and was directed by Russell Mulcahy.
Renegade Entertainment has had a busy year since launching late in 2019. The production shingle completed production on the western thriller "The Last Son of Isaac LeMay," starring Thomas Jane, Sam Worthington and Colson Baker, and the horror comedy "Slayers" starring Abigail Breslin, Thomas Jane and Malin Akerman. The company will soon start production on the anticipated crime drama series 'Troppo" alongside AGC Television, starring Jane. Among their projects in development, Renegade will produce an adaptation of Stephen King's "From a Buick 8," marking the fourth collaboration between Jane and King, following "1922," "The Mist," and "Dreamcatcher."
Thomas Jane recently directed an acclaimed episode of "The Expanse." His film "The Vanished" is currently the #2 film in the US on Netflix, and his Venice Film Festival debut "Run Hide Fight" premiered this month.
Producer and former chess champion Courtney Lauren Penn oversees content at Renegade Entertainment, producing film, series and new media, alongside Jane.
Hannibal Media is gearing up for a busy year that will include "#Tsunami" an action adventure of a giant tsunami that hits LA causing massive destruction unlike anything the city has ever seen. Korea's top box office actor Gang Dong-Won is part of an international cast set to show how LA's diverse people come together in the time of a great disaster and Frank Grillo in the action film "MIA" ("Missing in Action"). Also on the slate are "Bounty", "Collide", "Welcome to Rio", "The Old Gun" and "Red Squad".
Thomas Jane, Mark Hosack and Renegade Entertainment are represented by Paradigm.
New Film in Theaters Feb 12 – ADVERSE starring Thomas Nicholas, Mickey Rourke, Sean Astin, Lou Diamond Phillips, and Penelope Anne Miller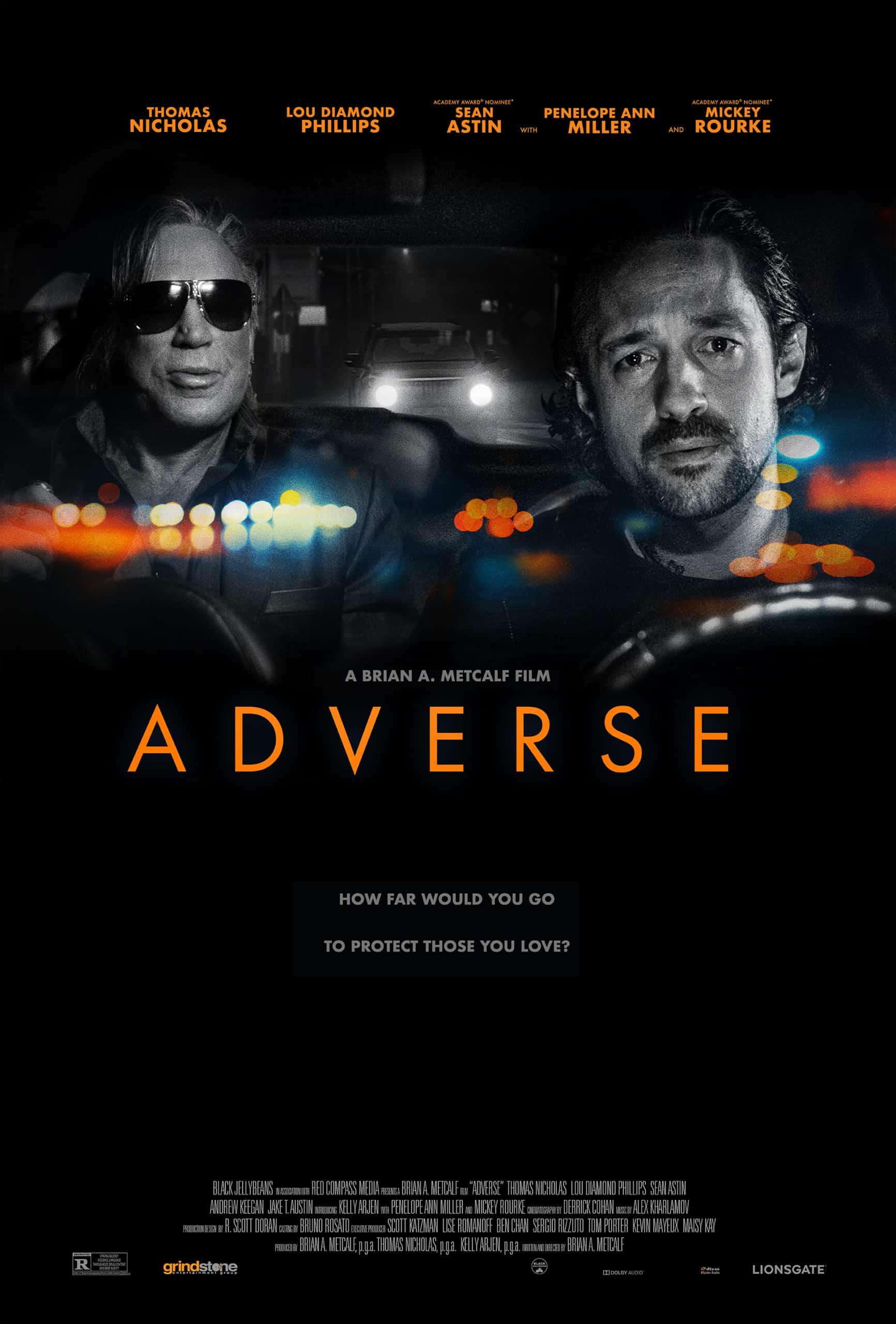 ADVERSE will release In Theaters on February 12th. The film will also be available on Digital, On Demand and DVD on March 9th through Lionsgate.
Thomas Nicholas ("Red Band Society") and Mickey Rourke (The Wrestler) star in this gritty, intense urban thriller about one man's quest for revenge. Struggling to make ends meet, rideshare driver Ethan (Nicholas) learns his sister Mia is deep in debt to a sleazy drug dealer. When Mia goes missing, Ethan discovers that crime boss Kaden (Rourke) is behind the act, and to get close to him Ethan takes a job as Kaden's driver. One by one Ethan hunts down members of Kaden's crew to wreak bloody vengeance as he prepares to confront Kaden himself. The stellar cast also includes Lou Diamond Phillips, Sean Astin, and Penelope Ann Miller.
Julia Garner ("Ozark") in Tomato Red: Blood Money on Digital 2/16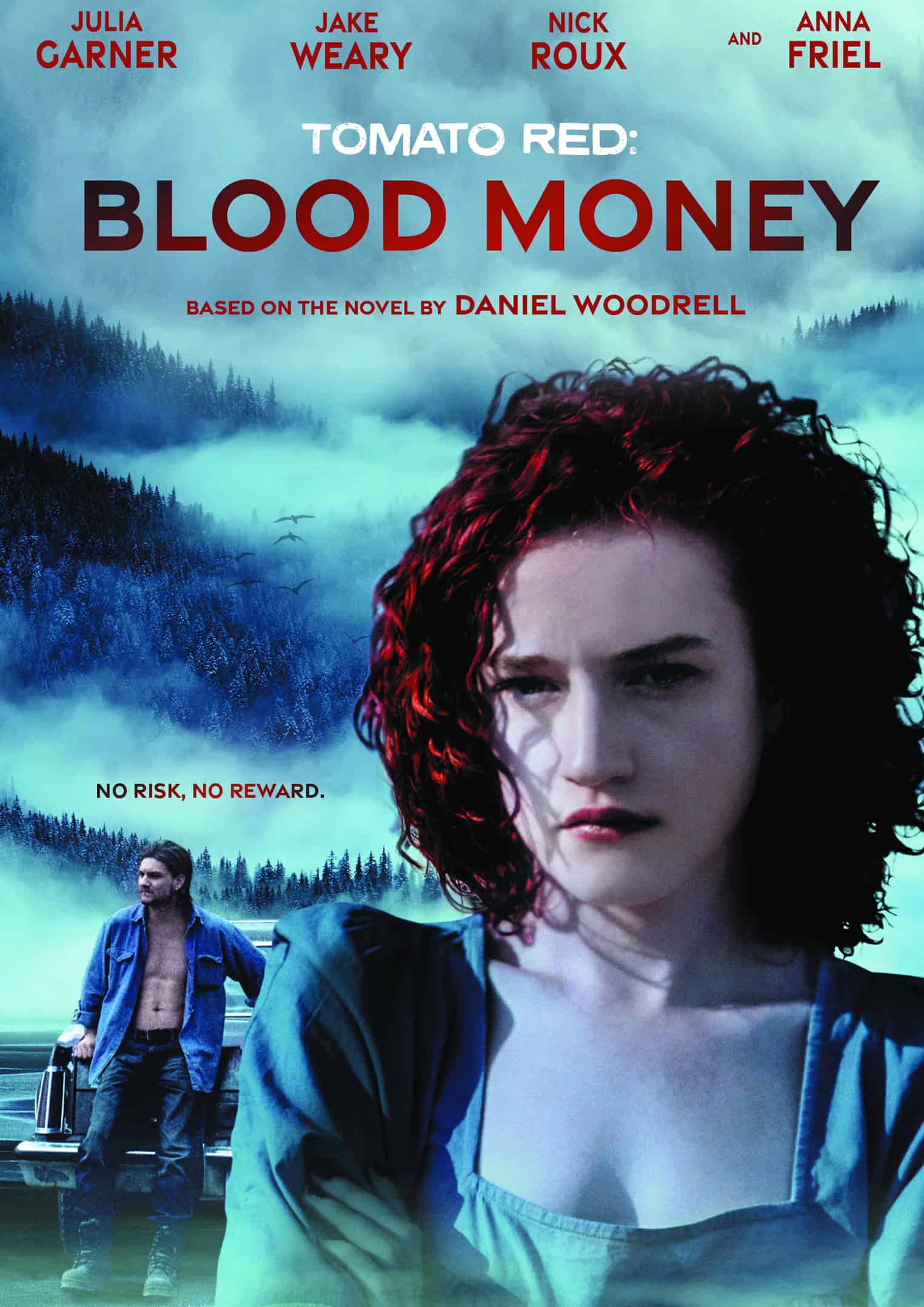 When small town drifter Sammy Barlach (Jake Weary, TNT's "Animal Kingdom") drives into town on the search for his next cold beer, he gets a lot more than he originally bargained for. Thanks to redheaded Jamalee (Garner) and her brother, Jason (Nick Roux, "Jane by Design"), who dream of hitting the big time, Sammy receives food, lodging and the possibility of a better future – but it's not long before he realizes that breaks don't come easily in a small town like Venus Holler. Soon, the trio finds themselves powerless against the forces of corruption and prejudice, and Sammy must begin the fight of his life.
Robin Wright's LAND – In Theaters on Friday, February 12th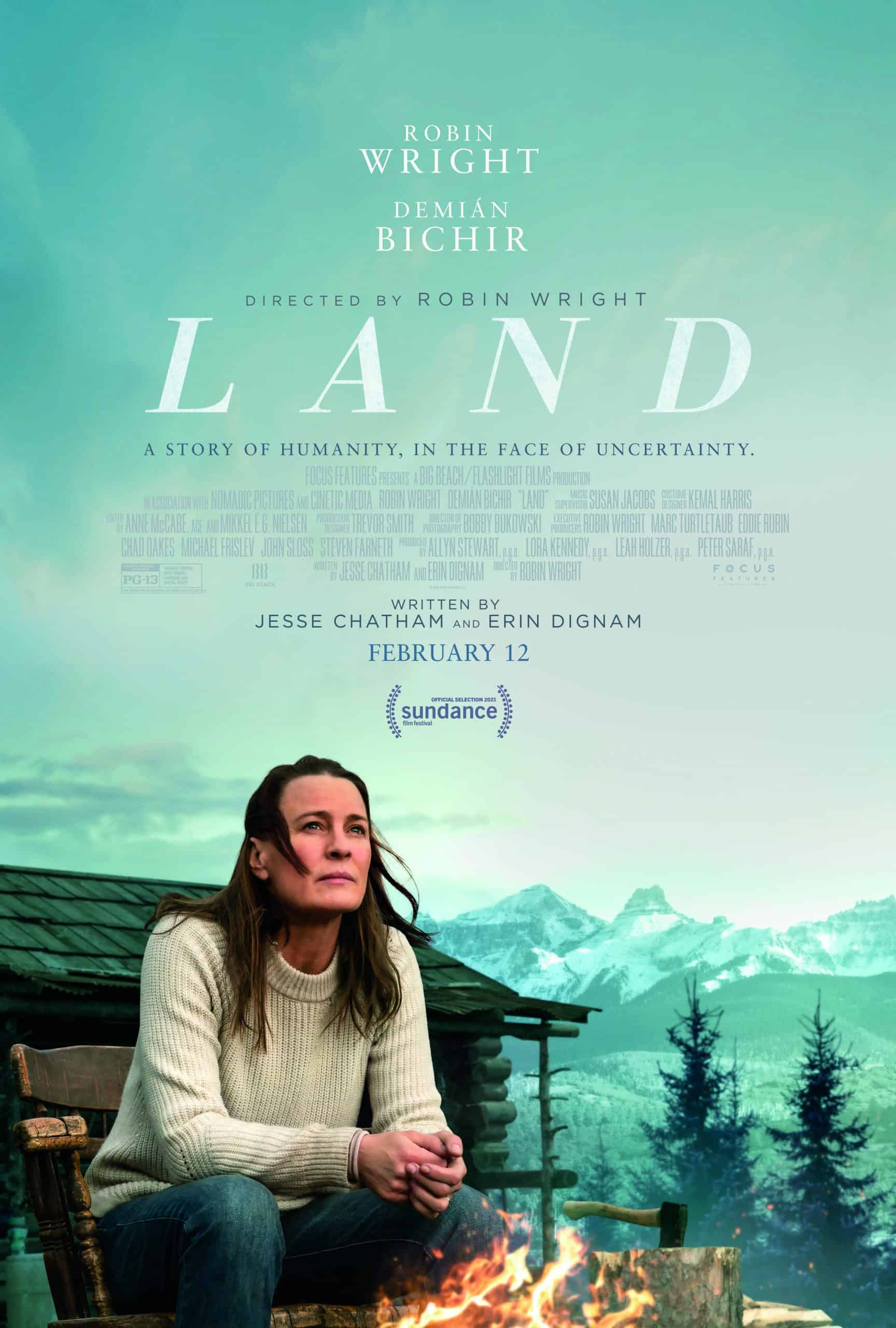 From acclaimed actress Robin Wright comes her directorial debut LAND, the poignant story of one woman's search for meaning in the vast and harsh American wilderness. Edee (Wright), in the aftermath of an unfathomable event, finds herself unable to stay connected to the world she once knew and in the face of that uncertainty, retreats to the magnificent, but unforgiving, wilds of the Rockies. After a local hunter (Demián Bichir) brings her back from the brink of death, she must find a way to live again.

Directed By: Robin Wright
Starring: Robin Wright, Demián Bichir, Kim Dickens
Written By: Jesse Chatham, Erin Dignam
Produced By: Allyn Stewart, Lora Kennedy, Leah Holzer, Peter Saraf
Release Date: February 12, 2021
Running Time: 88 Minutes
IFC FILMS PICKS UP SIZZLING ROMANCE "MONDAY" STARRING SEBASTIAN STAN AND DENISE GOUGH FOR APRIL RELEASE
IFC Films announced today that they are acquiring North American rights to Argyris Papadimitropoulos' latest feature MONDAY starring Sebastian Stan (THE FALCON AND THE WINTER SOLDIER, I TONYA) and Denise Gough (COLETTE, THE OTHER LAMB).
Produced by Christos V. Konstantakopoulos, Brian Kavanaugh-Jones, Damian Jones, Deanna Barillari, and Papadimitropoulos at Faliro House – co-written by Argyris Papadimitropoulos with Rob Hayes. MONDAY is Argyris Papadimitropoulos' fourth feature.
MONDAY was an official selection at the 2020 Tribeca Film Festival and 2020 Toronto International Film Festival. IFC Films will release the film on April 16th, 2021 in select theaters and on demand.

When Mickey (Sebastian Stan) is dragged away from his DJ set by a drunken friend and introduced to Chloe (Denise Gough) one hot summer night in Athens, the attraction between the pair is immediately palpable—so palpable that before they know it they're waking up naked on the beach Saturday morning.
And so it goes that a one night stand on Friday turns into a whirlwind weekend romance that leads to serious conversations when they face the harsh sunlight on Monday morning.

Director Argyris Papadimitropoulos said, "In many ways, the film has become even more relevant in this current environment, as all relationships got challenged during the lockdown and Chloe's and Mickey's story is a very realistic take on relationships.
At a time when things have started getting more optimistic in the world and a summer trip to Greece, crowded parties, people kissing and having fun is something we are all longing for – I believe the timing is perfect to release the film and the fact that it found a home at IFC Films, makes my smile a little bigger."

The deal for the film was negotiated by President of IFC Films Arianna Bocco with ICM Partners and Protagonist Pictures on behalf of the filmmakers.
IFC FILMS LANDS NICOLE RIEGEL'S STUNNING DEBUT FEATURE "HOLLER"
IFC Films announced today that they are acquiring North American rights to HOLLER written and directed by Nicole Riegel, one of Variety's '10 Directors to Watch' in 2020. The film marks Riegel's directorial debut, and stars a breakout performance from Jessica Barden (END OF THE F*CKING WORLD), Gus Halper (SING STREET), Pamela Adlon (BETTER THINGS, CALIFORNICATION), Becky Ann Baker (FREAKS AND GEEKS, GIRLS), and Austin Amelio (AMC's THE WALKING DEAD).
HOLLER is produced by Katie McNeill and Jamie Patricof of Hunting Lane Films, Christy Spitzer Thornton, Level Forward's Rachel Gould, and Adam Cobb, with executive producers Adrienne Becker, Abigail E. Disney, Paul Feig, and Jessie Henderson.
HOLLER was selected by the Toronto International Film Festival, SXSW Film Festival, and Deauville Film Festival in 2020, and IFC Films will release the film in June 2021.

In a forgotten pocket of Southern Ohio where American manufacturing and opportunity are drying up, a determined young woman finds a ticket out when she is accepted to college.
Alongside her older brother, Ruth Avery joins a dangerous scrap metal crew in order to pay her way. Together, they spend one brutal winter working the scrap yards during the day and stealing valuable metal from the once thriving factories by night.
With her goal in sight, Ruth finds that the ultimate cost of an education for a girl like her may be more than she bargained for, and she soon finds herself torn between a promising future and the family she would leave behind.

Arianna Bocco, President of IFC Films said, "Nicole Riegel's beautiful cinematic voice is an instant powerhouse – she has created a visually stunning, personal and singular vision of American life with empathy and passion. We're thrilled to partner with such an accomplished and innovative producing team to bring this tremendous debut to audiences nationwide."

Director Nicole Riegel added, "HOLLER has been an enduring labor of love that I've poured many years of my life into, and I am so thrilled that my first film has found a passionate and caring home in IFC Films. Arianna and her amazing team have consistently taken chances on bold women and their stories, and I'm honored to be a part of that continuity."

Nicole Riegel is another first-time feature filmmaker developed, produced and with HOLLER, fully financed by Level Forward, whose recent work includes The Assistant, What The Constitution Means To Me, Rebel Hearts and Slave Play. Hunting Lane brought their legacy of work with acclaimed first-timers including films Half Nelson and Blue Valentine.

The deal for the film was negotiated by President of IFC Films Arianna Bocco with Jessica Lacy at ICM Partners, Adrienne Becker and Roger Clark for Level Forward.