Spring Cleaning Tips To Get Your Home "Monica" Clean #OwnFriendsTV
Now is the time to go through that junk closet of yours, so you don't have to say "You weren't supposed to see that!!" when you have company over! Please don't forget to also let your readers know that the only way to get their Friends fix, commercial free is to own the series! All individual seasons and compilation sets of Friends are available to purchase here: www.OwnFriendsTV.com.
All seasons are also available to own at all major digital retailers; including iTunes, VUDU, Amazon Prime, and Google. DVD and Blu-ray sets can be purchased from all major retailers – including Amazon, Target and Walmart. Friends is an American sitcom about six friends struggling to survive on their own in Manhattan. In each episode, they find the companionship, comfort and support from each other to be the perfect solutions to the pressures of everyday life.
The series stars 'The Ones That Were There For You' for ten seasons strong: Jennifer Aniston as "Rachel Green," Courteney Cox as "Monica Geller," Lisa Kudrow as "Phoebe Buffay," Matt LeBlanc as "Joey Tribbiani," Matthew Perry as "Chandler Bing," and David Schwimmer as "Dr. Ross Geller."
Friends has also featured many notable guest stars including Tom Selleck, Aisha Tyler, Jon Favreau, Anna Faris, Hank Azaria, Bruce Willis, Reese Witherspoon, Christina Applegate, Sean Penn, Jon Lovitz, Alec Baldwin, and many more. Friends was created by David Crane and Marta Kauffman and aired on NBC from September 22, 1994 to May 6, 2004. The series was produced by Bright/Kauffman/Crane Productions, in association with Warner Bros. Television.
GKIDS Acquires North American Rights to Animated Feature LUPIN THE 3RD: THE FIRST by Takashi Yamazaki
GKIDS, the acclaimed producer and distributor of animation for adult and family audiences, announced that it has acquired the North American distribution rights for the animated feature LUPIN THE 3RD: THE FIRST, a new animated feature from director/screenwriter Takashi Yamazaki (STAND BY ME DORAEMON, DRAGON QUEST: YOUR STORY). The "LUPIN THE 3RD" franchise, from original creator Monkey Punch, began in 1967 and has spanned a variety of manga, TV, game, theme park ride, and musical adaptations, including The Castle of Cagliostro (1979), the feature film debut from the acclaimed director Hayao Miyazaki. GKIDS will release LUPIN THE 3RD: THE FIRST theatrically in 2020 in both Japanese and an all-new English language dub. The deal for North American rights was negotiated by GKIDS President David Jesteadt and Sam Maseba, Director of Licensing for TMS Entertainment.

"As someone who has been a fan of Lupin III since The Castle of Cagliostro, I was blown away by quality of animation and storytelling in LUPIN THE 3RD: THE FIRST," said GKIDS President David Jesteadt. "Director Takashi Yamazaki has taken such incredible care and detail in creating Lupin's first adventure in CG, and I am hopeful that audiences fall in love with the film as much as I have."

"Lupin III has been stealing hearts of audiences of all ages for over 50 years, and we're proud to be able to present the latest evolution of the world's greatest thief," said TMS Entertainment, Vice President Masami Tokunaga. "We are truly excited to be collaborating with GKIDS to bring this amazing film to our fans in North America."

SYNOPSIS The iconic "gentleman thief" Lupin III returns in an action-packed, continent-spanning adventure, as Lupin III and his colorful underworld companions race to uncover the secrets of the mysterious Bresson Diary, before it falls into the hands of a dark cabal that will stop at nothing to resurrect the Third Reich. The gang undertakes trap-filled tombs, aerial escapades and daring prison escapes with the trademark wit and visual finesse that have made LUPIN THE 3RD one of the most storied animation franchises in the world, in a thrilling new caper that is sure to delight fans old and new.
New Trailer | Into The Dark: Pooka Lives
INTO THE DARK: POOKA LIVES
Premiere Date: Friday, April 3rd (Pooka Day Episode) Cast: Felicia Day, Wil Wheaton, Malcolm Barrett, Rachel Bloom, Jonah Ray, Lyndie Greenwood, Gavin Stenhouse
Crew: Director Alejandro Brugués, Writer Ryan Copple Synopsis: A group of thirty-something friends from high-school create their own Creepypasta about Pooka for laughs, but are shocked when it becomes so viral on the Internet that it actually manifests more murderous versions of the creature.
IFC Midnight's THE WRETCHED Opens May 1st lands a New Trailer and Poster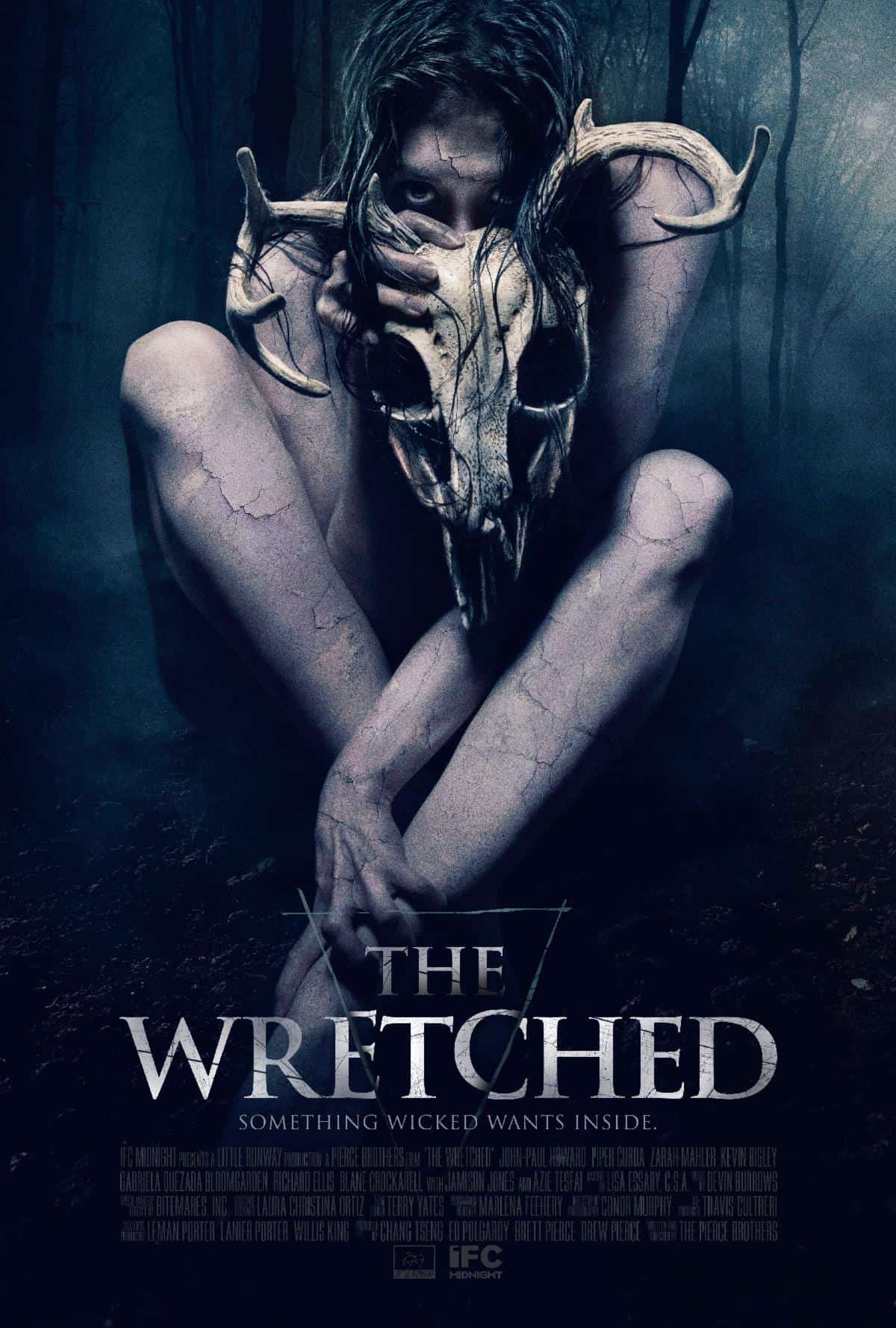 The Wretched gets a new poster via our friends at IFC Midnight.
Following his parents' separation, a rebellious teenage boy, Ben, is sent to live with his father for the summer and work at the local marina in order to gain some form of discipline. The idyllic tourist town offers little solace for him, however, as he is forced to deal with the local, privileged teens and his father's new girlfriend. Ben's problems grow increasingly disturbing when he makes a chilling discovery about the family renting the house next door. A malevolent spirit from the woods has taken ahold of the parents and starts playing a sinister game of house, preying upon the children and wiping away any trace of their existence. Ben's suspicions of the supernatural horrors go unheeded and he launches a perilous crusade in order to put an end to the skin-walking witch's reign of terror. Chilling and suspenseful, THE WRETCHED offers a modern update to the retro young hero's mission like that of The Goonies, and promises to make viewers wary of every dark corner they encounter after witnessing its terrifying tale.
Just Announced – Impractical Jokers: The Movie Gets Early Digital Release
Warner Bros. Home Entertainment is bringing the pranks into homes this April Fool's Day with the early digital release of Impractical Jokers: The Movie on April 1, 2020, only five weeks after its successful theatrical debut. The film, an extension of the wildly successful Impractical Jokers series, was directed by Chris Henchy (Daddy's Home, "Eastbound & Down"). A truTV original production and produced by Funny Or Die, Impractical Jokers: The Movie carries a suggested retail price of $19.99 for the Digital ($24.99 in Canada) and is rated PG-13. "Impractical Jokers raised the stakes bringing their hijinks to the big screen and we couldn't be more proud of their impressive box office debut," said Brett Weitz, General Manager for TNT, TBS, & truTV.
"The unwavering support of their fans prove that this comedy franchise continues to provide endless laughs and entertainment that we are pleased to bring into homes."
"Impractical Jokers first premiered on truTV to much fanfare in December 2011 and quickly became a hit, especially among young adults," said Mary Ellen Thomas, WBHE Senior Vice President, Originals, Animation & Family Marketing. "The power of the loyal fanbase has proven the sky's the limit for this comedy franchise, and we are eager to bring home the laughter and antics of their first feature film for the whole family to enjoy." "For all our wonderful fans who've been requesting, we're happy to announce that Impractical Jokers: The Movie will be available in your homes to watch digitally on April 1st", said The Tenderloins.
"Hoping we can provide some laughs to families and friends at a time when we can all surely use some." Impractical Jokers: The Movie stars James "Murr" Murray, Brian "Q" Quinn, Joe Gatto, and Sal Vulvano, also known as the comedy troupe The Tenderloins, playing themselves in a fictional story of a humiliating high school mishap from the early nineties. Featuring appearances from Paula Abdul, Jaden Smith, and Joey Fatone, the movie combines the fictional narrative with real life footage of over-the-top punishments and callbacks to classic moments from the series. Once the Impractical Jokers hit the road, they compete in hidden camera challenges for the chance to turn back the clock and find redemption.

Impractical Jokers: The Movie is produced by Gatto, Murray, Quinn, Vulcano, Henchy, and Funny Or Die's Jim Ziegler and Buddy Enright. Executive producers include Jack Rovner and Funny Or Die's Mike Farah and Joe Farrell. The Impractical Jokers series has aired eight seasons with over 200 episodes to date and remains a top three original cable comedy series with ratings that continue to grow. New episodes of Impractical Jokers keep truTV in the top 10 ranking among cable networks in primetime.