MIRAI to Return to Select Theaters Beginning February 18th
From acclaimed director Mamoru Hosoda (Summer Wars, Wolf Children) and Japan's Studio Chizu comes Mirai, a daringly original story of love passed down through generations. When four-year-old Kun meets his new baby sister, his world is turned upside down. Named Mirai (meaning "future"), the baby quickly wins the hearts of Kun's entire family.
As his mother returns to work, and his father struggles to run the household, Kun becomes increasingly jealous of baby Mirai… until one day he storms off into the garden, where he encounters strange guests from the past and future – including his sister Mirai, as a teenager. Together, Kun and teenage Mirai go on a journey through time and space, uncovering their family's incredible story. But why did Mirai come from the future?
An official selection at Cannes Directors' Fortnight, and the epic capstone of director Mamoru Hosoda's career, Mirai is a sumptuous, magical, and emotionally soaring adventure about the ties that bring families together and make us who we are.
On 3/15, an Epic Neolithic Thriller, the World's Oldest Cold Case 5000 Years in the Making Opens with ICEMAN, in Top Markets + VOD
In 1991, a melting glacier revealed the body of a man. At first, people assumed he was a hiker. But then scientists discovered that he'd been dead for over five thousand years. This is his story…
The Ötztal Alps, more than 5,300 years ago. A Neolithic clan has settled nearby a creek. It is their leader Kelab's responsibility to be the keeper of the group's holy shrine Tineka. While Kelab (Jurgen Vogel), is hunting, the settlement is attacked. The members of the tribe are brutally murdered including Kelab's wife and son, and Tineka is gone. Blinded by pain and fury, Kelab is out for one thing alone – vengeance.
Kelab follows the perpetrators' tracks. On his odyssey through the mountains, he's exposed to the dangers of nature. Finally, Kelab faces not only his family's murderers but also himself. Will he succumb to his urge for revenge or can he succeed in breaking the eternal circle of violence?
Iceman sounds interesting, yet different enough from the early 80s Iceman. Check it out!
Stadium Media Adds Leading Urban Films From Xenon Pictures To Its Offering
Heading into the Berlin Film Festival, Stadium Media, a leading global digital content provider, has inked a deal with Xenon Pictures to offer top urban films for digital distribution to select platforms. Highlights of the deal include The Legend of Dolemite, the definitive documentary on Rudy Ray Moore, a biopic of whose life Dolemite is My Name is coming to Netflix and stars Eddie Murphy in the title role.
Xenon Pictures is the leading purveyor of content for black audiences to-date, starting the line in the late 1980s, long before the term "urban" was in use. Today's announcement was made by Stadium Media's founder Mitch Mallon.
"We are extremely thrilled to be working with Xenon," commented Mallon. "They were the first in the market to recognize and realize how important the African American audience to the home entertainment field. We look forward to offering their top titles to digital audiences."
"Mitch is a force in this industry. Over the decades, we've often competed with him for customers and titles, but we are thrilled to have him on our side," said Xenon Chief Operating Officer Steve Housden. "It frees us up to concentrate on producing new content. It's great knowing Mitch is in position to place the new titles with his accounts."
In the mix are some of Xenon's long-standing evergreen classics including the classic miniseries "A Woman Called Moses" (Cicely Tyson as Harriet Tubman), urban thriller Joy Road, the award-winning documentary Welcome to Death Row (the inspiration for Straight Outta Compton) and "Before They Were Kings" which features today's comic stars (including Chris Rock, D.L. Hughley and Martin Lawrence) before any of us knew who they were.
Stadium Media's library consists of classic television shows such as SyFy's "Van Helsing", "That Girl", "The Best of Groucho Marx" and "The Danny Thomas Show"; independent films such as The Matchbreaker, The Black Hole, It Happened One Christmas, Leonard Nimoy's Vincent and Peter Bogdanovich's Tom Petty and the Heartbreakers Runnin Down a Dream and the upcoming Undateable John.
Psychological horror feature film SOMETHING in select theaters Friday, March 1st – starring Michael Gazin, Jane Rowen, Joel Clark Ackerman, Eric Roberts!
A man and woman are struggling to adjust to life with their new baby. The woman, possibly suffering from post-natal depression, breaks down and afterwards begins feeling as though there is someone at their house, watching them.
She claims to have seen an intruder in the baby's room over the baby monitor, but the man blames it on her stress and tiredness. Despite her pleas, the man refuses to cancel an upcoming business trip.
She continues to do irrational things she doesn't remember doing, frustrating the man who accuses her of trying to sabotage his trip to keep him at home.
But that changes when he also glimpses the intruder inside their house. Now, unsure of whether they are being hounded by a stranger or being driven insane, the two of them fear for their safety and that of their new baby.

Something: Official Trailer from Subspin Productions on Vimeo.
Social Media:
Instagram: www.instagram.com/something.film
Facebook: www.facebook.com/something.film
Website: www.something.film
IMDb: www.imdb.com/title/tt6185266/
NEW CLIPS DreamWorks The Epic Tales of Captain Underpants Season 2 Premieres Today Only On Netflix!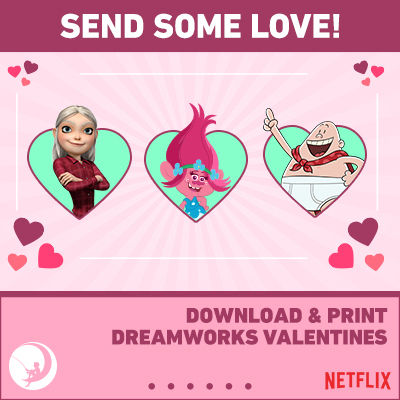 From Peabody Award and Emmy-winning executive producer Peter Hastings, the Annie nominated series is based on the epic novels by Dav Pilkey that have sold more than 80 million copies worldwide. The awesome main cast includes the voice of Sean Astin (Lord of the Rings, Stranger Things) as the series' narrator, Nat Faxon (Ben and Kate, Married) as Captain Underpants/Mr. Krupp, Jay Gragnani (Bubble Guppies) as George Beard and Ramone Hamilton (Will & Grace) as Harold Hutchins.
This season George and Harold must try to keep their grades up in order to go to summer camp, but with Principal Krupp sent away will they come out on top in a school run by Melvin and a Cyborg Melvin from the future? Follow our favorite pranksters in this epic new season available exclusively on Netflix.
Just in Time for Valentine's Day, Salma Hayak's Steamy Breakout Film, MIDAQ ALLEY, Makes its Streaming Premiere on FILM MOVEMENT PLUS on 2/8
This Valentine's Day, grab your significant other or romantic interest for Salma Hayek's breakout performance in MIDAQ ALLEY, winner of more awards than any other film in the history of Mexican Cinema.
Adapted from the 1947 novel "The Alley of the Miracles" by Nobel Prize laureate Naguib Mahfouz and winner of numerous international awards, MIDAQ ALLEY, from celebrated Mexican director Jorge Fons, follows a group of overlapping characters through four distinct episodes. Among them is local cantina owner Rutilio (Ernesto Gómez Cruz), a family man who gives in to latent homosexual desires. His son, Chava (Juan Manuel Bernal), yearns to emigrate to America, while the desperate spinster Susanita (Margarita Sanz) dreams of finding a husband. Finally, there is Abel (Bruno Bichir), a poor barber whose romance with the innocent beauty Alma (Salma Hayek) ends tragically after she is coerced into a life of debauchery.
Film Movement Plus also invites viewers to get in the mood with a selection of romantic feature films from around the world:
A NY THING – Starring Greta Gerwig
HELENA FROM THE WEDDING – Starring Gillian Jacobs, Corey Stoll
IF YOU DON'T, I WILL – Starring Mathieu Amalric, Emmanuelle Devos
MY ART – Starring Laurie Simmons, Lena Dunham and Parker Posey
MY MISTRESS – Starring Emmanuelle Béart
NOT ANOTHER HAPPY ENDING – Starring Karen Gillan
SENSATION – Starring Domhnall Gleeson
THE CHAMBERMAID LYNN – Starring Vicky Krieps
THE PILLOW BOOK – Starring Ewan McGregor and Vivian Wu
THE RAGE IN PLACID LAKE – Starring Rose Byrne