IFC FILMS REUNITES WITH ANDREA ARNOLD ON ACCLAIMED CANNES DOC 'COW'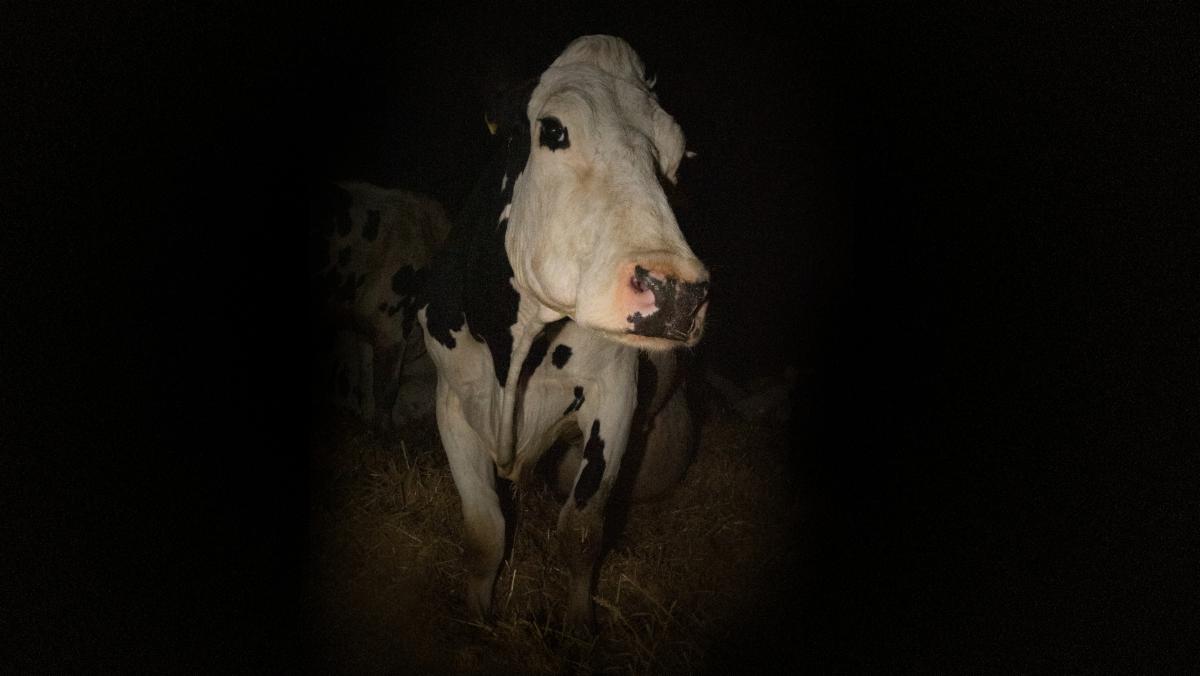 IFC Films announced today that it is acquiring North American rights to COW, a new documentary shot over 7 years, directed by the highly acclaimed filmmaker Andrea Arnold. The film was produced by Kat Mansoor of Halcyon Pictures. It is Executive Produced by Rose Garnett of BBC Films and Maxyne Franklin and Sandra Whipham of Doc Society. IFC Films has previously collaborated with Andrea Arnold on her award-winning film FISH TANK which starred Katie Jarvis and Michael Fassbender.
COW had its world premiere in the newly created Cannes Premiere section at this year's Cannes Film Festival.
Andrea Arnold described COW as follows; "This film is an endeavour to consider cows. To move us closer to them. To see both their beauty and the challenge of their lives. Not in a romantic way but in a real way. It's a film about one dairy cow's reality and acknowledging her great service to us.
When I look at Luma, our cow, I see the whole world in her." Arianna Bocco, President of IFC Films said, "We are beyond thrilled to reunite with Andrea again after the incredible debut of FISH TANK over a decade ago. COW is a poignant extension of her remarkable career and we are looking forward to sharing this emotional and deeply universal story with audiences across North America."
The deal for the film was negotiated by IFC Films' President Arianna Bocco and Director of Acquisitions' Aijah Keith with Josh Braun, Ben Schwartz and Matt Burke of Submarine on behalf of the filmmakers. mk2 films handled worldwide sales outside of North America. Andrea Arnold studied directing at the AFI Conservatory in Los Angeles. After making several short films, she won the Academy Award for Best Live Action Short Film for WASP, in 2005.
In 2006, her first film, RED ROAD won the Jury Prize at Cannes Film Festival and the BAFTA Carl Foreman Award. Her second film, FISH TANK starred Michael Fassbender and Katie Jarvis. It won the Jury Prize at the 2009 Cannes Film Festival. It also won the 2010 BAFTA for Best British Film.
Her third film, WUTHERING HEIGHTS, was an adaptation of the Emily Brontë novel. The film premiered in Competition at the 2011 Venice Film Festival. Her most recent film, AMERICAN HONEY, was shot in America with Sasha Lane and Shia LaBeouf. It won Arnold her third Jury Prize at the 2016 Cannes Film Festival. Andrea directed the second series of BIG LITTLE LIES for HBO in 2018-19. COW is her most recent feature.
LORELEI – Starring Jena Malone, Pablo Schreiber, Amelia Borgerding, Chancellor Perry, Parker Pascoe-Sheppard – In Select Theaters & On Demand July 30
Distributed By: Vertical Entertainment
Directed & Written By: Sabrina Doyle
Produced By: Kevin Chinoy and Francesca Silvestri
Executive Produced By: Arnold Zimmerman, Jianulla Zimmerman, Pablo Schreiber, Jena Malone
Starring: Jena Malone, Pablo Schreiber, Amelia Borgerding, Chancellor Perry, Parker Pascoe-Sheppard
Runtime: 110 mins
Rating: Not Rated
Genre: Drama
Synopsis: After 15 years in prison, Wayland (Pablo Schreiber) reunites with his high school girlfriend, Dolores (Jena Malone), who is now a single mother of three. What follows is a lyrical take on love, regret and second chances.
Logline: A working-class fable about a biker, a mermaid and three shades of blue.
Here's a New Clip for RESPECT – In Theaters Everywhere August 13
IN THEATERS AUGUST 13
Following the rise of Aretha Franklin's career from a child singing in her father's church's choir to her international superstardom, RESPECT is the remarkable true story of the music icon's journey to find her voice.
THE COLONY – Sci-Fi Drama starring Nora Arnezeder, Sarah-Sofie Boussnina, Iain Glen and More – Out August 27, 2021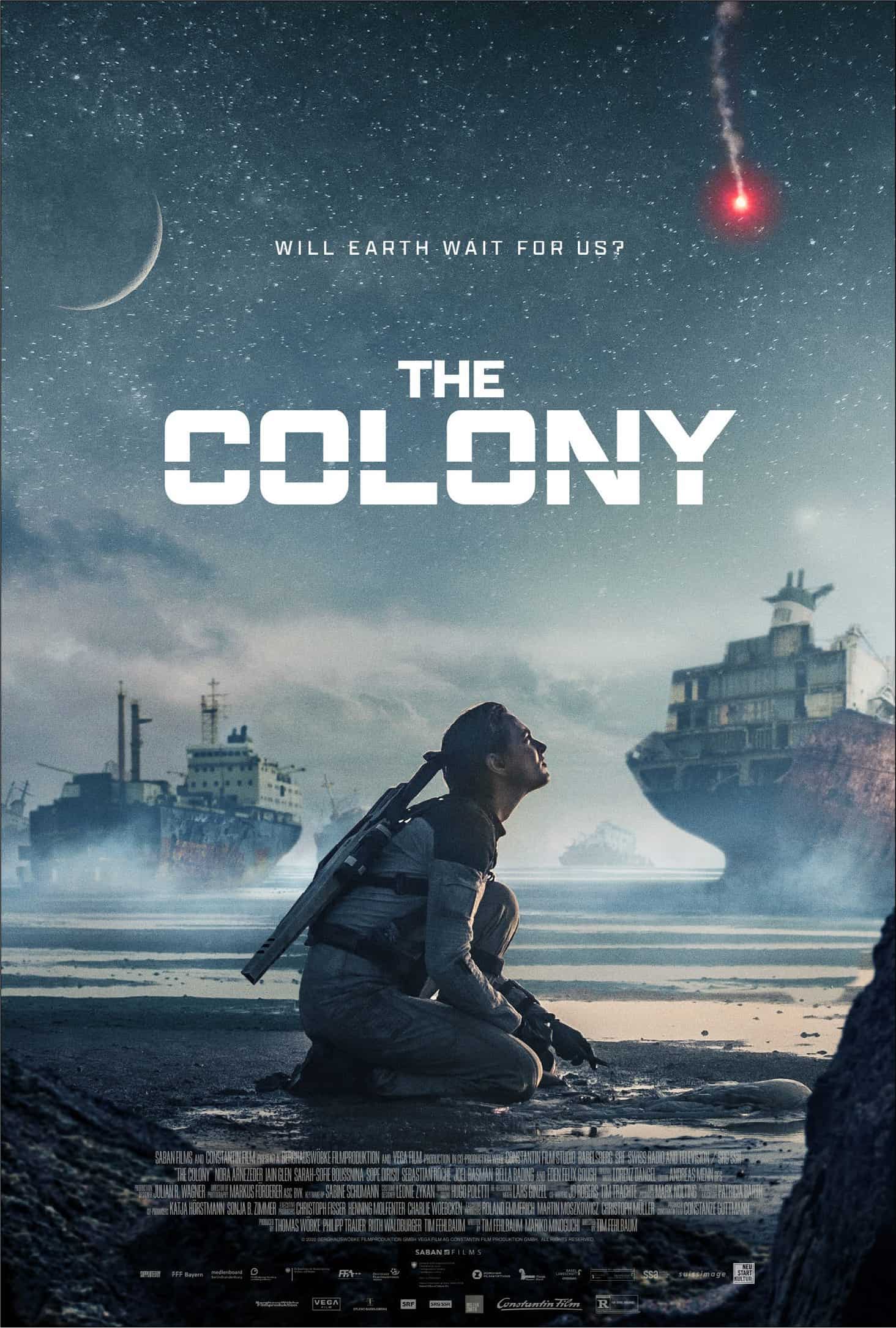 Directed by:
Tim Fehlbaum (Apocalypse, Für Julian)
Written by:
Tim Fehlbaum, Mariko Minoguchi (Relativity, Karlstod)
Starring:
Nora Arnezeder (Army of the Dead, Angélique, Paris 36, Safe House, The Words), Sarah-Sofie Boussnina (Department Q: The Absent One, Knightfall, Bron/Broen), Iain Glen (Lara Croft: Tomb Raider, Resident Evil: Extinction, Resident Evil: The Final Chapter), Sebastian Roché (Odyssey 5, Fringe, Supernatural, The Vampire Diaries, The Originals), Joel Basman (The Awakening of Motti Wolkenbruch, The Monuments Men, Hanna)
Run Time:
104 minutes
Rating:
R
Genre:
Science Fiction, Drama
Synopsis:
Cataclysmic conditions on Earth forced a mass exodus to a distant planet. Generations later, a manned mission hurtles back to assess living conditions on the desolate, mostly submerged world.

The sole survivor of the expedition is attacked by a violent band of scavengers, themselves locked in battle with a far more sinister foe. Now, mankind's very survival depends on the bravery and ingenuity of the lone astronaut.
NEW CLIPS for TWIST – Starring Michael Caine, Rita Ora, Raff Law, Noel Clarke, Sophie Simnett, Jason Maza, Franz Drameh – In Theaters, on Digital, and On Demand Now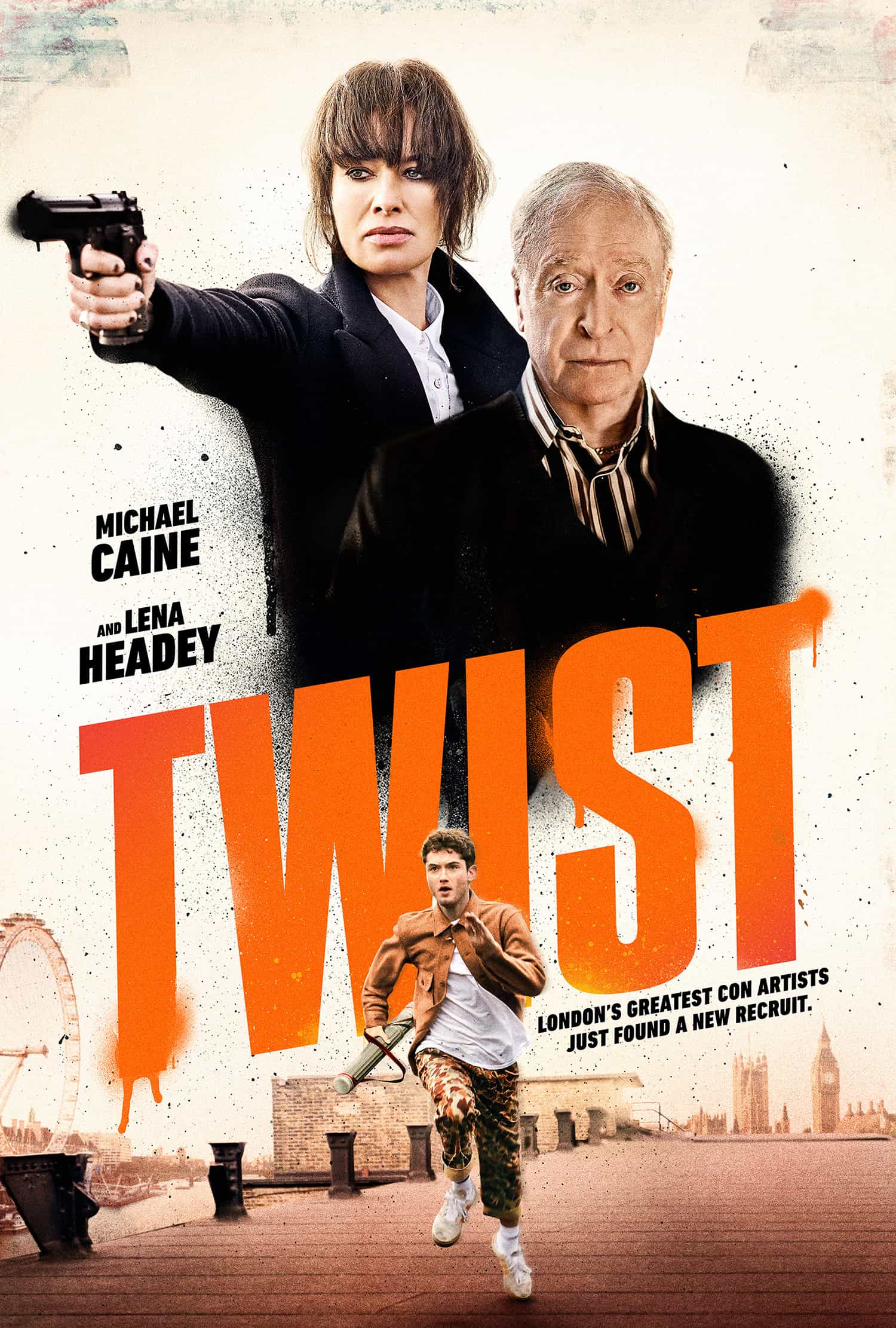 Directed By: Martin Owen
Written By: John Wrathall and Sally Collett
Starring: Michael Caine, Rita Ora, Noel Clarke, Sophie Simnett, Jason Maza, Franz Drameh with David Walliams and Lena Headey and Introducing Raff Law
Run Time: 90 mins
Rating: Rated R for some violence and language.
Genre: Action, Crime
Synopsis: Inspired by Charles Dickens's iconic novel Oliver Twist, this action-fueled crime-thriller set in contemporary London follows the journey of Twist (Raff Law), a gifted graffiti artist trying to find his way after the loss of his mother. Lured into a street gang headed by the paternal Fagin (Oscar® winner* Michael Caine), Twist is attracted to the lifestyle — and to Red (Sophie Simnett), an alluring member of Fagin's crew. But when an art theft goes wrong, Twist's moral code is tested as he's caught between Fagin, the police, and a loose-cannon enforcer (Lena Headey).
NOT GOING QUIETLY | Trailer & Poster Release
Nicholas Bruckman's (La Americana), NOT GOING QUIETLY, which won the Audience Award and Special Jury Recognition for Humanity in Social Action at SXSW, offers an intimate and inspiring look at the life of political activist and new father, 32-year-old Ady Barkan, who after being diagnosed with ALS, joins a motley crew of activists to ignite a once-in-a-generation movement for healthcare justice in America.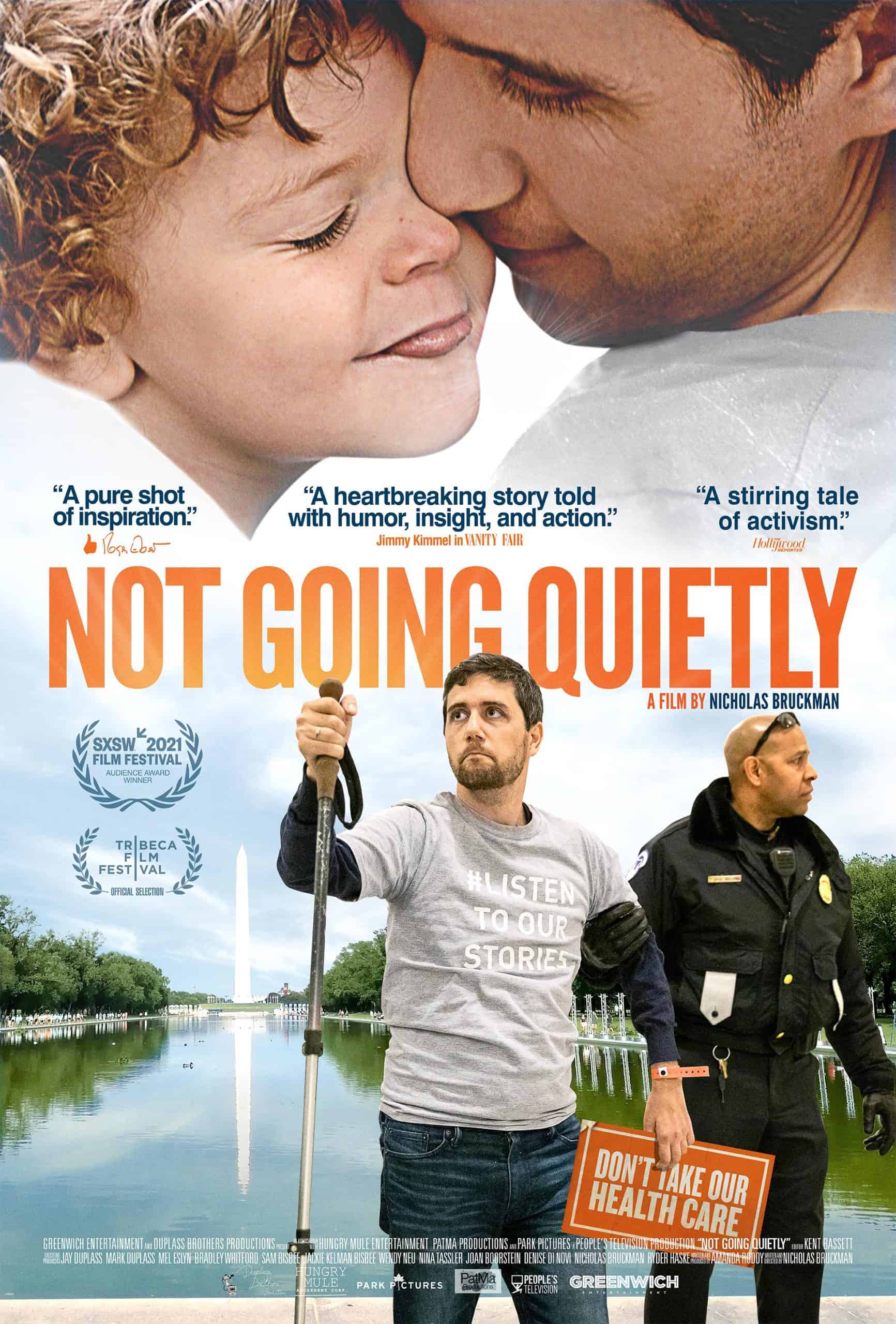 ARROW Announces August SVOD Lineup, Leading With Surreal Comedy MAN UNDER TABLE, MORAL OUTRAGE & WHAT THE FOLK HORROR

Arrow Video is excited to announce the August 2021 lineup of their new subscription-based ARROW platform, available to subscribers in the US, Canada, the UK and Ireland.

The August lineup leads with the ARROW release of Noel David Taylor's bizarre filmmaking comedy Man Under Table, available exclusively to subscribers in the US, Canada, the UK and newly launched in Ireland.

The feature debut from writer/director Noel David Taylor, who also stars as Guy, a beleaguered, hilariously obnoxious scriptwriter navigating his way through the chaotic indie film scene in a dystopian Los Angeles, Man Under Table world premiered at the Slamdance Film Festival and screened at the Chattanooga Film Festival.

The film will debut on ARROW August 2nd.

Man Under Table is an inventive and quirky comedy that skewers the hustle and grind of independent filmmaking, as seen in ARROW's doc Clapboard Jungle.
Ahead of the release of his debut feature, Taylor shared: "For as long as I have been making videos, I have been making odd, absurdist, borderline camp videos. It is not an easy thing to find an audience for such films. Which is why when something fits as effortlessly into a catalog as Man Under Table does into Arrow's, it's not only a relief — but a homecoming of sorts.

The first time one explores the arsenal of films Arrow has arranged, you find yourself hard-pressed to not be overwhelmed with not only a magnificently varied beaucoup of horror, camp, and just plain evocative films, but also an abundance of style, humour and fun. I could not have found a better home for my film if I conjured it from the ether. To whom it may concern: go watch these films!"

ARROW Stories will be home to a number of exclusive extras for Man Under Table, including a making of featurette, deleted scenes, a commentary from Taylor, a Man Under Table music video, and a number of Taylor's early short films, including The Hermit and Dos Hombres.
August 2nd will see the arrival of Man Under Table (US/CA/UK/IRE), Hagazussa (US/UK/IRE), Mesrine: Killer Instinct (US), Mesrine: Public Enemy #1 (US), Blind Beast (US/CA/UK/IRE), Suture (US/CA/UK/IRE), Death Line (US/CA), Stage Fright (US/CA), The Toolbox Murders (US/CA) and Amsterdamned (US/CA).

August 2nd's Seasonal arrivals dive deep into smut with ARROW Extreme and Ban this Sick Filth Presents: Moral Outrage. ARROW Extreme is a curation of films that pull no punches, that push audiences to the brink and dare them to look away. Featuring the vicious work of Lucio Fulci, Abel Ferrara, Takashi Miike and Shohei Imamura and more, titles include: Audition, Island of Death, Toys are not for Children, Manhattan Baby, The Hills Have Eyes.

Ban this Sick Filth Presents: Moral Outrage features disgusting films that star scream queens and adult film stars and looks back at the attempts in the looks back at the attempts in the UK to ban heinous horror video cassettes during the Video Nasties era. Titles include: Vice Academy, We are Twisted F***ing Sister, Video Nasties: Moral Panic, Censorship and Videotape, Orgies of Edo, Underwater Love.

August 6th sees the arrival of another installment of "Hammer House of Horror": Charlie Boy (US).

August 6th's Season shoots up with Your Own Supply, a selection of ARROW titles where smoke, dust and needles reign supreme in the lives of antiheros. Titles include: The Hooked Generation, Reefer Madness, Whiskey Mountain, Ivans Xtc.

August 9th's Season takes audiences to Hauntology 101 with the bow of What the Folk?, a lineup of pastoral darkness and pagan blood sacrifices. Titles include: Season of the Witch, Hagazussa, Dark August, The Ballad of Narayama.

August 13th will debut with another installment of "Hammer House of Horror": The Silent Scream (US), Vice Academy (US/CA/UK/IRE), Vice Academy Part 2 (US/CA/UK/IRE), Vice Academy Part 3 (US/CA/UK/IRE), The Visitants (US/CA/UK/IRE), Blood Theatre (US/CA/UK/IRE), Hobgoblins (US/CA/UK/IRE), and two short films from Rafael De Leon Jr: Momma, Don't Go (US/CA/UK/IRE) and Goodbye Old Friend (US/CA/UK/IRE).

August 16th goes hardcore into history with the release of We Are Twisted F***ing Sister (US/CA), a doc chronicling the heavy metal band's early years, as well as two guides into the public hysteria of the Video Nasties era: Moral Panic, Censorship, and Video Tape, and Draconian Days (both US/CA/UK/IRE).

On August 16th, ARROW celebrates the height of summer with a Season that goes deep in the lonely places the daylight doesn't reach. Be it the sewers below New York or the London Underground, there are things down there that are waiting for you, and ARROW has found them. Titles include: Trapped Alive, The Witch Who Came From the Sea, The Cold Light of Day, In the Aftermath.

August 20th debuts an international smorgasbord of sex and violence: Andrea Bianchi's sexploitation film Malabimba (US/CA), Michel Levesque's prison thriller classic Sweet Sugar (US/CA/UK/IRE), A.C. Stephen's gore and sex-filled rampage Fugitive Girls (US/CA/UK/IRE), and Robert Vincent O'Neil's sci-fi action thriller Wonder Women (US/CA/UK/IRE), featuring an all-girl army,

The features are joined by another installment of "Hammer House of Horror": Children of the Moon (US).

August 21st will see the release of Joe Angio's acclaimed Melvin Van Peebles documentary How to Eat Your Watermelon in White Company (and Enjoy It) (US/CA).