Liar Liar is one of those middle of the road late 90s era defining comedies. It's not bland enough to be totally family oriented, but defanged enough not to be memorable. Still, it made $300 million and far better movies are dying slow deaths in our ghost town theaters. What does that mean in 2022? Well, the same thing it always means. The average movie goer doesn't give a damn about what you find funny.
It was 1997 and Jim Carrey was beginning to learn how to appeal to the masses.
Liar Liar is not a great movie, but it's a competent one. When Hollywood was in its infancy, that was enough to get a film made in a rather short amount of time. The further we drifted away from that structure, the more bean counters and foreign hedge funds got involved.
In a way, it was a better time.
Liar Liar at 25
Tom Shadyac deserves your respect
Liar Liar is why Shadyac worked so well in the 90s. He was a competent comedy director that could spot talent and play to their strengths. If you haven't seen the documentary "I Am", then I recommend it to get deeper into Shadyac's process.
As the years go on, I find myself wondering…was everything I saw at a young age really that bad? Did I need to see Kull the Conqueror roughly 12 times in a year? The answer is kinda.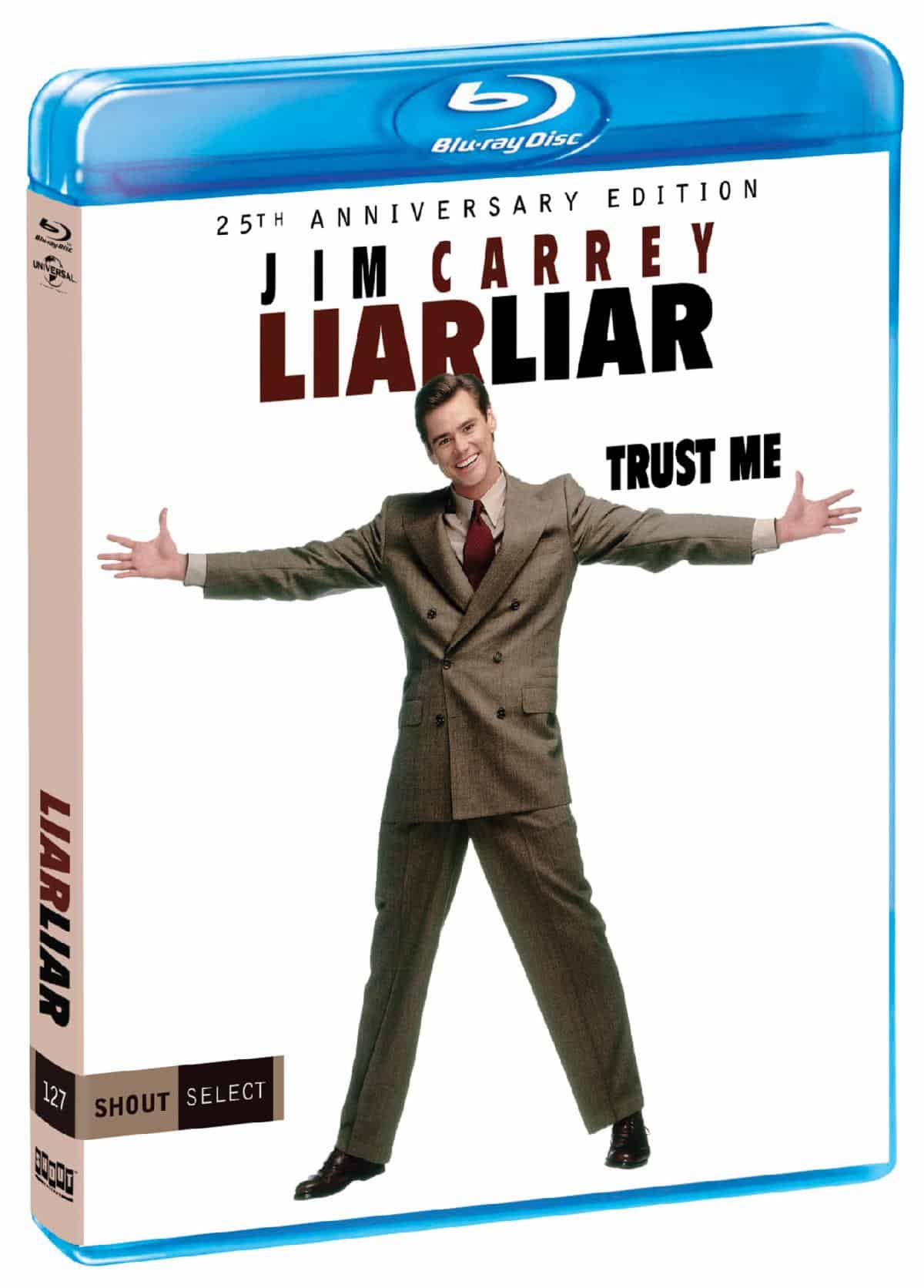 What's on the actual Blu-ray?
Shout Factory brings Liar Liar to the Shout Select Blu-ray imprint with a new look at the writing of the film. Plus, you get a new look back featurette. The deleted scenes, outtakes, commentary and related older material make their way to the new disc. The A/V Quality is rather crisp for a 25 year old movie. I'd give it a shot if I were a fan.
Finish your thoughts on Liar Liar
I often go on tangents, so let's get this wrapped up before I lose my focus when discussing major studio comedies of the 1990s. This is a film that could have been made at any budget and in any format. Hell, I could've sworn I've seen a sitcom use the same premise. But, what made it worth $300 million at the theatrical box office? The answer is simple…Jim Carrey.
Jim Carrey in the 90s was a fresh face powerhouse who had spent the prior decade fighting to get his face out there. But, vampire movies and The Duck Factory aren't going to cut it. 90s audiences wanted a face that could give them hilarity, but familiarity. No one can root for someone that they can't see themselves as being. It's the fundamental design of hero worship.
What works about Liar Liar is the simple nature of the story. Anyone has been a bad parent that put their career over their child. By giving so much of your life over to the kid's wishes, your life could be redeemed in this silly fantasy. If you're a crunchy mom or New Age dad, this might be the kind of fantasy wish fulfillment you can dig.
Still, it conquered 1997 and doesn't seem to have the same traction now. I plan on studying this more throughout 2022.
Liar Liar: 25th Anniversary Edition arrives on Blu-ray on January 18th, 2022