Cohen Film Collection Announces CORRIDOR OF MIRRORS on October 19th. Devour the Blu-ray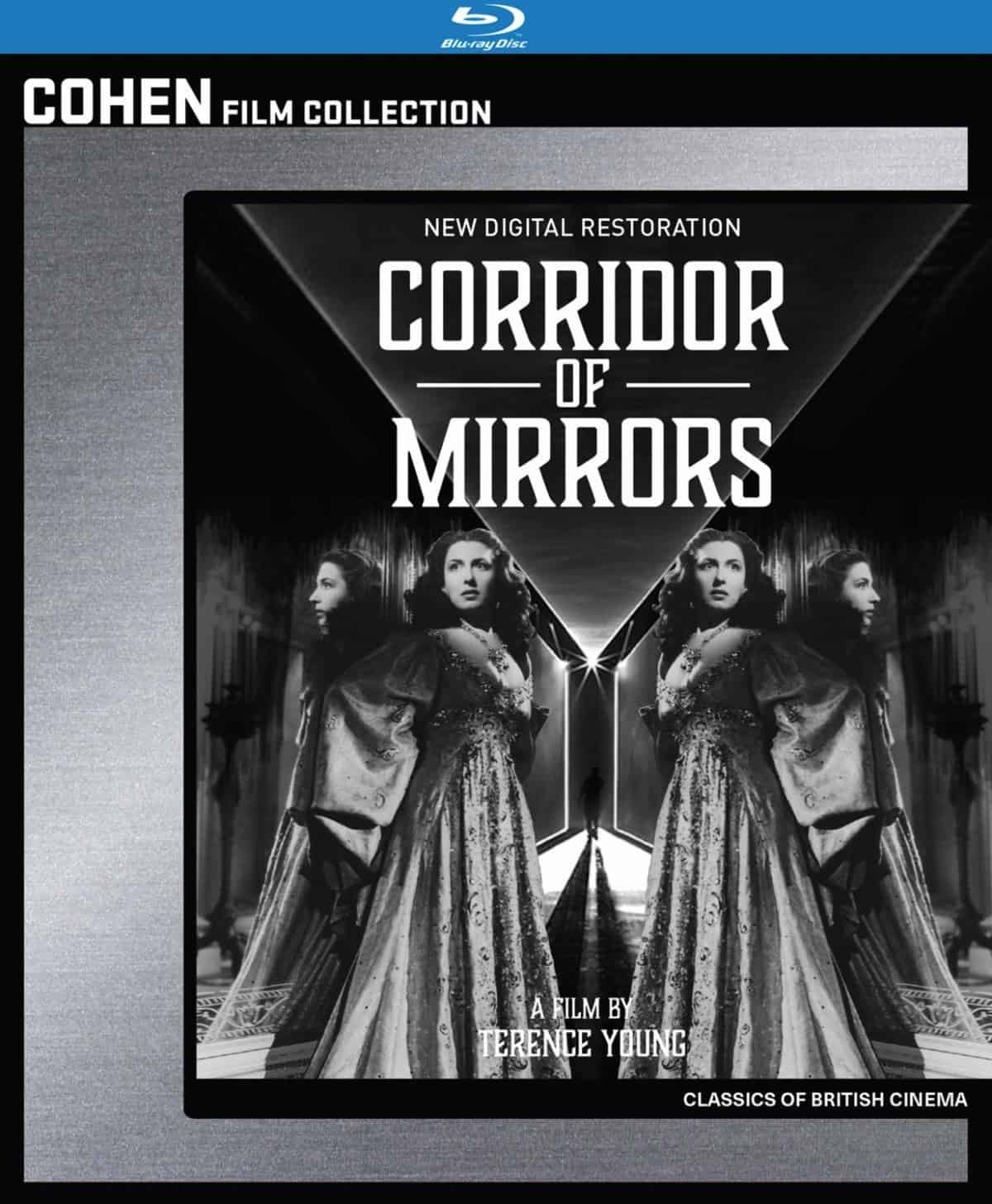 Newly Restored! Eric Portman (A CANTERBURY TALE) plays an artist obsessed with the past. He surrounds himself with Renaissance artwork, infatuated with the notion that he and his lover (Edana Romney) are reincarnations of the lovers in a centuries-old painting. Portman's delusions have deadly consequences.
One of the most unusual British films of the 1940s, CORRIDOR OF MIRRORS incorporates aspects of gothic horror, film noir, melodrama, fantasy, romance and thrillers. The first feature by director Terence Young (DR. NO., WAIT UNTIL DARK), it was heavily influenced by Jean Cocteau's BEAUTY AND THE BEAST and David Lean's BRIEF ENCOUNTER, and includes the feature film debut of Christopher Lee (THE LORD OF THE RINGS).

CORRIDOR OF MIRRORS
Director: Terence Young
Year: 1948 Rating: NR Genre: Drama Runtime: 96 Black & White
Actors: Edana Romney, Eric Portman, Barbara Mullen, and Christopher Lee
Other Cohen Collection titles to devour
THE AWAKENING Comes to Blu-ray on October 5th They say the boy was scared to death. When the death of a child at a boarding school is blamed on a ghost, hoax exposer Florence Cathcart is certain that science and reason can explain it. But the truth she discovers is more terrifying than she could ever imagine, and soon the ghost hunter becomes the hunted.

Starring Rebecca Hall (The Town), Dominic West (The Wire) and Imelda Staunton (Harry Potter films), The Awakening is a terrifying mystery filled with haunting twists that will keep you on the edge of your seat.
Bonus Features: Deleted Scenes Introduced by Director Nick Murphy | A Time for Ghosts | Anatomy of a Scene: Florence and the Lake | Anatomy of a SCREAM |Behind the Scenes | Extended Interview with Nick Murphy

THE AWAKENING
Director: Nick Murphy
Year: 2011 Rating: R Genre: Horror Runtime: 108
Actors: Rebecca Hall, Dominic West, and Imelda Staunton


CASANOVA LAST LOVE

Comes to Blu-ray October 12th Casanova, Last Love is the latest romantic ravishment from director Benoit Jacquot (Farewell, My Queen). London, 18th century. Casanova (Vincent Lindon), famous for his taste of pleasure and gambling, arrives from Paris, forced into exile. In this city he knows nothing about, the libertine meets on several occasions a young prostitute, Marianne de Charpillon (Stacy Martin).
She attracts him to the point he starts disregarding all other women. The legendary seducer is ready to do anything to get her, but La Charpillon always escapes under various excuses. She challenges Casanova: "You will only have me if you stop desiring me!"

CASANOVA LAST LOVE
Director: Benoit Jacquot
Year: 2019 Rating: NR Genre: Drama Runtime: 98

Actors: Vincent Loindon, Stacy Martin, Valeria Golino, Julia Roy, Nancy Tate, and Anna Cottis
'The Protégé' Coming Soon to Digital & 4K Ultra HD Combo Pack, Blu-ray™ Combo Pack and DVD
A deadly assassin is out for vengeance in the "bold, brilliant and relentlessly bad-ass" (Mark S. Allen, ABC-TV) action thriller The Protégé, taking aim on Digital September 21, and 4K Ultra HD Combo Pack, Blu-ray Combo Pack, DVD, and On Demand October 19 from Lionsgate.
Headlined by OscarⓇ nominee Michael Keaton (2014, Actor in a Leading Role, Birdman; Spiderman: Homecoming,), Maggie Q ("Nikita," Divergent) and OscarⓇ nominee Samuel L. Jackson (1994, Actor in a Supporting Role, Pulp Fiction; Avengers: Endgame), alongside Robert Patrick (Terminator 2: Judgment Day), the "sharp and surprisingly intelligent" (Michael O'Sullivan, The Washington Post) film was written by Richard Wenk (The Equalizer franchise and The Expendables) and directed by Martin Campbell (Casino Royale and GoldenEye).
Rescued as a child and raised by legendary assassin Moody (Jackson), Anna (Maggie Q) was trained to become the world's most skilled contract killer. When Anna learns that Moody has been brutally killed, she vows revenge.
On the murderer's trail, Anna is entangled with an enigmatic hit man (Keaton) and, as their confrontation turns deadly, the loose ends of a life spent killing weave themselves ever tighter in this adrenaline-fueled action-thriller from the director of Casino Royale.
Packed with high-octane action sequences and fight scenes that will leave fans breathless, The Protégé home entertainment release also includes two behind-the-scenes featurettes, audio commentary from Director Martin Campbell, and a previously unreleased deleted scene.
Hosted by Campbell, "Scars of the Past: Making The Protégé" offers an inside look at the making of the film, and is filled with immersive on-set footage, captivating photographs, and intriguing interviews with stars Maggie Q, Keaton and Jackson.
Meanwhile, "Anna vs. Rembrandt" focuses on the "electric" (Matt Goldberg, Collider) chemistry between Maggie Q's and Keaton's characters. The Protégé 4K Ultra HD Combo Pack, Blu-ray Combo Pack, and DVD will be available for the suggested retail prices of $42.99, $39.99, and $29.96, respectively. Additionally, the Digital release will be available for the suggested retail price of $14.99.
The Protégé was produced by Arthur Sarkissian, Rob Van Norden, Yariv Lerner, Chris Milburn, Moshe Diamant. Written by Richard Wenk. Directed by Martin Campbell. Lionsgate and Millennium Media present, in association with Ingenious Media, a Millennium Media / Fourteen Films / I Road production, in association with Campbell Grobman Films / Ingenious Media.
4K UHD / BLU-RAY / DVD / DIGITAL SPECIAL FEATURES
"Scars of the Past: Making The Protégé" Featurette
"Anna vs Rembrandt" Featurette
Deleted Scene
Theatrical Trailer
A LA CALLE SOUNDTRACK DROPS SEPTEMBER 15 WITH LAUNCH OF LATIN HERITAGE MONTH
The soundtrack for A La Calle, a groundbreaking feature documentary about the fight for democracy in Venezuela, will be released on September 15, to coincide with the WarnerMedia OneFifty premiere of the film on HBO Max. The release date is International Democracy Day and marks the start of Latin Heritage Month. The A La Calle soundtrack will be available on digital streaming platforms.
Composed by Venezuelan-born Elik Álvarez, who has scored over 70 films, television series and documentaries, this was a uniquely personal project. "For A La Calle, I combined traditional Venezuelan rhythms and distinctive Latin American instrumentation with processed strings and organic textures," he says, "to underscore the dramatic struggle of the Venezuelan people to restore democracy to our country. Rendition to Venezuela, the song that plays over the end credits, has particular significance for me. I wanted to create an emotionally haunting piece inspired by the Venezuelan National Anthem that would convey the profound grief of an entire country."
"As a fellow Venezuelan," says Nelson G. Navarrete, "I knew Elik was the perfect choice to score the film. My co-director Maxx Caicedo and I wanted the music to evoke not only the authentic sound and instrumentation of Venezuela but the emotion at the heart of the struggle. What Elik created with his achingly beautiful and stirring score has elevated our film and deepened its impact."
The soundtrack recording features world-renowned musician Rafael 'El Pollo' Brito, who performs on the Venezuelan cuatro, with Liza Wallace on the arpa llanera and Yonathan 'Morocho' Gavidia on Afro-Venezuelan percussion, bringing a modern, inventive twist to the traditional Venezuelan sound. Rendition to Venezuela was performed by an ensemble including singer Lisbeth Scott, multi- woodwind player Pedro Eustache, pianist Otmaro Ruiz and cellist Isaiah Gage. Album sound design was by Sean Higgins at Anarchy Post.
Among Álvarez' recent credits are the scores for the feature films The Exorcism of God, Life in the Doghouse and Harry & Snowman and the feature documentary History of The Emirates. He won Best Documentary Score at the Provincia de Cordoba International Film Music Festival for Sir Richard Attenborough's "Kingdom of Plants 3D."
A La Calle is a WarnerMedia OneFifty release and a presentation of Priority Pictures with Vitamin Productions in association with The Brakefield Company. Original music was composed by Elik Álvarez with cinematography by David Mosquera and editing by Yesenia Higuera. The executive producers are Greg Little, Karen Lauder and Lizzie Friedman. Produced by Shawna Brakefield-Haase, p.g.a., Marcus Cheek, p.g.a., Maxx Caicedo, p.g.a. and Nelson G. Navarrete, p.g.a., A La Calle was directed by Nelson G. Navarrete and Maxx Caicedo.
Priority Pictures is a production and financing company owned by producers Lizzie Friedman, Greg Little, and Karen Lauder. Past credits include the Emmy® Award-winning documentary, Momentum Generation and the Sundance Award-winning films The Land, The Stanford Prison Experiment, as well as Bel Canto, Ride and Emelie.
About WarnerMedia OneFifty
WarnerMedia OneFifty represents the natural complement to the industry-leading work of WarnerMedia and its divisions HBO, HBO Max, Warner Bros., TNT, TBS, truTV, CNN, DC Entertainment, Cartoon Network, Adult Swim, Turner Classic Movies and others. Inspired by the nearly 100-year tradition of innovation at our company, WarnerMedia OneFifty serves as the content innovation hub for WarnerMedia, as an artist studio where content innovation happens, seeking to bring the best, most compelling untold and artist-forward stories to audiences.
For more information about the film, please visit:
MSNBC FILMS, IN PARTNERSHIP WITH ABRAMORAMA SETS THEATRICAL RELEASE FOR AWARD-WINNING ARTIST JR'S PAPER & GLUE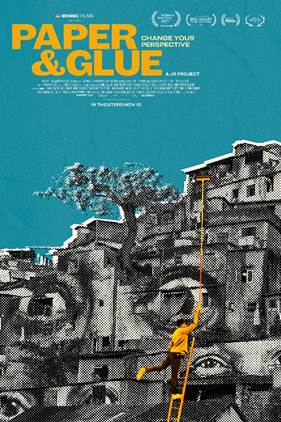 MSNBC Films and Abramorama announced today that Paper & Glue, a project by award-winning French artist JR, whose artwork gives a global voice to everyday people through a genre-blending combination of public art, photography, and large format spectacle will open on November 12th. Paper & Glue is presented by MSNBC Films and Impact Partners and produced by Imagine Documentaries, in association with TIME Studios and Shark Island Institute.
Paper & Glue premiered at this year's Tribeca Film Festival and will be playing festivals this fall throughout the country. Post theatrical release, Paper & Glue will premiere on MSNBC in January 2022 and stream on Peacock at a later date.
In Paper & Glue, JR turns the camera on his own work as he builds some of his most monumental projects. From early illicit graffiti videos captured on Paris rooftops at night, to the US-Mexico border, to the favelas of Rio de Janeiro, to a current collaboration at a California supermax prison, the film follows JR as he turns these communities inside out, turning images of residents into eye-catching and immersive art installations. Paper & Glue debuts on the heels of the Oscar-nominated Faces Places, which was directed by JR along with Agnès Varda.
"JR has made a film equal in scale, and heart, to his installations. We're enormously proud to work with MSNBC Films and Imagine Documentaries to bring his work to an even broader audience," says Abramorama CEO, Richard Abramowitz.
"We're thrilled to partner with MSNBC Films and Abramorama in bringing JR's incredibly timely and inspirational film to theaters across the country. If there was ever a film to see on the big screen, it's this one in that it celebrates the power of large-format art and its impact on the community," adds Justin Wilkes, President of Imagine Documentaries.
One of TIME Magazine's 100 Most Influential People in 2018, JR is a visual artist who exhibits freely in the streets of the world, pasting huge portraits of anonymous people in unexpected places. His work is about raising questions, seeking an encounter between the subject and the passer-by. JR is known for his 2017 Academy Award-nominated documentary, Faces Places, and 2015 short, Ellis.
Paper & Glue is produced by Imagine Documentaries' Sara Bernstein and Justin Wilkes, Dallas Brennan Rexer and Marc Azoulay. Executive producers are Rashida Jones and Amanda Spain for MSNBC Films; Brian Grazer and Ron Howard, for Imagine; Jenny Raskin, Geralyn White Dreyfous and Lauren Haber for Impact Partners; Lynne Benioff, Marc Benioff and Ian Orefice for TIME Studios; and Ian Darling for Shark Island Institute. Also executive producing are Regina K. Scully, Jim & Susan Swartz, Patty Quillin and Marco Berrebi. Imagine's Meredith Kaulfers is Co-Executive producer, along with Camlle Pajot, Julie Pugeat, Paula Froehle, Steve Cohen and Nina & David Fialkow. Keiko Deguchi served as Editor.
Find more information on the film at www.paperandgluefilm.com
Uncover the Paranormal Thriller THE SECRET OF SINCHANEE On VOD October 8th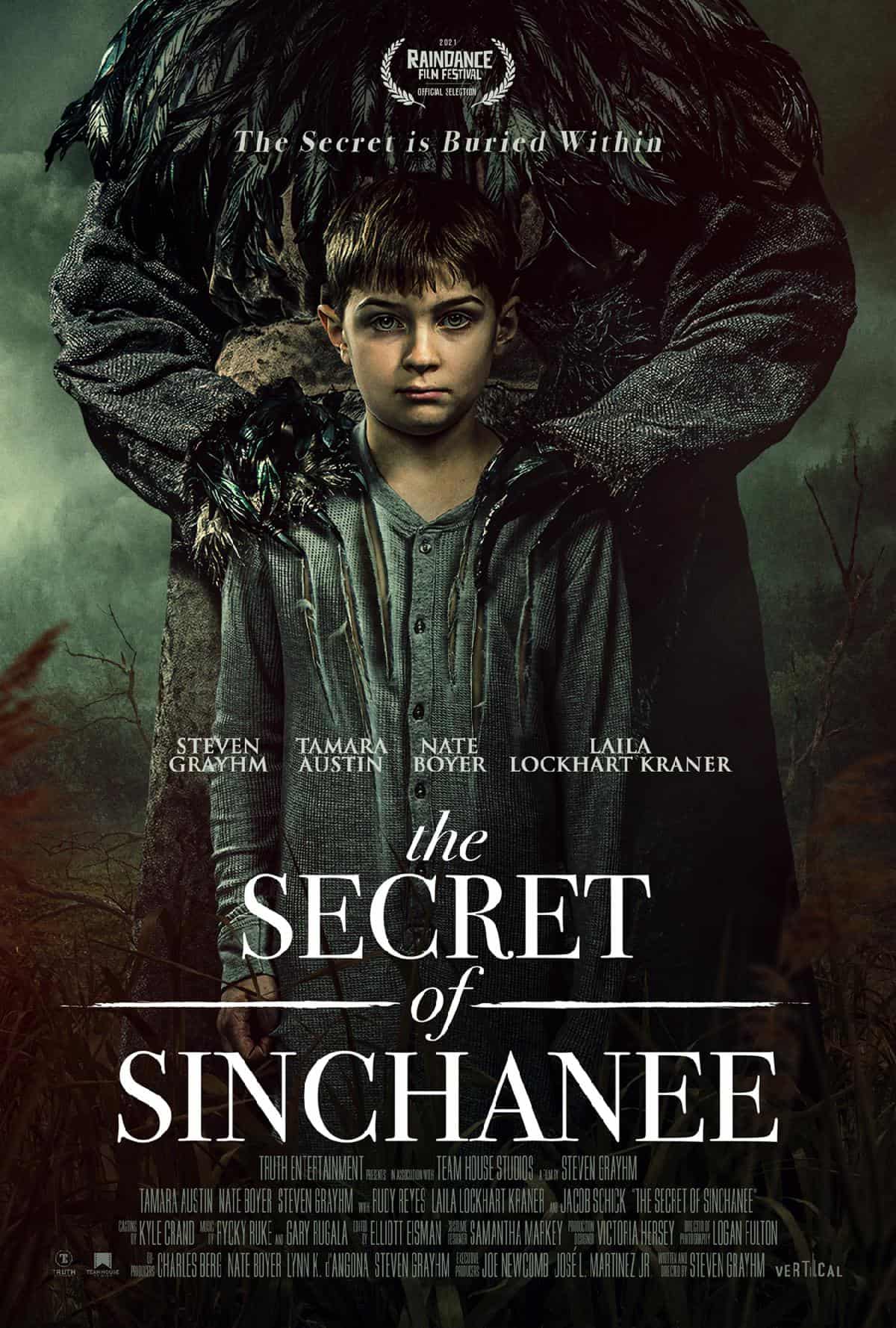 Vertical Entertainment has announced the release of Steven Grayhm's The Secret of Sinchanee. Following a string of awards on the international festival circuit, The Secret of Sinchanee will be available in select theaters and on all major digital and cable platforms, including Apple TV, Amazon Prime Video, Vudu, Comcast, Spectrum, Cox and more.

Grayhm stars opposite Green Beret and former NFL player Nate Boyer ("Mayans M.C") and Tamara Austin ("The Walking Dead"), who play Boston homicide detectives lured to a small-town after the disappearance of a single mother. The Secret of Sinchanee also stars breakout Netflix child star Laila Lockhart Kraner ("Gabby's Dollhouse"), Jacob Schick (American Sniper, A Star Is Born), and Rudy Reyes ("Generation Kill").

"We're very excited to be partnering with Steven and his skilled filmmaking team on his first feature film and to bring a new chilling experience to horror/thriller fans," said Josh Spector, SVP of Acquisitions at Vertical Entertainment. "We look forward to audiences feeling the same gripping suspense we did when we first saw the film as they truly experience The Secret of Sinchanee."
The Secret of Sinchanee was produced by Steven Grayhm and Nate Boyer under their Team House Studios banner and Grayhm directed from his own script. Joe Newcomb (Dallas Buyers Club) served as executive producer through Truth Entertainment.

"This is a deeply personal film that tackles incredibly challenging themes of xenophobia, childhood trauma, and mental health issues, testing the confines of the horror/thriller genre." Grayhm shared of his first feature.

Of his work with the first-time director, Newcomb said, "Steven is one of the most exciting emerging filmmakers: both as an original storyteller and a producing partner committed to diversity and veteran empowerment. Sinchanee is shockingly beautiful and absolutely terrifying!"
Bella Thorne + Benjamin Mascolo in "TIME IS UP" Out this Friday
Vivien is a highly accomplished student, with a passion for physics and keen to get into a prestigious American university. She seems to live her own life as a mathematical formula that drives her to look at her own happiness as something to be postponed into the future.
Roy, on the other hand, is a troubled and problematic young man who, due to a trauma suffered as a child, sees his desires continually hindered by a past that seems to constantly haunt him. But mathematics too has its variables and as always happens, life manages to weave events together in increasingly surprising and unexpected ways.
Indeed, an accident will force our protagonists to come to a stop and reclaim their lives, and finally start living in a present that perhaps will prove to be more exciting than any predefined formula.
Cast: Bella Thorne, Benjamin Mascolo, Nikolay Moss, Roberto Davide, and Sebastiano Pigazzi
Directed By: Elisa Amoruso
Written By: Elisa Amoruso, Lorenzo Ura, and Patrizia Fiorellini
Produced by: Marco Belardi
The French Dispatch – Music Video directed by Wes Anderson