Landmark Theatres and BBC Studios have partnered to release the documentary MARIUPOL: THE PEOPLE'S STORY in select U.S. theaters. The announcement was made by Landmark President Kevin Holloway on the first anniversary of the start of Russia's war on Ukraine. Directed by Robin Barnwell, a BAFTA, Emmy, and Peabody award winner, and produced by Hilary Andersson, a multi-award winner, the documentary will be shown in eight cities on March 15, 2023.
MARIUPOL: THE PEOPLE'S STORY is a deeply personal account of the destruction of a modern Ukrainian city, filmed and told by its inhabitants. It follows residents as they record themselves from the start of the Russian invasion to the devastation of their city two months later. The film depicts the horrors of war, war crimes, and the incredible courage of those who survived. Mariupol was a city of 430,000 people, but over two months, the inhabitants there endured almost constant bombardment, leading to more than 25,000 deaths, according to Ukrainian officials.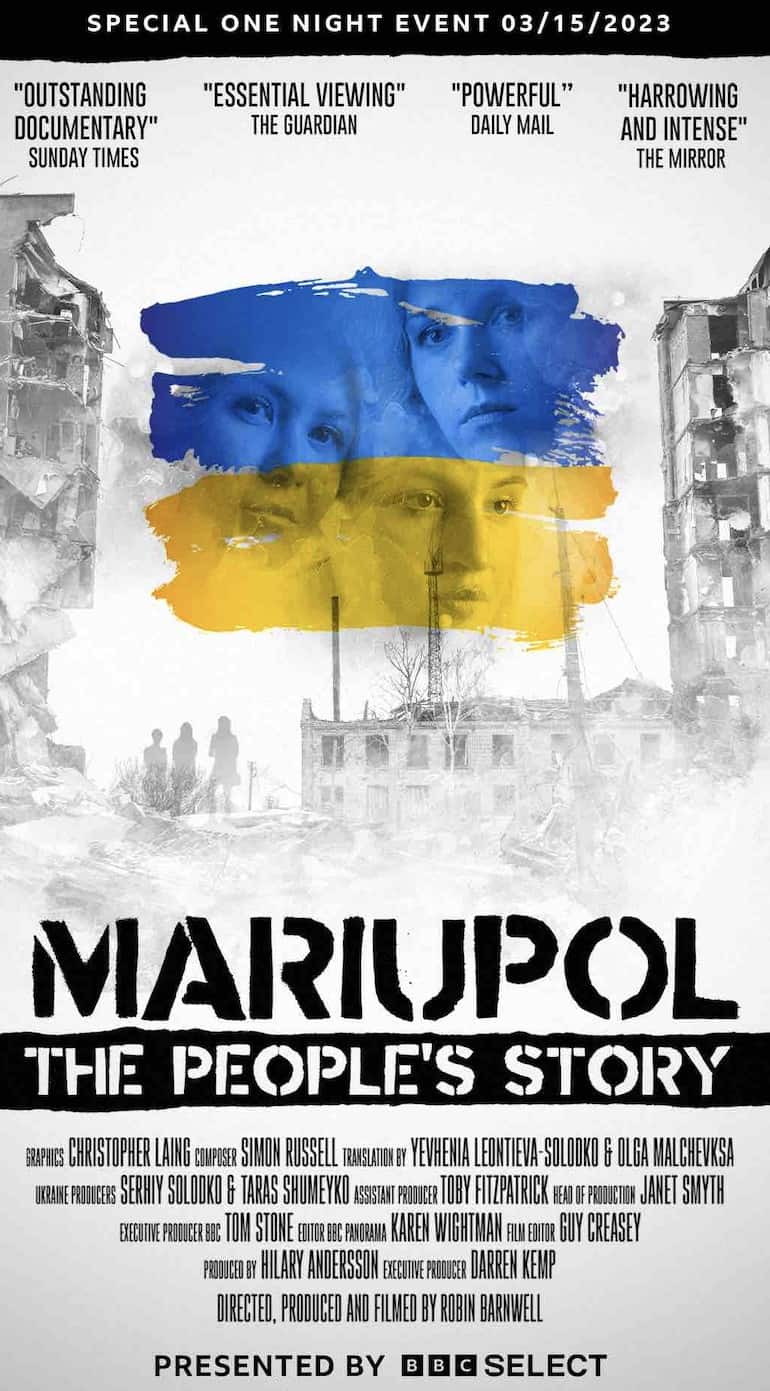 Director Robin Barnwell is a decorated journalist and filmmaker, having won awards and nominations, including a Peabody, BAFTA, and an International Emmy. The film was executive produced by Darren Kemp, the founder of Top Hat Productions, and producer Hilary Andersson is an American journalist formerly with the BBC.
MARIUPOL: THE PEOPLE'S STORY has received wide acclaim, with The Mirror calling it "harrowing and intense," The Times of London describing it as "grueling and vital," and The Guardian calling it "essential viewing." Landmark Theatres President Kevin Holloway said, "Landmark Theaters is known for bringing theater-goers intelligent, thought-provoking, curated content and what better fit than this special film by Top Hat Productions."
MARIUPOL: THE PEOPLE'S STORY will be shown in Landmark cinemas in New York City, Los Angeles, Philadelphia, Chicago, Indianapolis, Seattle, Washington, D.C., and San Francisco, starting on March 15. The documentary is also available on BBC Select via Amazon Prime Video Channels, the Apple TV app, and The Roku Channel.
BBC Studios and Landmark Theatres have come together to support Ukraine and its brave people through the communal experience of MARIUPOL: THE PEOPLE'S STORY.