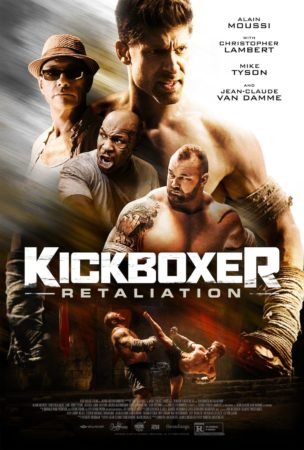 KICKBOXER: RETALIATION
KICKBOXER: RETALIATION REVIEWED
"Kickboxer: Retaliation" is the follow-up to the last film that tried to revamp the Kickboxer franchise. This time, Christopher Lambert has thrown the new series hero in a secret prison. The only way he gets out is if he fights a 400 pound monster to the death. To accomplish the goal, our hero enlists the aid of Jean-Claude Van Damme, Mike Tyson and the love of a prison community. Do you really need to me to break down two hours of prison murder drama? Well, death happens and kicks get boxed.
The cameos fly with a fury unmatched outside of a Sharknado movie. Still, this feature works in a fun throwback way to the middle era Cannon movies. I wish that the film would've shaved 30 minutes off its run-time and had the energy of a Raid film. But, you wish in one hand and then crap in the other. That being said, I enjoy that Well Go is breaking out films like this for wider audiences. There is a dedicated fanbase for this kind of film. While I'm not part of it, I appreciate any effort to get films like this to the masses.
FILM STATS
1 hr and 50 mins
R
Well Go USA
RELEASE DATE: 1/26/18
The Plot Thus Far
One year after the events of "Kickboxer: Vengeance", Kurt Sloan has vowed never to return to Thailand. However, while gearing up for a MMA title shot, he finds himself sedated and forced back into Thailand, this time in prison.
You must log in to post a comment.