JUNGLELAND- film releases on Premium Video-On-Demand and Digital Purchase November 10th and select theaters November 6th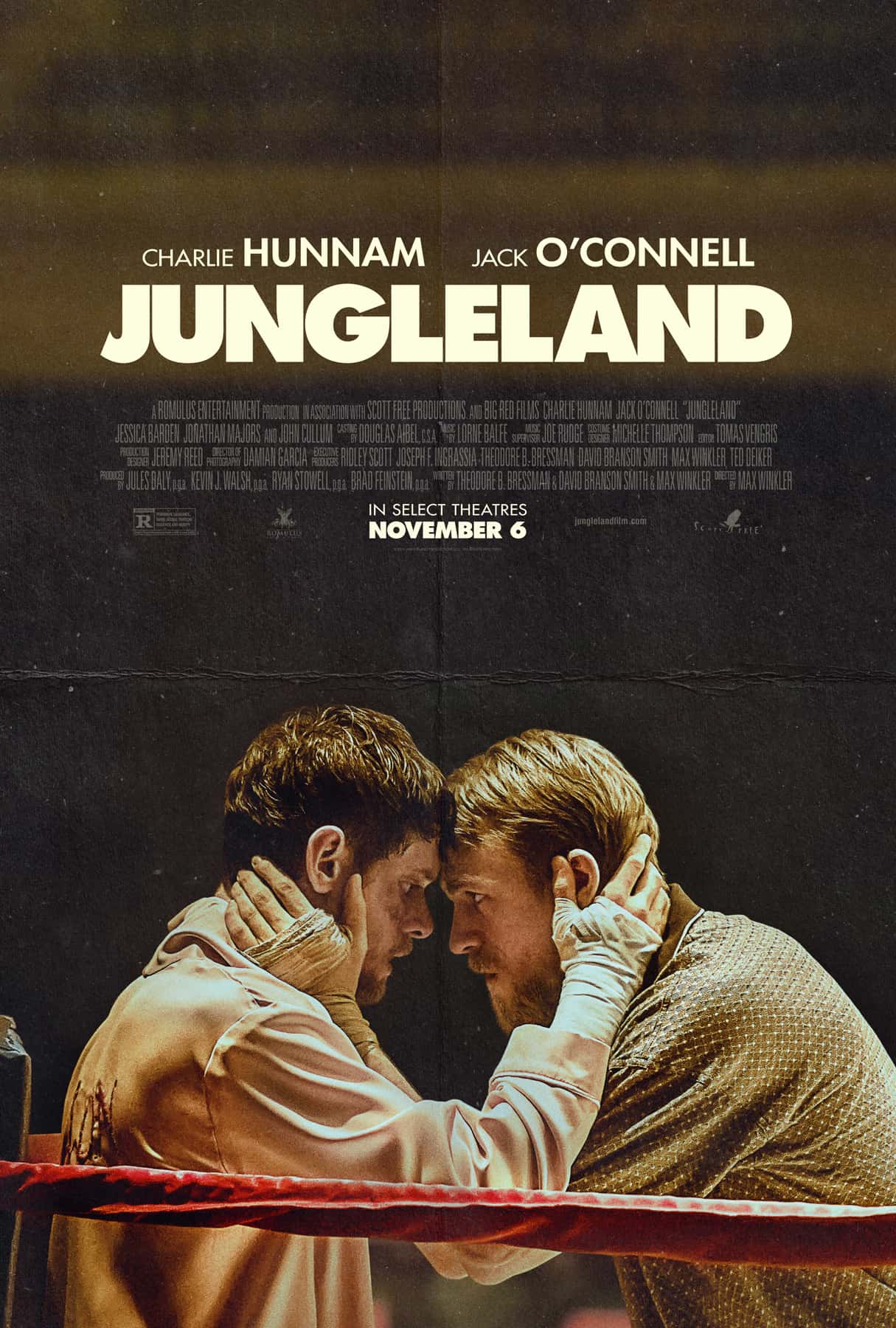 Stanley (Charlie Hunnam) and Lion (Jack O'Connell) are two brothers struggling to stay relevant in the underground world of bare-knuckle boxing. When Stanley fails to pay back a dangerous crime boss (Jonathan Majors), they're forced to deliver an unexpected traveler as they journey across the country for a high stakes fighting tournament. While Stanley trains Lion for the fight of his life, a series of events threaten to tear the brothers apart, but their love for one another and belief in a better life keep them going in this gripping drama that proves family pulls no punches.
DIRECTED BY |Max Winkler
PRODUCED BY | Brad Feinstein, Jules Daly, Kevin J. Walsh, and Ryan Stowell
SCREENPLAY BY |Theodore B. Bressman, David Branson Smith, and Max Winkler
STARRING | Charlie Hunnam, Jack O' Connell, Jessica Barden and Jonathan Majors
AVAILABLE ON DIGITAL PLATFORMS | Apple TV, Amazon Prime Video, Google Play, FandangoNOW and more.
"Stars Collective" Program Launched by Starlight Media to Support Emerging BIPOC and Female Filmmakers
As the film industry endeavors to make strides diversifying and providing equal representation, Starlight Media's recently launched 'Stars Collective' program is ready to support young emerging filmmakers and heighten diversity in the global entertainment ecosystem. Through this trailblazing program, selected filmmakers have the opportunity to develop content with the guidance of top-tier filmmakers. The program has identified and signed its first 11 directors who will be supported from funding and creative resources from Starlight Media.
Starlight has a mission to create content that amplifies diverse voices, and a central focus of the program is helping to promote the next generation of aspiring BIPOC and female filmmakers and creative storytellers. As such, eight of the first eleven filmmakers selected to the program are female, and the class itself represents a highly diverse mix of nationalities, ethnicities, races and personal and professional backgrounds. Starlight will guide the filmmakers through the development of projects including indie features, documentaries and animation, helping them balance art and commerce, while encouraging them to form their own styles of storytelling that not only manifest personal creative visions but catch the zeitgeist of the times.
The first filmmakers signed on to participate are: Soudade Kaadan ("The Day I Lost My Shadow"), Hikari (Mitsuyo Miyazaki) ("Tsuyako"), Kevin Wilson Jr. ("My Nephew Emmett"), Malika Zouhali-Worrall ("Call Me Kuchu"), Avril Z. Speaks ("Jinn"), Amy Ma ("Taipei Suicide Story"), Che Grayson ("Scatter Brains"), Nadav Kurtz ("Paraíso"),Marion Hill ("Bird of Prey") , Raed Alsemari ("Dunya's Day") and Phyllis Tam ("Wish Upon the Moon').
Launched by Starlight Media CEO Peter Luo ("Crazy Rich Asians," "Midway," "Marshall") and headed by Starlight Creative Executive Juefang Jennifer Zhang, the 'Stars Collective' program is set up to support 30-50 emerging filmmakers with a fund starting at $50 million (US), which can scale up to $100 million (US).
Starlight is in talks with A-list filmmakers, who will join the advisory commission of 'Stars Collective' and become creative mentors for the emerging filmmakers. The program aims to cultivate high quality films. The filmmakers and their mentors will work one-on-one with each other, and the collaboration will continue through the release of the films.
The 'Stars Collective' program will integrate global resources by bringing together local alliances of film producers and film commissions, throughout Europe for instance, in order to spark the production of more films of distinctive styles and genres.
'Family Matters' stars bring Christmas Spirit in Holiday Romance 'Christmas In Carolina'.
Legacy Distribution and Stacie Davis Films are proud to present the festive new holiday film that celebrates love and family, Christmas In Carolina. Directed by Peggy Williams and written by Stacie Davis, this sweet holiday romance about opening up to love is sure to ignite the Christmas spirit in everyone this year. Starring Family Matters stars Kellie Shanygne Williams and Darius McCrary, as well as Jocelyn Y. Hall (Atlanta), David L. Rowell (Comp-li-cat-ed), and Terrence Shingler (Power), Christmas In Carolina will premiere exclusively on Roku just in time for the holiday season on November 1, 2020.
Watch the trailer
CHRISTMAS IN CAROLINA – Trailer from Legacy Distribution on Vimeo.
After losing her parents in a car accident, Elle (Joslyn Y. Hall), a career-driven investment banker, has given up on love and Christmas until she meets Wesley (David L. Rowell), a former NBA player and CEO of a small marketing firm. Impetuously, Wesley invites Elle home for Christmas in South Carolina with his family. With hesitation, Elle accepts and gets a much bigger present than she could ever have imagined!
Dana Webber, CEO of Legacy Distribution, shares, "We are incredibly proud to share this uplifting, positive story, especially this year, as we move into the holiday season. It is exactly the dose of happiness we all need!"
"Being able to bring the story of Elle and Wesley's romance to life was an absolute joy, especially as I was able to incorporate Christmas into it!" says writer/producer, Stacie Davis. "I sincerely hope that everyone finds some holiday cheer in "Christmas in Carolina"!"
Christmas in Carolina will be widely available on November 1, 2020, across VOD transactional platforms.
Follow the excitement on social media with #ChristmasInCarolina – https://www.facebook.com/LegacyDistribCo