January's First Roundup: Weathering with You and more!
GKIDS Announces English-Language Voice Cast For WEATHERING WITH YOU, Featuring Lee Pace, Alison Brie, And Riz Ahmed
GKIDS, the acclaimed producer and distributor of animation for adult and family audiences, has announced the English voice cast for WEATHERING WITH YOU, the new film from director Makoto Shinkai and producer Genki Kawamura, creators of the animated film Your Name, which broke box office records worldwide and is currently getting a live-action remake from JJ Abrams.  The English language dubbed version of Weathering With You will feature the voices of Lee Pace (Guardians of the Galaxy, The Hobbit trilogy), Alison Brie ("GLOW", The Lego Movie franchise), and Riz Ahmed (Rogue One: A Star Wars Story, Venom). GKIDS will theatrically release the film nationwide on January 17, 2020 following special nationwide fan preview screenings through Fathom Events on January 15 and January 16, 2020. The film has already become the #1 local film at the Japanese box office for 2019, and was Japan's official selection for the Best International Feature category at the Academy Awards, the first time the country submitted an animated feature for consideration since Studio Ghibli's Princess Mononoke.
GKIDS and NYAV Post produced the English-language dubbed version of Weathering With You, and it was directed by Michael Sinterniklaas and Stephanie Sheh-who previously directed and starred in the English-language version of Your Name.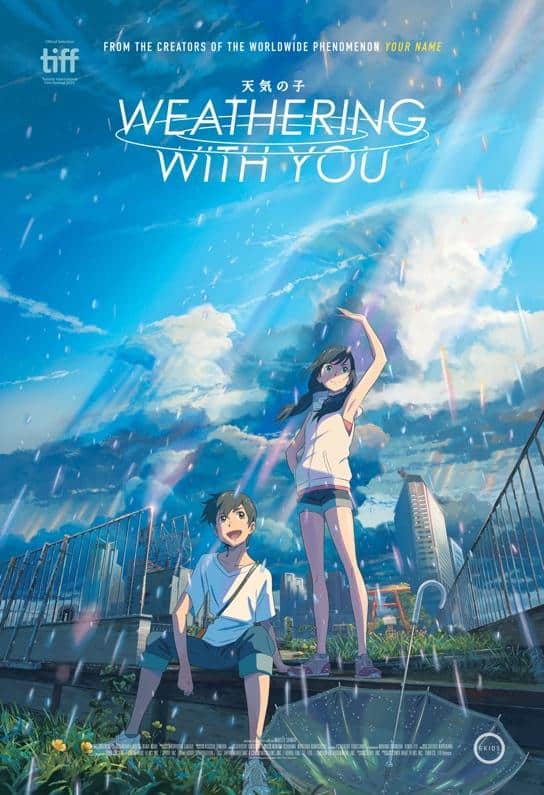 English Voice Cast in Order of Appearance
Brandon Engman – Hodaka
Ashley Boettcher – Hina
Lee Pace – Suga
Alison Brie – Natsumi
Emeka Guindo – Nagi
Riz Ahmed – Takai
Vinnie Penna – Kimura
Mike Pollock – Yasui
Barbara Goodson – Tachibana 
SNATCHERS – Out on Digital NOW!
SNATCHERS, one of Variety's "11 Best Movies of the 2019 SXSW Film Festival," is available to own TODAY – January 7 on Digital, and will arrive on Blu-rayTM Combo Pack and DVD on February 18. The original horror comedy full-length feature film is described as a cross between ALIENS meets MEAN GIRLS , and was initially released in new media as a successful short-form series that follows a status-obsessed high school teenager who loses her virginity and finds herself pregnant the next day…with an alien!
Cohen Media Group brings SERENDIPITY to DVD and Blu-ray on February 4th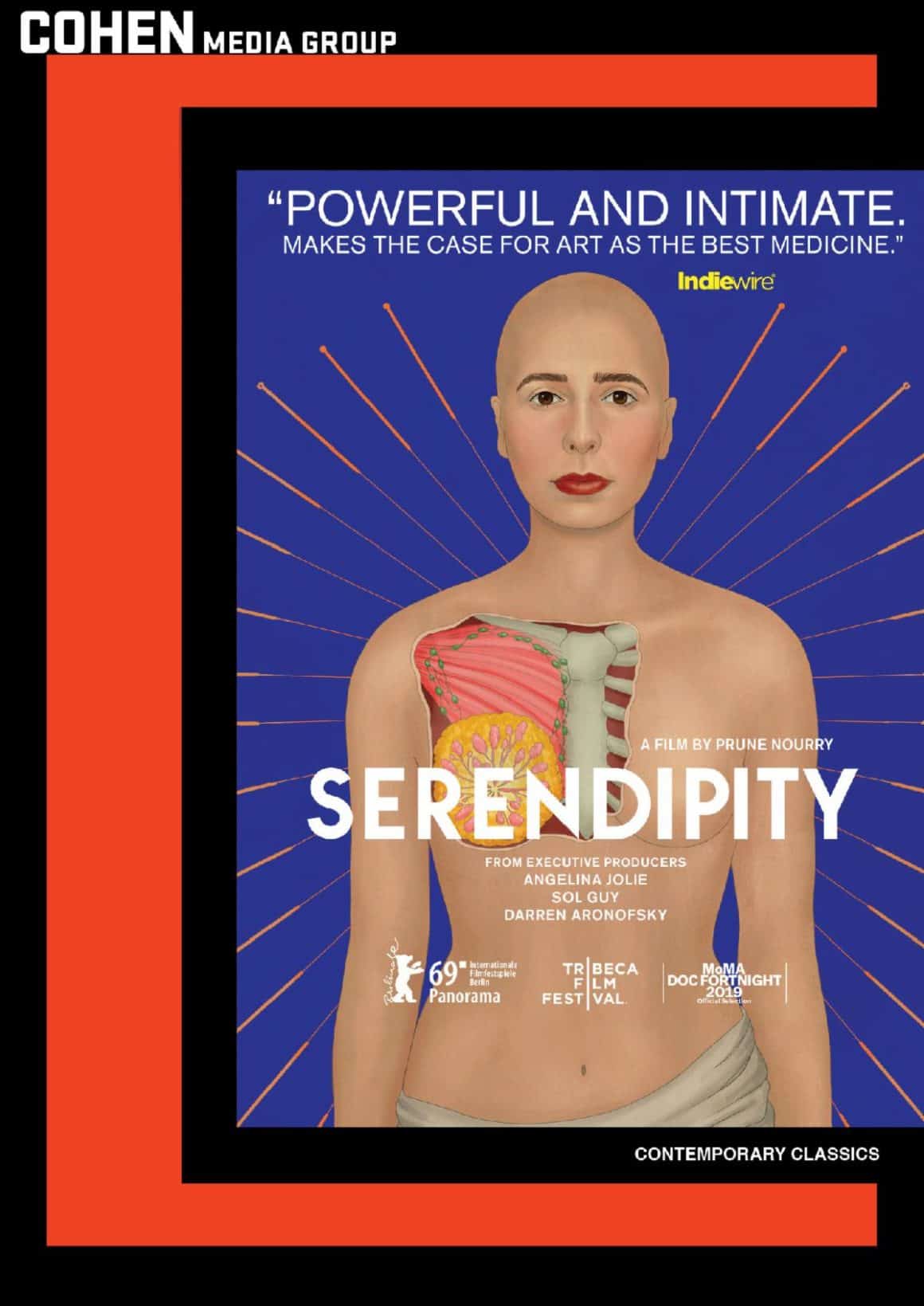 A renowned artist, forced to confront her own mortality, turns the exploration of her health crisis into a unique cinematic work in the powerful new film SERENDIPITY. The "stirring, imposing self-portrait" (Guy Lodge, Variety) comes to Cohen Media Group Blu-ray and DVD, as well as digital platforms, on February 4, 2020.   The award-nominated SERENDIPITY is multimedia French artist Prune Nourry's profoundly moving study stemming from her own breast cancer diagnosis. Nourry has gained international recognition for her thought-provoking, educational and often humorous projects exploring bioethics through sculpture, video, photography and performance – with her prime focus on women's bodies, fertility and gender explorations. But at the young age of 31, a cancer diagnosis turned Prune's world upside down – and forced her to turn her penetrating artist's eye on herself.   She started documenting her treatment and its effect on her own body, turning her medical odyssey into SERENDIPITY, a disarmingly intimate artistic undertaking that leads her to find new meaning in her work and its serendipitous relationship to her own survival. The impassioned film – Nourry's first feature as director – embodies the artist's belief that everything is connected, coincidence is an illusion, and "the essentials to life really are health, love and art."   Critic Kate Erbland of IndieWire said SERENDIPITY is "the most natural expression of an artist seeing the lines between the personal and the professional, between the confrontational and the intimate, blur in real time and in front of her very eyes." "Nourry has provided attentive audiences with nothing less than a spiritual experience," wrote Matt Fagerholm at Roger Ebert.com, adding, "Nourry has provided attentive audiences with nothing less than a spiritual experience."   Angelina Jolie and Oscar-nominated director Darren Aronofsky (Black Swan) are SERENDIPITY's executive producers. Alastair Siddons (screenwriter of Tomb Raider) produced and wrote the film, which also features one of the final screen appearances by the late renowned French director Agnès Varda.    Bonus material on the SERENDIPITY Blu-ray and DVD includes "Conversations at The Quad with Director Prune Nourry."
ZOMBI CHILD, Bertrand Bonello's Thrilling Genre Mash-up, Opens in NYC on 1/24 + Addt'l Markets
ZOMBI CHILD, from director Bertrand Bonello (Nocturama, Saint Laurent) injects history and politics into an unconventional cross-genre film. Opening in 1962 Haiti, the horror-fantasy follows the real-life story of Clairvius Narcisse (Mackenson Bijou), who falls dead on the street but is soon turned into a "zombi" when he is dug up from his grave and forced to work on a sugar-cane plantation. Shifting to present-day Paris at the Légion d'honneur boarding school, a rebellious teen named Fanny (Louise Labèque) befriends Melissa (Wislanda Louimat), who moved to France when her parents died in the 2010 Haiti earthquake. After recruiting her into a secret literary sorority, Fanny learns of Melissa's connection to Clairvius, and becomes obsessed with her new friend's past and culture, soon doing the unthinkable: seeking out her voodoo mambo aunt to solve her recent heartbreak. Jonathan Romney of Screen Daily said, "Mixing political commentary, ethnography, teenage melodrama and genre horror, the film is an unashamedly cerebral study of multiple themes…taking us on a journey that's as intellectually demanding as it is compelling".

SELECT THEATRICAL DATES
1/24: Film at Lincoln Center (NYC)
1/24: Quad Cinema (NYC)
1/24: Gene Siskel Film Center (Chicago)
1/31: Alamo Drafthouse (Brooklyn; weekend shows)
2/7-9: SIFF Film Center (Seattle)
2/21:  Nuart (Los Angeles) 
2/21: MFA Boston
2/28: Cosford Art Cinema (Miami) 
2/28: O Cinema Miami Beach
2/28: Landmark Opera Plaza (San Francisco)
2/28: Landmark Shattuck Cinema (Berkeley, CA)
2/28: Cinema Salem (MA)
3/6: The Grand Berry (Ft. Worth, TX)
3/6: Gateway Film Center (Columbus, OH)
HIGH STRUNG FREE DANCE Takes to the Stage on Blu-ray, DVD and VOD February 4th
Following a theatrical release to the USA's top markets, GVN Releasing has announced the Blu-ray, DVD and Digital release of Michael Damian's High Strung Free Dance.  The sequel to Damian's dance hit High Strung, High Strung Free Dance tells the story of choreographer Zander Raines (Thomas Doherty, The Descendants franchise, "The Lodge"), contemporary dancer Barlow (Juliet Doherty) and innovative pianist Charlie (Harry Jarvis, "Proven Innocent", "Dixi") amid the backdrop of New York's most-anticipated new Broadway show: Free Dance.  

High Strung Free Dance will be available nationwide February 4th on Blu-ray, DVD and Digital HD, including iTunes, Amazon Instant Video, Google Play, Vudu and more. The Blu-ray and DVD releases of High Strung Free Dance will exclusively include a behind the scenes featurette, an interview with composer Nathan Lanier and music videos for "Masterpiece" and "Liar".
You must log in to post a comment.